MiLBY says yes to Howard's playoff no-no
No. 18 Phils prospect's outing sweeps Top Performance award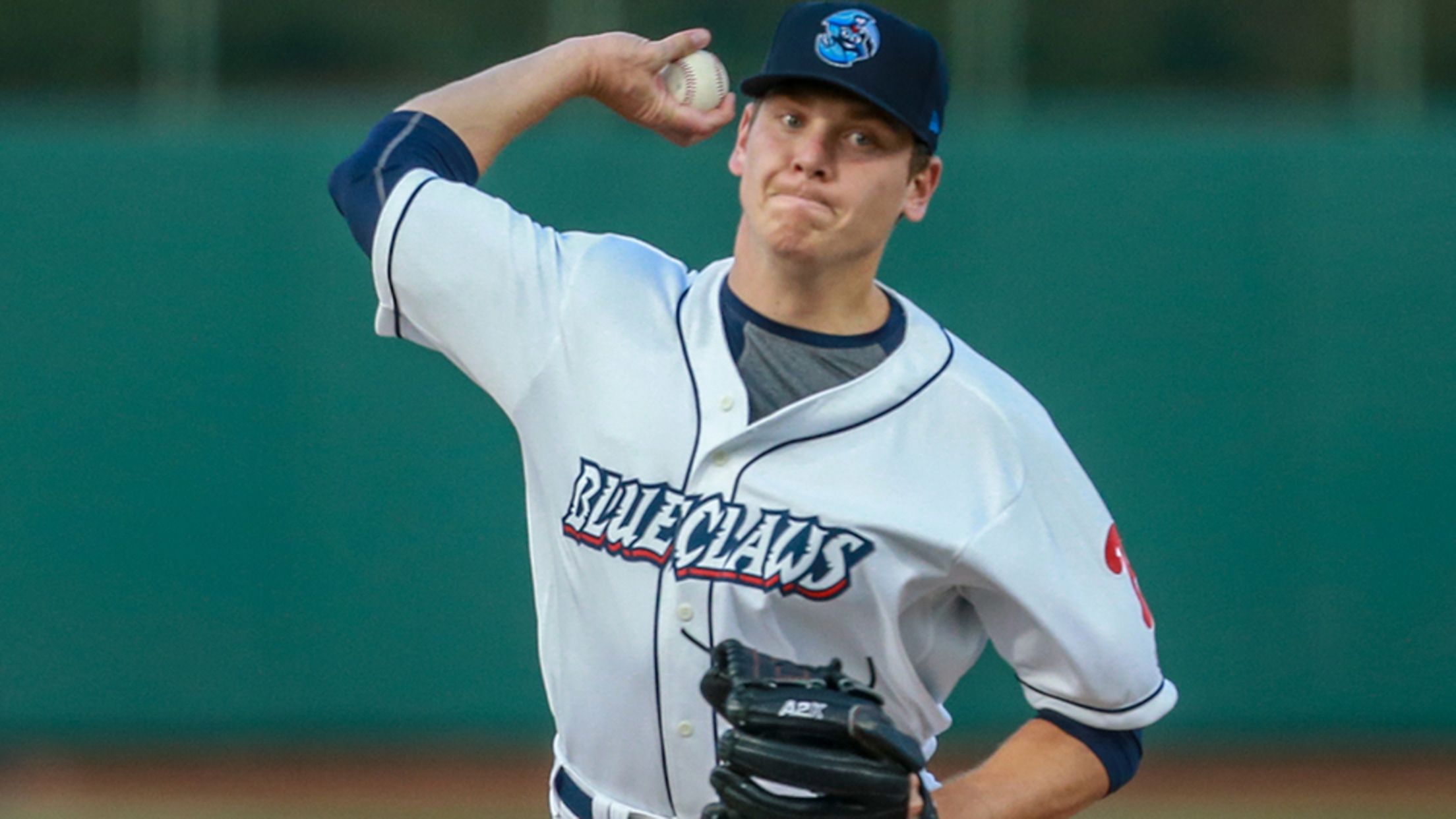 Spencer Howard punched a Championship Series ticket with the first BlueClaws' playoff no-hitter. (Mike Dill/Lakewood BlueClaws)
History was made on Sept. 7 at FirstEnergy Park.Spencer Howard twirled the first postseason no-hitter for Class A Lakewood, a 1-0 victory over Kannapolis that punched the BlueClaws ticket to the South Atlantic League Championship Series.
History was made on Sept. 7 at FirstEnergy Park.
Spencer Howard twirled the first postseason no-hitter for Class A Lakewood, a 1-0 victory over Kannapolis that punched the BlueClaws ticket to the South Atlantic League Championship Series.
The 22-year-old right-hander accomplished the feat with 103 pitches -- 73 for strikes. Lakewood pitching coach Brad Bergesen, who had a feeling something special was brewing that night, may have been the most relieved about Howard's efficiency.
"You know, at this level, we have pitching counts and inning limits with these young guys and when this game got to the sixth, I actually left the dugout and went upstairs to call our pitching coordinator [Rafael Chaves] to see how far I could potentially let [Howard] go," first-year coach Bergesen said. "Baseball superstition being what it is, neither of us actually said what was happening. But we were on the same page and he gave me a number. So I came back to the dugout, didn't say anything about it, and luckily, he had a couple of quick innings there at the end and didn't even come within 10 pitches of that number.
"It would have been pretty awful to pull him after eight if he was still in line for this. But it worked out perfectly."
Gameday box score
The only blemishes against the Phillies No. 18 prospect that night came facing Tyler Frost. Howard walked Frost on five pitches in the third inning and hit the White Sox outfield prospect with a 1-2 pitch to lead off the sixth. Otherwise, the 2017 second-round pick rolled. He struck out nine, including four of the first six batters he faced.
Bergesen noticed something a little different about his starter early on.
"He had conviction behind all of his pitches. There was that little bit extra that you could see in him that day," the coach said. "I don't put a lot on velocity, but one thing that you could measure that showed he had a little extra 'oomph' that day was that he touched 100 mph on our gun. He never flashed anything higher than 98 before that. So he was throwing harder, he was throwing with a purpose.
"I kept talking to him in between innings, like I always do, and you could just see the focus was there. He was loose and he was calm. But he was just in total control."
Carlos Arroyo, Philadelphia's co-pitching coordinator, watched the performance later and echoed Bergesen's sentiment.
"I just saw a guy loaded with confidence out there who had everything working for him," Arroyo said. "He was throwing all of his pitches, commanding them, and he wasn't afraid. He was very engaged with the catcher [Rodolfo Duran], it looked like they knew exactly what they were doing. They had a great mix, and he showed a lot of growth and conviction. It was just impressive.
"If he got out of sync, he got right back to it. He was very aware, he understood what he was doing and that, to me, is growth for a young player. He stayed in the moment, never got too caught up in the outcome and that was nice to see."
View all the 2018 MiLBY Award categories »
Howard faced a little trouble in the third. Michael Hickman led off the frame by reaching on first baseman Jake Scheiner's fielding error. Johan Cruz grounded into a fielder's choice and a wild pitch moved Cruz to second. After a nine-pitch battle with Ramon Beltre resulted in a punchout, Howard walked Frost.
Chicago's No. 27 prospectLuis Curbelo got aboard on a fielding error by shortstop Nick Maton -- the 29th-ranked Phillies prospect -- to load the bases. Howard escaped the jam unscathed by getting No. 12 White Sox prospect Steele Walker to line out to Scheiner in foul territory on an 0-2 off-speed pitch. The Cal Poly-San Luis Obispo product needed 26 pitches to navigate through the frame. He coasted from there.
Howard retired seven in a row before hitting Frost in the sixth, and he finished his outing by facing the minimum 11 from there. He didn't throw more than 11 pitches in an inning after the third and needed just 13 combined pitches over the final two frames.
The 6-foot-3 hurler told MiLB.com after the game that he knew he was bidding for history.
"Anybody who says [they are not aware] is a complete liar," Howard said. "I think the first time I realized it was going out in the seventh inning. I was like, 'Wow, just let them put the ball in play.'"
He attributed a great deal of his success that night to command of a pitch that he had been working on throughout the season.
"Tonight was the most confident I've felt in my curveball all year," Howard said after the outing. "I worked on it extensively for the entirety of the year, but this was the first time in a game setting that it was this controlled.
"In college, I didn't really have it, and last season, I worked on a spike curve. The movement was there, but I didn't really know how to throw it or compete with it. I played off the high fastball with it and I threw a couple in the dirt that were chase pitches."
Arroyo and Bergesen agreed with his assessment.
"This kid has an electric arm. A power arm. And I think sometimes when you're a young pitcher you think because it's an off-speed pitch you have to throw it with finesse and pinpoint it to the corner. But that's not the case," Arroyo said. "We wanted him to stay aggressive with all four of his pitches and just attack hitters with them, and I saw him do that. He's shown enough depth with [the curveball] that we wanted him just to reach back and throw it -- and that's what he did."
"I think, through the last five starts of the regular season, you saw him start to get some consistency with the curve. And in this game, without any question, it was there for him," Bergesen added. "And I think you have to give a lot of credit to catcher Rodolfo Duran who came up with a great gameplan, kept putting the right fingers down and called a great game. Those two were on the same page together all night and it was special to see."
Howard finished the regular season with a 9-8 record and a 3.78 ERA. He posted four scoreless starts over that span -- all lasting six frames. His 147 strikeouts were tied for the Sally League lead with Greenville's Jhonathan Diaz and Columbia's Tony Dibrell, but his 11.8 strikeouts per nine innings average ranked alone atop the circuit.
Howard's no-no was the first for Lakewood since Nick Fantiaccomplished the feat on July 17, 2017 against Charleston.
Rob Terranova is a contributor to MiLB.com. Follow him on Twitter @RobTnova24.