McNeil completes cycle with long ball
Mets infielder only second player in club history to achieve feat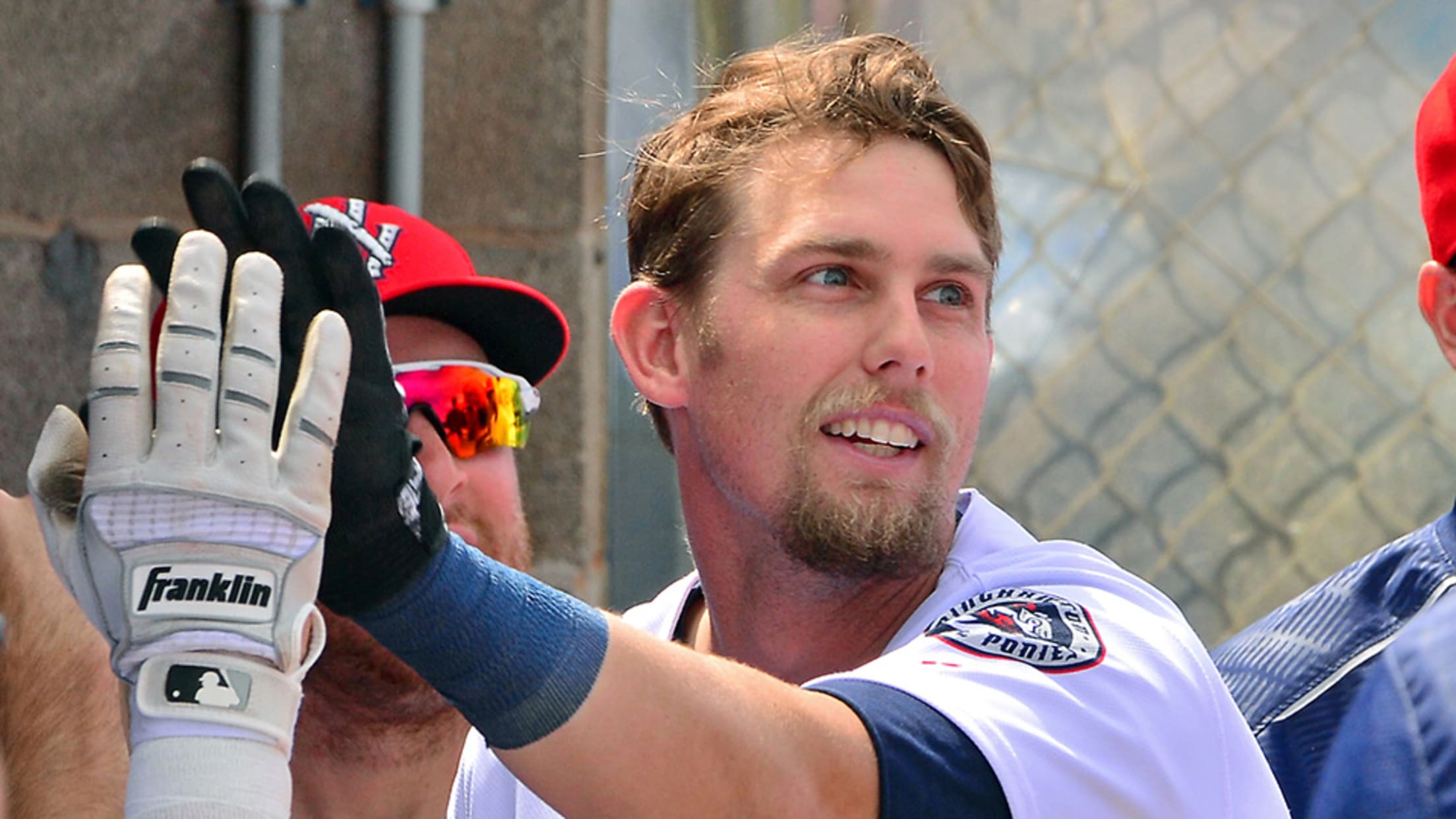 Jeff McNeil is batting .307 with 20 extra-base hits and 18 RBIs in 27 games with Binghamton. (Rick Nelson/MiLB.com)
Jeff McNeil knows he can't make up for lost time in the course of one game, but Sunday's performance landed him in the history books all the same.The Mets' infielder capped off the first cycle of his career with an eighth-inning homer, scored four times and drove in two runs
Jeff McNeil knows he can't make up for lost time in the course of one game, but Sunday's performance landed him in the history books all the same.
The Mets' infielder capped off the first cycle of his career with an eighth-inning homer, scored four times and drove in two runs as Double-A Binghamton defeated Portland, 10-4, at Hadlock Field. The 26-year-old became the second player in club history to hit for the cycle. Josh Satinaccomplished the feat against Bowie on June 24, 2011.
"It was really awesome," McNeil said. "I was seeing the ball really well today, especially in my earlier at-bats when I was looking to jump on a fastball and things clicked from there."
Gameday box score
McNeil drove in Levi Michael with a run-scoring triple to center field and scored on an RBI groundout by Peter Alonso in the top of the first inning. He singled to right and crossed the plate on Alonso's ninth home run of the season in the third before doubling to right and scoring on Kevin Taylor's single in the fourth. McNeil flied came close to completing the cycle on a deep fly out in the fifth, but he made sure of it with a solo homer to right in the eighth. The Santa Barbara, California native batted for a sixth time in the ninth, but lined out in his attempt at a career-high fifth hit. The four hits matched a personal best, done most recently last Aug. 15 with Class A Advanced St. Lucie.
McNeil followed Mobile's Jose Rojas with the Minors' second cycle of the weekend.
"It helped getting that triple out of the way early, and then of course, the single and double," he said. "I actually put a good swing on the ball in my fourth at-bat, but I got jammed a bit on the flyout. But when I came up in that last at-bat, I was looking to get a good pitch and I was hoping just to square it up and hit it hard. That's what I did and it went out.
"We were up [four runs] at that point, so I made a point of trying for the homer. Everyone in the dugout was giving me a hard time after my fourth at-bat, saying I had no power and stuff. But I didn't miss that last one."
McNeil extended his hitting streak to 12 games, during which he's batted .378 (17-for-45) with three homers, 15 runs and 12 RBIs. The hot stretch has boosted his average to .307, the first time he's been at or above .300 since he went 1-for-3 on Opening Day. His seven homers are already three more than he's hit in any other year and stand tied for fourth in the league, three behind Trenton's Jhalan Jackson.
The Mets' 12th-round pick in the 2013 Draft, McNeil has been hampered by injuries over the course of his career. He appeared in 48 games last year between Triple-A Las Vegas, Binghamton and St. Lucie. The infielder has not played 100 games in a season since 2015 when he hit .308/.369/.377 in a career-high 123 contests with St. Lucie and Binghamton. McNeil has more extra-base hits (20) through his first 27 games of 2018 than in his previous two seasons combined (18) when he appeared in 51 contests.
"It's awesome to be out there playing and healthy," the Long Beach State product said. "It's been a rough go of it the last two years, but I'm healthy again and it feels great. Just to be out there playing is special for me. I know I'm a little bit older now and injuries have set me back some, but I don't feel any extra pressure [to make up for lost time]. I know that if I go out there and do my thing, it'll take care of itself."
Alonso also singled and drove in three runs for the Rumble Ponies. The homer was the first for the No. 4 Mets prospect since May 1, a span of 11 games. Michael also went deep and Tim Tebow added an RBI double and a single for his second multi-hit effort in three games.
Mets No. 8 prospect Marcos Molina (1-3) allowed two runs -- one earned -- on four hits and a season-high five walks with four strikeouts in six innings.
Boston's No. 11 prospectJosh Ockimey homered for the second time in three games for Portland, who also got a long ball from Tony Renda.