Stephan cruises in Tarpons' no-no
Yanks No. 8 prospect completes first Tampa gem in 11 months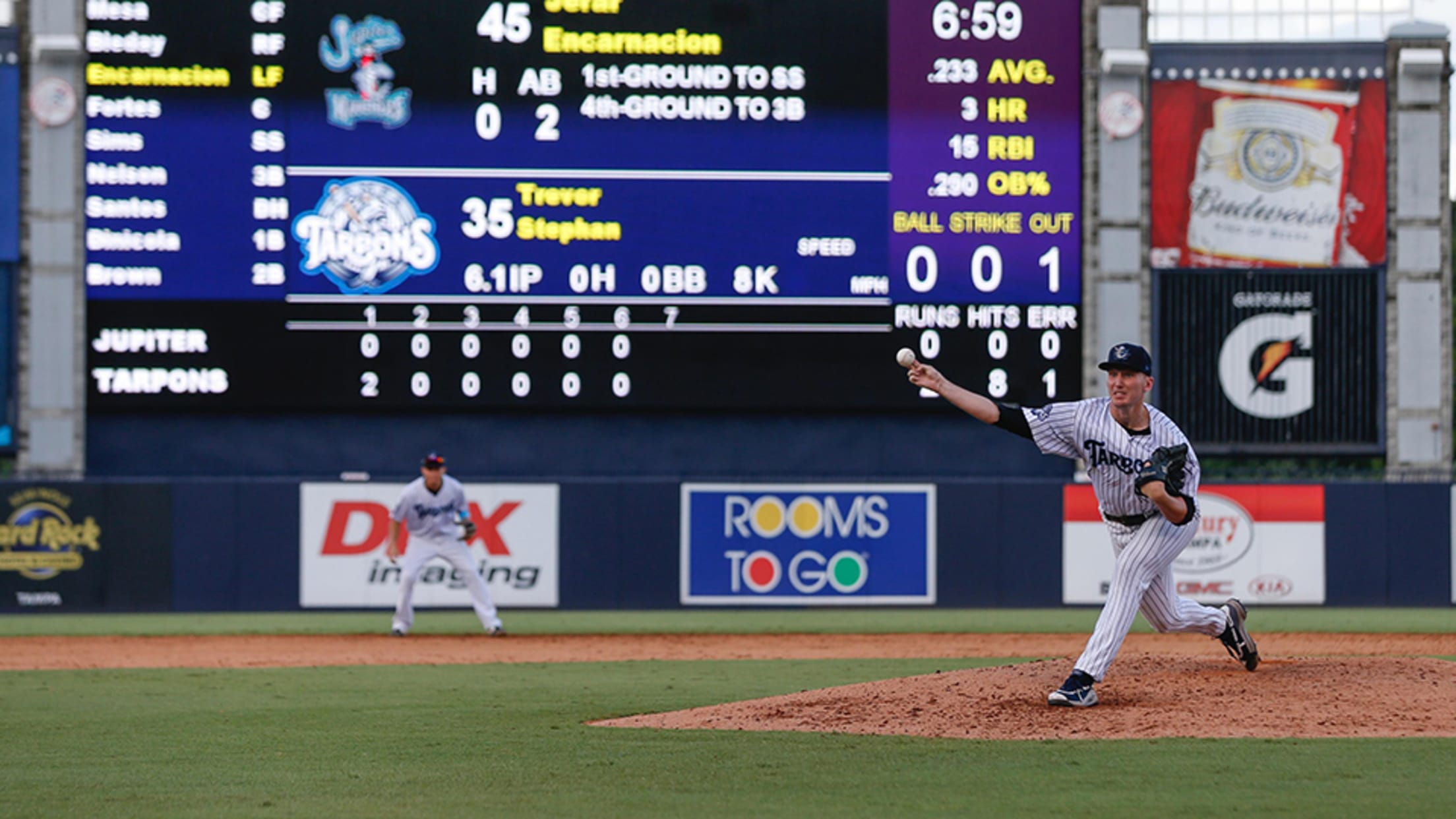 Trevor Stephan pitches in the seventh and final inning of his no-hitter at George M. Steinbrenner Field. (Mark LoMoglio/Tampa Tarpons)
Trevor Stephan says it's been a "funky" season for him, but things have felt like they're heading in the right direction, especially after his last outing. On Friday, he continued to progress with a historic gem.The Yankees' No. 8 prospect spun a seven-inning no-hitter as Class A Advanced Tampa topped
Trevor Stephan says it's been a "funky" season for him, but things have felt like they're heading in the right direction, especially after his last outing. On Friday, he continued to progress with a historic gem.
The Yankees' No. 8 prospect spun a seven-inning no-hitter as Class A Advanced Tampa topped Jupiter, 2-0, in the first game of a doubleheader at George M. Steinbrenner Field. It was the Tarpons' first no-no since Aug. 6, 2018, when Deivi Garcia and Christian Morris combined on an eight-inning gem in a 1-0 loss to Clearwater.
Gameday box score
"Yeah, it was a fun experience, been progressing toward it ever since I got to Tampa," Stephan said. "I've been taking it start by start and trying to get better every start. It definitely, I don't want to say settles things, but I came here and put some focus in between starts and just worked on some stuff and try to implement it into the game."
His last time out against Bradenton, Stephan allowed three runs on six hits and a walk over 4 2/3 innings but said the results didn't totally equate to how he felt on the mound. He could tell things were improving and it was the best he felt on the bump this year. It's been a mix of things he's been working on since returning to Tampa.
The University of Arkansas product began his third pro season with Double-A Trenton but spent three weeks on the injured list with a back issue. After going 1-4 with a 6.27 ERA in 10 starts for the Thunder, Stephan was assigned to the Tarpons on June 22. Overall, the 6-foot-5 hurler has a 5.97 ERA with 67 strikeouts and 25 walks over 60 1/3 innings in 16 starts.
It's been a culmination of a few different aspects, but they all came together for a strong start against the Hammerheads. He'd been looking to have more extended outings and Friday's outing was his first seven-inning start since May 15, 2018.
"Definitely mechanical, I guess," the hurler said of what he's been working on. "Just getting it right in between starts, pitch deeper into games and hold velo."
Stephan (1-3) retired the first 12 batters he faced by "pitching off his fastball and mixing in some off-speed" before Nick Fortes reached on an error by third baseman Wilkerman Garcia to open the fifth inning. Fortes turned out to be the only Hammerhead to reach base as the 23-year-old right-hander set down the final nine hitters. He notched a season-high nine strikeouts in his first career shutout and second complete game.
Considering it was a seven-inning contest with the second game of the doubleheader looming, there wasn't the usual superstition that accompanies a no-hit bid. Stephan said he was talking with teammates in the dugout between innings as he would in a normal start.
"I was aware of it, but it wasn't a factor, you could say, until the seventh," Stephan said. "The last hitter of the game was my last batter, no matter what. I didn't know that at the time, but that kinda changed things. ... I was just glad to get a good outing in and can build off that because I've had a good year and been battling some stuff. Just to have a good outing, something to build off of."
And for what's been an up-and-down season for Stephan, to see that final out fall into right fielder's Omar Carrizales' glove added an extra bow to what had been his best start in at least a year.
"It was a good moment," he said. "I got to celebrate with my teammates, they were all congratulating me. It was fun. ... I didn't think I was going to go out and throw a no-hitter -- you always try and it was nice to have everything come together for one start."
It was the 22nd no-hitter in the Minor Leagues this season and third in the Florida State League.
The Tarpons took the nightcap, 4-3, to sweep the twinbill. Making his FSL debut, Yankees No. 13 prospect Luis Gil allowed two runs on four hits and two walks with five strikeouts in six frames to earn the win.
Top Yankees prospect Estevan Florial collected two hits, including a triple, and drove in two runs in Game 2.
Kelsie Heneghan is a contributor to MiLB.com. Follow her on Twitter @Kelsie_Heneghan. Andrew Battifarano is a contributor to MiLB.com. Follow him on Twitter, @AndrewAtBatt.