A's Luzardo shines in longest start of '19
No. 19 overall prospect equals career high with 10 strikeouts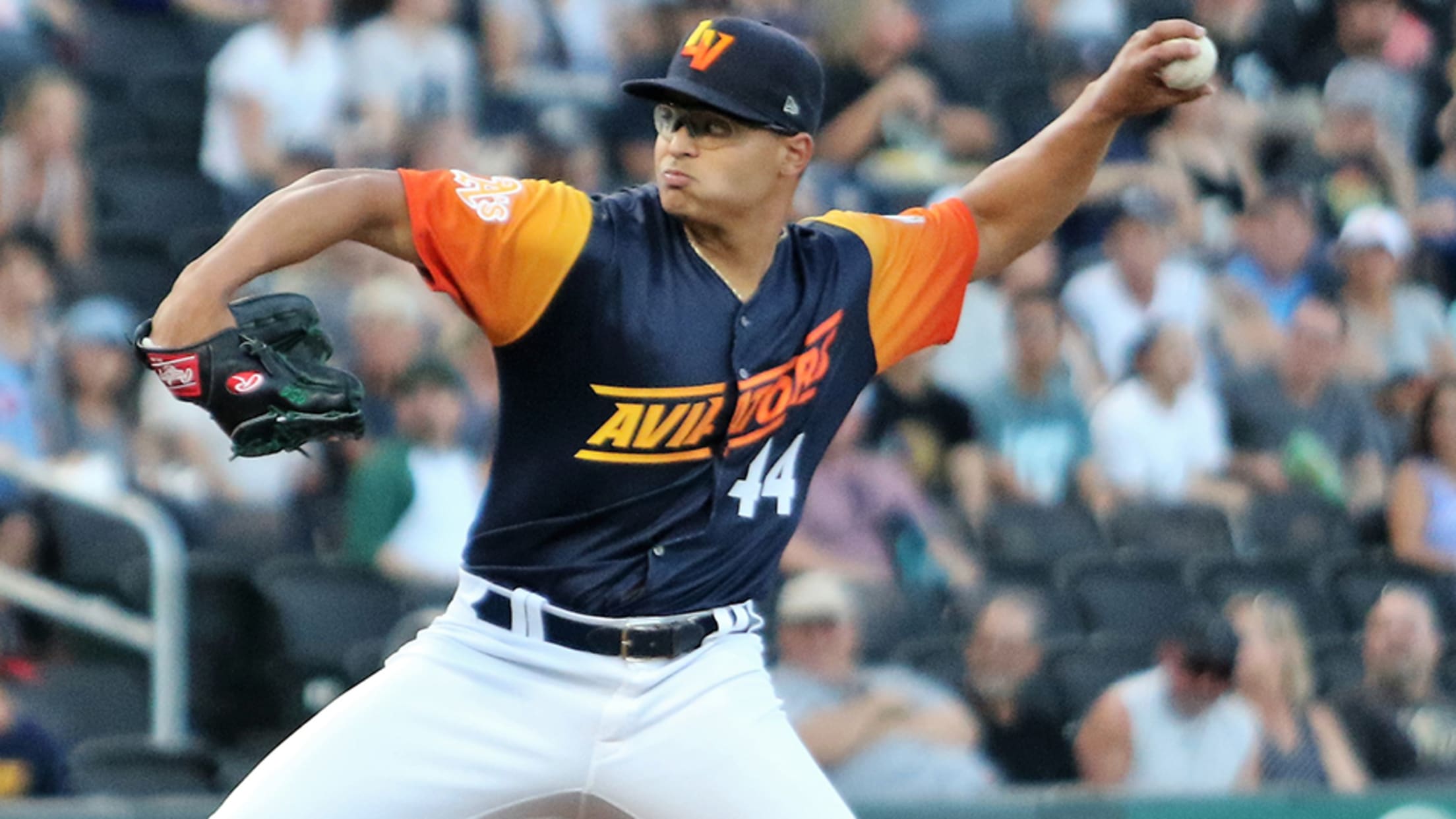 Jesus Luzardo has 24 strikeouts over 25 innings in six Triple-A starts this season. (Jerry Espinoza/MiLB.com)
As if he hadn't been tested enough this season, Jesus Luzardo checked off another box in his hopeful push to the Majors on Friday.In his longest start of the season, the top A's prospect matched his career high with 10 strikeouts over six innings. He gave up a run while scattering
As if he hadn't been tested enough this season, Jesus Luzardo checked off another box in his hopeful push to the Majors on Friday.
In his longest start of the season, the top A's prospect matched his career high with 10 strikeouts over six innings. He gave up a run while scattering six hits before Triple-A Las Vegas fell to Tacoma, 4-2, at Las Vegas Ballpark.
Luzardo threw 57 of 93 pitches for strikes and topped out at six innings for just the second time in his professional career. While his strikeout total was high, at the end of the night, his confidence was even higher.
"[Tonight] was really important," Luzardo said. "It showed I'm ready to be a starter."
It's been a trying year for MLB.com's No. 19 overall prospect, who was on the cusp of making the A's Opening Day rotation before suffering a left shoulder strain just days before the season was set to begin. While rehabbing, Luzardo reached the Triple-A level before landing on the Injured List again, this time with a Grade 2 strain of his latissimus dorsi muscle.
The southpaw began his second rehab assignment on Aug. 5. Since then, he's looked nearly every bit like the key rotation piece the A's hope he becomes, with the only lingering question being if he could pitch deep into games. Given his injuries, the big club wanted to build Luzardo back up before putting him to the test. He passed with flying colors against the Rainiers.
The night started a bit wobbly for Luzardo, who allowed a leadoff single to John Andreoli but froze Mariners No. 15 prospectShed Long for his first strikeout of the night. Eric Filia doubled to put two runners in scoring position with one out, and Andreoli came home on a groundout by Ryan Court.
Gameday box score
That was the lone run the 21-year-old allowed as he retired Jaycob Brugman on another grounder to end the frame.
Luzardo picked up his second strikeout in the second before giving up back-to-back singles to Kelby Tomlinson and Andreoli in the third. With two on and nobody out, he needed to pitch for a punchout. And he did, fanning Long, Filia and Court on 13 pitches to end the threat.
"I was in a jam and I really needed to get out of it without any contact," Luzardo said. "That's what was going through my mind."
He carried the momentum to the fourth, where he struck out the side again. Daniel Castro flied out in the fifth to end the strikeout streak at six, but Luzardo whiffed Long for the third time to end that inning.
In his final frame, Luzardo caught Joseph Odom looking at a 1-2 fastball on the outside corner for his 10th strikeout. He pumped his first after notching his third career double-digit strikeout effort and first since July 9, 2018 for Class A Advanced Stockton.
"[The game] was awesome, definitely a good feeling," he said. "I've been struggling to get through five [innings] in my last two starts, I think I used too many pitches. I was happy I was able to get through six today within the pitch count. It was a good feeling."
With Major League rosters set to expand on Sunday, Luzardo knows this start was pivotal for the A's organization to see. Oakland is heading into the final month of the season in the thick of the American League Wild Card race, and it's highly possible it'll be counting on him to make an impact. The team called up its No. 2 prospect, fellow lefty A.J. Puk, on Aug. 20 to be used in a relief role.
Luzardo, however, will be used as a starter. And if you ask him if he think he's ready, he's quick to answer.
"Personally, I do," he said. "I feel like I've done everything they've asked of me and showed them everything they needed to see. But at the end of the day, I don't make that decision. So wherever I get the ball is where I'll throw."
Until the phone rings, the Florida native will be focused on two things: his health and his durability.
"My main thing is to stay healthy, and I've been feeling pretty good," he said. "Really, I just want to get through five or six innings and show that I can be a starter and go through a pitch count and not have to come out early in the game. That's my main thing. The rest will take care of itself."
Luzardo lowered his ERA in the hitter-friendly Pacific Coast League to 3.19 after departing with a 2-1 lead.
A's No. 4 prospect Jorge Mateo turned in a two-hit night and 25th-ranked Alfonso Rivas doubled in a run in the sixth.
Tacoma rallied in the eighth as Jaycob Brugman delivered a go-ahead two-run single and Daniel Castro was hit by a pitch with the bases loaded.
Katie Woo is a contributor to MiLB.com. Follow her on Twitter @katiejwoo.