Phillies Prospect Primer: Sanchez sizzles
Right-hander climbs ranks; Kingery, Eshelman ready for big stage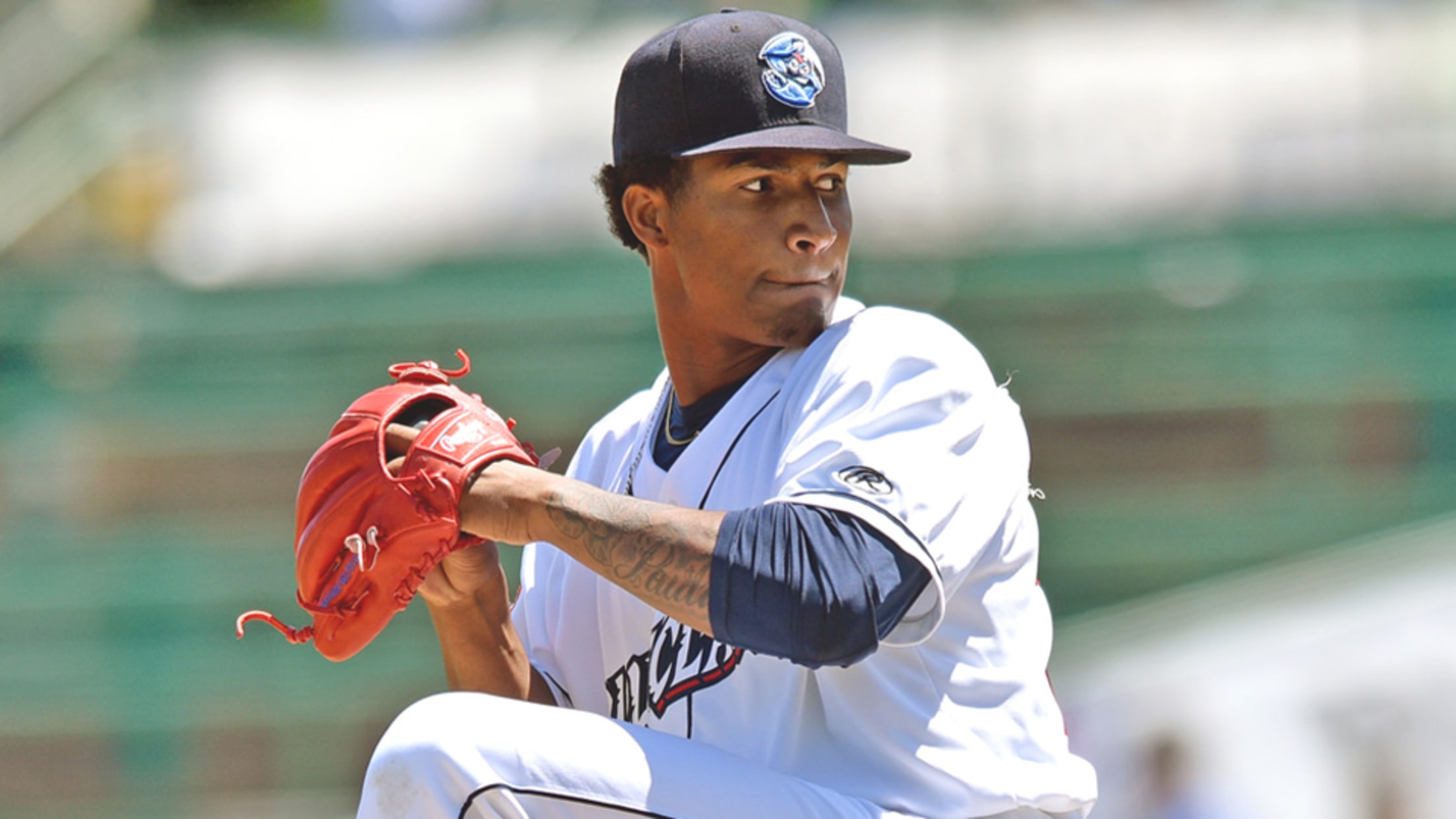 Sixto Sanchez has a 2.47 ERA in 174 2/3 career innings across three pro seasons. (Ken Inness/MiLB.com)
Some players are on the verge of stardom, others are entering a crucial phase of their development and still others are getting their first tastes of full-season ball. With the 2018 season approaching, MiLB.com takes a look at the most intriguing prospects from each MLB organization.Loudest tool: Sixto Sanchez, RHPJoe
Some players are on the verge of stardom, others are entering a crucial phase of their development and still others are getting their first tastes of full-season ball. With the 2018 season approaching, MiLB.com takes a look at the most intriguing prospects from each MLB organization.
Loudest tool: Sixto Sanchez, RHP
Joe Jordan doesn't think a 70 grade is high enough. Having seen Sanchez's fastball in person, the Phillies' director of player development joked that the 20-80 scale must be broken.
"He's an exciting, young pitching prospect," Jordan said. "He's got elite velocity."
But what excites Jordan the most at this point in Sanchez's development is his ability to throw strikes, notching 146 strikeouts and 32 walks in 174 2/3 career innings.
In his full-season debut, the Dominican Republic native went 5-3 with a 2.41 ERA, 64 punchouts and nine free passes in 67 1/3 innings across 13 starts with Class A Lakewood. Most of that came before his 19th birthday on July 29 as he forced his way to being named the Phillies' top pitching prospect and eventually their No. 1 overall prospect. A week after his birthday, Sanchez made the leap to Class A Advanced Clearwater, but the adjustment proved to be his most difficult challenge yet as he went 0-4 with a 4.55 ERA, 20 strikeouts and nine walks in 27 2/3 frames over five starts.
Jordan said Sanchez is very mature and driven, always looking to learn more. The six-foot hurler continues to work on his secondary pitches, with his changeup being a clear No. 2.
"There's a lot of quality to a changeup that hasn't been used a lot and I think the more he uses it, the more confidence obviously he'll get with it," Jordan said. "But it's got a chance to be every bit of above average, if not well-above average in the future."
Shining star: Scott Kingery, 2B/OF
The man they call Scotty Jetpax really took off last season. The University of Arizona product embraced his college nickname/Twitter handle and slugged a career-high 26 homers -- 21 more than his previous best. But that was just one of the tools Kingery put on display in his breakout campaign last year.
The 23-year-old hit .304/.359/.530 with 65 RBIs and 29 stolen bases in 34 attempts, advancing from Double-A Reading to Triple-A Lehigh Valley in his second full season. Playing mostly second base with a few games at short and third, Kingery earned a Minor League Gold Glove and a trip to the All-Star Futures Game.
"I think he's a baseball player with a lot of physical ability. He is a good player, he can play the game, he can impact the game, both offensively and defensively," Jordan said. "This guy can go 0-for-4 and win a ballgame for you with a couple defensive plays. He's done that many times in the Minor Leagues, and he'll do that at the Major League level."
This spring, Kingery became even more versatile by playing four games in the outfield at big league camp. With that range, a .411 average and five homers in 22 games, the Phoenix native earned not only a spot on the Major League roster, but also an unprecedented six-year, $24 million contract.
"The way he plays, the energy, just his approach to playing the game is, it's really, really good; it's fun to watch," Jordan said. "But he [also] has a lot of ability -- from speed, arm, his glove and obviously the hit and power tools are both there as well. So there's a lot to like."
Full-season debutant: Jhailyn Ortiz, RF
Signed at 16 in 2015, Ortiz spent 2016 adjusting to pro ball, but in 2017 it was clear the adjustment period was over. The Dominican Republic native hit .302/.401/.560 with eight jacks and 30 RBIs for Class A Short Season Williamsport.
"I think all parts of his game improved last year. There's not one single thing that I think we could say didn't get better," Jordan said. "His offensive progressive for was really good, just from the standpoint he did a much, much better job of controlling the strike zone, his chase percentage was lower, his ability to identify secondary pitches, off-speed pitches improved.
"I think he's got a chance to be a hitter with elite power, and I think as long as he wants to be a hitter first and just develop as a hitter, the power is just going to take care of itself."
Jordan also liked the way Ortiz moves in the outfield "for a big kid," also noting his strong arm. As the 19-year-old progresses to full-season ball this year, his above-average power should be on display. Jordan will also look for Ortiz to continue to improve his plate discipline by working more walks and "waiting for his pitch."
Major League-ready: Tom Eshelman, RHP
Like Kingery and Ortiz, Eshelman is here because of an explosive 2017. After being tagged with a 4.27 ERA through his first 130 1/3 career innings, the 23-year-old took off in his fourth pro campaign. Following five dominant starts with Reading, Eshelman only got better at Lehigh Valley. Overall, the 2015 second-round pick went 13-3 with a 2.40 ERA, 102 strikeouts and 18 walks in 102 frames over 23 starts as he topped Phillies Minor Leaguers in victories.
"His execution from Day 1 was as good as you can be. He literally pitched all year as consistently as you can pitch," Jordan said. "He can use his fastball to both sides of the plate, he's got a good changeup that he can use in fastball counts, his breaking ball. He can even a count with his secondary pitches, which I think is a big plus for him."
While none of his pitches jump off a page -- Jordan says to ignore the radar gun -- it's Eshelman's craftiness that shuts down hitters. The Cal State Fullerton product has tallied an outstanding 1.6 walks per nine innings as he sports plus-plus control.
"I think just with Esh, really what he's waiting on is an opportunity. I think he knows who he is and I think he can execute a game plan as well as anyone we have in the Minor Leagues," Jordan said. "So, continue doing what he's been doing until his name's called, when there's an opportunity in the big leagues."
At the crossroads: Roman Quinn, OF
Health has always been a problem for Quinn. Between oblique strains, a wrist fracture, an Achilles injury and most recently an elbow injury, the 24-year-old has never played more than 88 games in a season, totaling 401 contests over six Minor League campaigns. Despite all the DL appearances, he always seemed to produce when on the field, until last season's dip, that is. Quinn hit .274 (a three-year low) with two homers (a full-season low) and 10 stolen bases (a career low) in 45 games for the IronPigs in 2017.
"When Quinn's on the field, when Roman Quinn is in your lineup, you have an electric piece that not everyone has every night," Jordan said. "I think 2018 is going to be the year he stays healthy and we get to see it all year."
Jordan said Quinn was feeling great as he competed for a spot on the Phillies' roster this spring. Getting an extended look at big league camp, the Florida native hit .268 with a homer and nine stolen bases in 10 attempts. (He batted .263 while showcasing his 80-grade speed for 19 swipes in 24 attempts over 15 big league games in September 2016, but he has not been to Philadelphia since.) The 2011 second-round pick made just one error this spring while spending nine games at short -- a position he hadn't played since he moved to the outfield in 2014.
"He can steal a base when everyone in the ballpark knows he's going. When he has been in the lineup the last couple years, he's hit. I think he continues to grow as a hitter," Jordan predicted. "But again, it's outfield play. He can play all three outfield spots. ... When you're looking from a National League perspective, this guy can win you games in a lot of ways -- if it's coming off the bench, steal a base, score from first on a base hit, late-inning defensive help that gives you an above-average defender anywhere you want to put him."


More to keep an eye on: In his first full season, 2016 first-overall pick Mickey Moniak hit .236 with 11 stolen bases in 18 attempts. As his spot in the Phillies rankings slipped to No. 5, he could do better this season with a slightly dimmer spotlight. … After going homer for homer with Rhys Hoskins the past two seasons, Dylan Cozens will be starting the year without his bash brother, who made Philadelphia's roster. With Kingery gone too, Cozens should boast the loudest bat in the Lehigh Valley lineup. … Look for 21-year-olds Adonis Medina and JoJo Romero to lead the Reading rotation at some point this season, setting up Major League action in 2019.
2018 organization predictions:
Most home runs in the system: Darick Hall
Most stolen bases: Zachary Coppola
Most strikeouts: Medina
Current prospect to get most Major League playng time: J.P. Crawford
Non-Top-100 prospect to end 2018 in the Top 100: Romero
Kelsie Heneghan is a contributor to MiLB.com. Follow her on Twitter @Kelsie_Heneghan.