Phils' Howard pulled with stiff shoulder
Twins prospect Rooker suffers fractured right forearm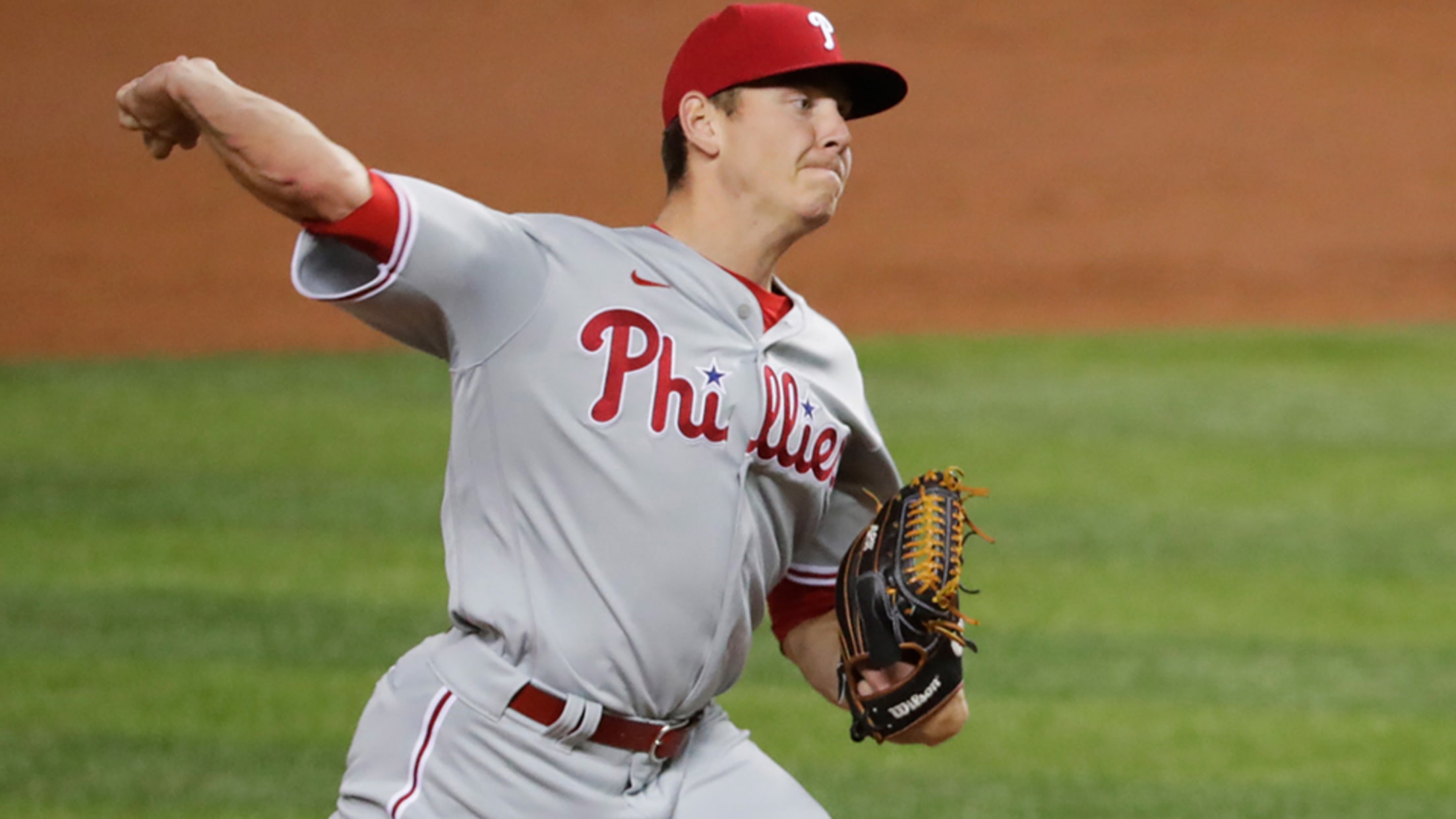 Cliff Hawkins/Getty Images
For a while on Saturday, it looked like Spencer Howard was on the way to his best start as a Major Leaguer. Now it's uncertain whether the Phillies' top pitching prospect will make his next start. Howard exited in the fourth inning of Philadelphia's 12-6 win at Miami with stiffness
For a while on Saturday, it looked like Spencer Howard was on the way to his best start as a Major Leaguer. Now it's uncertain whether the Phillies' top pitching prospect will make his next start.
Howard exited in the fourth inning of Philadelphia's 12-6 win at Miami with stiffness in his right shoulder.
Making his sixth start since he was promoted from the team's alternate training site, the right-hander breezed into the fourth inning. Staked to a 5-0 lead, he retired 10 of the first 11 batters he faced before Jesus Aguilar singled with two outs and Matt Joyce walked on a full count. Six pitches later, Brian Anderson homered to get the Marlins within 5-3, and Howard's night was over.
"It was taking him a few pitches to get loose every inning, so we took him out to be cautious," Phillies manager Joe Girardi told reporters. "He tested out well with our trainers, but obviously, we did not do any diagnostic testing. ... I would imagine at some point we will see how he feels tomorrow and evaluate him tomorrow. And if we have to do testing, we will."
"Past couple of days, [it would] just feel a little tight in my shoulder and tonight was just slow to get warmed up. And toward the end of the inning, it would feel good. The warmup process was just getting longer and longer," Howard added.
A year ago, MLB Pipeline's No. 32 overall prospect missed two months with soreness in the same shoulder.
"I'd say it's not as severe as that, but I got a comparable sensation. Last year, it was pretty sharp and agressive when I did throw, this ... just felt like a little rusty, a little slow to warm up, so I'm not necessarily concerned about it," Howard told reporters, adding he would do "everything I can" to make his next start
The 24-year-old is 1-2 with a 5.92 ERA in six starts, striking out 23 and issuing 10 walks over 24 1/3 innings.
"That's kind of been my whole thing this year is trying to improve on consistency. And I think out of the windup, with each start it's been getting a little bit better," he said. "Just that little mechanical cue, coming from the stretch, is what seems to be that last little leg of my year. So it's super-frustrating, but at the end of the day, it's all right."
Despite the injury, Howard enjoyed a breakout season in 2019. Splitting the year between Class A Advanced Clearwater and Double-A Reading (with two rehab appearances in the Rookie-level Gulf Coast League), the former second-round pick was 3-1 with a 2.03 ERA, 0.83 WHIP and .173 opponents' batting average in 15 starts.
Twins' Rooker out for the season
Outfielder Brent Rooker, the Twins' No. 12 prospect, suffered a fractured right forearm when he was hit by a pitch in the fourth inning of Minnesota's 8-4 win over Cleveland on Saturday.
Rooker was plunked by a first-pitch changeup from right-hander Zach Plesac that was clocked at 85.5 mph. He was immediately replaced by pinch-runner Jake Cave.
Manager Rocco Baldelli told the media the former first-round pick will undergo surgery and miss the rest of the season.
"We knew when we went out there to check on him on the field that he was not in great shape. Obviously, we don't know the extent of it, but it's a pretty serious injury," Baldelli said.
Since joining the team from its alternate training site on Sept. 4, Rooker hit .316/.381/.579 with a homer, two doubles, five RBIs and four runs scored. He connected for his first big league long ball on Tuesday against St. Louis right-hander Daniel Ponce de Leon.
"He's done a fantastic job for us in his time here. He contributed in a huge way in only a few games. And we needed his performances and he came through for us," Baldelli said.
Daren Smith is an editor for MiLB.com.