Wesley Moore Earns Phillies Minor League Pitcher of the Month for May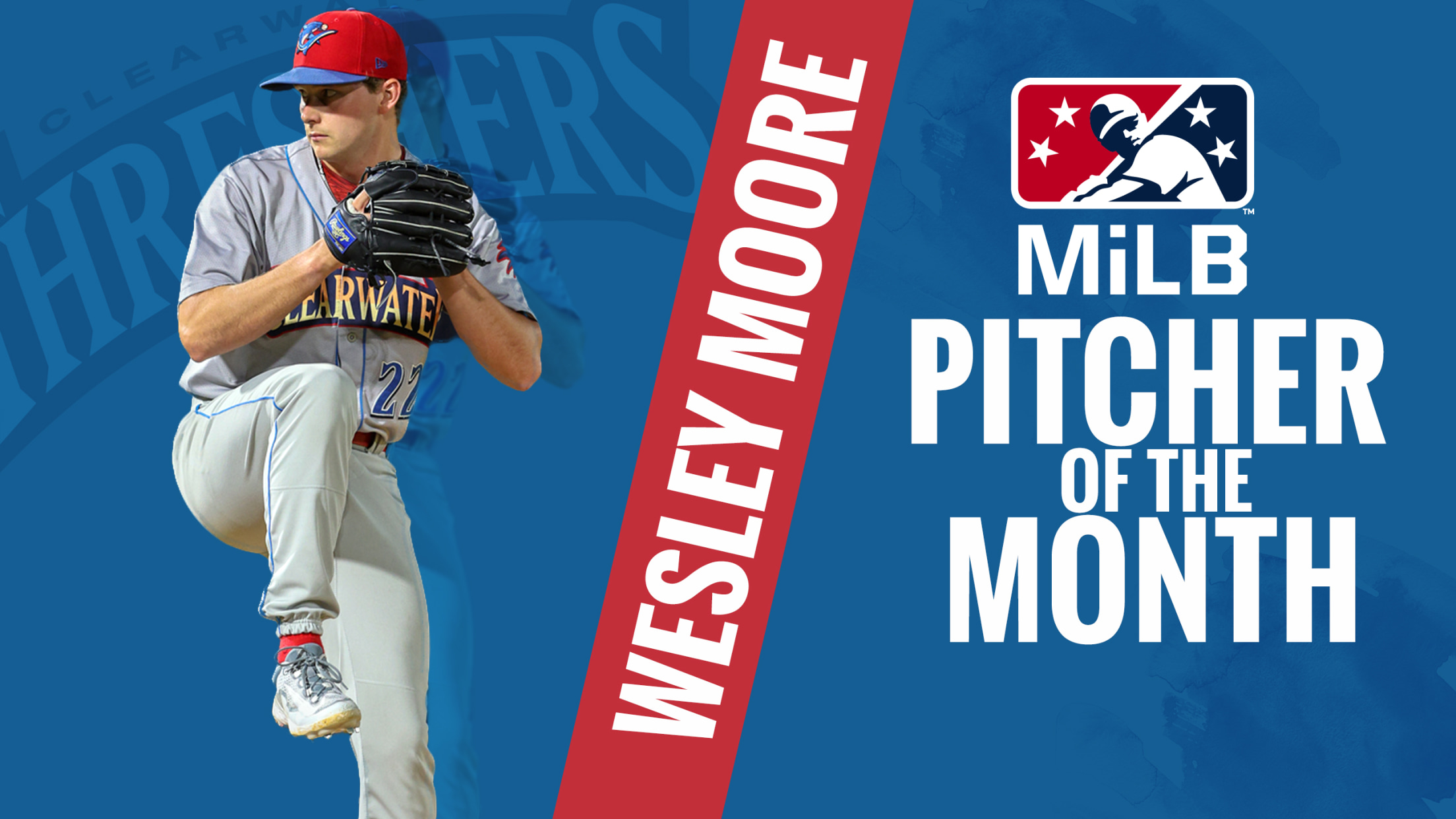 Clearwater left-handed pitcher Wesley Moore has been named Phillies Minor Pitcher of the Month for May. The 23-year-old Moore made eight relief appearances for single-A Clearwater in May, allowing only two earned runs in 13.2 innings pitched. The 6-foot-2 rookie struck out 22 of the 59 batters he faced (37.3%)
Catching Up With: Mick Abel
The Rapid Rise to Stardom of Phillies #2 Prospect Mick Abel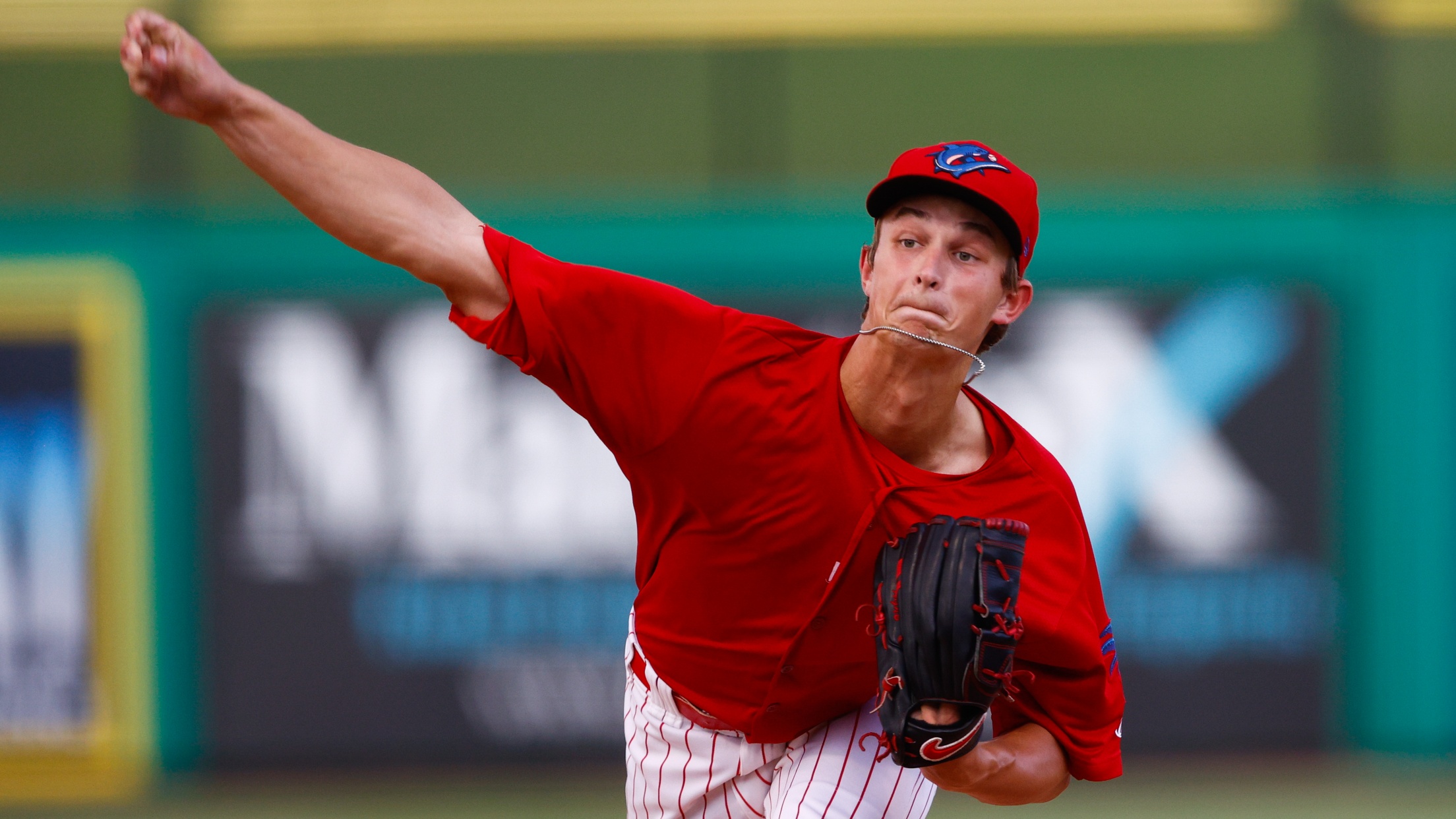 The Phillies have recently been associated with strong hitting, the power of Kyle Schwarber and Bryce Harper, the five-tool guys like JT Realmuto and now Trea Turner. However, if you take a close look at their minor league system, that narrative may soon change. All three of their top three
Camp Recap, March 24th: Viars' Late Grand Slam Seals Victory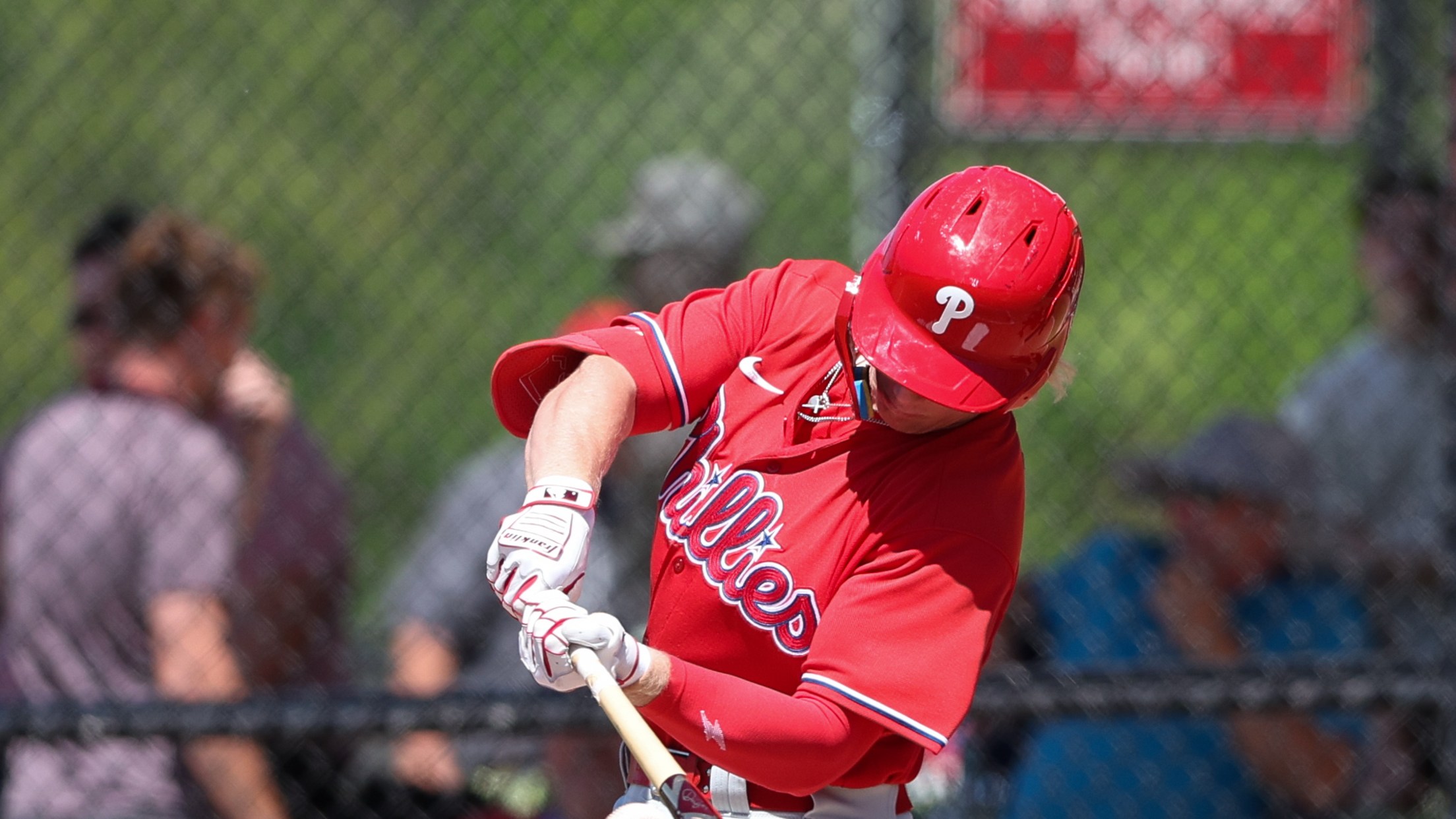 CLEARWATER, Fla. — Jordan Viars hit a towering grand slam in the eighth inning to help the Phillies minor leaguers take down the Yankees 7-2 at the Carpenter Complex on Friday afternoon. Philadelphia's minor league camp faces the Blue Jays on Saturday morning. Pitching was strong at the start for
The Road to The Show™: Phillies righty Abel
No. 54 overall prospect holding up his end of winning combo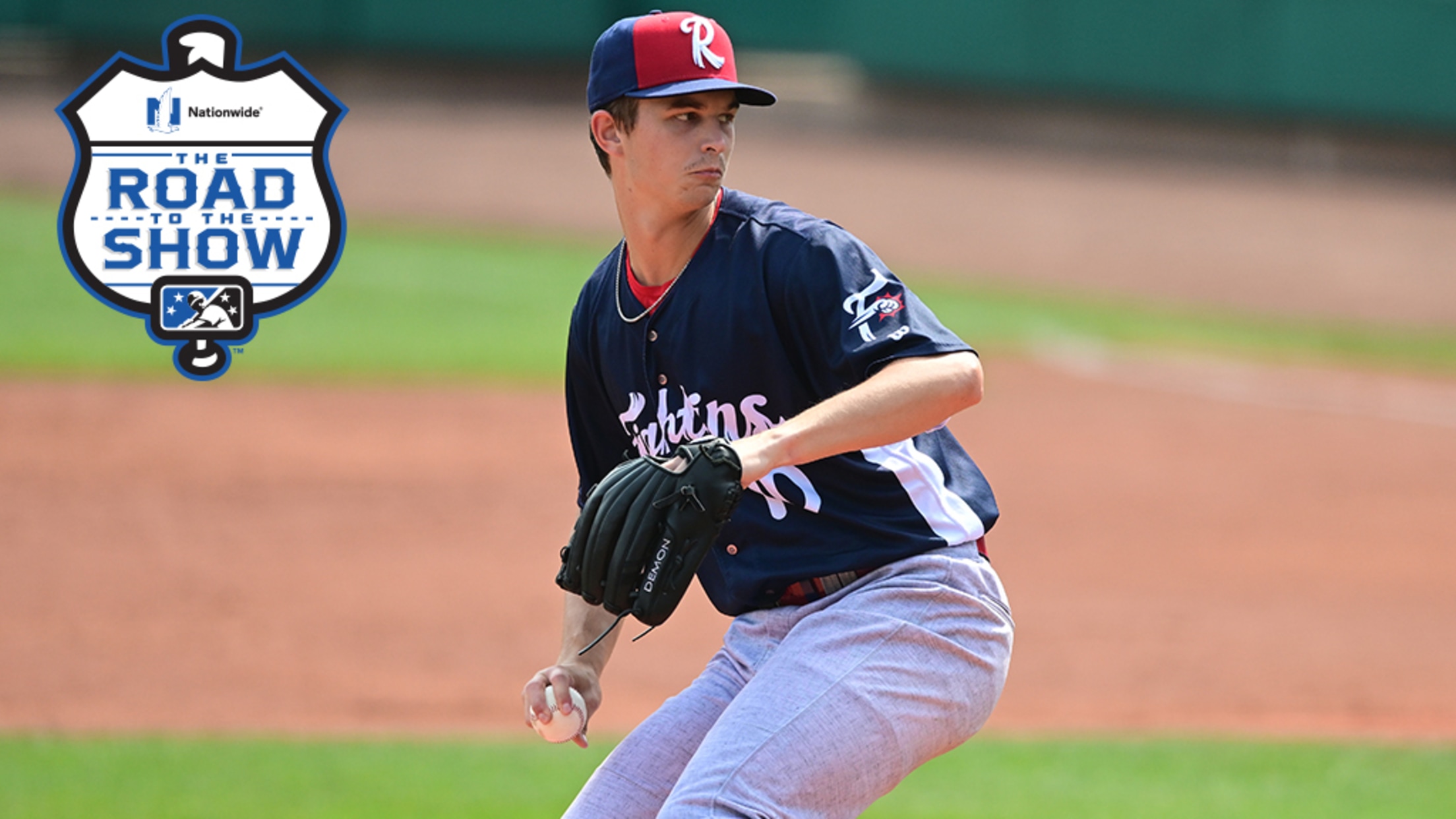 Each week, MiLB.com profiles an elite prospect by chronicling the steps he's taken toward achieving his Major League dream. Here's a look at second-ranked Phillies prospect Mick Abel. For more stories about players on The Road to The Show, click here. Coming into the season, Mick Abel seemed to be
Painter, veteran bats bring the noise for Phillies
Young ace headlines All-Stars list alongside experienced sluggers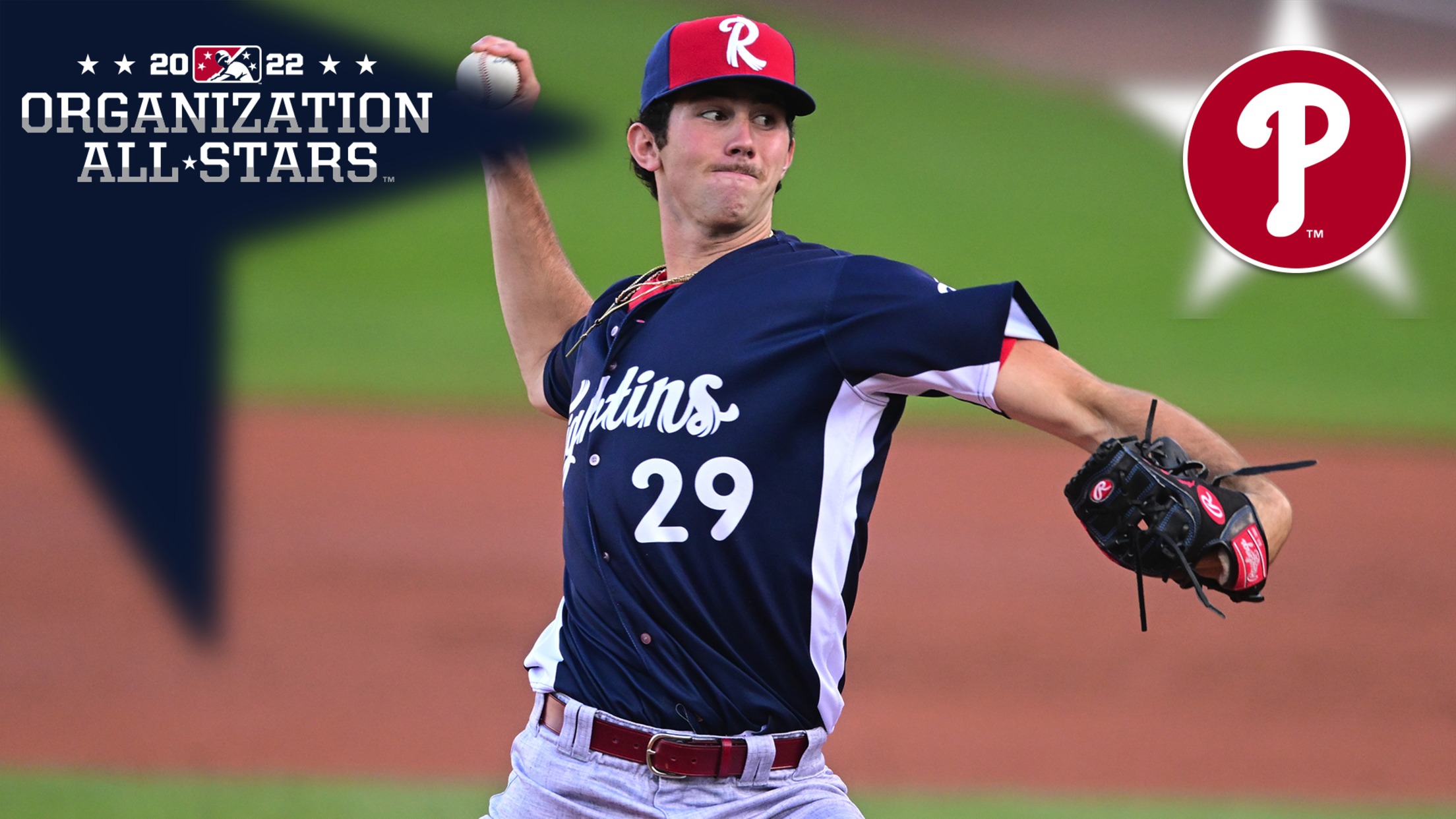 Each offseason, MiLB.com goes position by position across each organization and honors the players -- regardless of age or prospect status -- who had the best seasons in each farm system. Next up in our 2022 Organization All-Stars series are the Philadelphia Phillies.
'Dream come true': Brito returns to Rochester
Phillies Minor Leaguer reunites with life-saving medical staff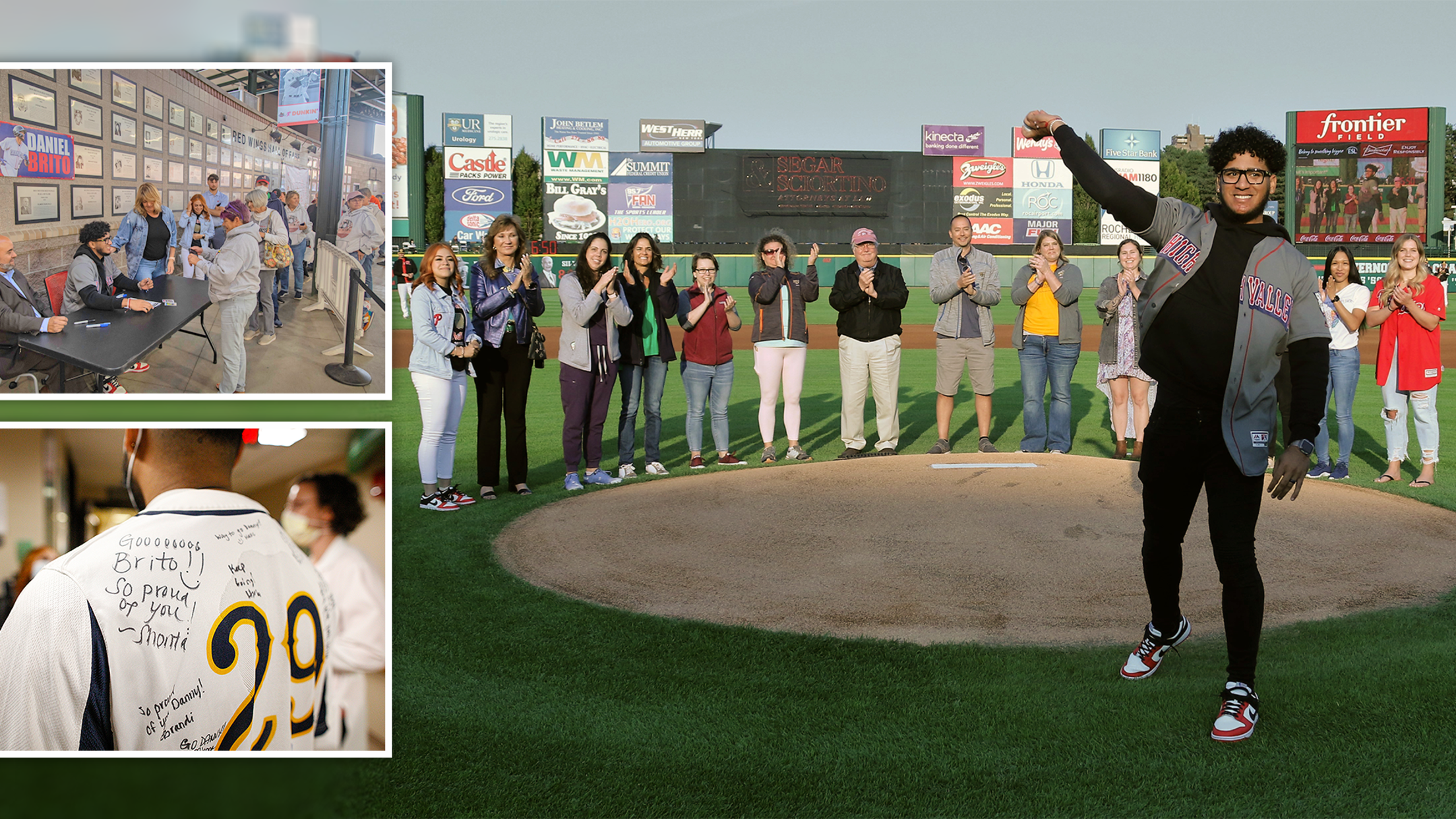 Four hundred and eleven days later, Daniel Brito walked out onto the field where he collapsed with a brain hemorrhage. He gripped a baseball in his right hand. He was smiling. On July 31, 2021 Brito started at second base for Triple-A Lehigh Valley on the road at Frontier Field
Phillies' Harper goes Mutts in Lehigh Valley
Rehabbing MVP shines as IronPigs host dog adoption event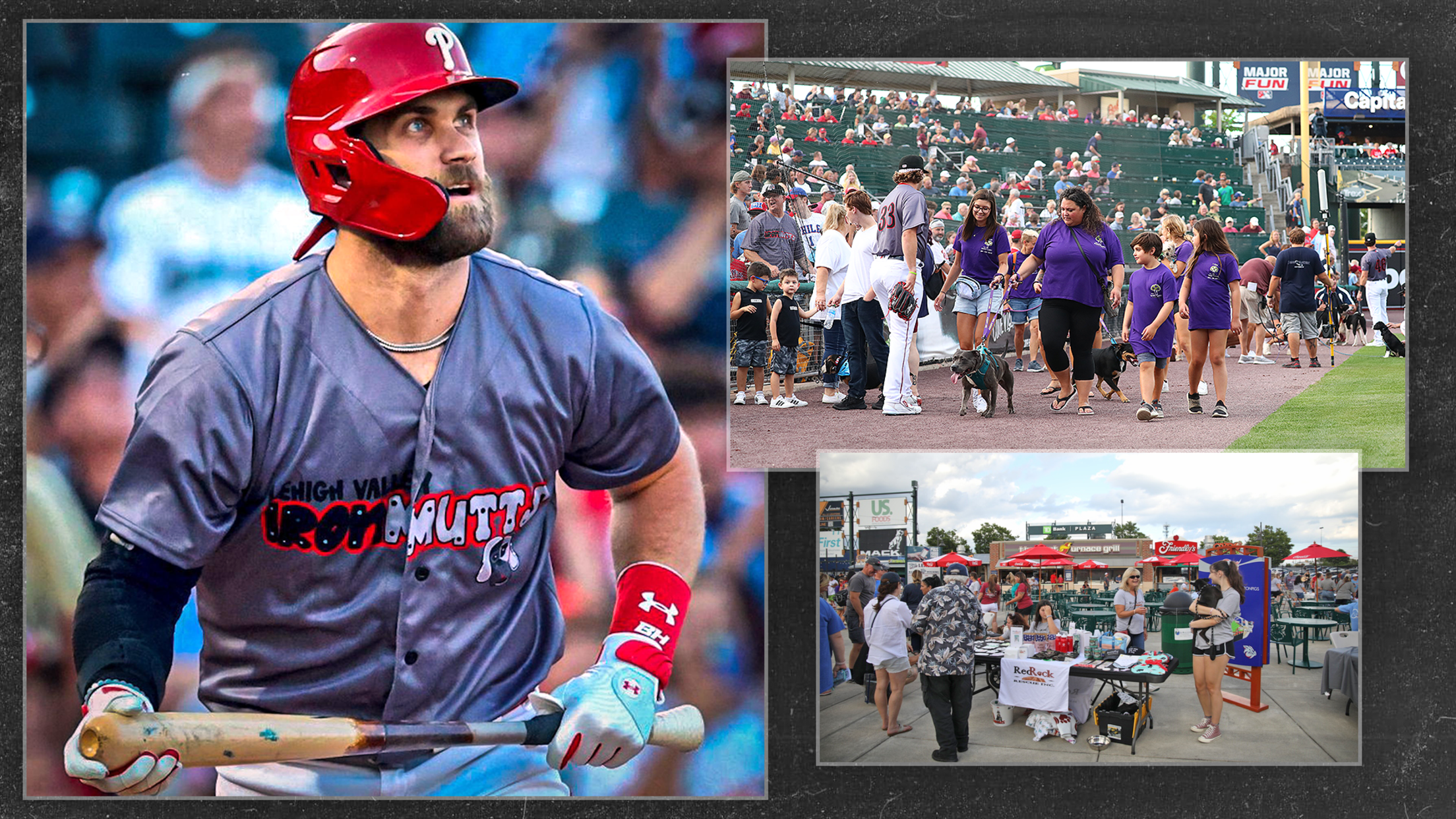 Tuesday was already set up to be a special night at Coca-Cola Park in Allentown, Pa. The hometown Lehigh Valley IronPigs transformed into the IronMutts and partnered with a dozen local rescue organizations in an effort to encourage adoptions of non-purebred dogs. Bryce Harper's involvement was icing on the cake.
Phillies' Harper provides the heroics
Rehabbing Harper hits a walk-off two-run double in the bottom of the 9th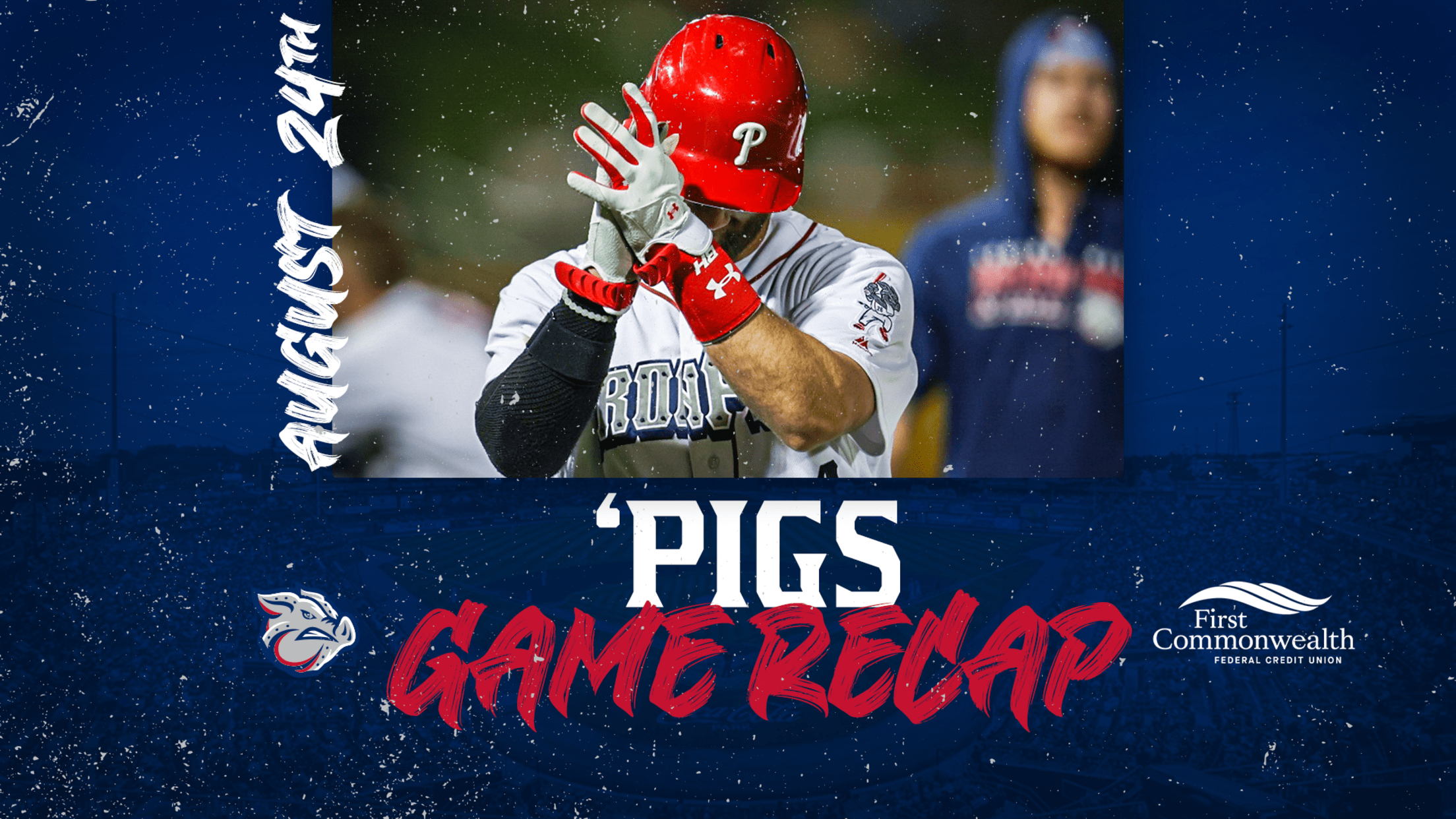 (Allentown, PA) – Bryce Harper hit a walk-off two-run double against Michael Tonkin (5-2) in the bottom of the ninth inning to give the Lehigh Valley IronPigs (66-53) a 6-5 win over the Gwinnett Stripers (58-61). The IronPigs rallied from four runs down to win the game. Donny Sands started
Painter draws up six zeros in Double-A debut
Pitching at third level in '22, top Phillies prospect whiffs eight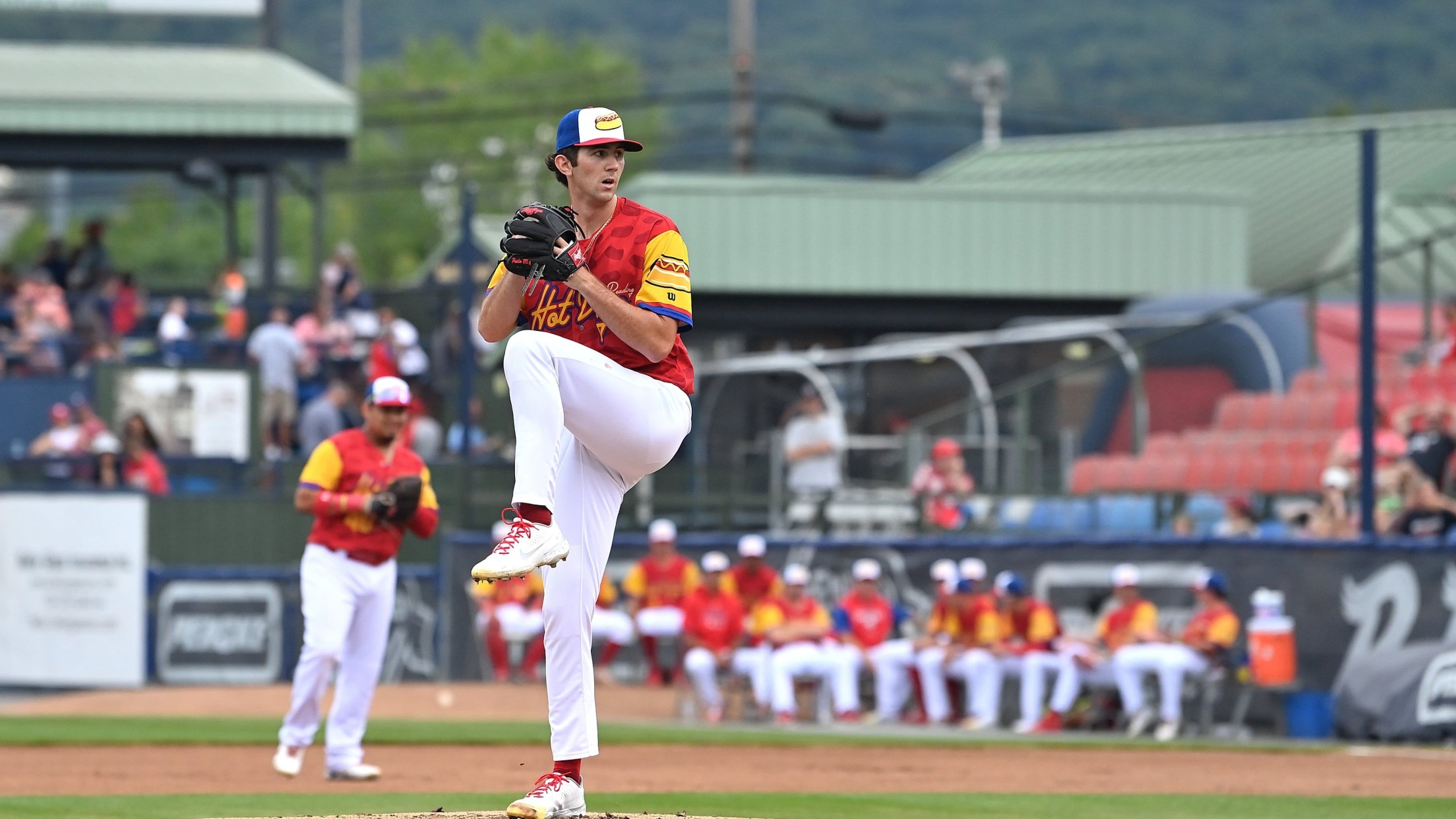 It might be reasonable to question how a 19-year-old pitcher, of any pedigree, would fare at the Double-A level, but Andrew Painter is cut from a different cloth. Though instead of wiping away watercolors, this one is mopping up opposing batters. Painter, the Phillies' top-ranked prospect and No. 25 in
Minor League coaches pitching in at Futures Game
Tuiasosopo, Ramos on NL staff for upcoming prospect showcase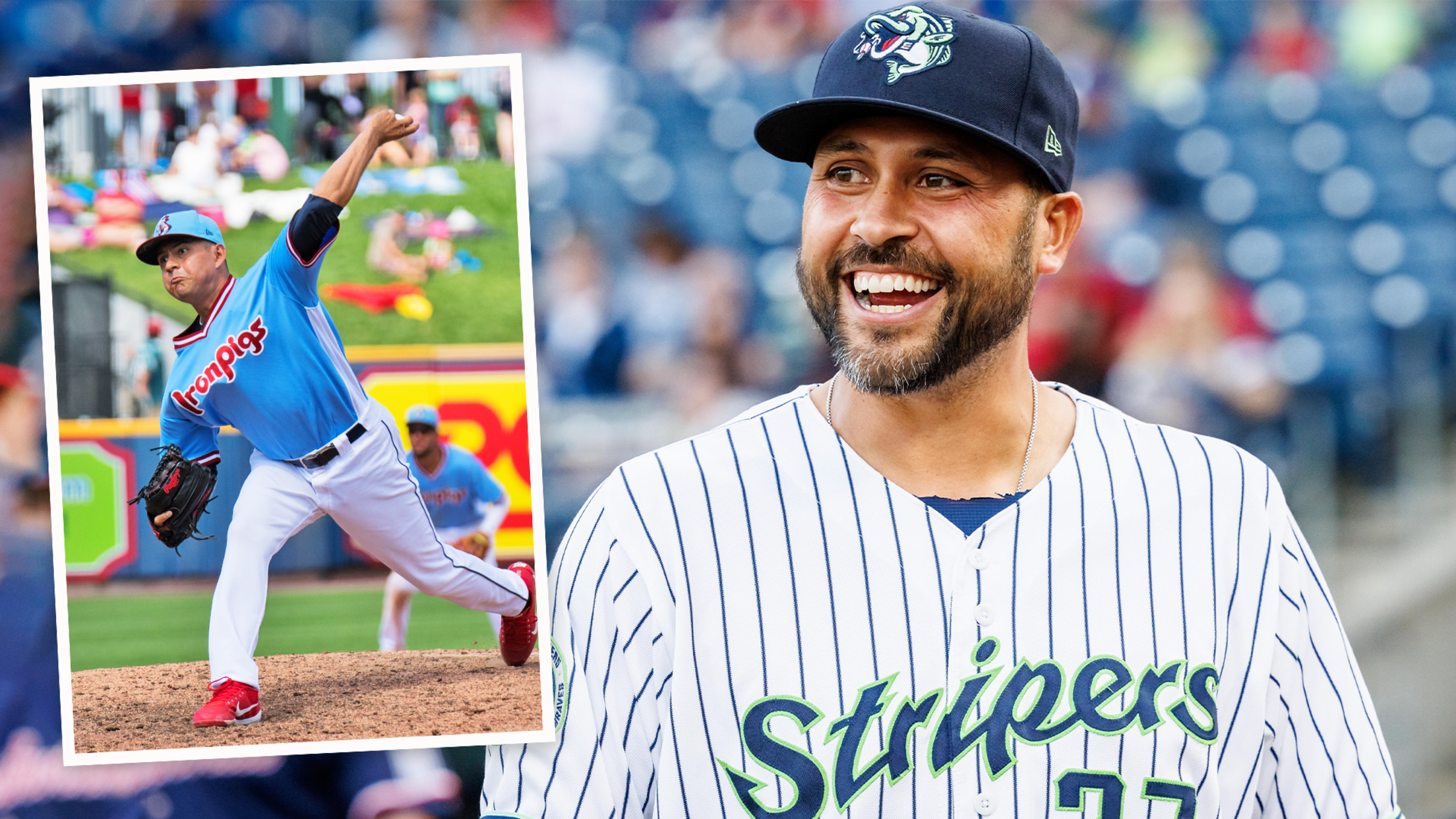 There are some mysteries that are better left unsolved. Last month, Cesár Ramos had a typical call with Phillies farm director Preston Mattingly about an atypical topic. Mattingly's chat with the Triple-A Lehigh Valley pitching coach wasn't to check in on a member of the IronPigs' pitching staff, but gauge
Prospect Q&A: Phillies catcher O'Hoppe
Club's No. 5 prospect discusses strong AFL, work with pitchers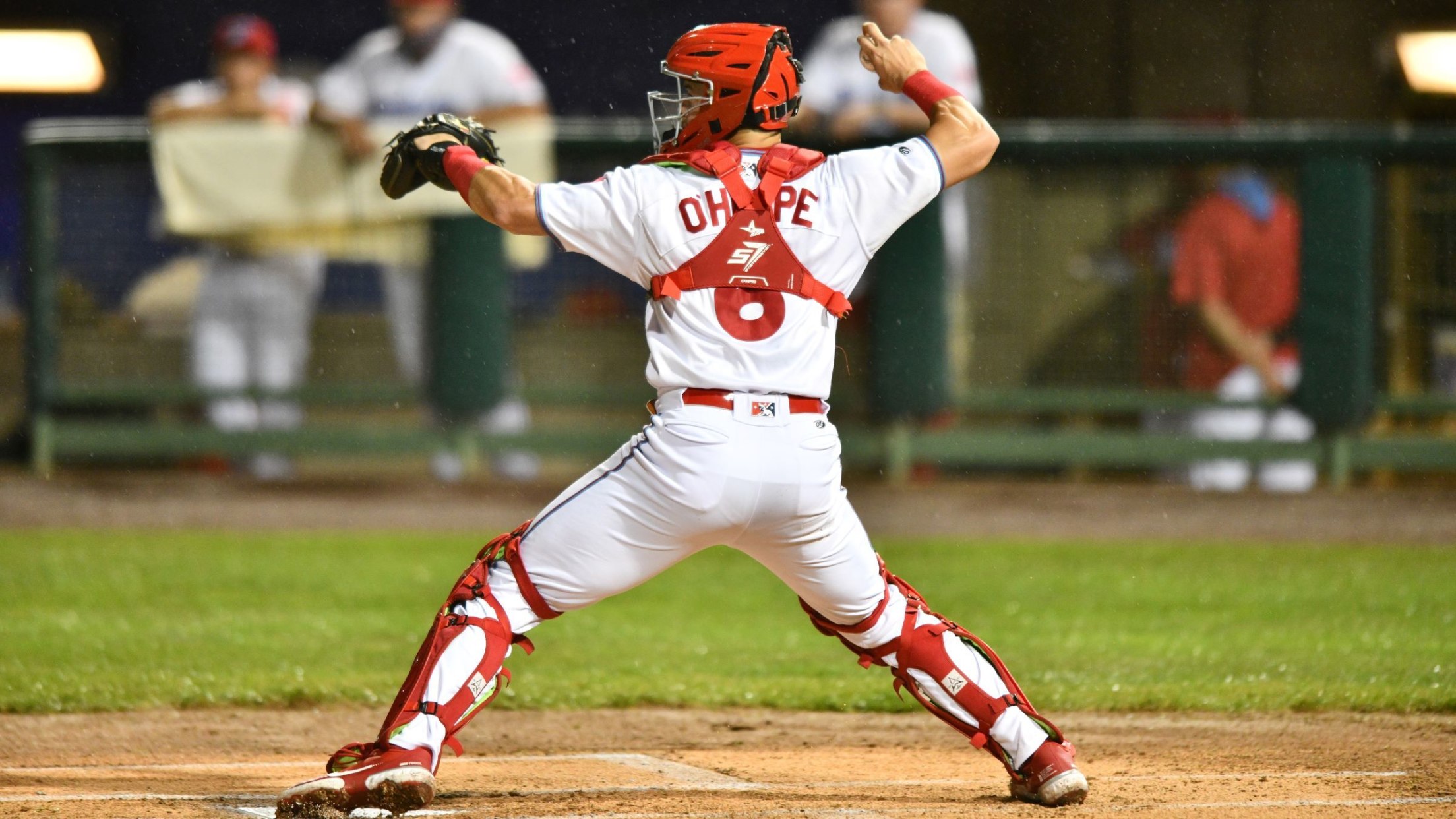 Last season, Logan O'Hoppe learned that it's never too late to make a name for yourself. O'Hoppe was the recipient of the Dernell Stenson Sportsmanship Award for his work with Peoria in the Arizona Fall League. The backstop was constantly praised by pitchers and coaches alike for the way he
Scouting report: Phillies righty Painter
2021 first-rounder may help form one of Minors' best pitching duos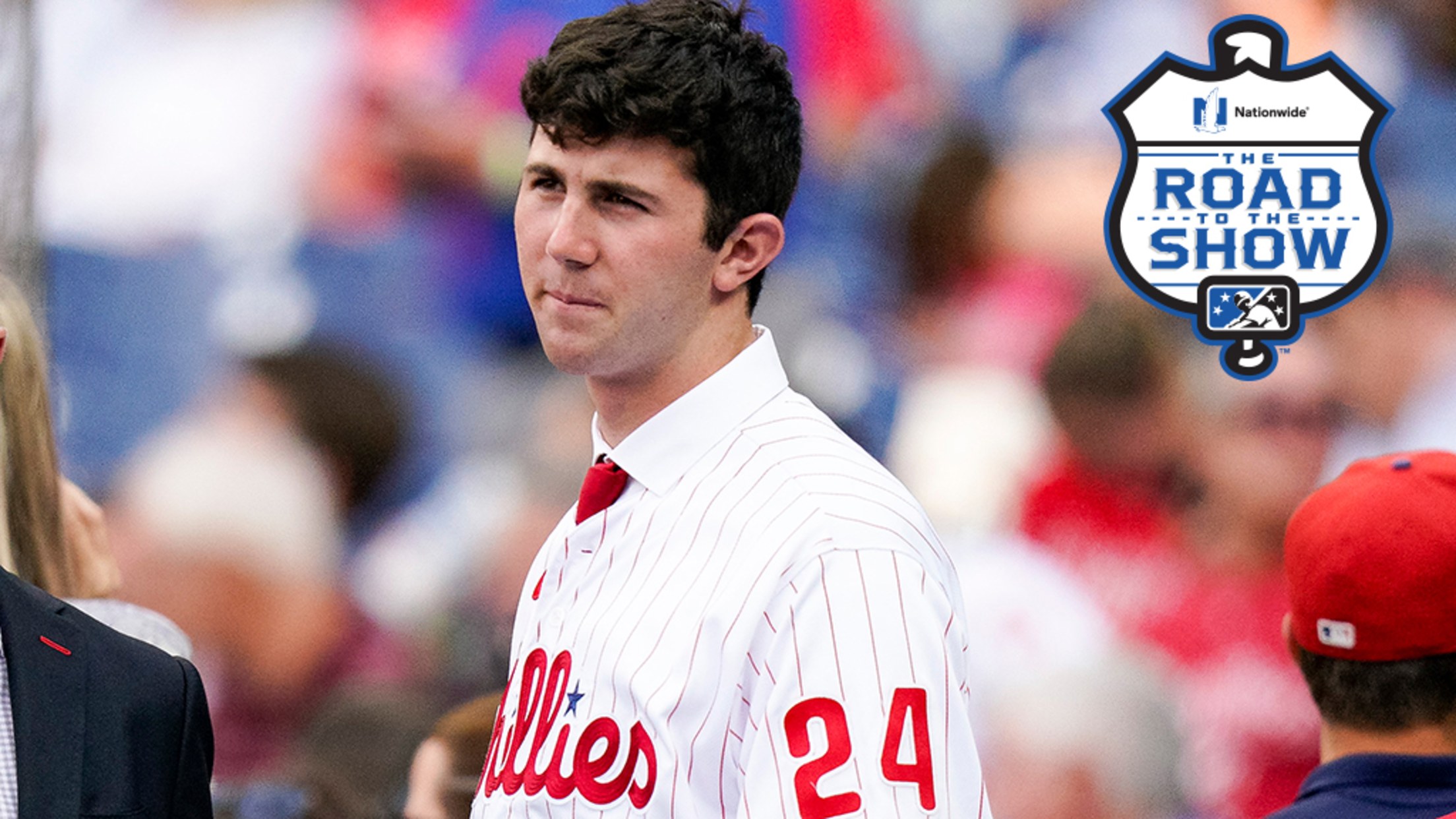 MiLB.com's Scouting Report series spotlights players who are just starting their professional careers, focusing on what the experts are projecting for these young phenoms. Here's a look at third-ranked Phillies prospect Andrew Painter. The Phillies' farm system isn't looked upon as favorably as others, but a strong first full season
Stott, O'Hoppe swiftly ascend Phillies' system
No. 2 prospect, rising catcher reach Triple-A in full-season debuts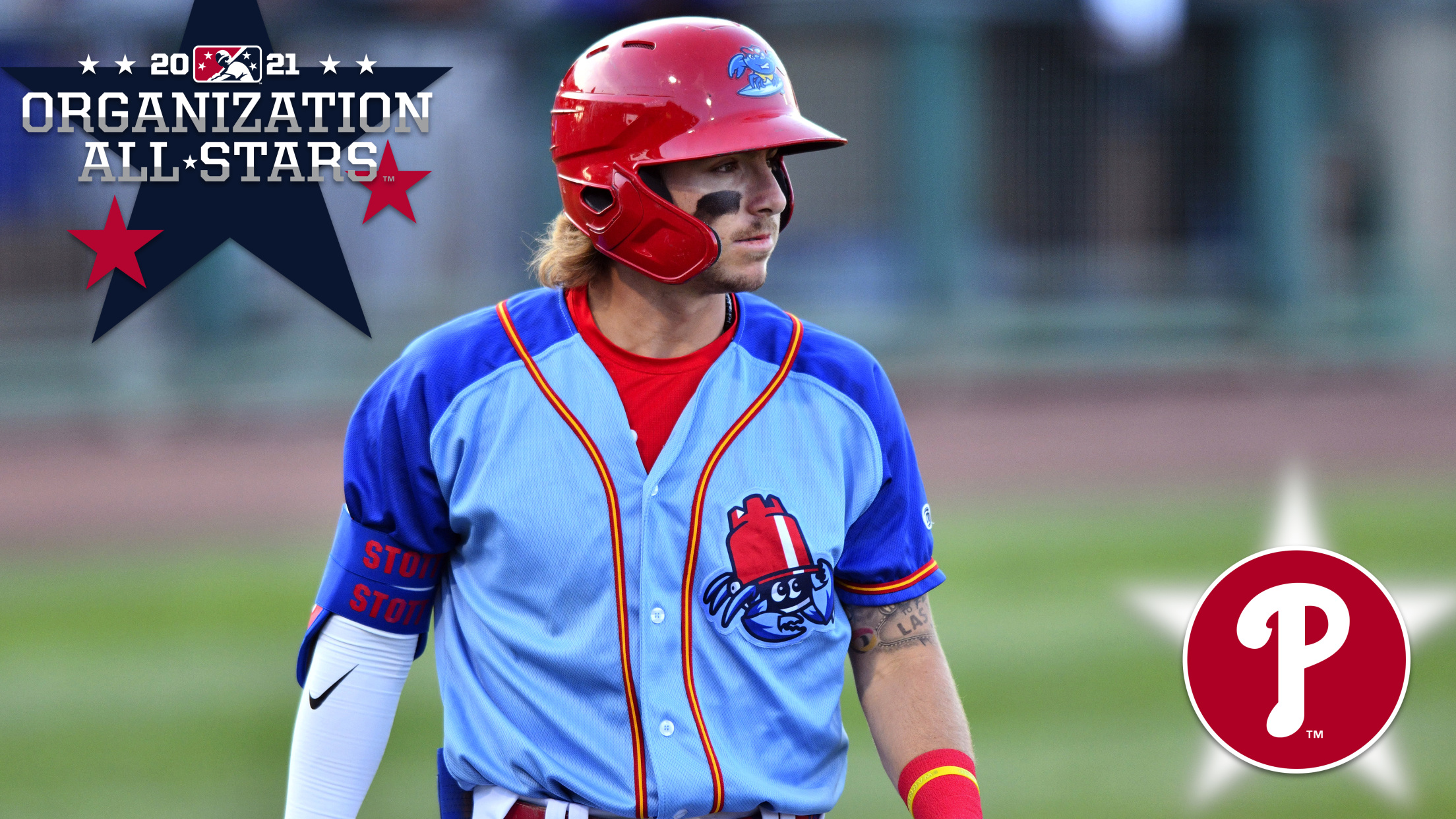 Each offseason, MiLB.com goes position by position across each system and honors the players -- regardless of age or prospect status -- who had the best seasons in their organization. Click here to locate your favorite club. Over the past couple seasons, the Phillies have gotten closer to playoff contention,
The Show Before the Show: Episode 313
Hunsickers share Reading family fun ahead of Father's Day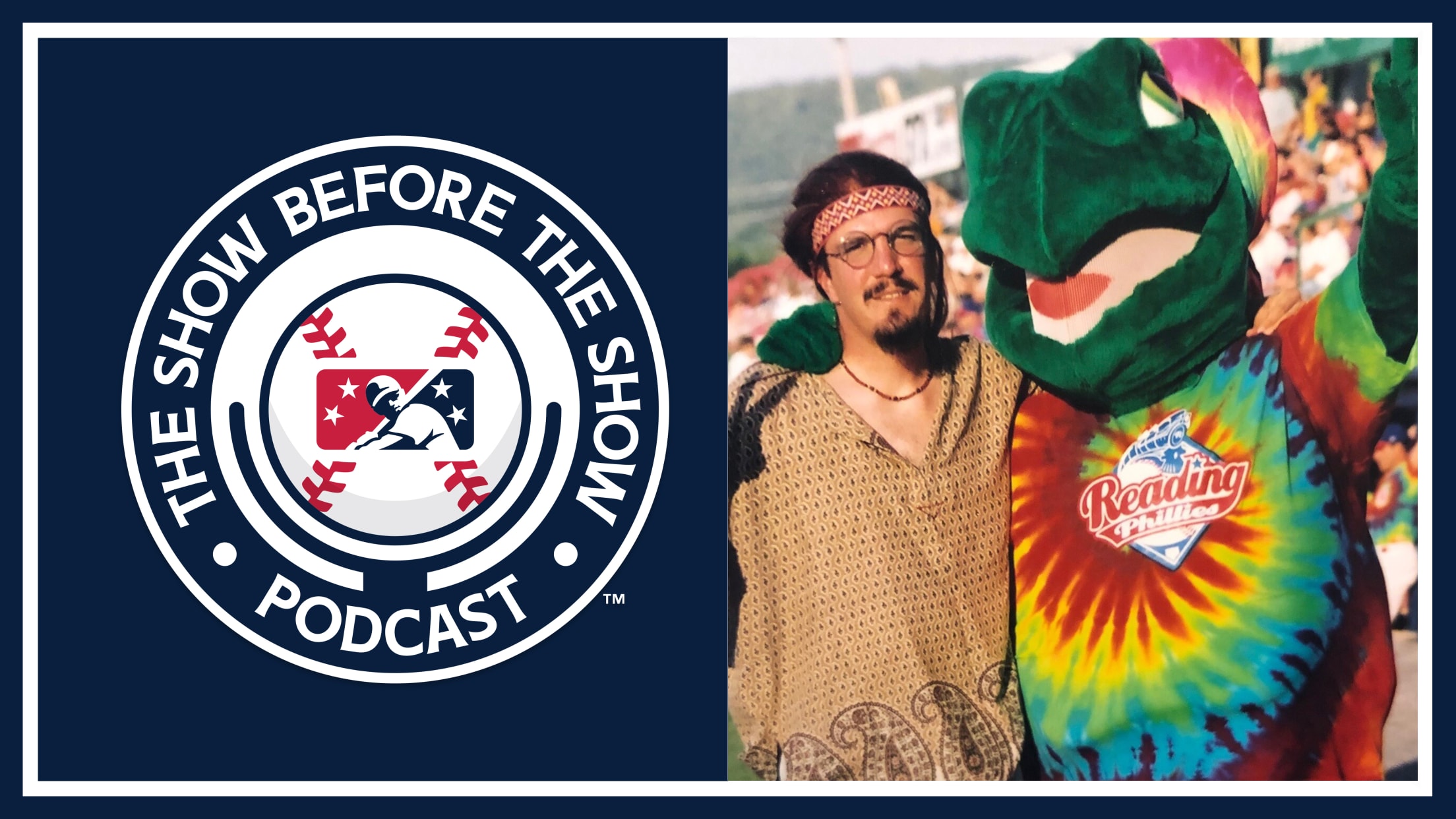 Check out the latest episode of The Show Before the Show, MiLB.com's official podcast. A segment rundown is listed below, in case you want to skip to a particular section. Like the podcast? Subscribe, rate and review "Minor League Baseball podcast" on iTunes. The podcast is also available via Spotify,
Scouting report: Phillies' Mick Abel
Right-hander poised to power his way through system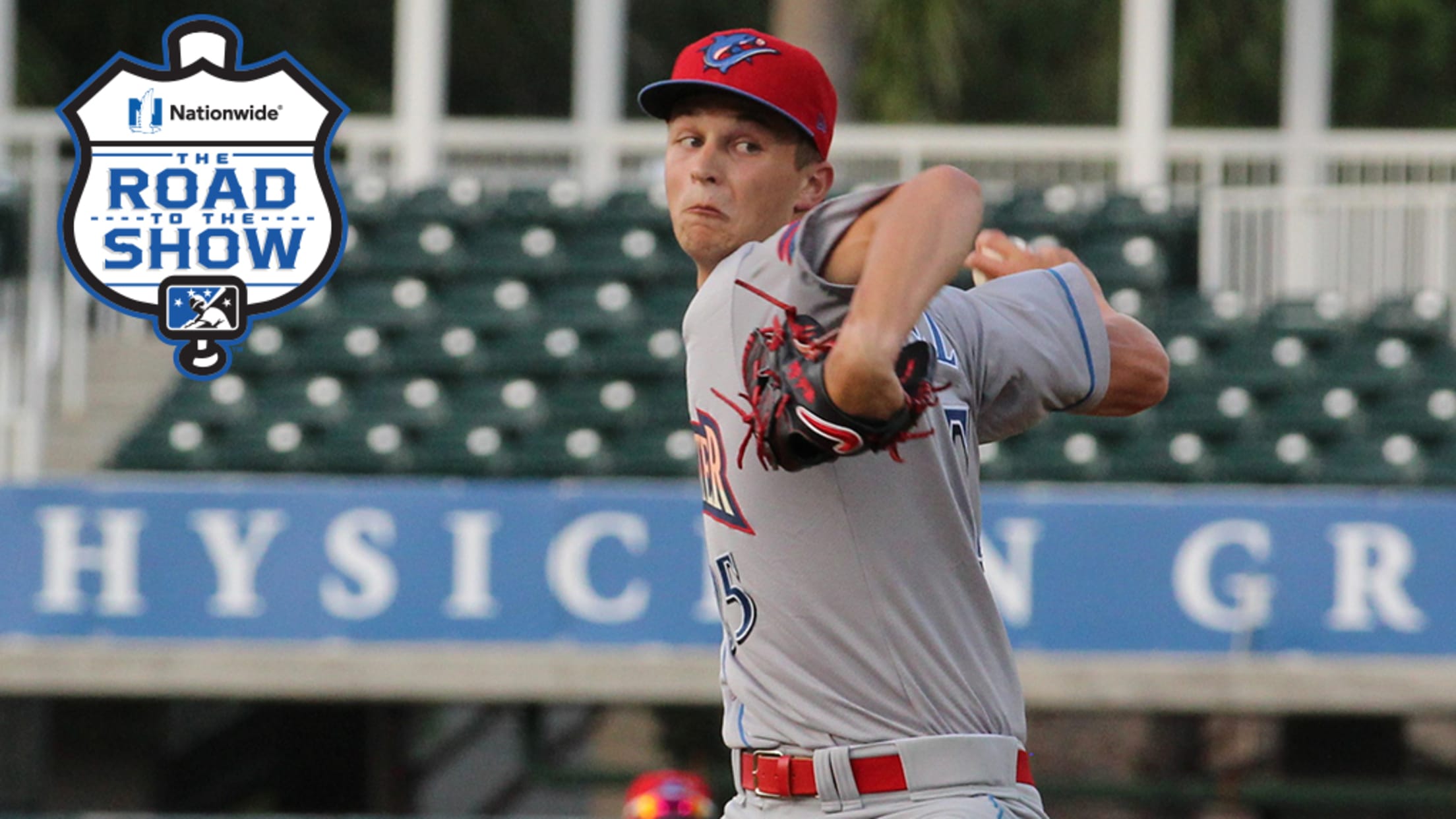 MiLB.com's Scouting Report series spotlights players who are just starting their professional careers, focusing on what the experts are projecting for these young phenoms. Here's a look at top-ranked Phillies prospect Mick Abel. For more player journeys on The Road to The Show, click here.
Allen's final days in Minors marked by fear, racism
Future MVP took lessons learned from Jim Crow South to Majors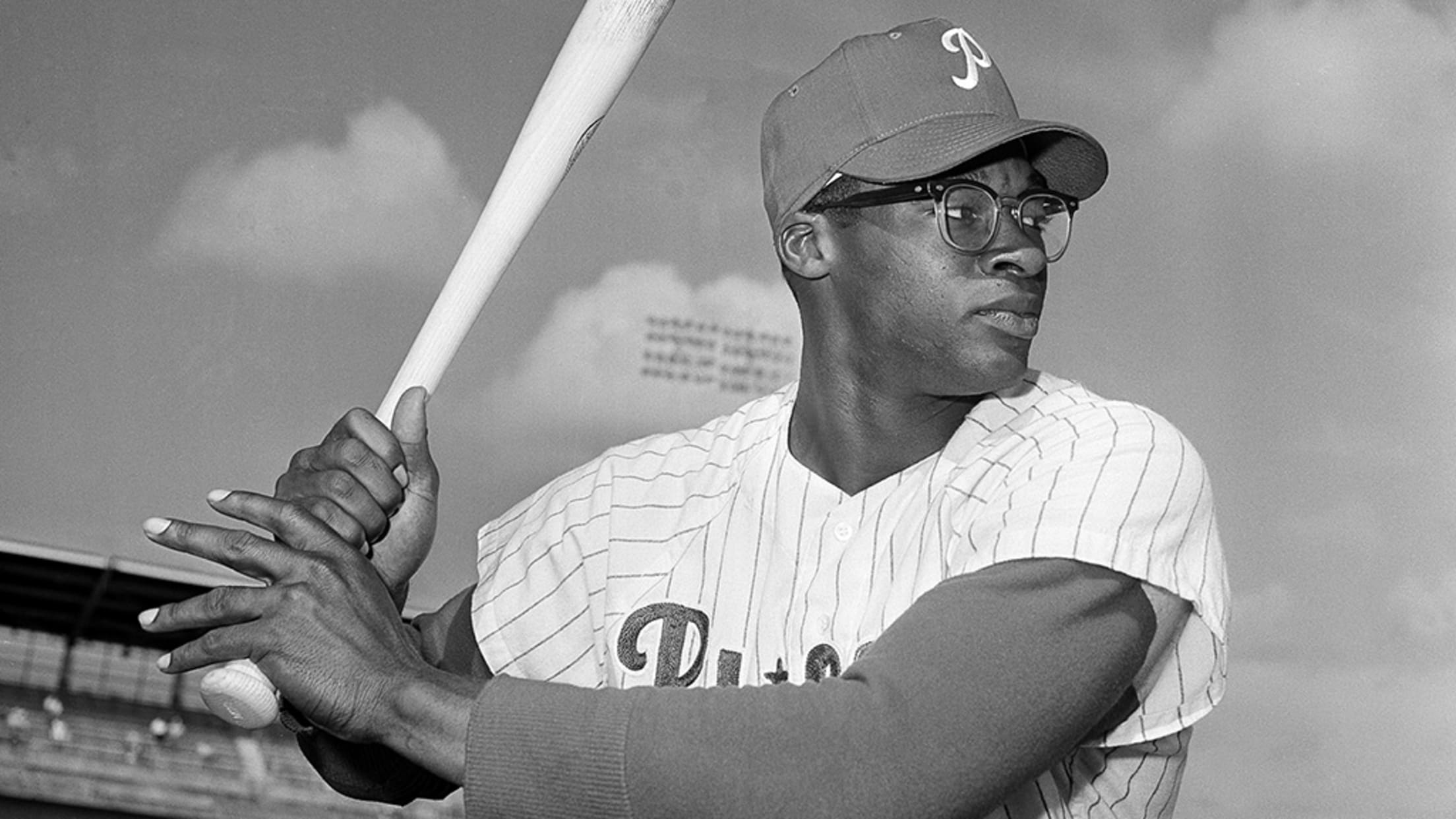 It's easy to forget that less than 20 years separated Jackie Robinson's integration of affiliated baseball in 1946 and Dick Allen's Triple-A debut in 1963. Between the time Robinson set foot in Ebbets Field on April 15, 1947 as the first Black man to play in the Majors and Allen's
Phillies' Simmons testing progress in ABL
No. 26 prospect altered swing with help from ROY Lewis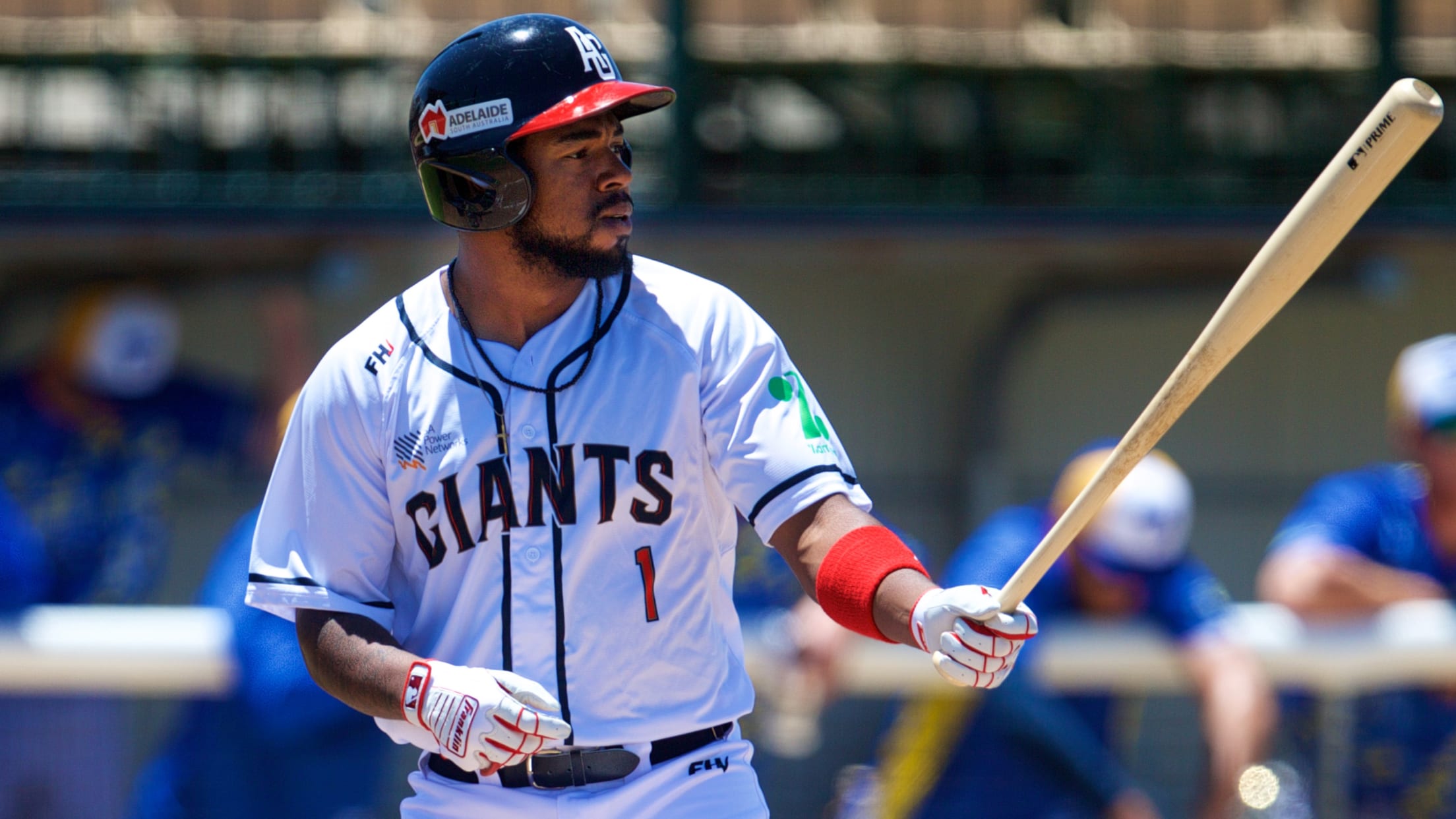 At some point between Spring Training and Summer Camp in 2020, the baseball field at Dominion Christian northwest of Atlanta transformed from a high school diamond into a professional sandlot. Some of the area's best talent gathered to stay sharp while the sport charted a course for playing through a
2021 Prospect Projections: NL East rookies
How Steamer600 views Braves, Fish, Mets, Phils, Nats prospects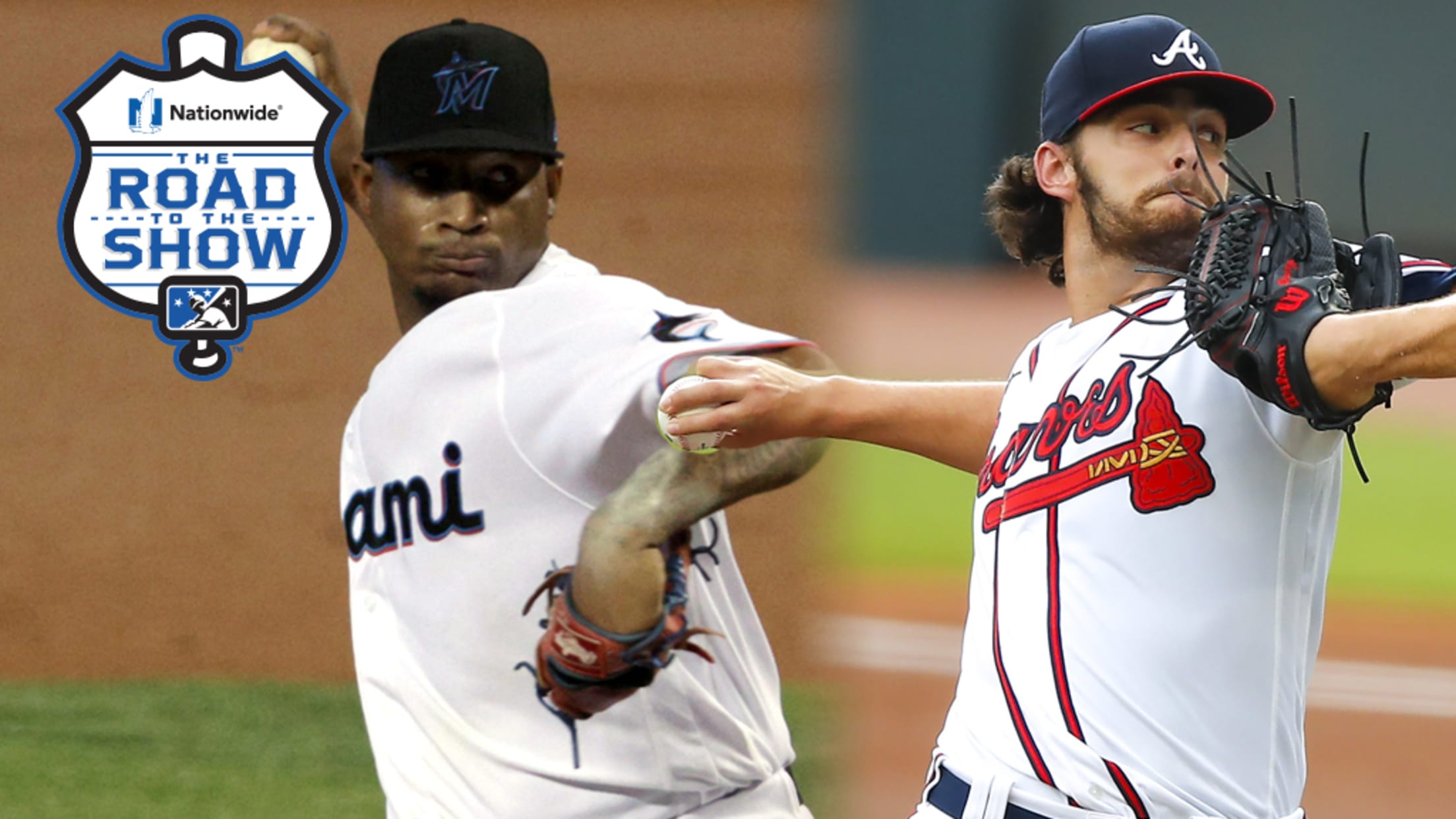 This is the second in a six-part Toolshed series that uses FanGraphs' Steamer600 projections to look at how prospects would fare over a full Major League season in 2021. The system bases its forecast on 600 plate appearances for position players, 450 plate appearances for catchers, 200 innings for starting
Phillies acquire prospect Chatham from Red Sox
No. 14 prospect headed to Philly to clear way for Pérez signing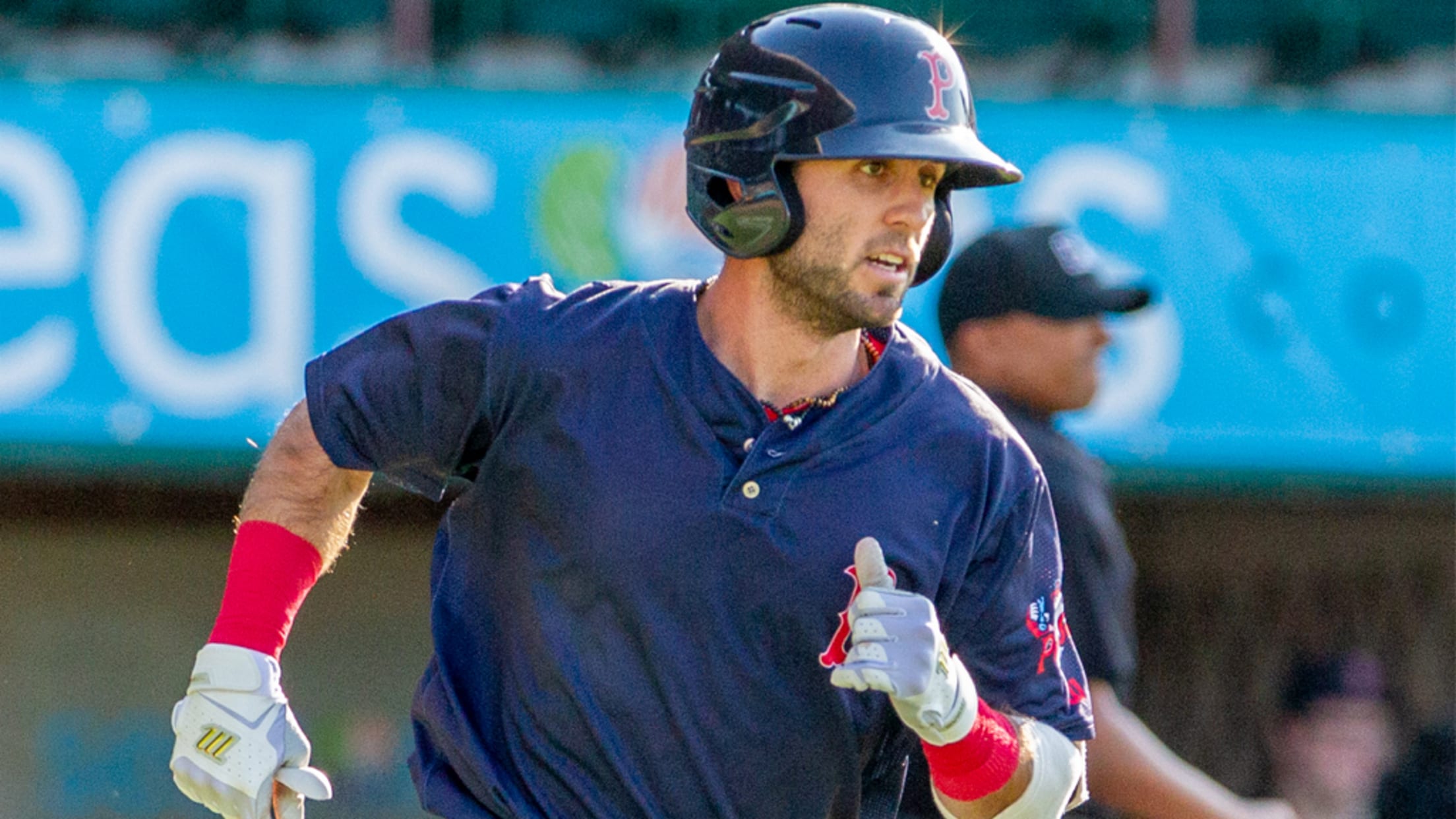 Dave Dombrowski joined the Phillies front office in December, and one month later, the new president of baseball operations has pulled off a deal with his former organization. The Phillies acquired middle infielder C.J. Chatham from the Red Sox for a player to be named later or cash, both clubs
State of the System: Philadelphia Phillies
Club bullish on pitching talent beyond top prospect Howard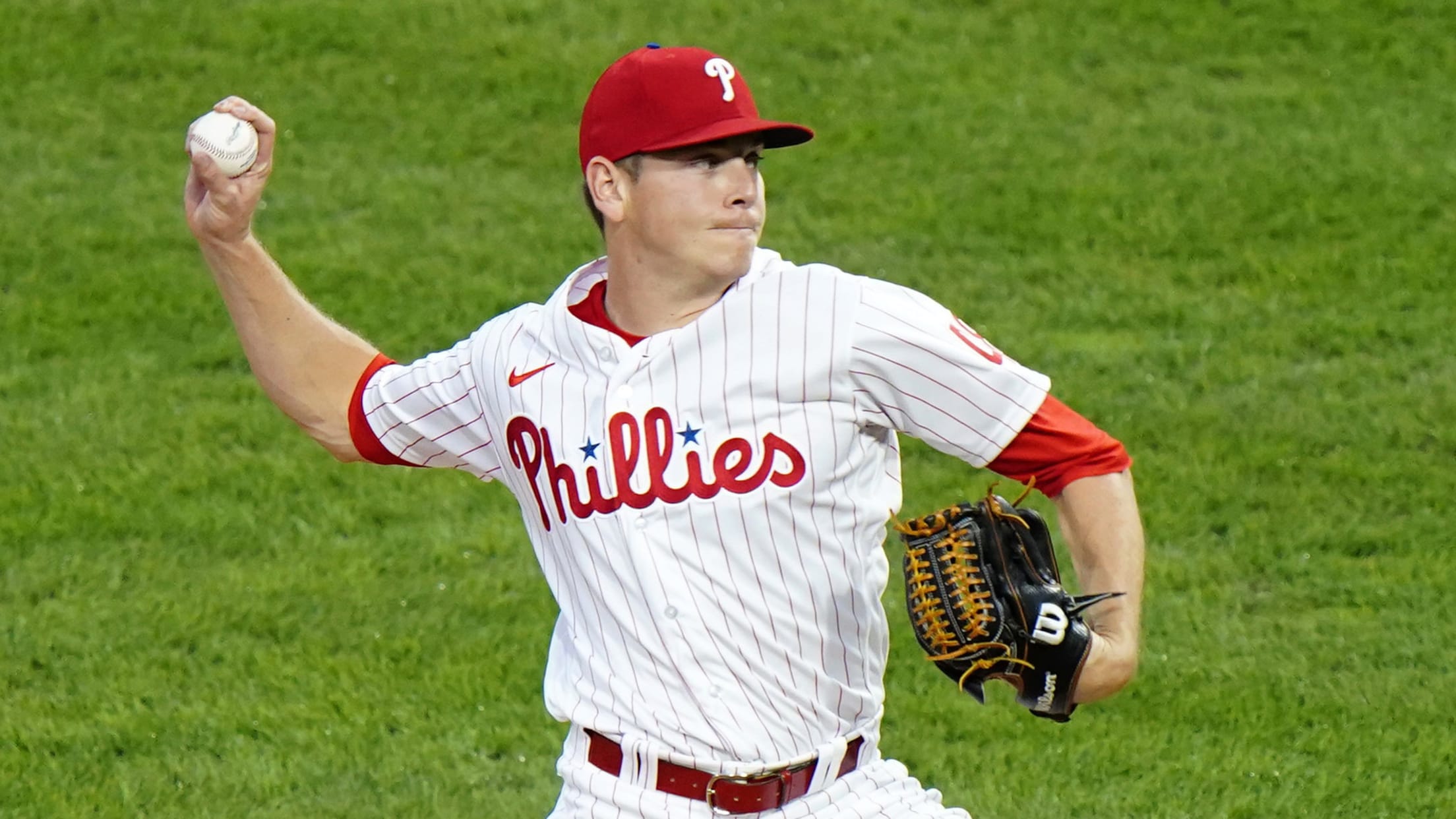 Starting in October and running through the end of the year, MiLB.com's State of the System series will evaluate the strengths and weaknesses of each Major League organization, highlights prospects who've made the biggest strides in 2020 and offers a peek at 2021. There are things to like about where
Shore thing: BlueClaws adopt beachy keen look 
Lakewood club shifts to 'Jersey Shore' moniker, unveils fresh logos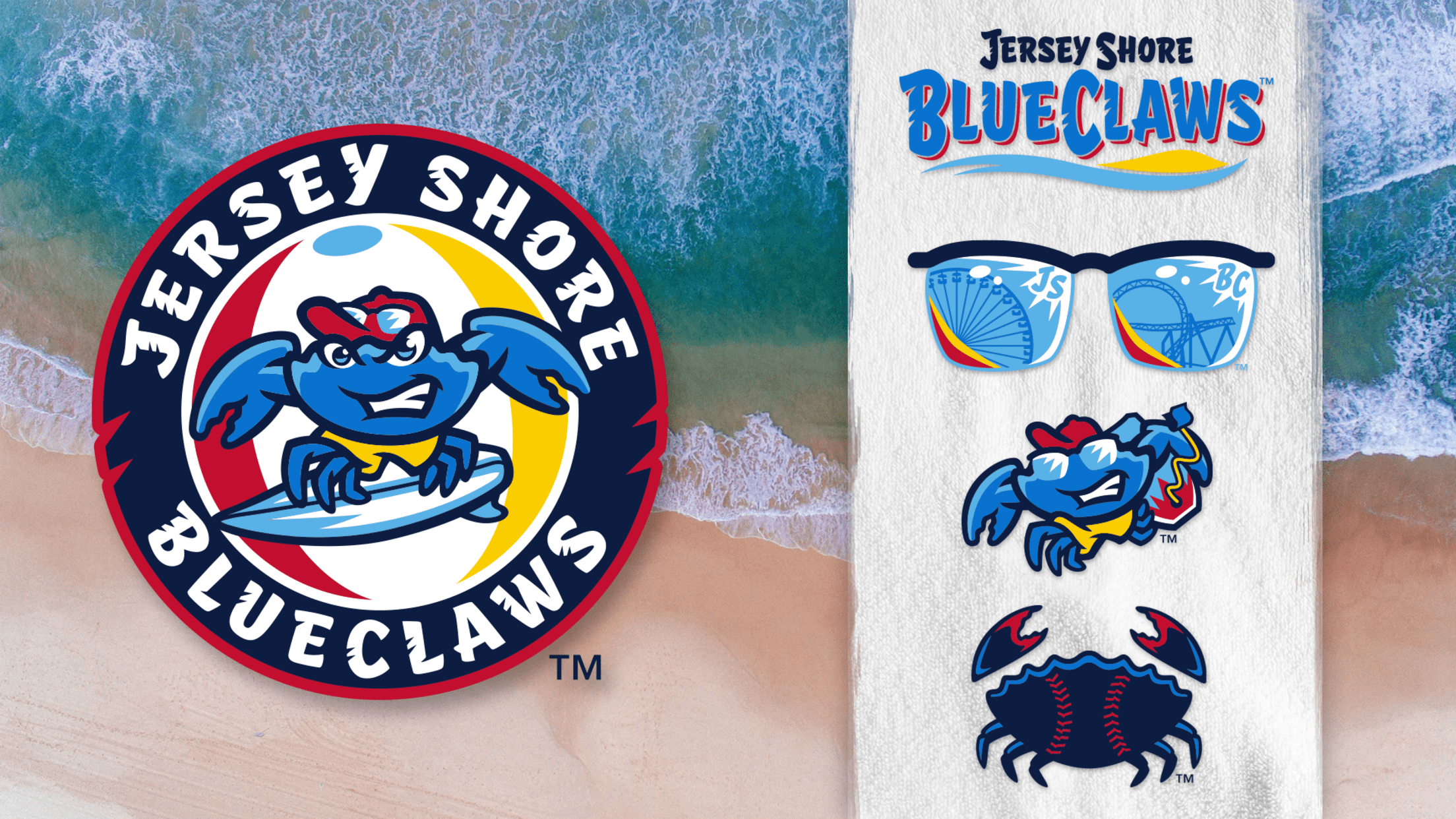 New Jersey's Lakewood Township Minor League Baseball team isn't going anywhere. In 2021, as in every season since their inaugural 2001 campaign, the Phillies' Class A affiliate will still be named the BlueClaws and operate out of FirstEnergy Park. Nonetheless, next year marks the official start of a new era
Toolshed: Handicapping NL Rookie of the Year race
Cronenworth, Bohm, Williams lead crowded field on senior circuit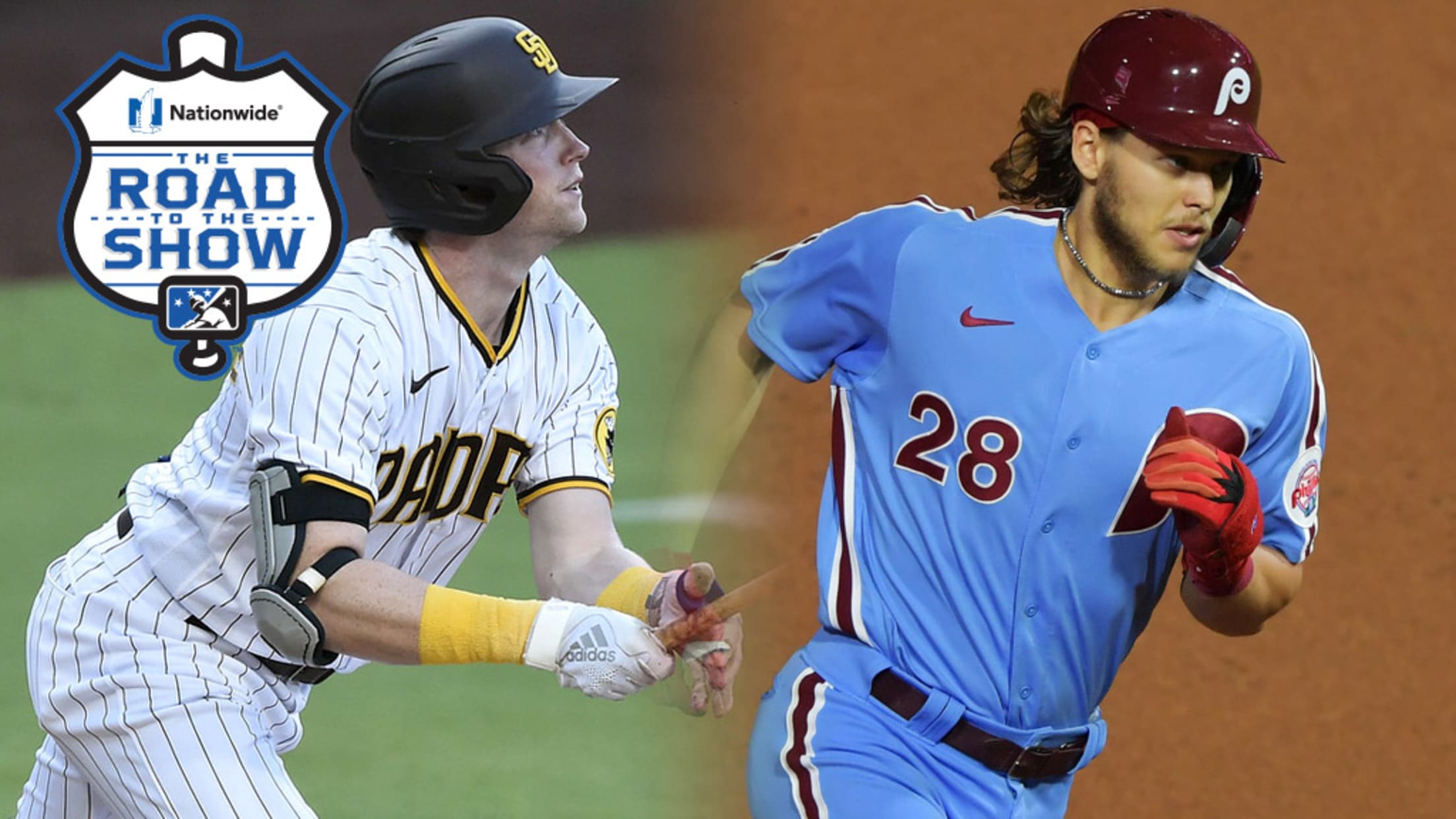 Sunday brings the end of the 2020 Major League regular season already, meaning potential award contenders have one final weekend to prove themselves to BBWAA voters. Without a Minor League season, most prospect fiends only have had the Rookie of the Year races in the American and National Leagues to
Bohm's big night not enough for Philly
No. 28 overall prospect part of back-to-back-to-back home runs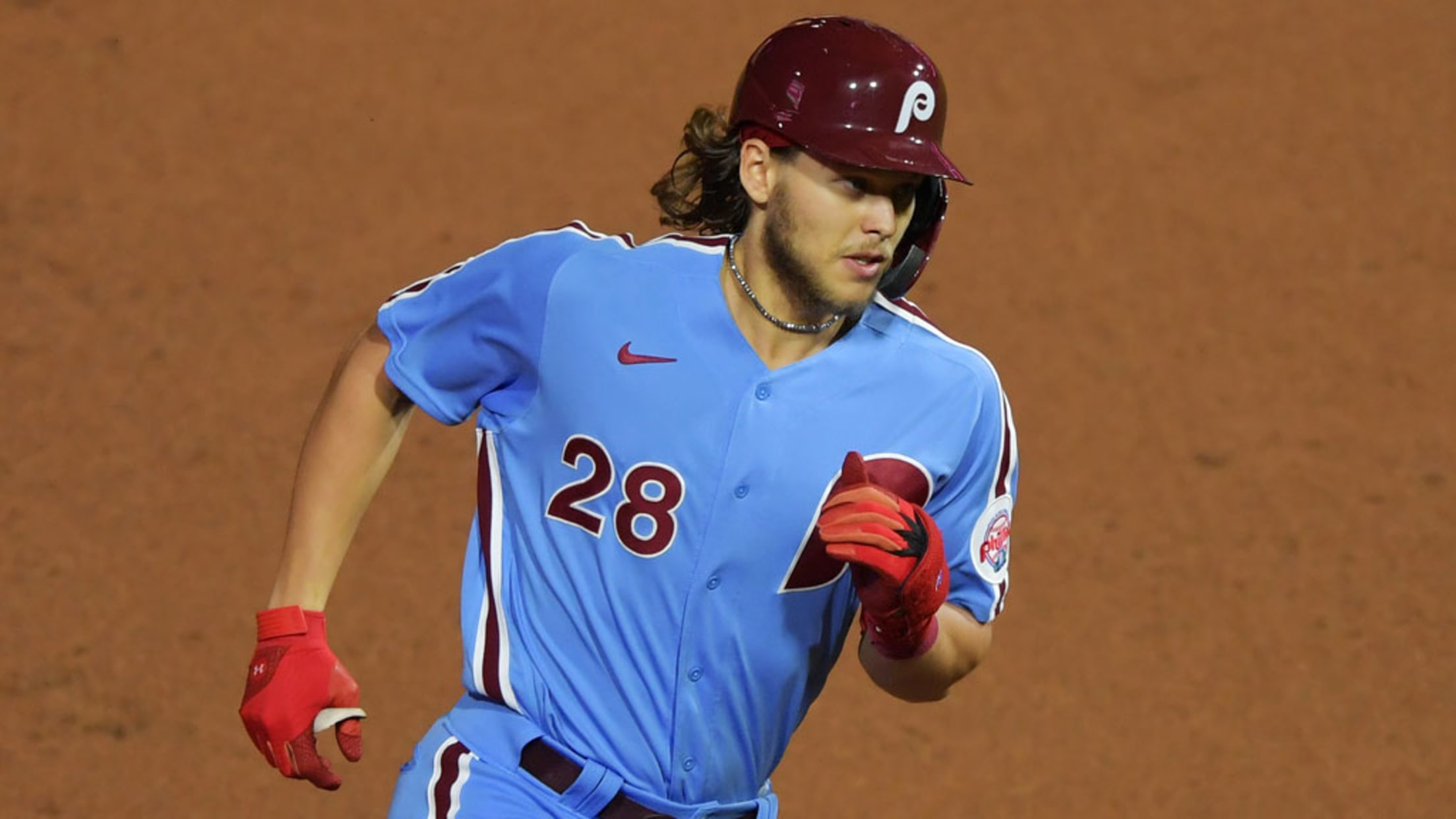 Alec Bohm showed Philadelphia the benefits of having him bat between Bryce Harper and Didi Gregorius on Thursday night. Philadelphia's top-ranked prospect fit right in with the seasoned veterans, hitting the middle long ball of a back-to-back-to-back sequence as the Phillies fell to the Mets, 10-6, at Citizens Bank Park.
Moniak making his way to Philadelphia
Injury brings top pick in 2016 Draft to Major Leagues for debut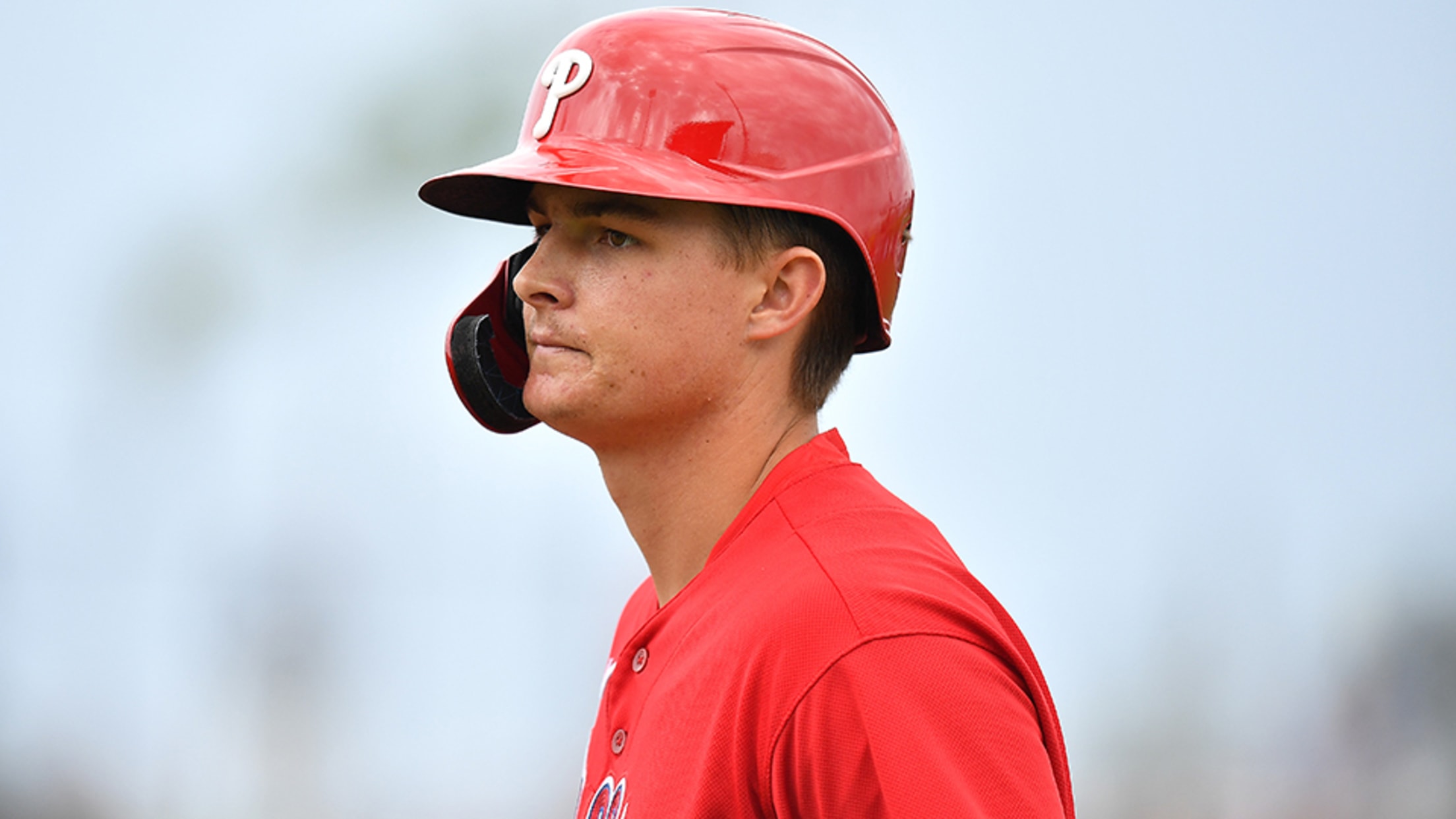 Beset by injuries, the Phillies are bringing 2016's No. 1 overall pick to the Major Leagues. Outfielder Mickey Moniak was called up ahead of Wednesday's game against the Mets. Philly's No. 13 prospect was not in the starting lineup.
Phils' Howard pulled with stiff shoulder
Twins prospect Rooker suffers fractured right forearm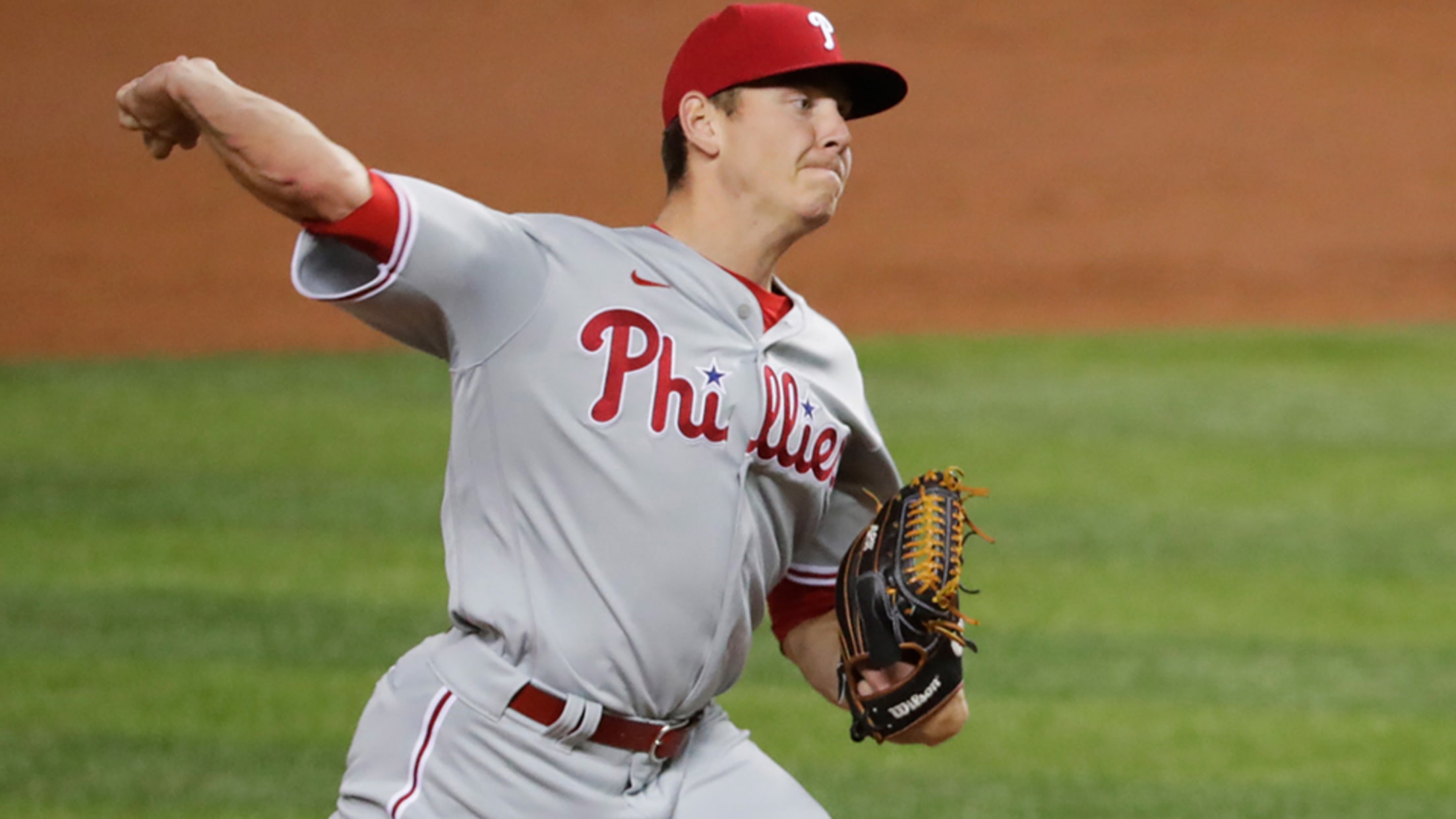 For a while on Saturday, it looked like Spencer Howard was on the way to his best start as a Major Leaguer. Now it's uncertain whether the Phillies' top pitching prospect will make his next start. Howard exited in the fourth inning of Philadelphia's 12-6 win at Miami with stiffness