Indians' Keller gets ahead of the curve
Top Pirates prospect pitches six strong frames in first Triple-A win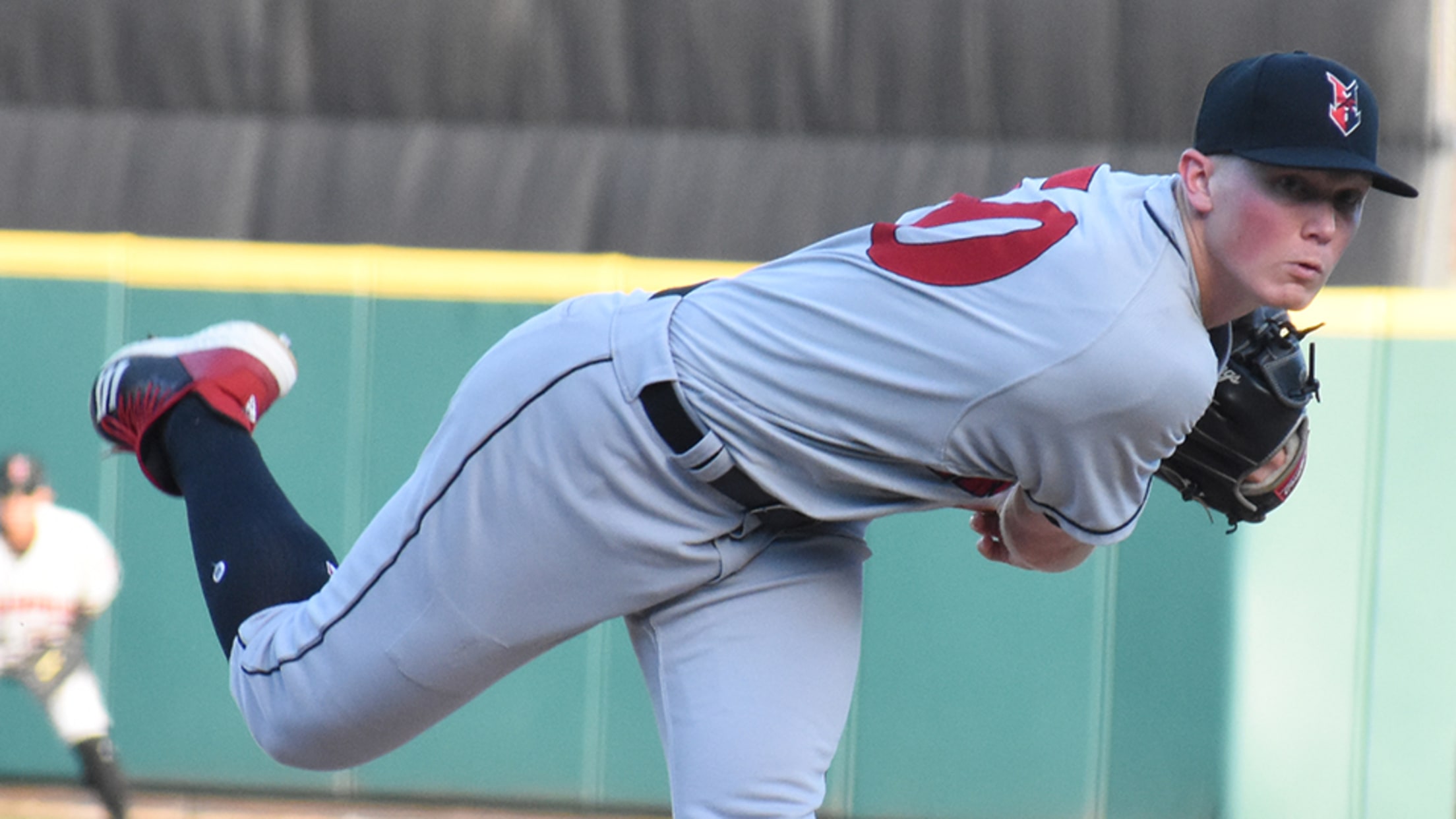 Mitch Keller is 10-4 with a 3.69 ERA, 114 strikeouts and a 1.29 WHIP this season. (Cathryn Wood/Columbus Clippers)
Mitch Keller had to wait a little longer than he planned to pick up his first Triple-A win. The wait is now over.Pittsburgh's top prospect allowed one run on four hits in six innings to lead Indianapolis past Lehigh Valley, 3-1, on Thursday night at Victory Field. He struck out
Mitch Keller had to wait a little longer than he planned to pick up his first Triple-A win. The wait is now over.
Pittsburgh's top prospect allowed one run on four hits in six innings to lead Indianapolis past Lehigh Valley, 3-1, on Thursday night at Victory Field. He struck out six and walked one.
Keller (1-2) struggled to a 7.89 ERA through his first five International League starts. On Thursday, MLB.com's No. 14 overall prospect threw 72.7 percent of his pitches -- 64 of 88 -- for strikes.
"It felt really good obviously. Especially after some of the struggles I've had the last few weeks," Keller said. "But it was great to finally get that first win under my belt. It's probably the most I've ever struggled in my career, but it's a learning experience. I was feeling comfortable tonight more than anything. I've been working on little things [in between starts], especially my thought process out on the mound which really helped."
Gameday box score
The 22-year-old worked around a one-out fielding error by No. 8 Pirates prospect Kevin Kramer in the first inning. He took the mound in the next frame with a 1-0 lead but a leadoff single by Joey Meneses followed by a two-out double by Zach Green evened the score. Keller escaped the third after he walked Jesmuel Valentín and hit Danny Ortiz and only allowed Green's single in the fourth. The right-hander worked a perfect fifth and saved his finest work for his last frame.
With the score still tied, Keller allowed a leadoff double to Ortiz but rang up consecutive strikeouts, including Phillies No. 16 prospectDylan Cozens for a second straight at-bat. The native of Cedar Rapids, Iowa, induced Trevor Plouffe to fly out to right field to complete the inning and his outing.
"Getting out of a situation like that is huge, for several reasons," he said. "It gives me a great deal of confidence that I can take into my next inning, or in the case of tonight, my next start. You build off situations like that. It was a nice way to get back on track."
Keller, who wrapped up his Double-A tenure by firing eight scoreless frames on June 25 to finish 9-2 with a 2.72 ERA in Altoona, had an inauspicious introduction to Triple-A. He made his Indianapolis debut against Columbus on June 30 and surrendered career highs of eight earned runs and 10 hits in 2 2/3 innings. It marked the first -- and only time -- the Pirates' 2014 second-round Draft pick has allowed 10 hits or more in 83 career appearances.
"I was out of sync mechanically more than anything," said Keller, who is 10-4 with a 3.69 ERA in 21 starts this season. "To be honest, I was right there in a lot of those starts, but the ball didn't go my way a few times. That happens in this game. If the ball was hit a foot more to the left or right, I would have been out of those innings, but so be it. It felt great to finally put it all together."
Pablo Reyes' two-out RBI in the sixth put Keller in position for the win. Two days after hitting for the cycle in the same inning as Newman, Jacob Stallings singled twice and drove in two runs, including an insurance marker in the eighth.
Buddy Boshers, Steven Brault and Alex McRae combined to allow one hit while striking out five over three scoreless frames.
Lehigh Valley starter Tom Eshelman (2-11) was charged with two runs on five hits in six innings. Philadelphia's 28th-ranked prospect struck out five and didn't walk a batter.
Green enjoyed a perfect night at the plate for the IronPigs, finishing 3-for-3 with a double, an RBI and a walk.