Knights' Cordell hits for the cycle
White Sox outfielder first to achieve feat for Charlotte since '98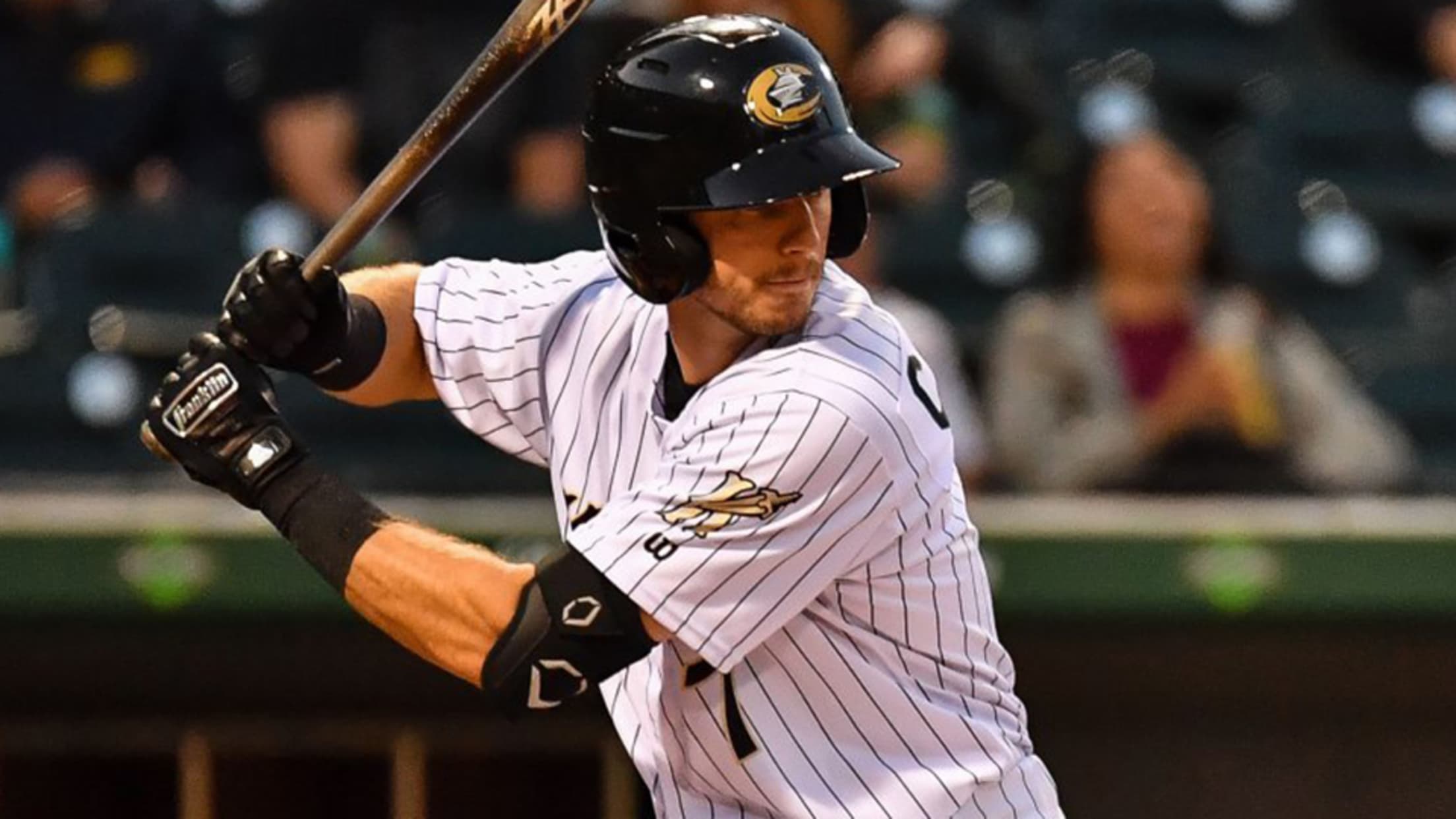 Ryan Cordell batted .239/.281/.364 in 44 games across three Minor League levels last season. (Laura Wolff/Charlotte Knights)
Ryan Cordell barreled his third ball of the game on Wednesday night and, as he rounded first, he had an interesting idea that proved pivotal. "Knowing in the back of my mind I had the double and the homer and if I could get the other tough one out of the
Ryan Cordell barreled his third ball of the game on Wednesday night and, as he rounded first, he had an interesting idea that proved pivotal.
"Knowing in the back of my mind I had the double and the homer and if I could get the other tough one out of the way ... " he recalled.
Mission accomplished, both in the moment and eventually. The White Sox outfielder reached third for a triple, singled two innings later and finished with a career-high five hits. He knocked in three runs and scored four times while recording the first cycle of the Minor League season and Triple-A Charlotte's first in nearly 21 years as the Knights rallied for a 10-9 win over Norfolk at BB&T Ballpark.
Across five-plus seasons in the Minors, Cordell had accumulated 26 triples and he prides himself on busting it out of the box every time he makes contact.
"It's kind of triples alley out there [in right-center field]. I was coming hard out of the box and once I hit first base and saw that it made it to the wall, I kind of was like, 'I'm going three here,'" he said. "It's kind of the flow of the game. Things happen and you realize pretty quick."
And the Orangevale, California, native is no stranger to cycles. On July 28, 2012 -- between his sophomore and junior years of college, while in the Great Lakes Summer Collegiate League -- he cycled for the Licking County Settlers by homering in his final at-bat to go 5-for-5.
Gameday box score
He achieved the feat the hard way this time, saving the single for last. With a 1-1 pitch from right-handed reliever Matt Wotherspoon, Cordell lined a base hit to left field. Tides third baseman Zach Vincej made a leap for the ball but came up empty, much to Cordell's delight.
"Once I saw it go past his glove I gave a little fist pump and was definitely excited," said Cordell, who was the player to be named later in the deal that sent Jeremy Jeffress and Jonathan Lucroy to Texas in July 2016.
The special occasion required an effort from his first at-bat. Facing starter Gabriel Ynoa to lead off the second, the Liberty University product fell behind, 0-2, before taking a ball and lacing the fouth pitch to left for a double. With two on and two out in the fourth, Cordell belted a three-run homer to give the Knights a 4-3 lead.
Even though the 6-foot-4 prospect clobbered it well over the left-field wall, he felt he didn't get all of it.
"[Ynoa] was throwing a two-seam tonight and it got on me just a tick but definitely got enough barrel on it to get it out there," he said.
Dueling Ynoa for a third time in the sixth, Cordell ripped a shot to center and legged out the triple that put him a knock away from the cycle. It was the first cycle for the Knights since Alex Gonzalez managed the feat on June 13, 1998 in a loss to Columbus.
"Pretty much all of my ABs today were the same thing, just trying to be on time, stay relaxed and get a pitch up out over the plate," he said. "So it's one of those where you can't force hits around the field and put a barrel on it. Fortunately, I was able to come up in the ninth and get a bit of a rally going."
The 2013 11th-round Draft selection sparked the Knights' comeback in the bottom of the ninth with his fifth hit, an infield single into the hole between short and third. Cordell scored for the fourth time on Brandon Guyer's two-out infield knock and Charlie Tilson ended the game four pitches later with a single through the left side.
Cordell broke camp with Chicago out of Spring Training and appeared in five games with the big club before being optioned to Charlotte on Monday.
"For me, personally, checking that off the list of making an Opening Day roster was great," the right-handed hitter said. "It definitely showed that the organization wants to see me out there and believes that I can help them win. So, hopefully going forward, whenever the opportunity presents itself, I can get back and play my best and help the team win games."
Cordell made his Major League debut last Sept. 3 against Detroit and went 4-for-37 with a homer and a double to close out the season. His two hits with the White Sox this year also were a homer and a double but in a much smaller sample size (six at-bats in five games). To stick in the Majors, he said, consistency will be key.
"When it comes down to it, big league players are consistent players," Cordell said. "I think I have all the abilities to be a big league player, but just continuing to work on my consistency at the plate and just making things happen and helping the team is something I strive to work on every day, and I think if I can do that and grow as a baseball player I can be back there and stay."
Amid a career night and a significant milestone, Cordell kept a perspective that baseball is a humbling sport.
"You're not guaranteed anything. I'm not guaranteed to stay hot out there [Thursday]," he said. "So I'm just going to show up to the park [Thursday], continue to do my early work, just try and put myself in a position to feel comfortable and have success every night."
White Sox No. 22 prospectSeby Zavala clubbed a two-run shot in the fifth and scored twice.
Second-ranked Orioles prospectRyan Mountcastle ripped a two-run single to left, breaking a 6-6 tie in the seventh.