River Cats' Davis splashes three homers
Giants prospect records trifecta in first four innings of romp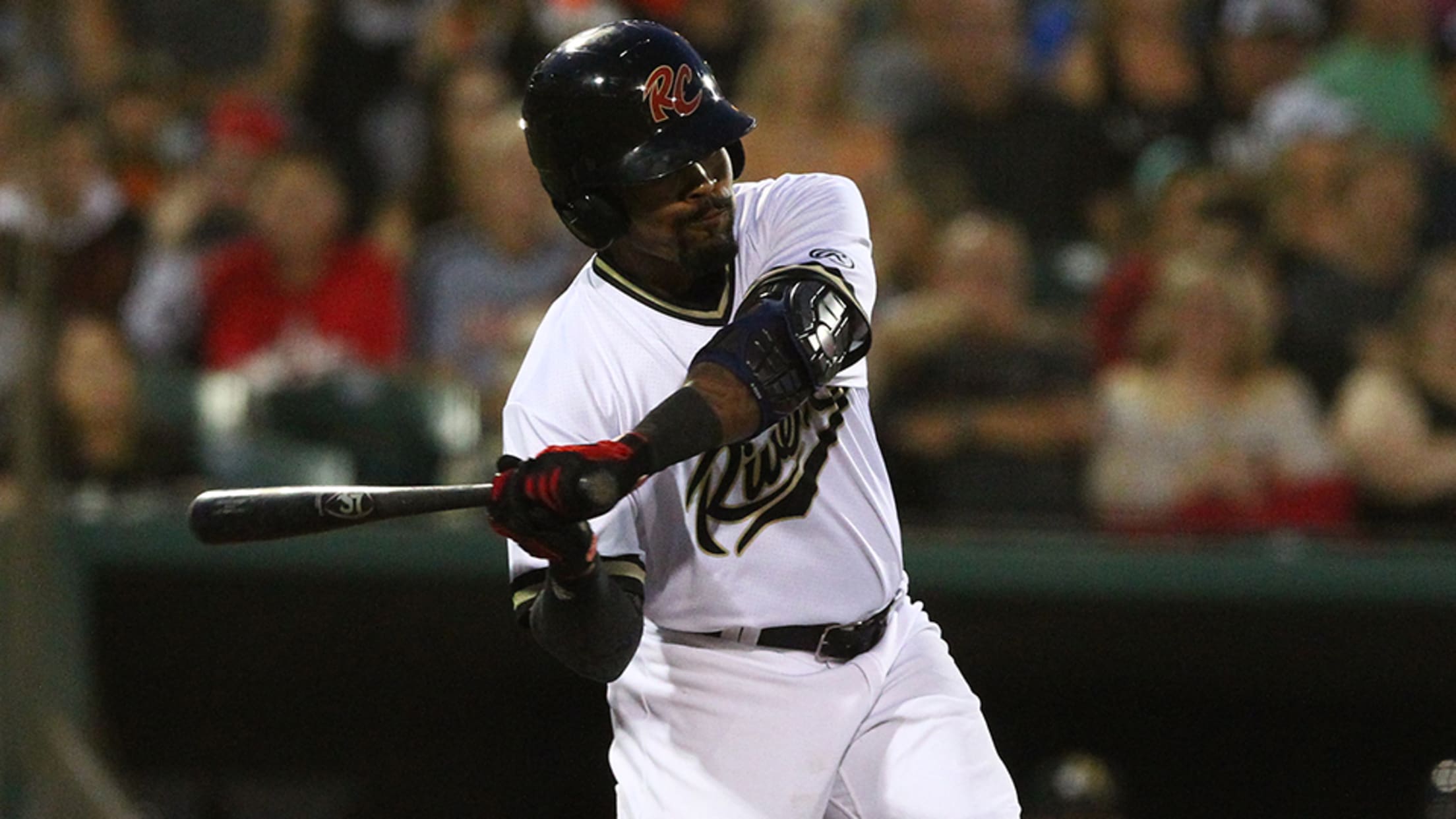 Eleven of Jaylin Davis' 18 hits since being acquired by the Giants have gone for extra bases. (Ralph Thompson/Sacramento River Cats)
Jaylin Davis didn't feel the need to pay attention to the Trade Deadline. Why would anyone want to trade someone with a 1.112 OPS at the Minor Leagues' highest level? The final window for transactions came and went, and he stayed put -- for all of 30 minutes."I was having
Jaylin Davis didn't feel the need to pay attention to the Trade Deadline. Why would anyone want to trade someone with a 1.112 OPS at the Minor Leagues' highest level? The final window for transactions came and went, and he stayed put -- for all of 30 minutes.
"I was having a good year so far in Triple-A [Rochester]," he explained. "The Twins were stacked in the outfield, so there wasn't really anywhere for me to go. The guys in the locker room kind of joked about it, and then the deadline was already over while we were on the field and we were taking BP. I was getting ready for the game and our manager came up and said, 'Hey, man, you got traded to the Giants.' It was shocking, but I don't know. It definitely surprised me."
The shock has worn off since Davis was acquired from the Twins last month in a package for big league reliever Sam Dyson, but his tear through Triple-A hasn't faded in the transition from the International League to the Pacific Coast League. The Giants prospect homered three times and plated five runs as Sacramento rolled to a 17-7 romp over Reno on Friday night at Greater Nevada Field.
Davis is hitting .375 with a 1.318 OPS in 13 games since switching organizations.
The scouting report on Aces starter Matt Koch told Davis to expect a heavy dose of fastballs away, changeups in and the occasional slider. He crushed a first-pitch heater over the wall in right-center field in the first inning, plating Mike Gerber. He followed with another two-run homer to left-center in the next frame to put the River Cats ahead, 5-0. The pitch? A changeup away. Davis' mind started churning while he waited for his next faceoff with Koch. His studies were paying off.
"He showed me the other two," Davis thought. "So he's gotta throw the other one."
Bingo. He let two pitches go by in the fourth before getting the slider he wanted. And he did not miss it. The solo shot to right made him the third player to record a trifecta on Friday in the PCL, which has seen 19 hat tricks this season. Davis last achieved the feat with Class A Cedar Rapids on May 16, 2017.
Gameday box score
Six of Davis' 21 hits with Sacramento have left the yard. Before being traded at the deadline on July 31, he compiled a 331/.405/.708 slash line with 15 homers in 41 games with Rochester. Yet he hit a more modest .274 in 212 at-bats at Double-A Pensacola to start the year and never batted over .273 in his first three campaigns.
What's changed?
"I think just my approach," Davis said. "Sticking to my plan and getting more aggressive in the zone and just sitting on my pitch. I feel like in the past, I chased a lot. Me sticking to my plan and setting a certain tone has helped me out a lot."
Abiatal Avelino, the No. 27 Giants prospect, was the only River Cat to drive in more runs that Davis. The 24-year-old shortstop racked up a career-high six RBIs, half of which came on a three-run homer in the ninth.
Giants No. 21 prospect Chris Shaw added three hits, including his 16th Triple-A dinger of the year, while driving in and scoring three runs.
Joe Bloss is a contributor to MiLB.com. Follow him on Twitter @jtbloss.