Baez at forefront of Storm with six zeros
Padres No. 5 prospect boasts efficiency in longest outing of year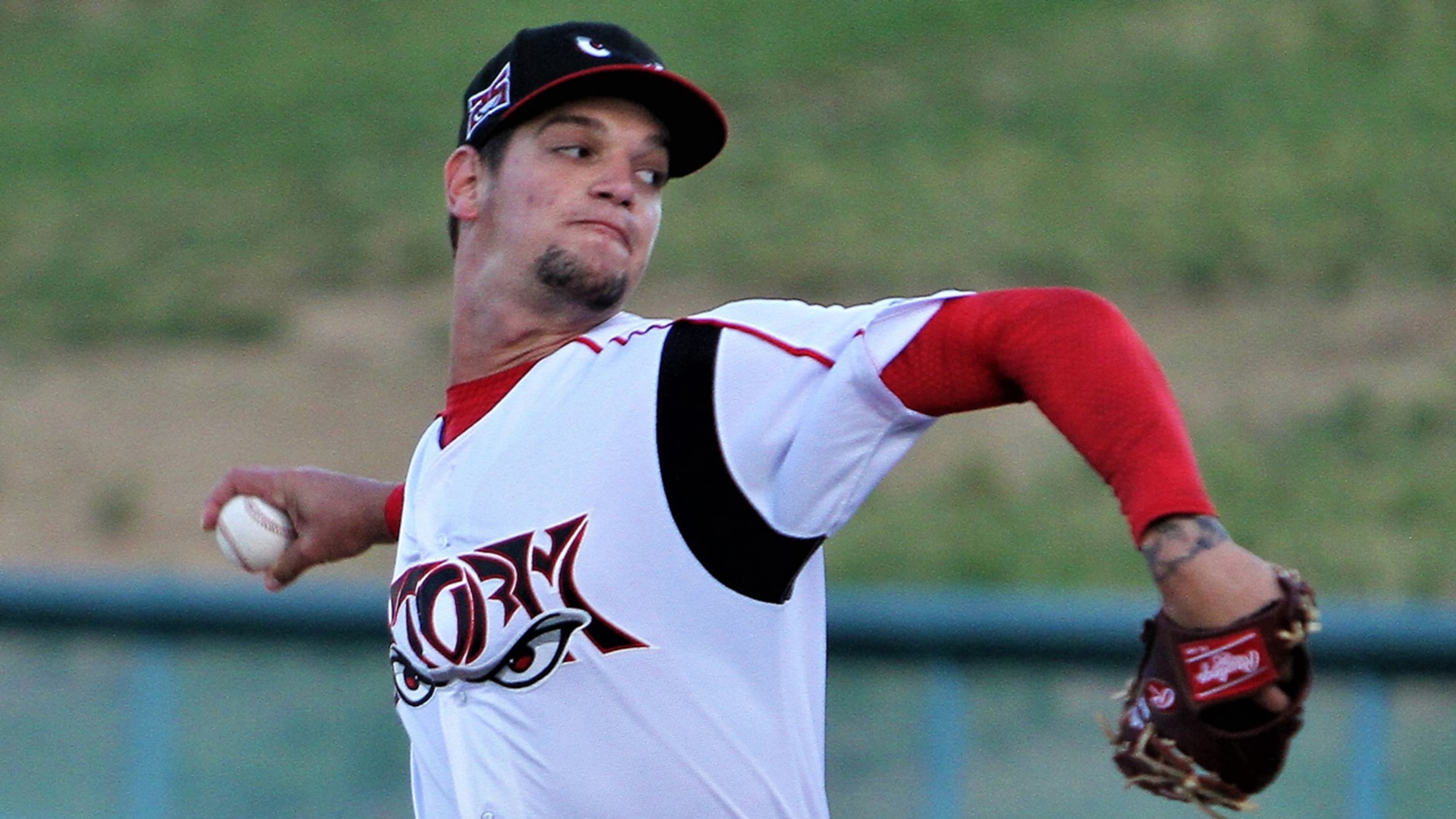 Michel Baez's six-inning start for Lake Elsinore was his longest since his final outing of 2017. (Jerry Espinoza/MiLB.com)
After a sparkling debut last year, the 2018 season has produced a mixed bag of results for Michel Baez. But on Wednesday, he took a big step forward.Baseball's No. 39 overall prospect put together his longest outing of the season with six shutout innings as Class A Advanced Lake Elsinore
After a sparkling debut last year, the 2018 season has produced a mixed bag of results for Michel Baez. But on Wednesday, he took a big step forward.
Baseball's No. 39 overall prospect put together his longest outing of the season with six shutout innings as Class A Advanced Lake Elsinore downed Lancaster, 4-1, at The Diamond.
Gameday box score
Baez began the 2018 season in extended spring training. But despite the fact he got off to a slow start with an 0-4 record and a 4.29 ERA through five appearances for the Storm, the team's pitching coach Pete Zamora saw signs the Havana, Cuba native was coming around.
"He's really detailed in work in our side sessions between starts," the coach said. "He knows there are some slight little tweaks that we've tightened up. Maybe getting healthy in Spring Training and then have to go back and stay in extended, he really hasn't gotten to the length or the work that he's needed to get these things tightened up. The California League is definitely not extended, so he's got to tighten things up to get farther in the game and to make pitches and get people out consistently."
He didn't start in the California League until April 23, but made up for lost time with five hitless innings in that debut. Entering his sixth outing of the year, he hadn't made it into the sixth frame all season. With a more efficient approach, the righty extended himself.
"Early on, even the first start against San Jose where he pitched well and put zeros on the board, he really didn't know about the league," Zamora said. "He was just kind of a deer in headlights, but now he's dialed in. He's got a good idea of what he's doing. He's sticking to his routine, getting his work done, and it's starting to show up on the field. My cap's off to him for trusting us and the little tweaks we need to make to make him more consistent."
San Diego's No. 5 prospect allowed four hits and two walks while striking out four but avoided damage with a lot of help from his infield. The 22-year-old faced traffic on the basepaths in all but the second inning, generating eight outs on the ground and two in the air on the way to his first win. Only one JetHawks baserunner moved into scoring position.
"One of the things he's been working on is throwing a more north-south direction," Zamora said of the 6-foot-8, 220-pound righty. "He's a big, tall kid. We want him working downhill and forcing bad swings into the ground and to get ahead. Then we're going to force the ball up and try to get some punchouts. Early on, he was kind of steering the ball left and right, trying to put the ball where he wanted. I don't think that's the type of pitcher he is. We got him more in attack mode and getting the ball over the plate more consistently, and he's getting weak contact."
The 94 pitches Baez fired marked a season high and 57 of them were strikes. Baez hadn't made it through at least six innings since his final outing of the regular season in 2017, when he went seven in a no-decision for Class A Fort Wayne against Great Lakes.
"The thing that's big for him is all the work that he's doing," Zamora said. "He's starting to see, 'Now I know what to use. If I get into a jam, I'm going to trust the work I've done and trust the process of what I've been working on to get outs in this situation.' Maybe in the past it was to kind of overthrow and see if he could get swings-and-misses. Now he has a more detailed approach to how to get this done and -- what's big for us -- it's efficiently. We like him to get farther in the game.
"Tonight was a big night for him. We can improve every day and improve on each outing, but this was definitely a step in the right direction."
All of Lake Elsinore's offensive production came from the last three spots in the lineup. Brad Zunica belted a leadoff home run in the third inning and Giron ripped an RBI double that scored Marcus Greene Jr. in the seventh. The trio combined to score all four Storm runs.
Lancaster's Alan Trejo had three hits in the loss.
Tyler Maun is a contributor to MiLB.com. Follow him on Twitter @TylerMaun.