RailRiders punch ticket with big comeback
Yankees farmhands post 13 late runs to win Game 141 vs. Mets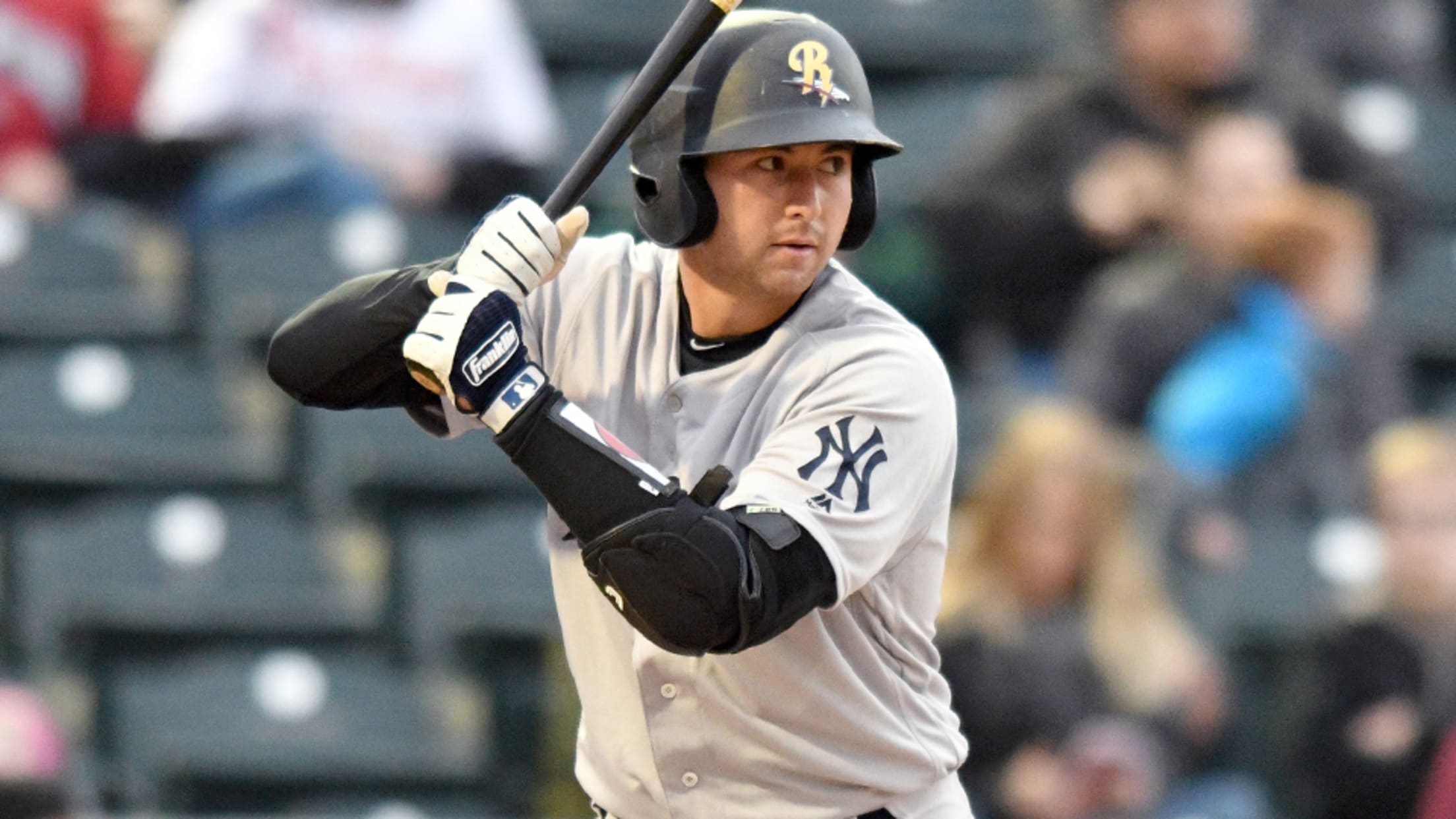 Kyle Higashioka finished the season with four multi-homer games, including one in the Majors on Aug. 7. (Ken Inness/MiLB.com)
The Triple-A RailRiders found themselves six outs away from the end of their season. But with patience and power, the boys in pinstripes claimed the final ticket to the International League postseason. Driven by an eight-run eighth inning, Scranton/Wilkes-Barre rallied to edge Syracuse, 14-13, in the IL North Division tiebreaker
The Triple-A RailRiders found themselves six outs away from the end of their season. But with patience and power, the boys in pinstripes claimed the final ticket to the International League postseason.
Driven by an eight-run eighth inning, Scranton/Wilkes-Barre rallied to edge Syracuse, 14-13, in the IL North Division tiebreaker game Tuesday afternoon at PNC Field.
"It was one of those things that's the beauty of baseball. It's not so much 'rah rah,' there were no major speeches. It was just more about the fact that we had a lot of time left. We had nine innings to play," RailRiders manager Jay Bell said. "We were no-hit through the first three and then we finally got a hit, and put runs together and made a game of it. It was an ugly game, but at same time, it was fun to be a part of."
A day after forcing the extra game, the Mets came out swinging, posting five runs in the first on two groundouts, a fielder's choice and a single by Grégor Blanco. Major League veteran Ervin Santana dominated early on, holding the RailRiders to one run through the first six frames, until they posted a five-spot in the seventh to cut the game to 7-6.
Top Yankees prospectDeivi Garcia kept the home team in the game as a big stopper. After recently transitioning to the bullpen as potential preparation for the Majors, the right-hander worked around one hit while fanning a pair over three scoreless frames.
"He did a fantastic job," the skipper said. "Deivi is a guy that I really trust and love his ability to continue to improve. As we continue to progress through this thing, he's going to be a big part of the success that we have."
Gameday box score
Syracuse seemed to shut the door with a six-run top of the eighth after Blanco, Jason Krizan and Rubén Tejada drove in runs to make it 13-6, but Scranton/Wilkes-Barre pounced in the home half.
"The guys started having good at-bats and we got some big hits and walked quite a few times, and next thing you know we were back into it," Bell said. "A lot of interesting things happened. As a manager, I am extremely proud of the way these guys go about their business and had a never-quit attitude."
Kyle Higashioka led off the frame with his second jack of the game. A hit batsman, three walks, two singles, two sacrifice flies and three wild pitches later, the catcher was back at the plate, this time working a walk.
Higashioka was lifted for Terrance Gore, a speedy outfielder who swiped 13 bags for Kansas City this year. Gore stole second, then scored the go-ahead run on a two-run double by Erik Kratz.
"With Higgy, here's a guy that arguably could mail it in because he wants to be in the big leagues and yet he had a terrific game defensively and got our first hit with a double and then had the two home runs as well. With him and with Kratz, those two guys are the heart of the team right now," said Bell, reflecting on trades and injuries. "You lose some guys and you really appreciate the fact that our oldest guy on the team in Erik Kratz and with Higgy, they stepped it up and they led the way."
Rehabbing Yankees reliever Ben Heller was brought in for the save. He worked a 1-2-3 frame with one strikeout to secure the RailRiders' fifth straight postseason berth.
IL North Champions. pic.twitter.com/IXpiZQgDcU

— SWB RailRiders (@swbrailriders) September 3, 2019
Scranton/Wilkes-Barre travels to Durham for Game 1 of the best-of-5 semifinals, with first pitch set for 7 p.m. ET on Wednesday. The RailRiders seek to reach the Governors' Cup Finals for the fourth straight season.
"We've got a terrific group of guys that are going to go out and bust their rear-ends," Bell said. "It probably comes down to whether I can manage as well as the last two managers did while they were here. Al [Pedrique] did a great job and Bobby [Mitchell] did too. It is enjoyable to do something as special as we've done over the course of past four years for Scranton."
Kelsie Heneghan is a contributor to MiLB.com. Follow her on Twitter @Kelsie_Heneghan.