South's Jones wins All-Star swing-off
Astros prospect decides unique Texas League All-Star Game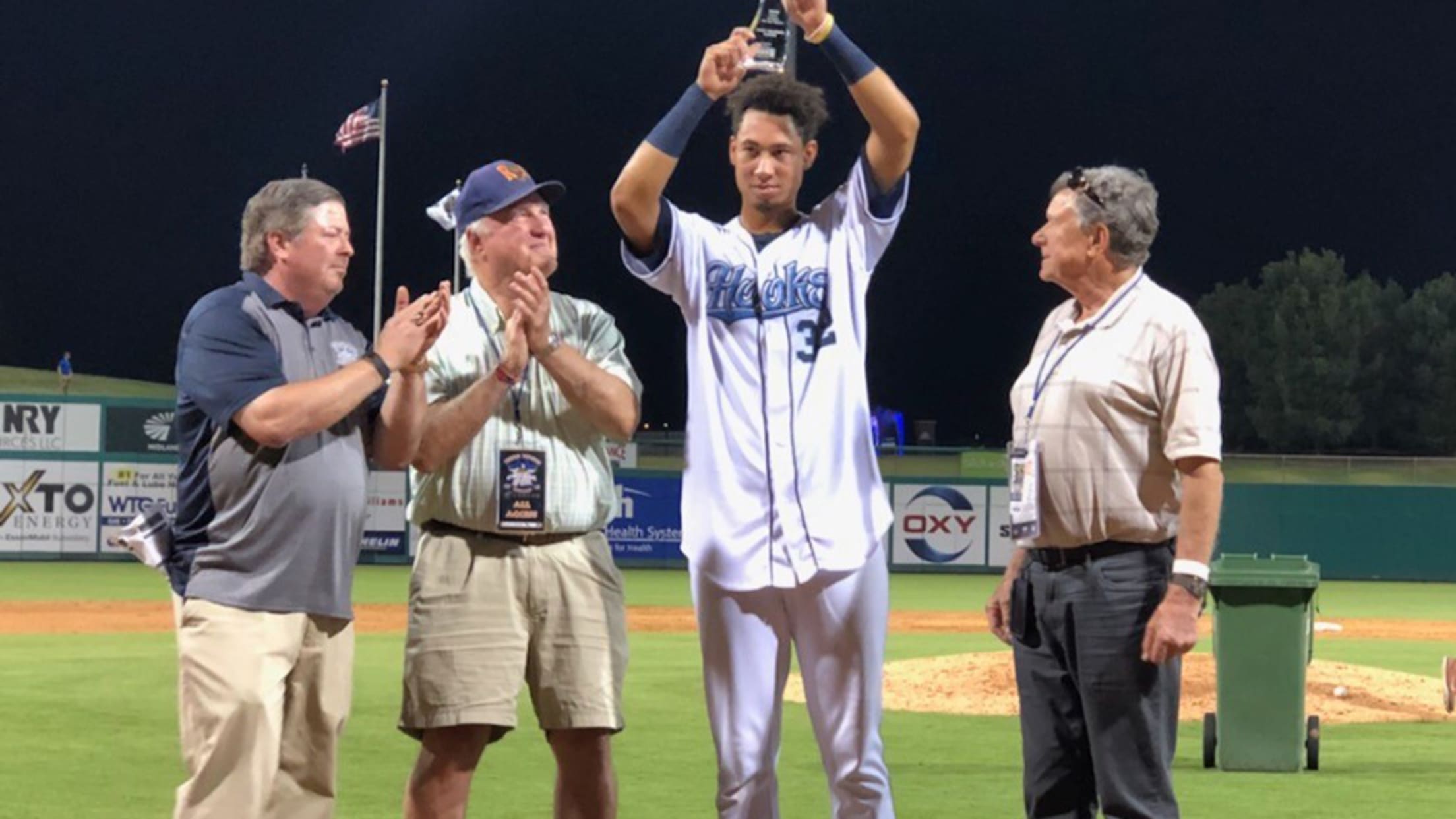 Corpus Christi's Taylor Jones is presented with his trophy after he was named BUSH'S® All-Star MVP. (Midland RockHounds)
MIDLAND, Texas -- The Texas League didn't want to send 5,890 fans home feeling empty after the South Division and North Division played to a 2-2 tie through nine innings at the All-Star Game on Tuesday at Security Bank Ballpark.In a historic event, the midseason classic was decided by a
MIDLAND, Texas -- The Texas League didn't want to send 5,890 fans home feeling empty after the South Division and North Division played to a 2-2 tie through nine innings at the All-Star Game on Tuesday at Security Bank Ballpark.
In a historic event, the midseason classic was decided by a home run contest between Springfield Cardinals outfielder Victor Roache and Corpus Christi Hooks first baseman Taylor Jones. Jones cleared the fence on his seventh try to win the showdown and propel the South to victory. The Astros prospect went 2-for-4 with a double and was named BUSH'S® All-Star MVP.
"I think this is great," Jones said. "I don't think the fans wanted to see a tie -- we didn't want to see a tie. Doing something like this makes it just that more exciting in the end, so I'm glad we did it."
Rather than play a 10th inning, Texas League president Tim Purpura, Midland RockHounds manager Scott Steinmann of the South Division, Tulsa Drillers manager Scott Hennessey of the North and the umpiring crew convened and opted to use a home run contest to decide the outcome.
Gameday box score
Both managers said the rule was in the Texas League bylaws and was supposed to be implemented after the 10th inning. But Steinmann's squad used all 10 of its pitchers and Hennessey's team went through nine of its arms.
"They talked about it earlier in the day and then Tim called us after the ninth inning and called us together and asked how we were going to do it," Hennessey said. "That kind of fluctuated a little bit. They said we were going to go swing for swing until somebody wins it. The thing you have to look at, us people in player development, them, too. You don't want to extend a guy for two innings. You don't want to get somebody hurt. Everybody got to play, everybody got to pitch, so it was a successful night. The fans went home happy. It was a success."
Both Jones and Roache failed to homer on their first four tries. Roache, who swatted a league-leading 16 in the first half of the season, cleared the left-field fence on his fifth attempt, putting the pressure on Jones. But Jones delivered on his fifth swing, keeping the swing-off going.
"I've honestly never seen it before. I thought it was actually awesome," Roache said. "I know some All-Star games end in a tie. I think that's the best way to do it. It's exciting for the fans. I know they had a good time watching that. I thought it was pretty cool to end it like that."
After Jones hit the game-winning homer on his seventh swing, his South teammates mobbed him along the first base line.
"It was fun, that's what I would say to [the purists]," Steinmann said. "I think I wasn't the only one that had fun. All the players had a good time on both sides. I think a lot of fans had a good time and hopefully everybody gets a chance to see it and maybe it revolutionizes the game a little bit."
With the South Division clinging to a 2-1 lead in the ninth inning, Arkansas Travelers first baseman Joey Curletta led off with a bloop double that was lost in the lights. One out later, Drillers designated hitter and Dodgers No. 27 prospectLuke Raley lined a single to center to plate the tying run.
In the bottom of the inning, Jones cracked a two-out double, but Springfield Cardinals shortstop Tommy Edman took the relay from Northwest Arkansas Naturals left fielder Elier Hernandez and easily threw out Corpus Christi's Alex De Goti at the plate.
Playing in front of his hometown fans, Midland RockHounds shortstop and Richie Martin made a strong bid for MVP honors. The A's No. 19 prospect gave the South a 2-1 lead in the fifth when he doubled home Frisco RoughRiders right fielder Michael O'Neill, who tripled. An inning later, Martin saved a run when he fielded a ground ball off the bat of Dodgers No. 24 prospect Drew Jackson and threw home to nail Springfield's Lane Thomas.
The South had tied the game at 1-1 San Antonio Missions left fielder and 14th-ranked Padres prospectJosh Naylor belted a solo homer off Arkansas' Chase De Jong. The blast landed on the grass berm beyond the right field fence.
First things first for Hooks' All-Star Jones
"I was just sitting on a high fastball because that's what I knew he was trying to do," Naylor said. "I took a few pitches and I made him throw a fastball. I hit it and it went over. I just thank God for that."
The North struck first in the third when Royals No. 6 prospect Nicky Lopez drove home Naturals teammate Jecksson Flores with a groundout. Flores was 2-for-2 with a stolen base and a run scored.
Raley and Mariners No. 5 prospect Braden Bishop both had two hits for the North.
Christopher Hadorn is a contributor to MiLB.com.