Watkins falls short in 'Wolves' no-no hunt
Tigers right-hander retires 26 batters before exiting after single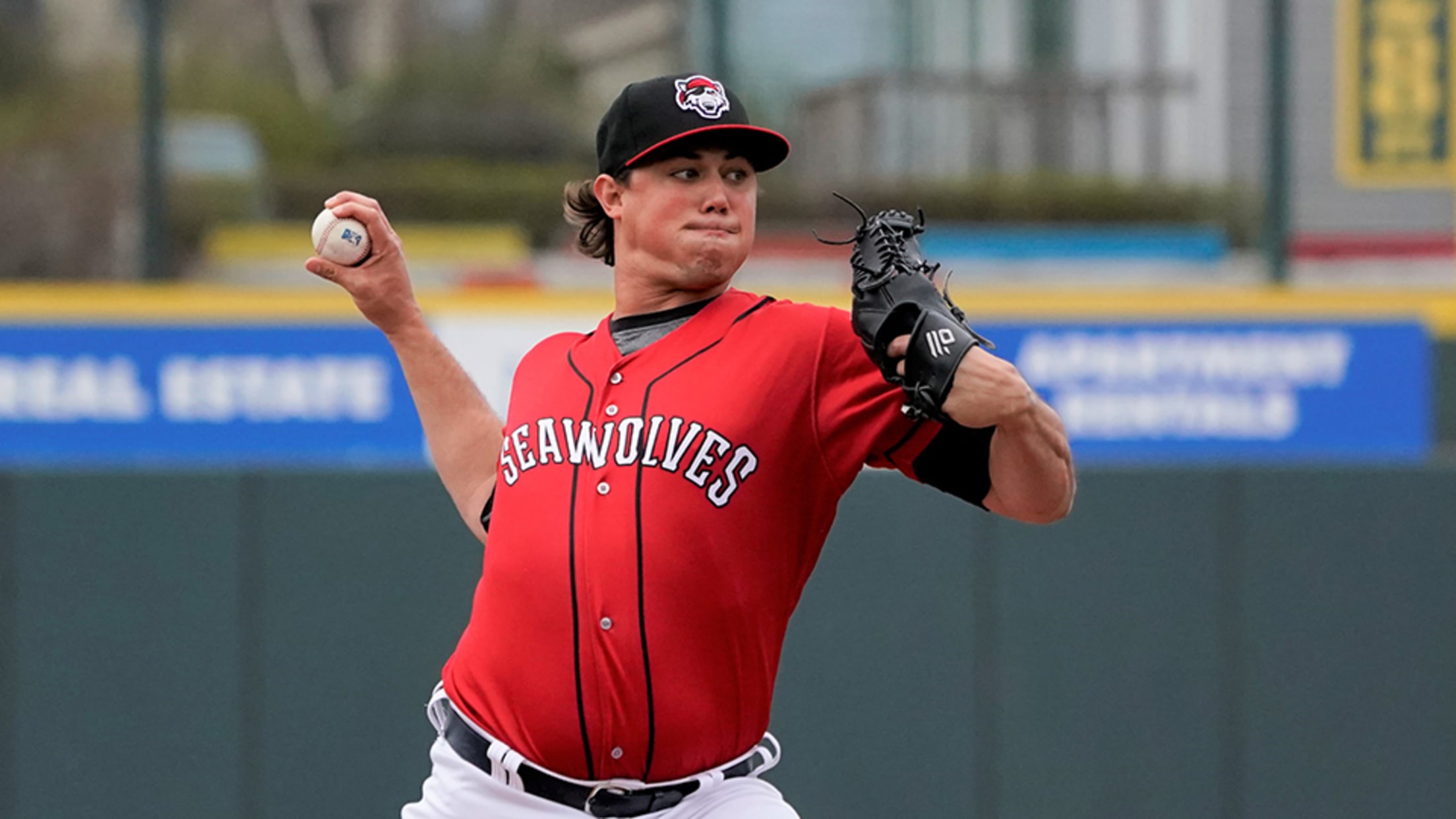 Spenser Watkins' other scoreless start this season was a five-inning effort against Binghamton in April. (Erie SeaWolves)
A pattern has emerged on Spenser Watkins' transaction log in 2019. Every time a yellow chicken appears, a one-eyed pirate wolf pops up soon thereafter. The 26-year-old has been reassigned six times this season, shuffling between Double-A Erie and Triple-A Toledo.All that mileage has made it hard for Watkins to
A pattern has emerged on Spenser Watkins' transaction log in 2019. Every time a yellow chicken appears, a one-eyed pirate wolf pops up soon thereafter. The 26-year-old has been reassigned six times this season, shuffling between Double-A Erie and Triple-A Toledo.
All that mileage has made it hard for Watkins to find a rhythm, evident in ERAs above 5.00 with both squads. After he got "hit around" a few times, self-doubt crept into his thoughts. So don't think, Seawolves pitching coach Mark Johnson told him. That approach showed Thursday when Watkins worked fast and rarely shook off catcher Chace Numata.
"He put the fingers down," the Detroit right-hander said of his batterymate, "and I gripped it and I ripped it."
The thoughtless experiment yielded Watkins' best start -- by far -- of the year. He fell an out short of a no-hitter, but led Erie to a 3-0 victory over Richmond at The Diamond. He struck out eight, walked three and shaved more than a run off his Double-A ERA, bringing it down to 4.25.
The 2014 30th-round pick issued consecutive one-out walks in the first inning, but retired the next two batters to escape the jam. Watkins (3-1) worked 1-2-3 frames in the second and third. He needed only eight pitches to navigate the fourth, which followed a 40-minute rain delay. He struck out the side in the fifth. Three more innings came and went. Nothing changed.
Gameday box score
When he went back to the hill for the ninth, Watkins had retired 23 consecutive batters. Johneshwy Fargas drew a four-pitch walk to end that streak. Sergio Alcántara snagged Bryce Johnson's line drive to short for the first out. No. 28 Giants prospectJalen Miller popped out in foul territory. Ryder Jones, the Flying Squirrels' last hope, fouled off three pitches.
One strike away from a no-hitter, Jones smacked Watkins' 105th pitch for an opposite-field double down the left-field line. Third baseman Daniel Pinero might had a play had he not been shifted away from a traditional defensive positioning.
Watkins watched from the infield grass with his hands on his knees. He screamed into his glove after his no-hit bid ended. Calmed down hours later, he deemed it "bittersweet."
"That was tough," the Western Oregon product said. "A lot of emotions took over because a lot of hard work went into getting that far and to have it broken up like that. Frustration, things like that. But I was also able to look at the fact that I had just gone through 8 2/3 innings of really well-pitched baseball."
Right-hander Drew Carlton came on to get the final out, but walked Jacob Heyward to load the bases. The lead built by Josh Lester's 11th home run and sacrifice flies by Frank Schwindel and Kody Eaves could have been erased with one swing. But Carlton struck out Peter Maris to end the game and earn his 10th save.
As the SeaWolves celebrated the win, they mobbed Watkins with congratulations as though he had completed the no-no anyway. He hugged everyone he saw. He found his rhythm -- for one game. This, he said, was just a "stepping stone."
"I don't want to hang my hat on this for too long, because obviously I gotta move forward," Watkins said. "But it's a huge building moment for me as far as knowing what I need to do when I have the ball in my hands to be successful."
Joe Bloss is a contributor to MiLB.com. Follow him on Twitter @jtbloss.