Southern notes: Solak adding to his skill set
Rays No. 11 prospect picking up defensive versatility with Biscuits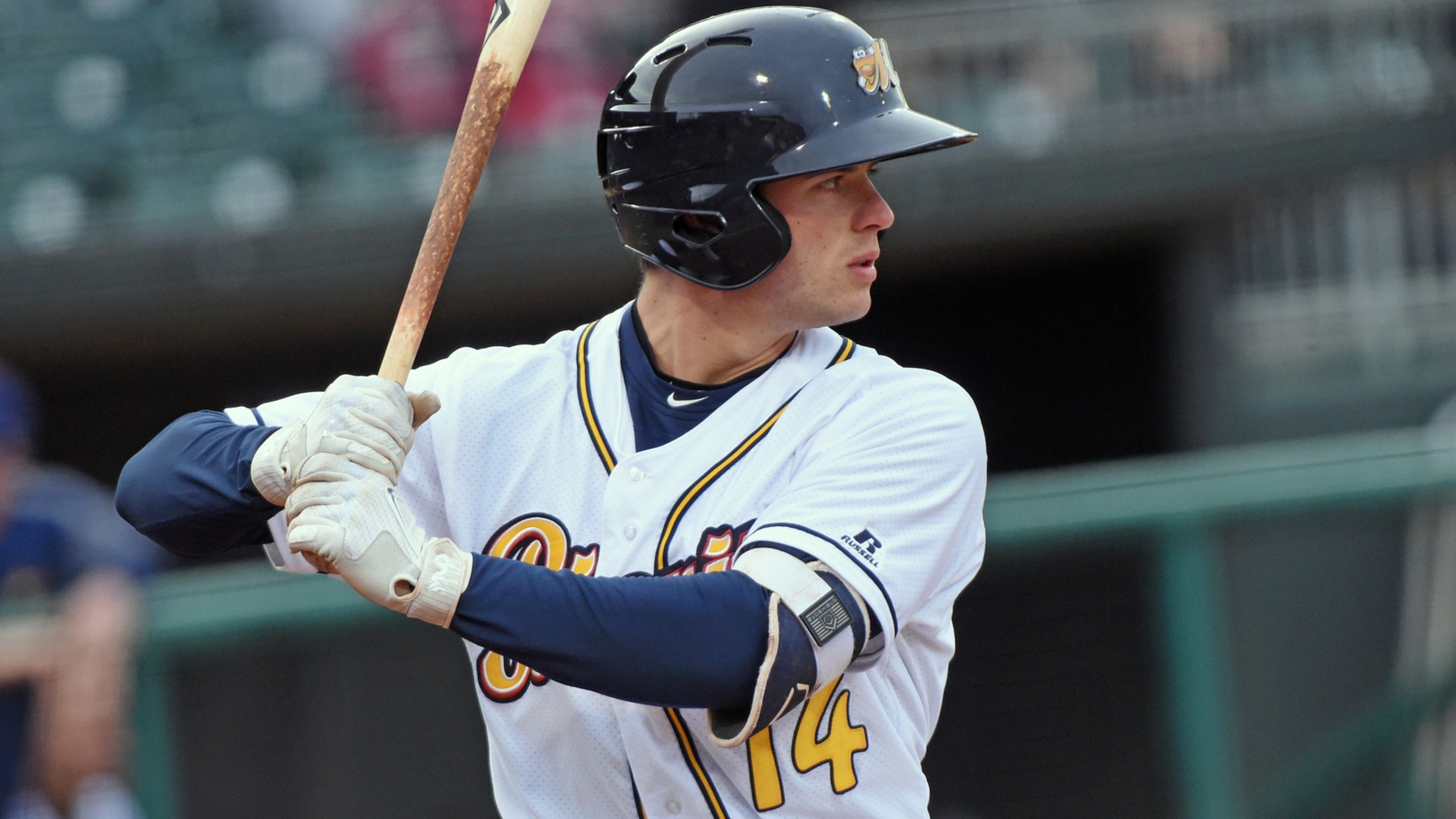 Nick Solak is hitting .308/.422/.488 with 30 RBIs and 34 runs scored through 47 games in the Rays system. (Brian McLeod/MiLB.com)
The trade from the New York Yankees to the Tampa Bay Rays caught Nick Solak off guard, especially since it came just two days into the 2016 second-rounder's first Major League camp."When I woke up that morning, I certainly didn't expect to be traded that night," the former University of
The trade from the New York Yankees to the Tampa Bay Rays caught Nick Solak off guard, especially since it came just two days into the 2016 second-rounder's first Major League camp.
"When I woke up that morning, I certainly didn't expect to be traded that night," the former University of Louisville standout said. "Surprised, a little shocked, definitely."
What came next, though, wasn't nearly as unexpected, although Solak had played only second base during his one and a half seasons in the Yankees organization.
The Rays stress versatility and Solak, who had played most of his sophomore season at Louisville in the outfield, found himself taking fly balls as well as grounders shortly after making the drive from Tampa to Port Charlotte.
"They told me right away that I'd be getting reps in the outfield," said Solak, part of a three-way trade that also involved Arizona. "That I'd played there some in college certainly made it easier. I like it, and it adds versatility to my game. Being able to play multiple positions can only help you."
Playing both the infield and outfield means a lot more pregame work with the Montgomery Biscuits for Tampa Bay's No. 11 prospect, but the extra time spent working on defense hasn't hampered the 23-year-old at the plate.
Solak, who's yet to commit an error at second base or in the outfield, had a .308/.422/.488 slash line through 47 games, with 30 RBIs and 34 runs scored.
"He is very diligent in his preparation, and his strike zone management is outstanding," Montgomery manager Brady Williams said. "He rarely swings out of the strike zone, and when he gets pitches to hit he usually hits them hard somewhere. And he takes his walks. He does everything you'd want up there."
The right-handed-hitting Solak usually bats third in the Montgomery lineup, with left-handed hitter Brandon Lowe in the cleanup spot.
Lowe, the Rays' No. 14 prospect, also is switching between his normal position at second base and the outfield while, like Solak, not suffering at all at the plate.
Lowe, a third-round pick out of the University of Maryland in the 2015 Draft, has a .283/.386/.520 slash line with eight homers -- two more than Solak -- and a Southern League-best 38 RBIs.
"I think they're feeding off each other," Williams said. "They are roommates, too, which makes for another dynamic. They are staying positive and helping each other knowing that they are going through the same thing."
That doesn't mean it's an easy workload to manage, though.
"I kind of compare it to being a switch hitter, where you have to do double work to be proficient on both sides of the plate," Williams said. "You have to do twice the work when you are going back and forth from the infield to the outfield."
Solak, who has good speed, adapted so well to left field that he is now also getting time in center with the Biscuits.
"Once we got confidence in his outfield play, we asked him if he wanted to play some center field and he said sure," Williams said. "Obviously the more places he can play the better off he's going to be moving forward. Having someone who can play center field and second base will always be nice for any manager.
"Nick isn't perfect yet in the outfield, but he's worked very hard and put in a lot of extra time, just like he has at second base with his footwork. In the long run, it should pay off for him and the organization."
Tampa Bay got Solak and three promising young pitchers -- Anthony Banda, Colin Poche and Sam McWilliams -- in the three-way trade that sent outfielder Steven Souza Jr. to Arizona and infielder Brandon Drury to the Yankees as the veteran centerpieces.
The Yankees and D-backs are trying to win now, while the Rays are looking to the future. Solak could prove to be an important -- and versatile -- part of that for Tampa Bay.

In brief
Taking some big hits:
Mobile's chances of catching Biloxi for the first-half title in the South Division were hurt when the Los Angeles Angels made a rash of promotions to Triple-A Salt Lake that included first baseman
Matt Thaiss
and left-hander
Jose Suarez
. Third baseman
Taylor Ward
, batting .345, also got the call, but he cut a finger packing and landed on the Mobile disabled list. Thaiss, the No. 8 Angels prospect, had a .287 average and matched No. 13 Ward with six homers and 25 RBIs. Suarez, ranked as the Angels' No. 11 prospect, was 2-1 with a 3.03 ERA and 51 strikeouts to eight walks in 29 2/3 innings.
Holding on at top:
Chattanooga remained in first place in the North Division despite the promotion of shortstop
Nick Gordon
, Minnesota's No. 4 prospect, to Triple-A Rochester and injuries to several key players. Right-hander
Randy LeBlanc
was sidelined because of a right flexor mass strain and outfielder
LaMonte Wade Jr
missed nearly two weeks with a left AC joint sprain. LeBlanc was 6-1 with a 2.17 ERA, tying for the Southern League lead in victories and ranking in a tie for second in ERA. Gordon was hitting .333 when promoted and Wade, the Twins' No. 13 prospect, had a .305 average before going on the DL.
Up, then back down:
Montgomery right-hander
Zach Lee
was a top Los Angeles Dodgers prospect when he pitched for Chattanooga in 2013, winning 10 games. But the first-round choice in the 2010 Draft made it to Los Angeles for just one start and was released by San Diego last August after three appearances with the Padres. Tampa Bay signed Lee, 26, this year and he was 6-1 with a 2.17 ERA in nine starts for Montgomery before being promoted to Triple-A Durham. He took a loss at Louisville on May 26 in his first start for the Bulls and was returned to the Biscuits.
Trying to get going:
Jacksonville second baseman
Isan Díaz
, hit on the top of the batting helmet by a pitch May 16, came off the disabled list May 25 and was 2-for-5 with two strikeouts at Mississippi. The Miami Marlins' No. 7 prospect missed eight games after being hit by a 2-2 fastball from Montgomery's
Kyle Bird
in the first inning. Diaz, 22, was acquired by Miami in the trade that sent outfielder Christian Yelich to Milwaukee during the offseason and has struggled with strikeouts facing Double-A pitching for the first time. He was batting .193 after fanning nine times in his first four games back.
Guy Curtright is a contributor to MiLB.com.