Rays' McKay providing ironman blueprint
Tampa Bay's No. 3 prospect forges ahead as both pitcher, hitter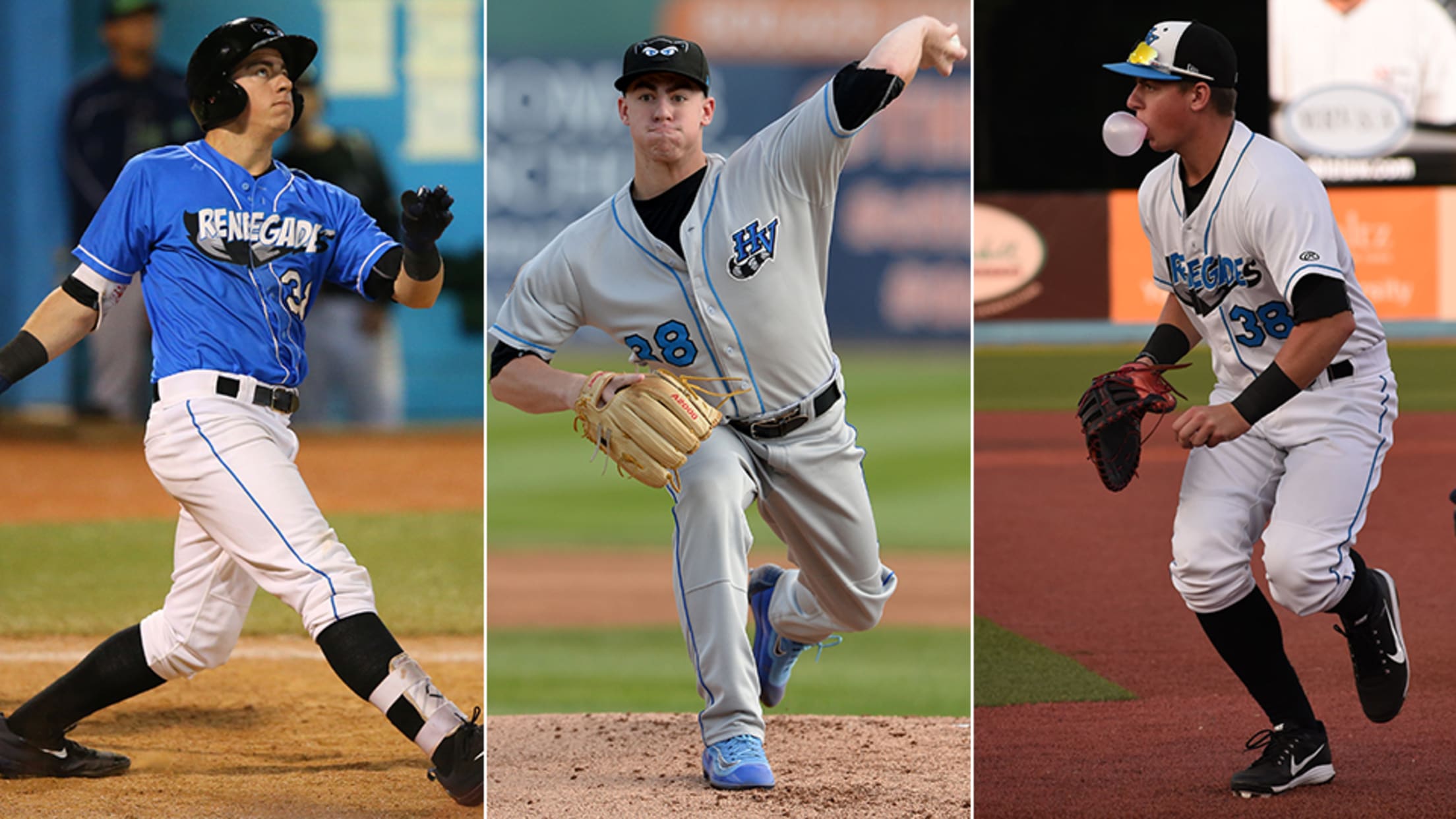 Brendan McKay pitched in seven games and played 24 at first base last season. (Danny Wild, Kevin Pataky/MiLB.com, Hudson Valley Renegades)
The thin history of two-way players in baseball provides anecdotal evidence that the task is nearly impossible, even for a Hall of Fame talent. Enter Brendan McKay.This season's emergence -- or resurgence -- of the baseball ironman has shoved McKay, the Rays' third-ranked prospect, and the Angels' Shohei Ohtani, MLB.com's
The thin history of two-way players in baseball provides anecdotal evidence that the task is nearly impossible, even for a Hall of Fame talent. Enter Brendan McKay.
This season's emergence -- or resurgence -- of the baseball ironman has shoved McKay, the Rays' third-ranked prospect, and the Angels' Shohei Ohtani, MLB.com's No. 1 overall prospect, into the spotlight. While Ohtani, a standout in the Japanese professional leagues, may jump straight to the Majors in his first year stateside, McKay's path will provide a study into the development of two-way talent.
The 22-year-old has been able to defy specialization and the tug-of-war between the two skills. Being able to pitch and hit, and do both things well, is something the No. 25 prospect in baseball showed he can do as a high-level amateur at the University of Louisville.
"There's been a lot going on, but, for me, it's feels the same as what I've been doing for three years in college and even before that and everything," McKay said.
Two-way players aren't rare in the college ranks. There's even an award, named after former Major Leaguer and Washington State standout John Olerud, for the best combination player in the country. McKay won this award in each of the past three seasons.
While with the Cardinals, the Darlington, Pennsylvania native put together a combined batting average of .328 and ERA of 2.23. After batting a career-high .341 with 18 homers and 57 RBIs while posting a 2.56 ERA and striking out 146 over 17 starts in his junior season, McKay took home the Golden Spikes Award, given to the top amateur player in the country.
The Rays made McKay the No. 4 overall selection in the First-Year Player Draft last June, two picks after the Reds chose high-schooler Hunter Greene. Greene initially intended to play both ways before making the decision to be a pitcher only this offseason. McKay said that he hadn't had the opportunity to talk with Greene, or Ohtani for that matter, about the tall task of being an ironman.
His first professional assignment took him to the Class A Short Season Hudson Valley in the New York-Penn League. McKay posted better numbers as a pitcher than he did as a hitter, posting a 1.08 ERA with 21 strikeouts over six starts. He batted .232/.349/.376 with nine extra-base hits -- including four homers -- and 22 RBIs.
After throwing 129 innings in Louisville and an additional 25 innings -- including five postseason frames -- with the Renegades, the Rays shut down McKay's throwing program and shifted his focus to hitting at instructs in October. The leave from the mound had nothing to do with performance and was strictly to rest his arm.
He's now resumed his pitching regimen and enters his first full professional season with two looming questions: Will he pull this off? And how?
In broad strokes, McKay's plan in between starts is that he's a hitter until the days he throws a bullpen session.
On full bullpen days, which is usually on the third day after a start, he will join the other pitchers for things like pitcher's fielding practice and pickoffs before taking the mound. While most pitchers throw just one bullpen between starts, McKay takes part in an extra session. It is an abbreviated version in which the catcher moves closer to the mound to make the throws at a shorter distance. The goal here, after working two or three days as a position player, is to remember what it's like to be a pitcher again.
"It's just touch and feel stuff, kind of feeling out your pitches before your next time on the mound, which is closer to the day you're going to pitch rather than in the middle of the week or something," McKay said. "It's a shorter number of pitches and I'd say less intensity. You're just feeling out the pitches and just staying used to the mound and how everything works, just to keep your body used to it."
In the days in between a start and a full bullpen, McKay will join the position players in the weight room. His lifting program varies slightly from the other hitters, with lower-body and core exercises such as squats and deadlifts being similar but upper-body work more in tune with the pitchers' program.
He'll lift once more after his bullpen and before his next start. The scheduling for this routine isn't exactly set in stone. It's flexible and spread out to where it worked with Hudson Valley's six-man rotation and can still be condensed if plans change in the future.
"From the type of the workout programs to the sidelines … with all our discussions in the winter, it's going to work pretty much like we did in Hudson Valley," Tampa Bay farm director Mitch Lukevics said on The Show Before the Show podcast. "If it works, keep going."
Lukevics is entering his 44th season in professional baseball, but even for him this is uncharted territory. He's inclined to yield to the opinions of a player more than 40 years his junior.
"[The Rays] had something somewhat laid out, but then they also came to me and asked for some opinions," McKay said. "I had a little more inside info for what it took to do it. Basically, almost what I was used to, just to keep everything familiar at that first season."
"We basically mirrored his Louisville program," Lukevics said. "He had success at Louisville. He stayed healthy at Louisville. … In a nutshell, that program that he worked last year, we'll do this year as well and we're going to tweak it."
Rays farm director Mitch Lukevics joins The Show Before the Show podcast
Lukevics explained that any changes to McKay's plans wouldn't involve the organization nudging him toward being a pitcher or hitter exclusively but would rather have more to do with extending things over a full season. He also said that he values McKay's input and is impressed by his maturity.
"We're all going to be open-minded, but what helps is his wonderful mind," Lukevics said.
McKay appeared in 40 games, four in the postseason, as a position player for Hudson Valley. He started at first base in 24 total games and the rest as a designated hitter, and said that the plan to split time between the two positions remains the same but would be affected by the type of rotation his team employs.
McKay's track record shows he's capable of finding success as a combination player. He's earned the support of the organization and Lukevics, who thinks he can be a trailblazer for two-way talent.
"If anybody can do it, he can," Lukevics said. "McKay is a pretty special kid. You're getting the type of athlete that has been trained in it, had success in it. ... As long as they have success doing it, Major League teams are going to do it and they're going to try it with other players as well, and why not?"
The unorthodox program has piqued the curiosity of McKay's teammates, who often wonder if he's really going through with it or if he'll cave to the norm and pick a side.
"I think they're as interested in it as everybody else. Obviously, people think it's going to be hard just because nobody has done it," McKay said. "Just to stick to that schedule seems hard, but if you take care of your body right and prepare yourself, you can handle … anything that's thrown at you through the season."
Gerard Gilberto is a contributor to MiLB.com. Follow and interact with him on Twitter, @GerardGilberto4.