Toolshed: Taking stock of the 2017 Draft
Twins' Lewis, Angels' Adell among top picks taking off a year later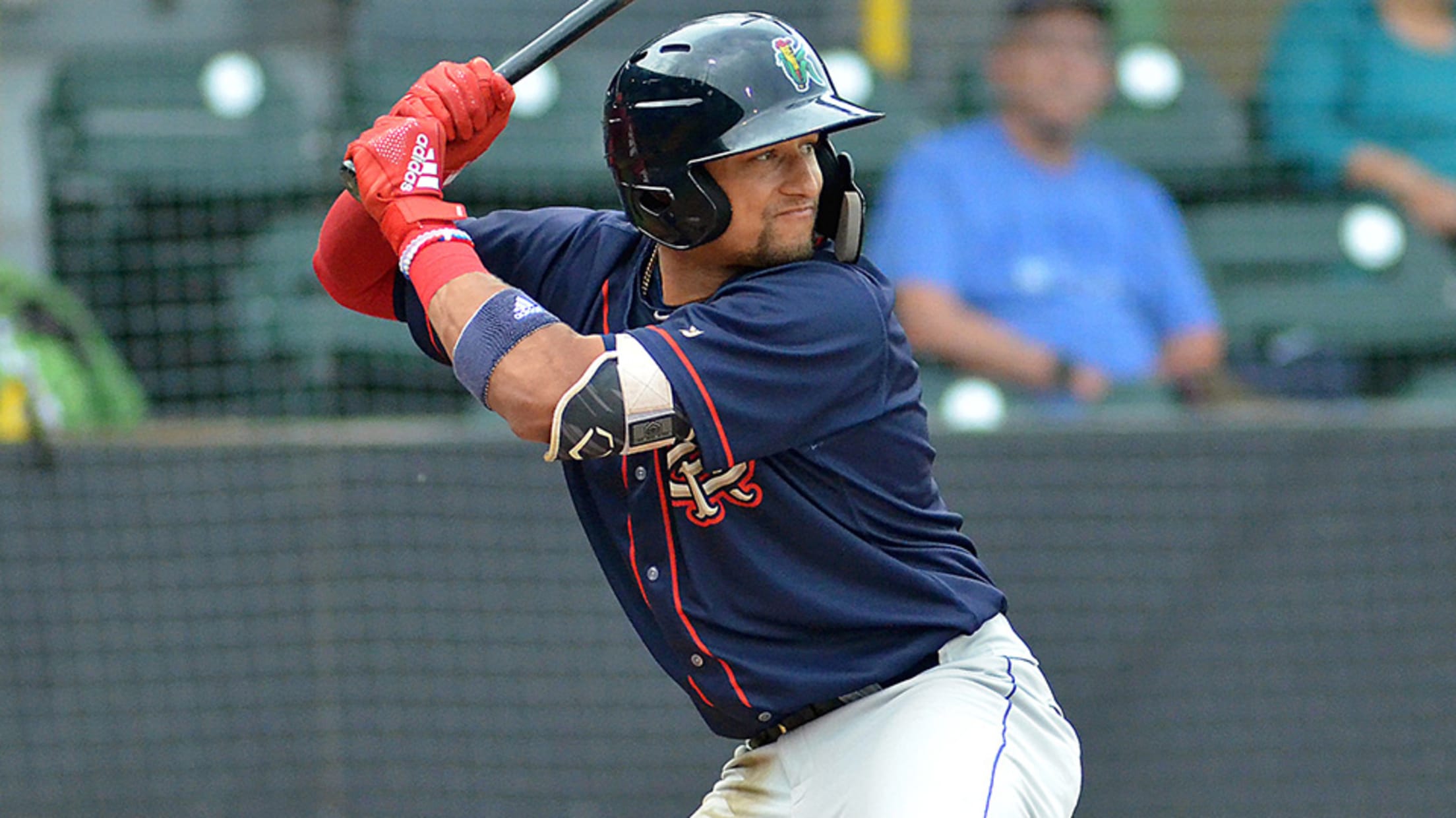 Royce Lewis has only been caught once in 14 stolen base attempts for Class A Cedar Rapids this season. (Paul R. Gierhart/MiLB.com)
Nobody even knew where these guys would be in 2018 at this point last year. In mock drafts, their names were being moved around boards, then moved again. Rumors abounded about which club would take them.And then on June 12, they all officially became members of the 2017 Draft class.
Nobody even knew where these guys would be in 2018 at this point last year. In mock drafts, their names were being moved around boards, then moved again. Rumors abounded about which club would take them.
And then on June 12, they all officially became members of the 2017 Draft class. Soon after that day, they signed and officially became prospects and Minor Leaguers.
One year later, although the debate rages on about the Major League futures of these young stars, we have a better idea of how they look as pros in the lower ranks. In anticipation of the 2018 Draft set to begin next Monday, the latest Toolshed analyzes which notable early-round 2017 picks have improved their prospect stock over the last 12 months and whose stock has dropped in that same period.
Note: all stats are through Monday's games, unless otherwise specified.

Stock up
1. Minnesota Twins: Royce Lewis, SS, Class A Cedar Rapids --
It's always good to remember that No. 1 picks in baseball can be different from other sports, where teams take the top talent first. Due to the bonus pool structure, signability and price tag are big parts of the calculus in baseball. Both played their parts in the Twins taking Lewis, who was
MLB.com's No. 5 Draft prospect
and signed for $6.725 million (more than $1 million lower than the slot value). Long story short: we shouldn't be evaluating Lewis solely through the lens of his having been the No. 1 overall pick. That said, the 18-year-old shortstop has become one of the most promising prospects in the game. He's quickly shown an impressive hit tool, with a .303 average through 37 games this season, and plus-plus speed that has resulted in 13 steals. He's ranked
No. 19 overall
and could be the top prospect from the 2017 class when the ranking list is updated later this summer.
9. Milwaukee Brewers: Keston Hiura, 2B, Class A Advanced Carolina -- There was little doubt that Hiura had one of the best hit tools in the entire Class of 2017. After all, he had batted.442/.567/.693 in his final season at UC Irvine. There were some doubts about his health, however, as many believed he was headed toward Tommy John surgery to repair his right elbow. The Brewers rolled the dice on the bat and signed Hiura for $4 million, more than half a million below the slot value for the pick. Hiura hasn't needed the surgery yet, thanks to PRP injections, but he's only just now getting back into playing second base full-time. The great news is that the bat has translated well. Even after a rough start to this season, the 21-year-old right-handed slugger has hit .349/.408/.606 with 18 extra-base knocks in 26 games this month and owns a .333/.390/.544 career line since going pro. Yes, there might still be health risks down the road, but given some of the players picked ahead of him (more on that below), Hiura has looked like a very enticing prospect so far.
10. Los Angeles Angels: Jo Adell, OF, Class A Burlington/Class A Advanced Inland Empire -- Adell is already at his second level of 2018, becoming the first prep first-rounder from the 2017 class to reach Class A Advanced, and that's not just because of an aggressive organization (though it doesn't hurt). Adell was impressive in his first month-plus with Class A Burlington, hitting .326/.398/.611 with six homers and 29 RBIs in 25 games. Those numbers are in line with the pre-Draft scouting reports that raved about his bat speed and power potential, but this level of performance puts him ahead of the expected curve. The 19-year-old outfielder has become the top prospect in a much-improved Angels system, and he's unlikely to give up that status for a good long while.
18. Detroit Tigers: Alex Faedo, RHP, Class A Advanced Lakeland -- Armed with a plus fastball and an even-better slider, Faedo was MLB.com's No. 11 Draft prospect going into June but slipped seven spots lower due to some concerns about his knee surgery the previous fall, his delivery and some inconsistency in his final season at the University of Florida. He didn't pitch at all last summer after throwing 123 2/3 innings with the Gators but has been solid in his return to the mound this spring. Faedo has allowed one earned run or less in six of his nine starts for Lakeland and owns a 3.35 ERA and 1.06 WHIP with 41 strikeouts and 11 walks in 48 1/3 innings. It's still early days, of course, but his BB/9 dropping from 3.1 in his junior year to 2.1 through his first two months in the Florida State League is a bit of a rebuttal to the delivery worries. He's MLB.com's No. 53 overall prospect and sits behind only six fellow Class of 2017 members in that ranking.
47. Los Angeles Angels: Griffin Canning, RHP, Class A Advanced Inland Empire/Double-A Mobile -- In a similar style to Faedo and Hiura, Canning was MLB.com's No. 17 Draft prospect but fell all the way to the second round because of perceived medical concerns, specifically stemming from an MRI before the Draft. Canning didn't pitch at all in the Minors last summer but has taken off in 2018. He reached Double-A after only two starts with Inland Empire and has posted a 1.72 ERA and 1.02 WGIP with 35 strikeouts and 17 walks in 31 1/3 innings with Mobile. Two of his seven starts have already ended in BayBears no-hitters. The Halos continue to limit Canning -- he hasn't thrown more than 5 2/3 innings or 84 pitches yet -- but there's no doubt they're getting a lot out of his four-pitch mix that includes an above-average fastball and a plus changeup. He could be the first 2017 second-rounder to appear on MLB.com's Top 100 Prospects when the list gets updated.
Stock down
6. Oakland Athletics: Austin Beck, OF, Class A Beloit --
The A's nabbed Beck -- the No. 9 talent in the Draft, per MLB.com -- at No. 6 and gave him the full-slot bonus of $5.303 million because of his five-tool potential. Unfortunately, it hasn't translated to a Minor League field much at all. Beck hit .211/.293/.349 with two homers and seven steals over 41 games last season in the Arizona League. This year, his slash line is up but still low at .273/.316/.347 through his first 43 games in the Midwest League, and he's shown little power (one homer) and hasn't been a threat on the basepaths (two steals in five attempts). The good news is that Beck improved over time in 2017, producing an .823 OPS in the second half compared to .437 in the first, so maybe he'll make the necessary adjustments to take off again this summer. But he's also the highest-picked player from the 2017 Draft not to feature as a Top 100 Prospect in the preseason rankings, and his production these first two months has done little to vault him into that discussion.
7. Arizona Diamondbacks: Pavin Smith, 1B, Class A Advanced Visalia -- Smith was a relatively safe pick when the D-backs grabbed him in the top 10. He was an impressive hitter during his time at the University of Virginia, producing a .342/.427/.570 line with 13 homers as a junior while striking out only 12 times in 274 plate appearances. Though he was limited to first base, there was the hope that Smith would have a good enough hit tool to overcome potentially average power for the position. That just hasn't been the case early on in 2018. Despite calling the California League home, the 22-year-old left-handed slugger is batting just .214 with three homers and a .659 OPS in 43 games with Visalia. He did walk more times (25) than he struck out (23) in that span, and a .234 BABIP certainly isn't helping matters. But a .331 slugging percentage in a hitter-friendly league doesn't bode well for any first-base prospect, never mind one taken in the top 10.
8. Philadelphia Phillies: Adam Haseley, OF, Class A Advanced Clearwater -- There's no UVA bias here, promise. Haseley was taken one spot after his fellow Cavalier but actually received the higher bonus ($5.1 million vs. $5,016,300), thanks to his above-average hit, run and fielding tools as a potential center fielder. However, he's been an average hitter in the Florida State League with a .275/.309/.385 line and three homers in 44 games. That translates to a 98 wRC+. To reiterate: average. What's more, Haseley has primarily played left field this season, moving over from center for 2016 top pick Mickey Moniak. That takes away some of his positional value, and if he were to stay in a corner, there would be a higher stress on getting something substantial out of his bat. It's not a terrible profile, but the outlook is less rosy than it was 12 months ago.
24. Boston Red Sox: Tanner Houck, RHP, Class A Advanced Salem -- There were some worries that a lack of impressive off-speed options and a three-quarters delivery would lead Boston's first pick to the bullpen eventually. Houck hasn't been able to allay those concerns in his first trip to a full-season affiliate. Despite being a strike-thrower at the University of Missouri, the 21-year-old right-hander has actually walked more batters (31) than he's struck out (30) through 41 innings. His 6.17 FIP and 1.80 WHIP are both second-highest among 103 qualified Class A Advanced pitchers. The Red Sox had been trying to get Houck to work on his four-seamer and curveball this spring, and that work, which was focused on the long term, could have led to some of these short-term issues. But for a system that could use some good news, Houck's troubles haven't been uplifting.
25. Washington Nationals: Seth Romero, LHP, unassigned -- Romero was perhaps the biggest gamble of the first round last year. The hurler no doubt had the talent to be an early pick with a plus fastball and impressive slider from the left side, but he faced continued makeup concerns after he was suspended and eventually kicked off the University of Houston team for violating team rules -- reportedly including an altercation with a teammate and a failed drug test -- the spring before the Draft. The Nats, who were tantalized by the southpaw's talent potential, grabbed him with the 25th overall pick and signed him for an above-slot $2.8 million bonus. Unfortunately, the makeup concerns haven't gone away since Romero joined pro ball. Nationals general manager Mike Rizzo sent Romero home early from his first Spring Training, this time reportedly for curfew violations, and the 22-year-old has yet to pitch for an affiliate this season. Earlier this month, Rizzo told 106.7 The Fan, "It has to be the Nationals way right out of the gate or you don't get the privilege to play in the Washington Nationals organization." He also added, "We're at Chapter 1 of this novel with Seth Romero." That might be true, but it's not the chapter Washington hoped it would be reading at this stage.
Notes on others: Hunter Greene (Reds) and MacKenzie Gore (Padres) have both struggled in Class A this season but weren't included above for various reasons. Greene is still showing triple-digit heat early on, along with an at-times impressive slider. Gore has battled blister issues and made only three starts. Both teenage hurlers should be afforded more time before a stock assessment. ... Kyle Wright (Braves) has posted a rough 4.73 ERA at Double-A Mississippi but deserves some credit for being the only top-30 pick to open the season that high. His 3.52 FIP is much more promising either way. ... Heliot Ramos (Giants) jumped from being the No. 19 overall pick to the No. 56 overall prospect in baseball on the strength of his .348/.404/.645 line, six homers and 10 steals last season in the Arizona League. He's still got above-average power, run and defensive tools, but the offensive numbers haven't been there at Class A Augusta, where he's hitting .228/.303/.361 through 41 games. He won't turn 19 until September, though.
Sam Dykstra is a reporter for MiLB.com. Follow and interact with him on Twitter, @SamDykstraMiLB.