Toolshed: Toussaint takes up Haitian flag
Braves hurler was country's lone rep at 2018 Futures Game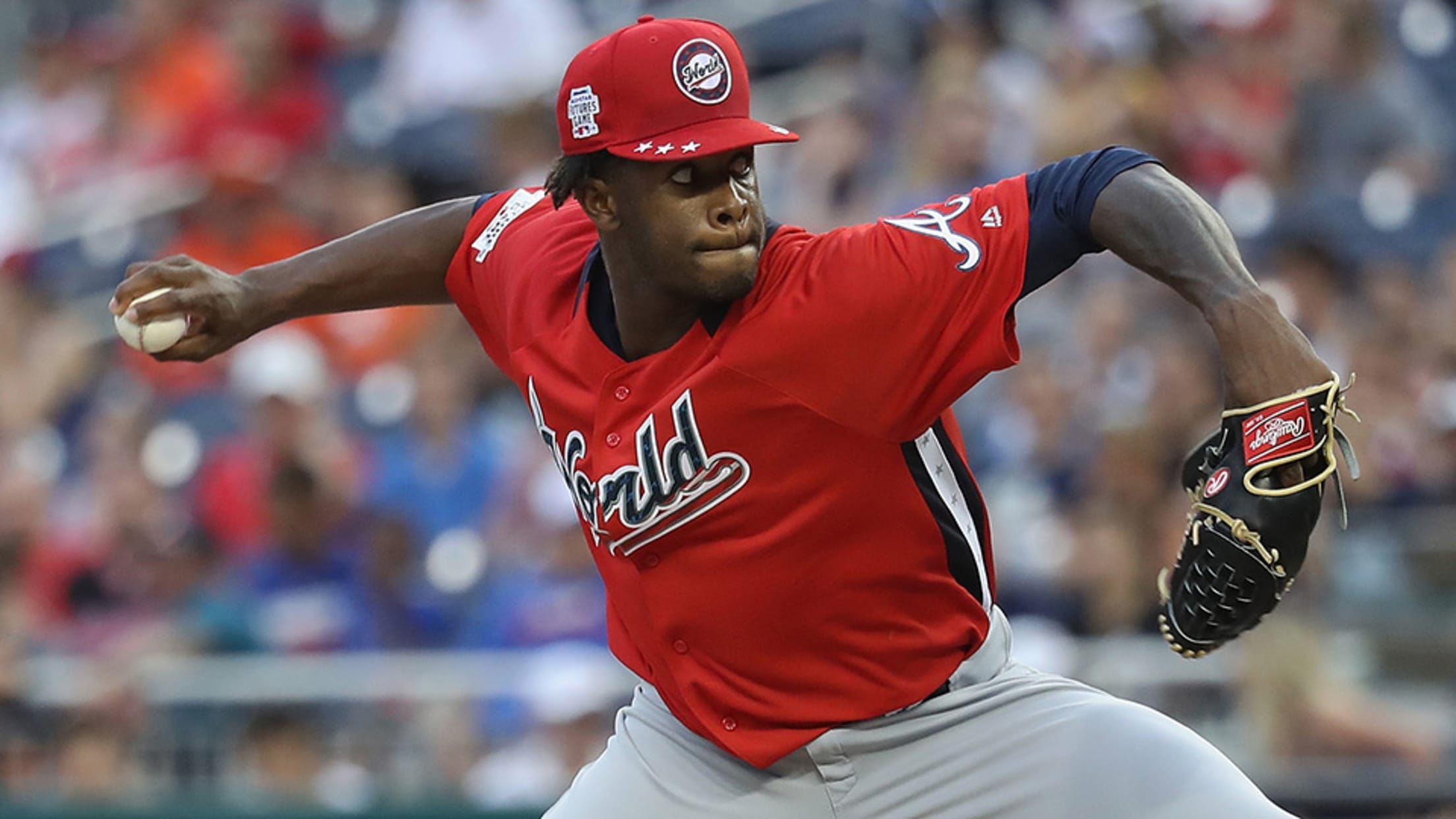 Touki Toussaint tossed one inning out of the bullpen for the World team at the Futures Game on Sunday. (Rob Carr/Getty Images)
Kahaso Kiti wanted to see it, just to make things official.As is Futures Game custom, the flags of each nation represented by a prospect playing Sunday were trotted out to the center of the Nationals Park diamond. There was Old Glory for the U.S. Team. There were the assorted flags
Kahaso Kiti wanted to see it, just to make things official.
As is Futures Game custom, the flags of each nation represented by a prospect playing Sunday were trotted out to the center of the Nationals Park diamond. There was Old Glory for the U.S. Team. There were the assorted flags of the perennial Latin America baseball powers -- Dominican Republic, Cuba, Venezuela, Puerto Rico, Mexico, Panama. There were two from nations in far-off continents, representing South Africa and Australia. And there it was, dead center. A flag with a blue bar on top and red bar on bottom with a coat of arms in the middle. Simple and yet nothing simple about it. It was the Haitian flag.
"When I saw the flag coming out there, it gave me goosebumps, really," Kiti said. "I'm half-Haitian and half-Kenyan but born in the United States of America, born in New York. Actually seeing that, I took a picture and sent it straight to my mom and my brother and said, 'Look, your flag. Look at it.' It's a very proud moment."
That flag was there because of one player and one player only -- No. 10 Braves prospectTouki Toussaint, Kiti's son.
And yet it almost wasn't there. Toussaint was a late addition to the World roster after top Indians prospect Francisco Mejía was summoned to the Majors over the weekend. Kiti had been preparing to visit her son as he made a start at Triple-A Gwinnett, but around 3 p.m. on Saturday -- about 25 hours before first pitch in the Futures Game -- Toussaint received a call from the Braves' director of player development with urgent news.
"I was honestly about to take a nap," Toussaint said. "Dom Chiti called me and said, 'Hey man, a question got brought upon us. Do you want to pitch in the Futures Game?' My family's supposed to fly up tomorrow to pitch in Gwinnett, so I asked him if I could call him back. He said he needed an answer right now. So I said, 'Yeah, sure.'"
Before he could pack his bags for Washington to reach his 7:45 flight that night, the 22-year-old right-hander knew there was one more phone call he had to place. His mother's travel plans had to change too.
"I called her and said I'm going to the Futures Game. She was like, 'What?' I said, 'I'm going to the Futures Game.' She's like, 'When?' I said, 'Today.' Then I told her I was playing for the World team. She was at the supermarket. So I told her I was pitching for Haiti, I was repping the Haitian flag. She was like, 'I'm at the counter. I can't buy this. I have to go.' It's bigger than me, and I'm happy to represent."
Toussaint's ties with Haiti aren't as direct as, say, Fernando Tatis Jr.'s with the Dominican Republic or Yusniel Díaz's with Cuba, but that doesn't make them any less strong. Born in Florida in 1996, Toussaint moved to Haiti with his mother and father, Dany Toussaint, who served as a senator in the country. (The son goes by his nickname Touki, which is derived as a portmanteau of his parents' surnames -- Toussaint and Kiti.) For the first few years of childhood, Toussaint lived as protected a life as the son of a prominent politician could.
"It was different," he said. "You're not a regular kid. Going to school, you have bodyguards, maids, all that type of stuff. At soccer games, you've got bodyguards standing there. It's definitely different. But when I moved to the States, that was a whole different culture shock."
Video: A's Luzardo pays tribute to Stoneman Douglas
That move came in July 2004, one month after Toussaint turned eight years old. His mother took him and his sister, Garielle, back to Florida, where Toussaint lived for the next decade, leaving his father behind in the process. But on this side of the Caribbean, he wasn't known as a son of a major politician. He was just a normal kid, with chores and all.
"My mom told me I was going to wash the dishes," Toussaint said. "I had never washed the dishes when I was younger. I didn't really know how to do that. I had to learn. I'm honestly grateful because it made all this possible."
His mother agreed with that notion.
"It made him a well-rounded person, basically," Kiti said. "He was lucky enough to learn another country, learn another culture, learn another language. It was very different. It was a different lifestyle. He just got acclimated to that. ... [Before that,] he didn't have to do anything other than wake up, go to school, eat and suck his thumb. That was about it."
Those lessons still serve him well to this day with Toussaint still undergoing a long-term adjustment period in the Minor Leagues. Around the ninth grade, Kiti turned to her son, who also played soccer and hockey, and told him he needed to pick a single sport. He chose baseball, eventually developed plus velocity and a killer curveball and by the end of his time at Coral Springs Christian Academy, he was earning spots at the Under Armour and Perfect Game All-American high-school showcases.
The D-backs made him the 16th overall pick in the 2014 Draft and signed him away from a Vanderbilt commitment with a $2.7 million bonus, only to trade him away to the Braves exactly one year later in a dump of Bronson Arroyo's contract. Toussaint showed flashes of brilliance during his first months and years in the Atlanta system but was stymied by mechanical issues that led to rough control numbers. After years of tinkering and trying to find the magic formula, Toussaint, who was drafted when he was 17 and officially signed on his 18th birthday, tried to get back to basics -- kind of like cleaning the dishes.
"Honestly, I stopped thinking about mechanics," he said. "I started thinking about playing a catch. It's a game. Honestly, that's what pitching is. You're just playing catch at an accelerated pace. That was the biggest adjustment I made.
"My catch play wasn't always great. I started taking that seriously every day, and in the offseason, I started seeing results. Getting on my back leg and playing catch. I used to stand up, flip the ball and get my arm going. But I started getting on my back leg, playing catch and I started seeing results in my bullpens more. Everything else has worked off that."
The results were plain to see. Toussaint posted a 2.93 ERA and 1.19 WHIP with a Southern League-best 107 strikeouts in 86 innings for Double-A Mississippi. Most importantly, his walk rate dropped from 13.0 percent at the same level in 2017 to 9.9 this season before he was moved up to Gwinnett on July 4. He made one start for the Stripers, giving up one earned run over 6 2/3 innings on July 5, before the summons to Washington came over the weekend. Armed with a high-90s fastball and one of the hardest curveballs in the Minors, Toussaint got to show off his arsenal Sunday as he struck out one and gave up one earned run on one hit in an inning as the last man out of the World bullpen -- all while representing the land he once called home.
When a Futures Gamer will next play on behalf of Haiti is very much up in the air. Baseball's history on the western end of Hispaniola is a complicated one.
There was a time when the relationship was fairly strong, when Major League baseballs were produced at a Rawlings factory in Haiti. Because of political tension, the company moved those operations full-time to Costa Rica in 1990, thus causing the country to lose any direct connection to the sport. There are still no Haitian-born players to have appeared in a Major League game (not that Toussaint would count as "Haitian-born" if he does eventually reach the game's highest level).
Haitian-Dominican players have run into signing issues as a result of lack of documentation (e.g. birth certificate). Miguel Sanó famously ran into this issue before he signed with the Twins in 2009. Estevan Florial's case was even more infamous, as he was suspended from signing for a year after his original documents under the name Haniel d'Oleo did not check out. It took receiving a Haitian passport and an official name change back to Florial for the Yankees to clear signing the outfielder. He played in the 2017 Futures Game in Miami, officially representing Haiti, though he still claims his birthplace was the Dominican Republic -- a belief backed up by the change of his official birthplace to Barahona, Dominican Republic, recently.
For those still in Haiti, where 59 percent live below the poverty line according to the World Bank, there aren't many options to play baseball. It's mostly a soccer country, says Kiti, and according to Sportsnet.ca, there was just one youth baseball field in the country. There have been some movements to change that, however. The International Baseball Academy of Haiti was founded in 2017 with a goal of sending young athletes to tournaments and showcases across the globe.
Given his growth and development in the States and the specific way in which he spent his time in the country, Toussaint may not have all that much in common with those kids learning the ways of the diamond these days. But he knows where they come from. He's breathed their air. And on Sunday, he shared their flag. Going forward, he'll also share their cause.
"Ever since [Rawlings] left, there hasn't been much of a connection there [between Haiti and baseball]," Kiti said. "Actually having Touki coming out here and representing Haiti and us getting the footage, it's going to be great to send down there. Maybe we'll find more Haitians that want to play baseball."
The righty would love it if that happened.
"I hope it opens their eyes and makes them think, 'If he can do it, I can do it,'" Toussaint said. "For guys to come out and say, 'I'm Haitian, and I'm proud,' that's the kind of thing that sometimes people hide and don't come out and say. ... I don't know why they don't. But I'll say it. I'm Haitian, and I'm proud."
Sam Dykstra is a reporter for MiLB.com. Follow and interact with him on Twitter, @SamDykstraMiLB.