Adames hits for first Triple-A Durham cycle
Rays No. 2 prospect caps feat with towering homer in eighth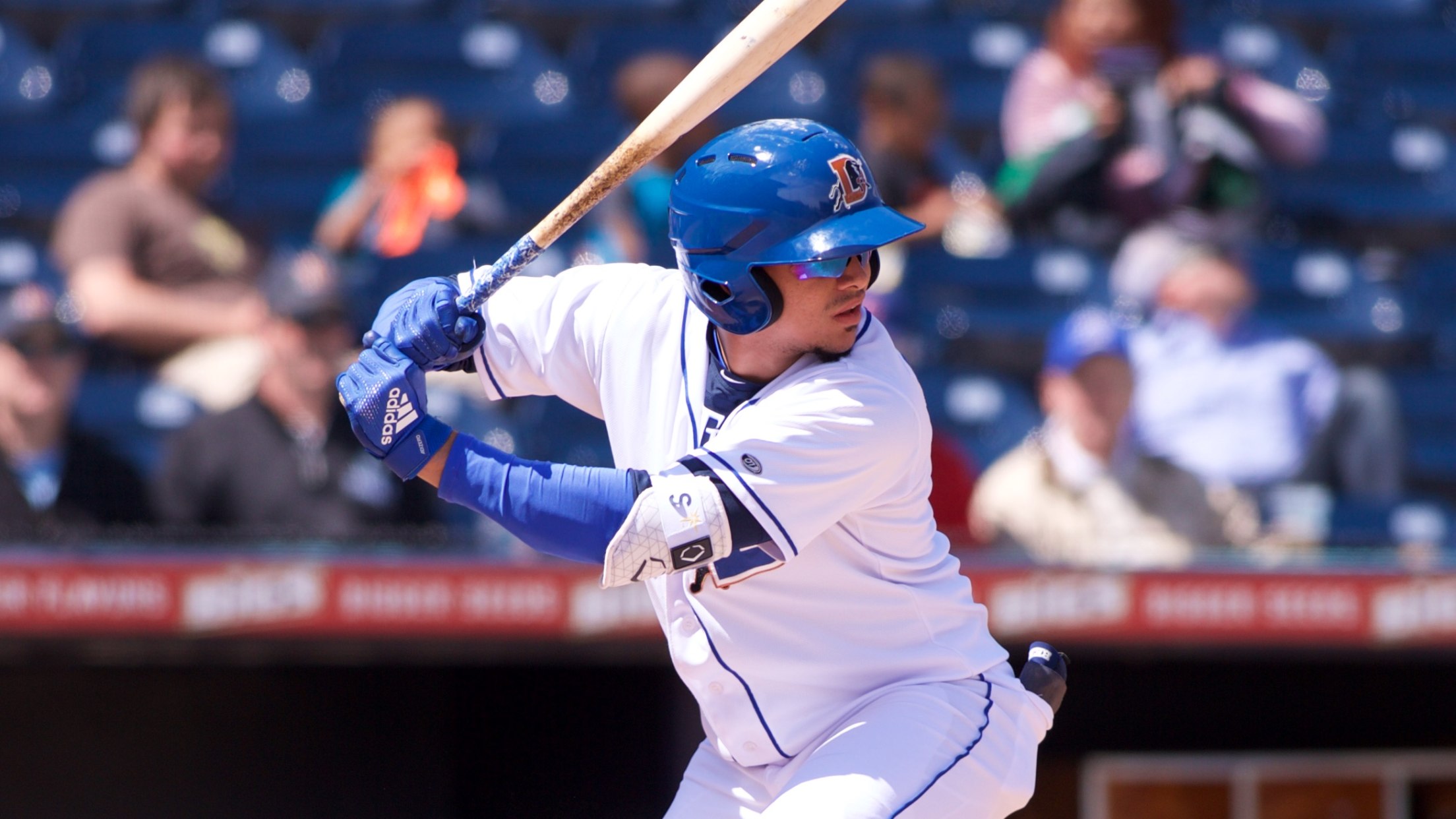 Willy Adames followed the first grand slam of his career with another milestone. (Chris Robertson/MiLB.com)
The stock on Willy Adames is looking like a bull market.Tampa Bay's No. 2 prospect homered in the eighth inning to hit for the first cycle in Durham's Triple-A history en route to an 8-1 victory over visiting Buffalo on Monday.That was just a night after the 22-year-old blasted his
The stock on Willy Adames is looking like a bull market.
Tampa Bay's No. 2 prospect homered in the eighth inning to hit for the first cycle in Durham's Triple-A history en route to an 8-1 victory over visiting Buffalo on Monday.
That was just a night after the 22-year-old blasted his first career grand slam in a 10-0 win for the Bulls. That long ball marked his first time leaving the yard since August. And Adames thinks he knows the source of his recent surge.
"It's my mom. She just got here for a visit and she brings me luck all the time," the native of Dominican Republic said. "She came with my sister a couple of days ago from Santiago, and whenever she's here, I always hit good. Since I got drafted, she usually makes one trip a year for a week to see me play, but I think this time I'm gonna have to extend her stay. She's my good-luck charm."
Adames lined a double to right field in the first, hit into a fielder's choice in the second and grounded a single to center in the fifth. TheNo. 22 overall prospect drove in two runs in the sixth with a two-out triple to center, and he stepped to the plate in the eighth unaware he was a dinger short of the rare feat.
"I had no idea I was hitting for a cycle. Actually, when I got back to the dugout after my home run, my teammates all told me I got the cycle and I was like, 'Wow, that's special,'" Adames, who blasted a 2-0 pitch over the wall in center in his final at-bat. "Once I got into the 2-0 count, I was just sitting fastball and I got one and put a good swing on it.
"It feels amazing though. My first grand slam yesterday and my first ever cycle today. It's just special. Especially to do it in front of my family."
Gameday box score
The shortstop entered Monday's action batting .300/.413/.440 in 15 games. His historic performance raised his average 45 points and extended his hitting streak to six games. He stands tied with Triple-A Scranton/Wilkes-Barre's Abiatal Avelino for the International League lead in RBIs with 14.
"I don't ever try to hit home runs," said Adames, who went 6-for-9 with seven RBIs and four runs scored in his last two games. "I just try to wait for my pitch and hit it hard into the gap. But I think that, as I'm getting stronger and older, those hits might go out now."
Brandon Snyder got the scoring started for the Bulls when he crossed the plate on a fielding error by Bisons starter Joe Biagini (0-1) in the second. Then Adames came home on a double from Jason Coats with two outs in the fifth to give Durham a 2-0 lead.
Snyder hit a solo blast during a three-run sixth for the Bulls, and Rays No. 5 prospect Jake Bauers smoked a two-run shot over the wall in right before Adames went back-to-back in the eighth.
Forrest Snow (1-1) was charged with an unearned run on two hits and a walk with nine strikeouts over six frames for Durham. Ryan Weber picked up his first save of the season after tossing three scoreless innings with two hits and a walk.
"It's not just me that has been playing better, I think the whole team is starting to click now," Adames said. "We won a lot last year, but so far this year, we haven't been playing great baseball. I think the pieces are starting to come together now -- the pitchers did a great job today, everyone is stepping up -- and we're gonna start to take off."
Rob Terranova is a contributor to MiLB.com. Follow him on Twitter @RobTnova24.