Women supporting women at Winter Meetings
Female executives 'Dream Big' at 10th annual Leadership Event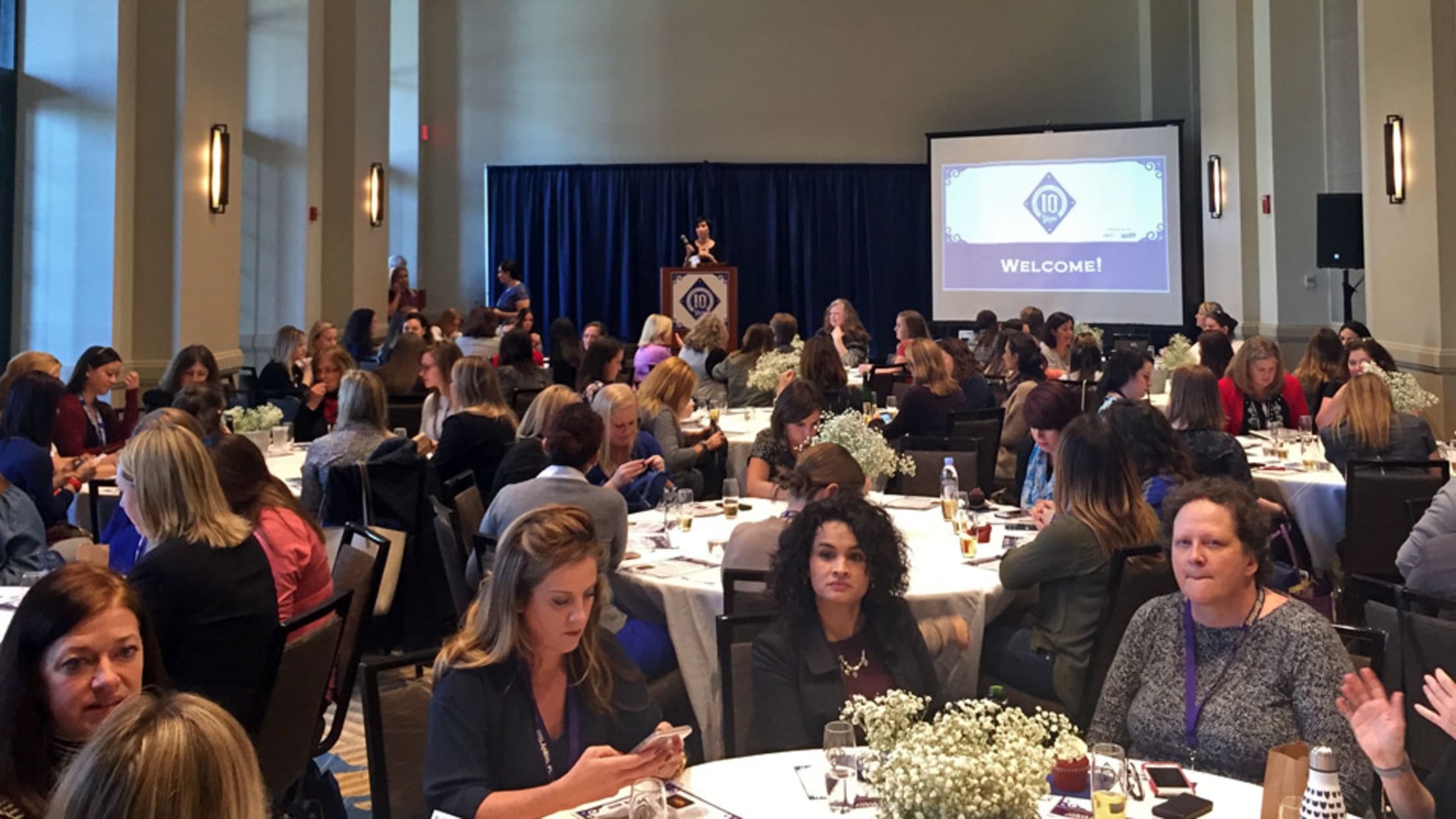 Approximately 150 female baseball executives attended Tuesday's Women in Baseball Leadership Event, a Winter Meetings tradition.
Over the past decade, the number of women working in baseball has steadily increased. So, too, has the number of women attending the Women in Baseball Leadership Event.This year's Women in Baseball Leadership Event took place Tuesday, the second full day of the Baseball Winter Meetings. Approximately 150 women, all
Over the past decade, the number of women working in baseball has steadily increased. So, too, has the number of women attending the Women in Baseball Leadership Event.
This year's Women in Baseball Leadership Event took place Tuesday, the second full day of the Baseball Winter Meetings. Approximately 150 women, all of them employed in the world of professional baseball, gathered in a Walt Disney World hotel conference room for the 10th iteration of this annual occasion.
The theme? Dream Big.
The first hour of the event was given over to a variety of speeches, with remarks from emcee Lara Juras -- the Atlanta Braves' senior vice president of human resources -- interwoven throughout. Minor League Baseball President Pat O'Conner, the only male speaker, conceded that, "This game's been run by a bunch of old white guys for too long." He said that hiring and supporting women was not only "morally and socially right," but also good for business for an industry featuring a fan base that is 50 percent women.
Ellen Harrigan, director of baseball administration for the Dodgers, celebrated the event's anniversary with a "Cheers to 10 Years" champagne toast. Veteran sportscaster Sam Ryan, the keynote speaker, then shared stories of the women who had inspired her throughout her career. These included personal sports journalism mentors Lesley Visser and Suzyn Waldman, as well as pioneering runner Kathrine Switzer. In 1967, Switzer became the first woman to run the Boston Marathon, despite the attempts of race officials to forcibly remove her from competition.
"Prove them wrong. Always take the high road, but prove them wrong," Ryan concluded.
The majority of the Women in Baseball Leadership Event is given over to roundtable discussions on a wide variety of pre-selected issues. Topics included: Switching Your Career; Lifting Up the Next Generation of Women; Managing Bullying in the Workplace; Handling Difficult Conversations with Confidence; Building Your Own Coalition of Professional Allies; Having Male Advocates; #MeToo; and Unconscious Bias.
Mary Marandi, Minor League Baseball's assistant director of corporate communications, heads the event's organizing committee. She said the roundtable discussion topics are chosen after considering the input of those who have registered to attend.
"We take everyone's suggestions and ideas and compile a list of 20 topics that we think will be relevant to women of all experiences and ages," said Marandi. "It really does run the gamut, and hopefully the women feel like it's a forum for them to not only speak to other women but to learn and hear about their experiences and apply that to their career path.
"We have a moderator at each table that's tasked with keeping the conversation on track and keeping it positive and really giving all the women an opportunity to have a voice," she continued. "They begin the discussions on a topic, and then when the table moderator feels like we've reached a point where its hit a lull, then we move on to another topic. And with 20 topics, there's never going to be a lack of conversation."
Marandi was speaking as the roundtable discussions were in full swing, the entirety of the Swan Resort's Lake View conference room engulfed in conversation.
"This year's great because we're celebrating 10 years. The first event was in 2008 at the Las Vegas Winter Meetings," she said. "We have a lot of repeat women come who support the program and we have newcomers every year, which is exciting."
Two of this year's newcomers were Kate Voss and Caitlin Carter, winners of the inaugural Women in Baseball Leadership Event Scholarship. The scholarship was "created to assist female executives in baseball who would not otherwise have the opportunity to attend the Baseball Winter Meetings." Voss is the ticket sales manager for the Peoria Chiefs; Carter serves as event coordinator for the Visalia Rawhide. Both received complimentary Winter Meetings registration, airfare and lodging.
Women in Baseball Leadership Event Scholarship winners Kate Voss (left) and Caitlin Carter (right) stand alongside Erica Clausen-Lee (center), representing event sponsor InfoMart.
Carter learned about the scholarship at an opportune moment early in the offseason.
"During my end-of-season review my general manager told me that 'You have definitely earned a trip to the Winter Meetings, but unfortunately our ball club will not be able to fund it,'" said Carter. "15 minutes later I got the email [announcing the scholarship opportunity] and it was like, 'Oh my gosh! This could not be any more perfect.'"
Carter's general manager, Jennifer Reynolds, is one of the few female GMs in Minor League Baseball.
"She gets looked down on sometimes but she doesn't take it," Carter said. "So she's the type of lady, and the type of person I look up to, where I go 'Oh, no, I can do this.' She doesn't look at herself as the victim or the helpless woman, and that's the type of view I want everyone to see. 'I'm not helpless. I can handle this. Trust me.'"
Whereas Carter said she always wanted to work in baseball, Voss said that "baseball found me." After an internship with the Clinton LumberKings proved to be a life-changing experience, Voss dedicated herself to staying in the game.
"[The Winter Meetings] are a great opportunity to meet with people and learn new concepts and things to bring to our ballpark," said Voss. "[Peoria general manager] Jason [Mott] first saw the email and spearheaded this. He's always looked out for me and for where I want to eventually be….It's eye opening, to not only be able to take the knowledge back to Peoria with me, but to see all the opportunities to learn and grow. For me, personally, I'd like to be able to run my own ball club one day."
The Women in Baseball Leadership Event Scholarship is sponsored by InfoMart, a women-run global security company. Erica Clausen-Lee, InfoMart's chief strategy officer, spoke during the event and is one of its staunchest supporters.
"It was really a natural fit for us. We lead with our diverse ownership," said Clausen-Lee. "And, honestly, the first event [I attended] I just kind of fell in love with the ladies. It's a fun event, and a really safe environment for women to talk about very specific issues for women.
"It's not just about women in baseball, it's about professional women supporting one another and lifting one another up and talking about things that we all encounter in our jobs," she continued. "[InfoMart is] a background screening and global identity company. We're in corporate security. So like a lot of these ladies, I'm often the only woman at the table. We all experience a lot of the same issues, so it's about finding the common ground and finding ways to support each other."
These are the principles upon which the Women in Baseball Leadership Event was founded, and it is upon these principles that it will continue to grow.
"I hope we'll continue to have women support the program, in both Minor League Baseball and Major League Baseball, and hopefully we'll continue to get more women who are interested in working in this amazing industry," said Marandi. "And we'll just continue to grow the event, and not have to cap it, and just be as big as we can be -- all-inclusive and welcoming to all women who work in baseball."