M-Braves announce 2020 coaching staff
Jackson native Chris Maloney returns for third season as manager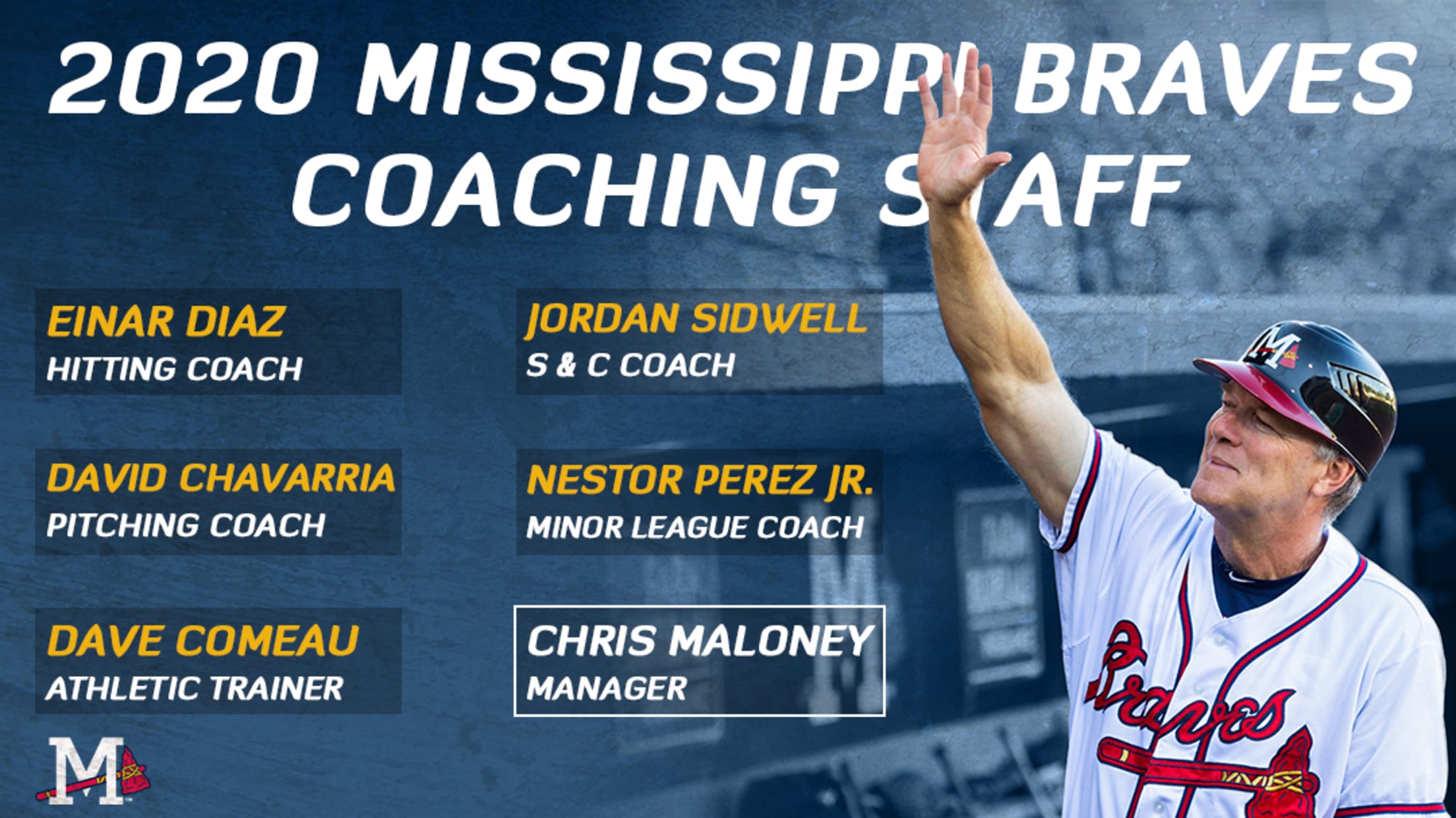 PEARL - The Mississippi Braves will return Jackson native Chris Maloney for his third season as M-Braves' manager in 2020. Maloney will be joined by an all-new coaching staff that includes pitching coach Dave Chavarria, hitting coach Einar Diaz, coach Nestor Pérez Jr., and athletic trainer Dave Comeau. Jordan Sidwell will return as strength & conditioning coach. 
PEARL - The Mississippi Braves will return Jackson native Chris Maloney for his third season as M-Braves' manager in 2020. Maloney will be joined by an all-new coaching staff that includes pitching coach Dave Chavarria, hitting coach Einar Diaz, coach Nestor Pérez Jr., and athletic trainer Dave Comeau. Jordan Sidwell will return as strength & conditioning coach.
Maloney has guided the M-Braves to a 131-146 record over his first two seasons and was the recipient of the 2018 Bobby Cox Award, presented to the individual that best represents the top managerial performance throughout Atlanta's minor league system. Under Maloney's guidance, the M-Braves boasted a record three players on the Southern League's postseason All-Star team in 2019, while outfielder Drew Waters became the club's first league MVP.

"The M-Braves are thrilled to have "Hammer" back as our skipper as we head into the 2020 season," added Pete Laven, vice president and general manager of the Mississippi Braves. "We are also excited to welcome four new, highly regarded coaches to our staff that will put a great product on the field for our fans at Trustmark Park."

Maloney ranks eighth among active minor league managers with 1,481 wins (1,481-1,396 overall record, .515 winning percentage) and has guided his clubs to winning records in 11 of 22 seasons and league championships in 1993 (Savannah Cardinals, South Atlantic League) and 2009 (Memphis Redbirds, Pacific Coast League).

Maloney, 58, the seventh skipper in franchise history, attended Jackson's St. Joseph High School and went on to play collegiate baseball at Mississippi State University, graduating in 1983. He was signed as a non-drafted free agent by the New York Mets after his playing days at Mississippi State. The former outfielder and first baseman played minor league baseball for the Mets (1983-1985) and St. Louis Cardinals (1986) organizations prior to beginning his coaching career in 1988.

Before joining the Braves in 2018, Maloney spent six years on the St. Louis Cardinals major league coaching staff as the team's third-base coach (2016-17) and first base coach (2012-15). Before joining the Cardinals, Maloney was the Triple-A Memphis Redbirds manager for five seasons (2007-11), leading the team to winning records in four of his five seasons.

"Hammer" returned to the Cardinals organization in 2005 after having spent three years in the Astros organization as manager of the Triple-A New Orleans Zephyrs. Maloney posted 212 wins with the Zephyrs, including a first-place finish in 2002. Maloney's previous tenure with the Cardinals included manager of the year honors in three different leagues: the New York-Penn League while leading Hamilton to a 56-20 (.737) record in 1992, the highest winning percentage by a Cardinals minor league team; the South Atlantic League with Savannah in 1993, and the Texas League with Arkansas in 1998. His 1993 Savannah squad posted a 94-48 (.662) record and captured the league title as Maloney was named Baseball Weekly's Minor League Manager of the Year. In his 17 seasons as a manager in the Cardinals system, Maloney compiled a 1,016-870 (.539) record. His work with young Cardinals players was formally recognized when he was presented with the 2006 and 2009 George Kissell Awards, presented annually for excellence in player development. The 2009 award made Maloney the first two-time winner.

Chavarria, 46, enters his first season as the pitching coach for the M-Braves and second in the Braves organization. Chavarria, entering his 20th season as a minor league coach, served as rehab pitching coordinator for the Braves in 2019.

Before joining the Braves, Chavarria spent seven seasons in the Milwaukee Brewers organization, including the 2018 season in the Southern League as the Biloxi Shuckers pitching coach. He served as pitching coach for the Class-A Wisconsin Timber Rattlers (2012-13), High-A Brevard County Manatees (2014-16), High-A Carlina Mudcats (2017) and Biloxi (2018). In 2012, as Wisconsin's pitching coach, the staff boasted a 3.83 ERA during the regular season and 2.00 ERA in the nine postseason games to claim the Midwest League title.

Chavarria spent 11 seasons coaching the Texas Rangers organization. He served as pitching coach with the rookie-level Gulf Coast League Rangers (2001-02), Class-A Spokane (2003-04, '11) and Class-A Bakersfield (2005-06, '08-10). In 2007, he was the organization's assistant pitching coordinator.

Chavarria was a pitcher for nine minor league seasons with Texas, St. Louis and San Francisco. His father, Ossie, played for the Kansas City Athletics from 1966-67. Dave resides in Venice, FL, with his wife, Jamie, and their kids.

Díaz, 47, enters his first season as hitting coach with the M-Braves and second in the Braves organization. Diaz spent his first season with the organization as a coach with Triple-A Gwinnett following six seasons (2013-18) on the Major League staff of the Baltimore Orioles. He assisted in all aspects of Orioles coaching from 2016-18 after spending 2013-15 as the assistant hitting coach.

Díaz's 12-year coaching career includes five seasons in the Orioles' minor league system, and two spent as the manager for rookie-level Bluefield (2009-10), where he compiled a record of 56-80 (.412). He also served as the field coach at four different levels, including the rookie-level Gulf Coast League Orioles (2008), Short-A Aberdeen (2008), Double-A Bowie (2011), and Class-A Delmarva (2012).

A native of Chiriquí, Panama, Díaz was signed by the Cleveland Indians as an amateur free agent in 1990 and went on to play 11 Major League seasons as a catcher with Cleveland (1996-2002), Texas (2003), Montreal (2004), St. Louis (2005), and LA Dodgers (2006). He batted .254 with 21 home runs and 202 RBIs in 673 regular-season games and appeared in 11 postseason games with the Indians (1998-99, 2001).

Pérez Jr., 43, enters his first season as a coach for the M-Braves and eighth in the Braves organization. Pérez managed in the organization the last four seasons, leading the rookie-level GCL Braves (2016, 2018-19) and Danville Braves (2017). As a manager, Pérez compiled a record of 86-92.

Pérez served as assistant hitting coach for the Danville Braves (2013) and Rome Braves (2014-15). Pérez coached for Spain in the 2016 World Baseball Classic Qualifiers and 2016 European Championship.

Pérez is the son of Néstor Pérez Sr. and played in Cuba, the US and Spain. After defecting to the US in 1997, he signed with the Tampa Bay Devil Rays and would be with them for six years.

In 1998, he made his US pro debut with the Princeton Devil Rays and Charleston Riverdogs. He led the Appalachian League with 17 sacrifice hits, but his significant impact was defensively, leading the circuit's shortstops in putouts (116), assists (208), double plays (43), and fielding percentage (.976).

Pérez played seven seasons in the minors for Tampa Bay and Colorado, reaching Double-A by age 23 in 1999 with the Southern League's Orlando Rays. He collected a .241 career batting average and impressive .951 fielding percentage as a middle infielder.

Comeau enters his first season as the M-Braves' athletic trainer. The 2020 season will mark the Massachusetts native's sixth year with the Braves organization. Comeau previously served as athletic trainer for the High-A Florida Fire Frogs (2017-19) and rookie-level Danville Braves (2015-16).

Sidwell enters his second season as M-Braves' strength & conditioning coach and third season with the Braves organization. He spent his first season with the Braves in the same role for the High-A Florida Fire Frogs. Before joining the Braves, Sidwell spent the fall of 2017 as the Sports Performance Coach at the University of Maine. Before his time with Maine, Jordan worked as a Graduate Assistant Sports Performance Coach at South Dakota State University, where he earned his Master's of Science in Nutrition and Exercise Science from 2015-17. He also earned his Bachelor's of Science in Exercise Science in 2014 from North Park University in Chicago, Ill., where he was a four-year letter winner as a middle infielder for the school's baseball program.

The 2020 season begins on Thursday, April 9 when the M-Braves host the Jacksonville Jumbo Shrimp. 2020 season tickets, group outings and sponsorship are on sale through the Mississippi Braves front office. For more information on membership packages, call 888-BRAVES4, or visit mississippibraves.com.