M-Braves announce full 2023 promo schedule 
Fireworks, bobblehead and jersey giveaways highlight promo schedule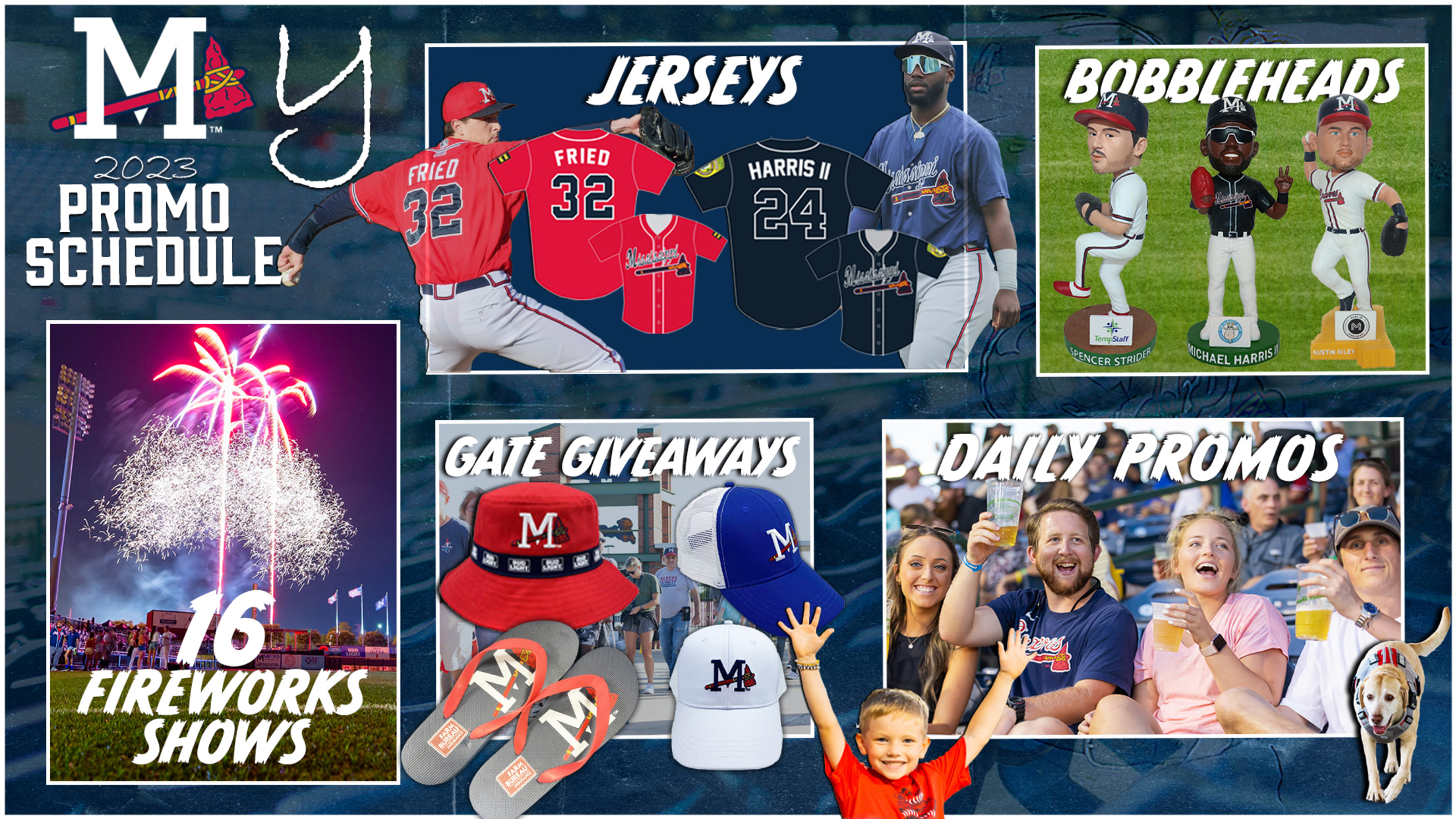 PEARL - The Mississippi Braves are excited to announce the full 2023 promotional calendar ahead of the April 7 season opener against the Biloxi Shuckers at Trustmark Park. The Opening Weekend, April 7-9, will feature back-to-back Fireworks Shows and Magnetic Schedule Giveaways on Friday and Saturday, then a pregame Easter
PEARL - The Mississippi Braves are excited to announce the full 2023 promotional calendar ahead of the April 7 season opener against the Biloxi Shuckers at Trustmark Park. The Opening Weekend, April 7-9, will feature back-to-back Fireworks Shows and Magnetic Schedule Giveaways on Friday and Saturday, then a pregame Easter Egg hunt before the Sunday matinee.
The promotional schedule features 16 Fireworks Shows, including every Saturday home game and Opening Night (4/7), Friday, April 21, Memorial Day Weekend (5/27, 5/28), Independence Day (7/4), and Labor Day Weekend (9/2, 9/3).
The M-Braves will have a premium giveaway item to the first 1,000 fans or Fireworks every Friday night. The most anticipated giveaways include replica Mississippi Braves jerseys of Michael Harris II on May 12 (presented by the Mississippi Forestry Commission) and Max Fried on July 28 (presented by Morgan & Morgan). The 2023 Bobblehead Collection will include bobbles of Austin Riley on June 23 (presented by Made in Mississippi), Spencer Strider on August 18 (presented by TempStaff), and Michael Harris II on September 1 (presented by the Hungry Goat).
Heading into summertime, the M-Braves will prepare fans for the sunshine with these giveaways to the first 1,000 fans. We'll start with M-Braves Flip Flops on May 26 (presented by Farm Bureau), Beach Towels on June 9 (presented by Blue Cross Blue Shield of Mississippi), Floppy Caps on July 7 (presented by Bud Light to the first 1,000 fans 21 & Over).
This season, other giveaways to early arriving fans include Team Photos on July 9 and Kids Backpack on September 8. In addition, limited edition Mississippi Braves Thirsty Thursday™ Collection Trucker Caps will be given to the first 333 adult fans (21 & Over) on May 25, June 22, and July 27, presented by Southern Beverage.
The M-Braves will host a pair of matinee games for Education Day on Wednesday, April 19, presented by Two Mississippi Museums—Mississippi Civil Rights Museum and Museum of Mississippi History, and Camp Day, presented by Whataburger on Wednesday, June 21.
Other themed days throughout the season include Autism Awareness Night & Jersey Auction on April 22, Gold Star Family Tribute in partnership with the Mississippi VA on May 27, Memorial Day Fireworks Show & Jersey Auction on May 28 (presented by Milwaukee Tool), an Independence Day Celebration with Fireworks presented by Blue Cross and Blue Shield of Mississippi on July 4, Gold Glove Charities Night and Princess Night on August 19, and Photo with a Brave Day on September 10.
The M-Braves have again partnered with Farm Bureau for College Night, where fans wearing their team's gear to the box office get a $5 ticket. Southern Miss Night is June 22, Ole Miss Night is July 6, and Mississippi State Night is August 3.
Daily Promotions throughout the 2023 season include:
Tuesday:
Bark in the Park, presented by Hollywood Feed: Bring your dog to the game! Well-behaved, socialized dogs are welcome to enjoy giveaways, dog-related vendors, and more throughout the game.
Wednesday:
First Responders Day presented by AMR: First Responders Wednesday offers FREE field-level or general admission tickets to first responders/emergency personnel.
Join Us 4 A Jackson: Every Wednesday, "Join Us 4 A Jackson," and let $20 get you (4) Field Level Tickets and (4) 16 oz. Fountain Drinks!
Thursday:
Truckworx Thirsty Thursday™: Bring your thirst on Thursdays and get 16-ounce beers and fountain drinks for just $2!
Truckworx Two-for-One Day: BOGO Free Diamond or Field Level tickets with CDL or business cards for trucking industry professionals.
Truckworx Military Day: Thanks to Truckworx, we offer FREE field-level or general admission tickets to all military veterans, active military, or retired military.
Friday:
Friday Giveaway or Fireworks: Each Friday home game will feature a premium giveaway item or Post-Game Fireworks!
Trustmark Dash For Cash & Kids Run: $10K is on the line after the game, with ten contestants dashing into the Trustmark Park outfield for as much cash as possible. After Dash For Cash, kids will run the bases.
Saturday:
Saturday Fireworks: The night sky over Trustmark Park will light up after every Saturday game with Fireworks.
Sunday:
Raising Cane's Sunday Family Fun Day & Kids Run: The M-Braves invite you to bring your entire family out for some Sunday baseball at Trustmark Park! Thanks to Cane's, for just $25 per person, fans get a game ticket, hat, hotdog, and drink voucher! Tickets must be purchased at the M-Braves box office. After the game, kids get to run the bases courtesy of TrustCare!
Click HERE to view the full list of promotions.
Fans can guarantee their seat with 2023 season tickets. Also currently available are flex plans, group tickets, suite nights, and sponsorship opportunities. View ticket options HERE. For more information, fans are encouraged to visit mississippibraves.com or call 888-BRAVES4.