Salazar and Wilson Named M-Braves Players of the Month by Atlanta Braves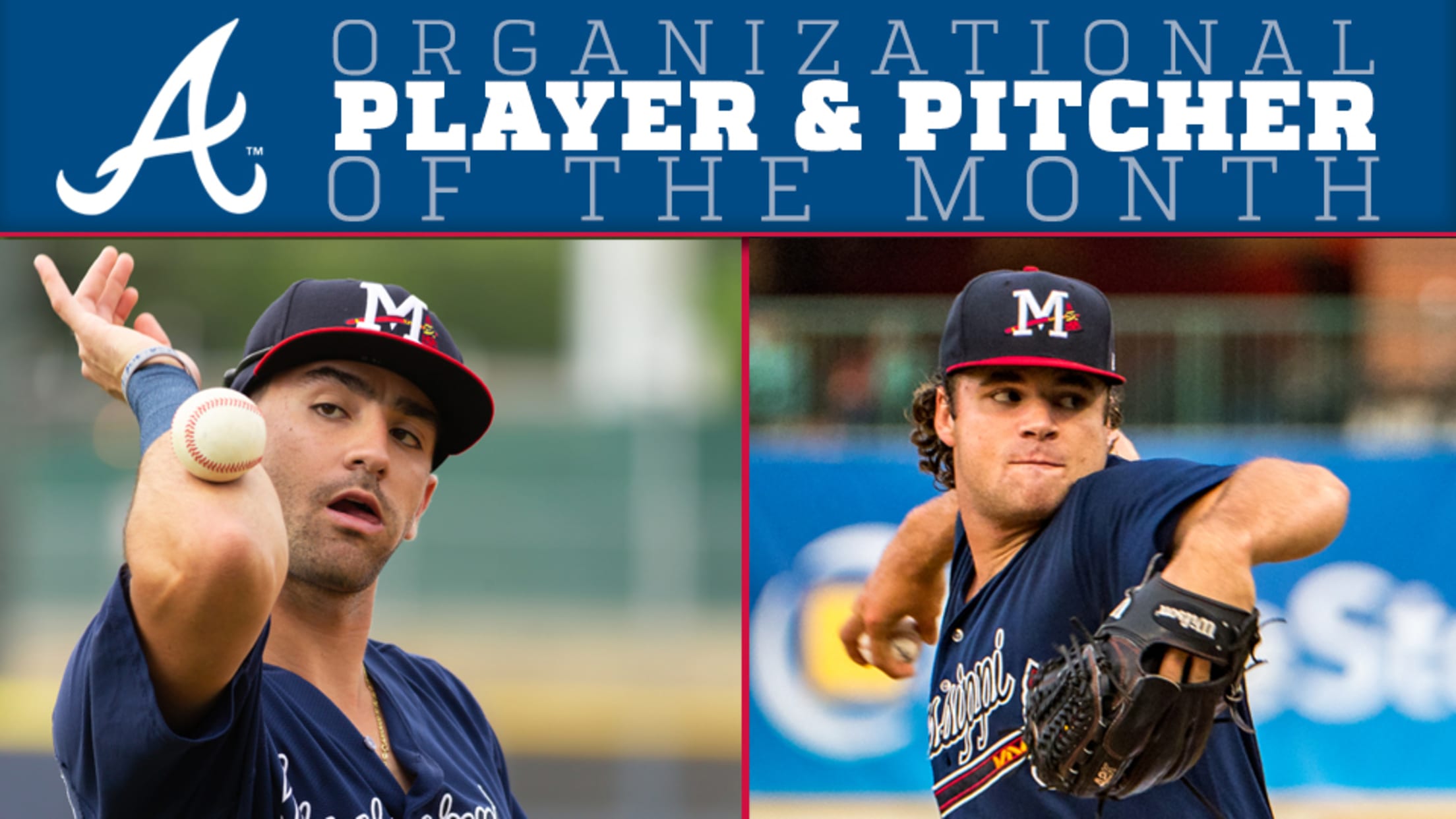 CHATTANOOGA, TN -- The Atlanta Braves announced on Saturday that Mississippi Braves infielder Alejandro Salazar and former pitcher Bryse Wilson had been named the club's Player and Pitcher of the Month for July. 
CHATTANOOGA, TN -- The Atlanta Braves announced on Saturday that Mississippi Braves infielder Alejandro Salazar and former pitcher Bryse Wilson had been named the club's Player and Pitcher of the Month for July.
Salazar, 21, hit .322 (29-for-90) with 11 runs, four doubles, 11 RBI, three walks and three stolen bases in 26 games during the month. The Maracaibo, VZ native capped his month with a 5-for-5 performance on July 15, adding a double, two RBI, three runs and a walk vs. Pensacola, becoming the first M-Braves player to collect five hits in a game this season. Salazar recorded a season-high eight-game hitting streak, July 15-24, batting .500 (17-for-34) with six multi-hit games, six RBI, and six runs scored.
Salazar joined the Mississippi roster on July 4 after batting .271 (57-for-210) with 12 runs, five doubles, one triple, one home run, 17 RBI and two stolen bases over 57 games with High-A Florida. Salazar appeared in two games for Triple-A Gwinnett, going 2-for-7 between June 24-28. in 88 total games this season between three levels, Salazar has a .283 batting average with 12 extra-base hits, 28 RBI, five stolen bases and 26 runs scored. Salazar was signed by the Atlanta Braves as a non-drafted free agent on July 2, 2013.
Wilson, 20, had four quality starts (three shutout performances) over five starts in July, going 2-0 with a 0.84 ERA (3 ER/32.1 IP), seven walks and 42 strikeouts. Wilson posted a minuscule 0.84 WHIP and .177 opponents batting average. Wilson was tied for first in all of Double-A baseball in strikeouts during the month and ranked second among minor leaguers with five-or-less starts in strikeouts during the month.
Wilson was promoted to Mississippi from High-A Florida on May 8 and went 1-4 with a 5.90 ERA over his first eight Double-A starts, but rebounded with a 2-1 record and 1.93 ERA over his final seven starts with 46 strikeouts and just seven walks. The Hillsborough, NC native was promoted to Triple-A Gwinnett on August 1 and is set to make his first Gwinnett start on Saturday night. Wilson was the Atlanta Braves' fourth-round selection in 2016 out of Orange HS (NC).
Other Atlanta Braves Players of the Month for July:
Gwinnett: Pitcher: Wes Parsons , Player: Luis Marté
Florida: Pitcher: Ian Anderson, Player: Cristian Pache
Rome: Pitcher: Daysbel Hernandez, Player: William Contreras
Danville: Pitcher: Matt Rowland, Player: C.J. Alexander
GCL: Pitcher: Filyer Sanchez, Player: Logan Brown
DSL: Pitcher: Jose Olague, Player: Carlos Paraguate
Either currently with Mississippi or have played for the M-Braves this season.
The M-Braves continue their ten-game road trip with game three of a five-game series at Chattanooga. First pitch is set for 6:15 pm CT.