Vargas Homers; OKC Scores Runs in Four Straight Innings in 8-3 Win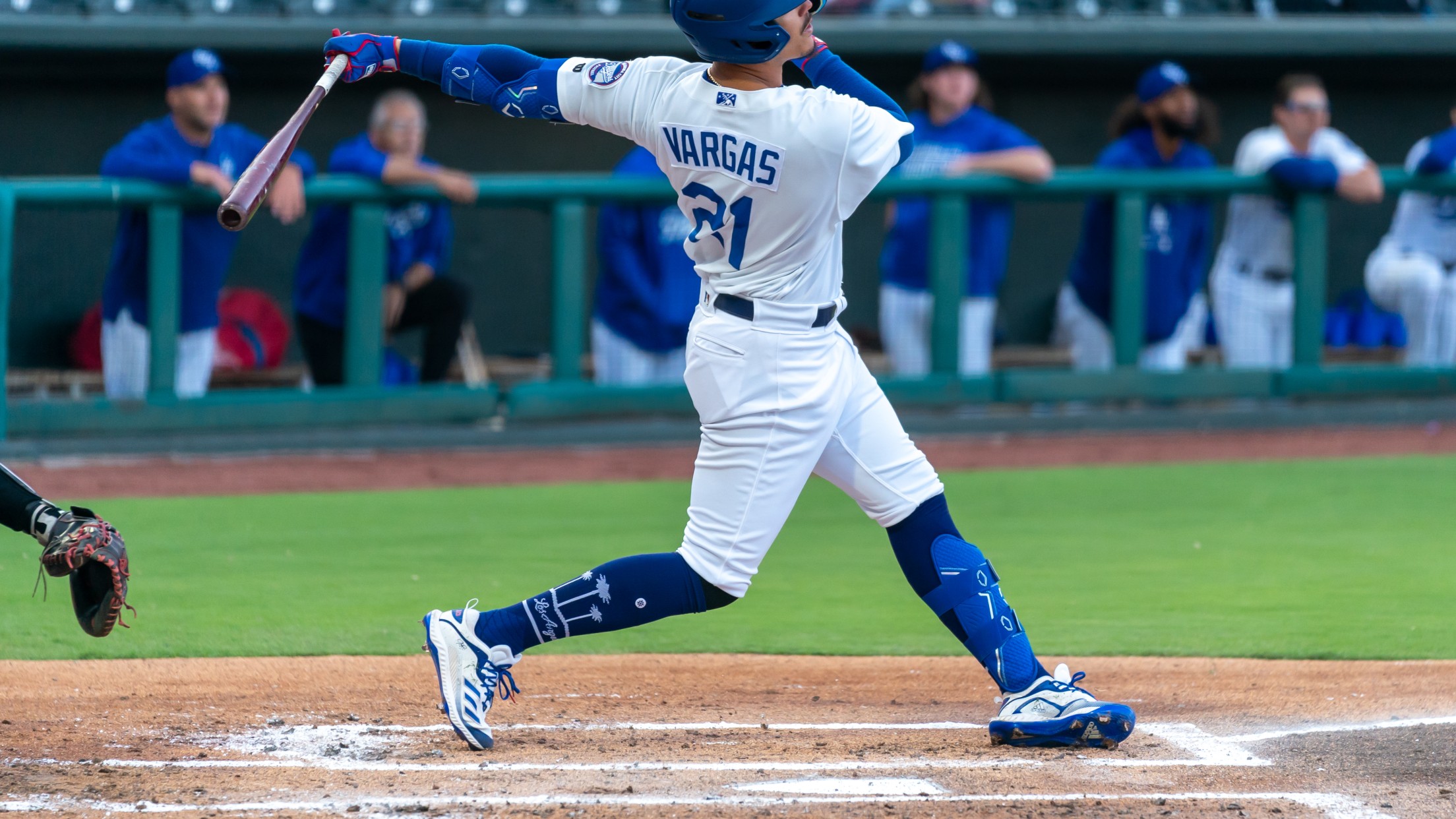 (Tim Campbell)
OKC Dodgers – 8 Albuquerque Isotopes – 3 Friday, April 8, 2022 – Chickasaw Bricktown Ballpark – Oklahoma City, Okla. Game Summary: The Oklahoma City Dodgers scored runs in four straight innings on the way to an 8-3 win Friday night against the Albuquerque Isotopes at Chickasaw Bricktown Ballpark. With
OKC Dodgers – 8
Albuquerque Isotopes – 3
Friday, April 8, 2022 – Chickasaw Bricktown Ballpark – Oklahoma City, Okla.
Game Summary: The Oklahoma City Dodgers scored runs in four straight innings on the way to an 8-3 win Friday night against the Albuquerque Isotopes at Chickasaw Bricktown Ballpark. With the game in a 1-1 tie, Drew Avans hit a RBI triple in the fourth inning and Jason Martin hit a RBI single in the fifth inning. Albuquerque's Elehuris Montero hit the Isotopes' first homer of the season in the sixth inning to cut OKC's lead to, 3-2. The Dodgers then added three more runs in the sixth inning as Zach McKinstry hit a RBI triple before Miguel Vargas sent a two-run homer out to left field. After the Isotopes (1-3) brought in a run on a groundout in the top of the seventh inning, the Dodgers (3-1) added two more runs in the bottom of the inning on a RBI single by Tony Wolters and a fielder's choice for an 8-3 advantage. Dodgers relievers Sam Gaviglio (1-0) and Phil Bickford then held the Isotopes scoreless over the final two innings.
Of Note:
-The Dodgers took a 3-1 lead in their six-game season-opening series against the Isotopes, scoring a season-high eight runs on a season-high 11 hits. The first three games of the season had been decided by one run before OKC's five-run margin of victory Friday.
-Infielder Miguel Vargas hit his first Triple-A homer in the sixth inning Friday, sending a towering fly ball out to left field and beyond the Budweiser Deck. He went 2-for-5 in the game with two RBI after collecting his first Triple-A hit Thursday night. He entered the season tabbed as the Dodgers' No. 3 prospect by _Baseball America _and No. 5 prospect by MLB Pipeline. He was named the 2021 Branch Rickey Minor League Player of the Year by the Dodgers as well as a MiLB.com Organization All-Star last season, batting a combined .319/.380/.526 with 23 homers, 27 doubles, 76 RBI, 98 runs scored and 11 stolen bases between the High-A and Double-A levels.
-OKC starting pitcher Beau Burrows recorded seven strikeouts over four innings of work in his OKC Dodgers debut, marking his highest single-game strikeout total since April 6, 2019 when he was with Triple-A Toledo against Louisville. Burrows allowed one run and three hits with one walk Friday.
-Dodgers pitchers combined for 12 strikeouts total in the game, marking OKC's third straight double-digit strikeout game and highest strikeout total of the young season.
-Drew Avans and Zach McKinstry each hit RBI triples Friday. OKC last hit two triples in a game Sept. 24, 2021 in Las Vegas and accomplished the feat twice total last season.
-Through Tony Wolters' first two games with OKC, he has a combined four RBI and is 3-for-6 with a double and two walks.
What's Next: The Dodgers continue their season-opening series against the Albuquerque Isotopes at 7:05 p.m. Saturday at Chickasaw Bricktown Ballpark. Saturday is Scout Night and troops and leaders in uniform will be invited to join in a pregame on-field parade and recognition as part of Scout Night. Braum's Friends and Family 4-Packs are available for Saturday's game, offering four tickets, four Braum's combo meal vouchers and four OKC Dodgers hats at a special rate.
Live radio coverage of each OKC Dodgers game begins 15 minutes before first pitch on AM 1340 "The Game," 1340thegame.com and through the free iHeartRadio or MiLB First Pitch apps. All OKC Dodgers games are also available streamed live on MiLB.TV with a subscription.