Dodgers Hit Four Homers in 12-6 Win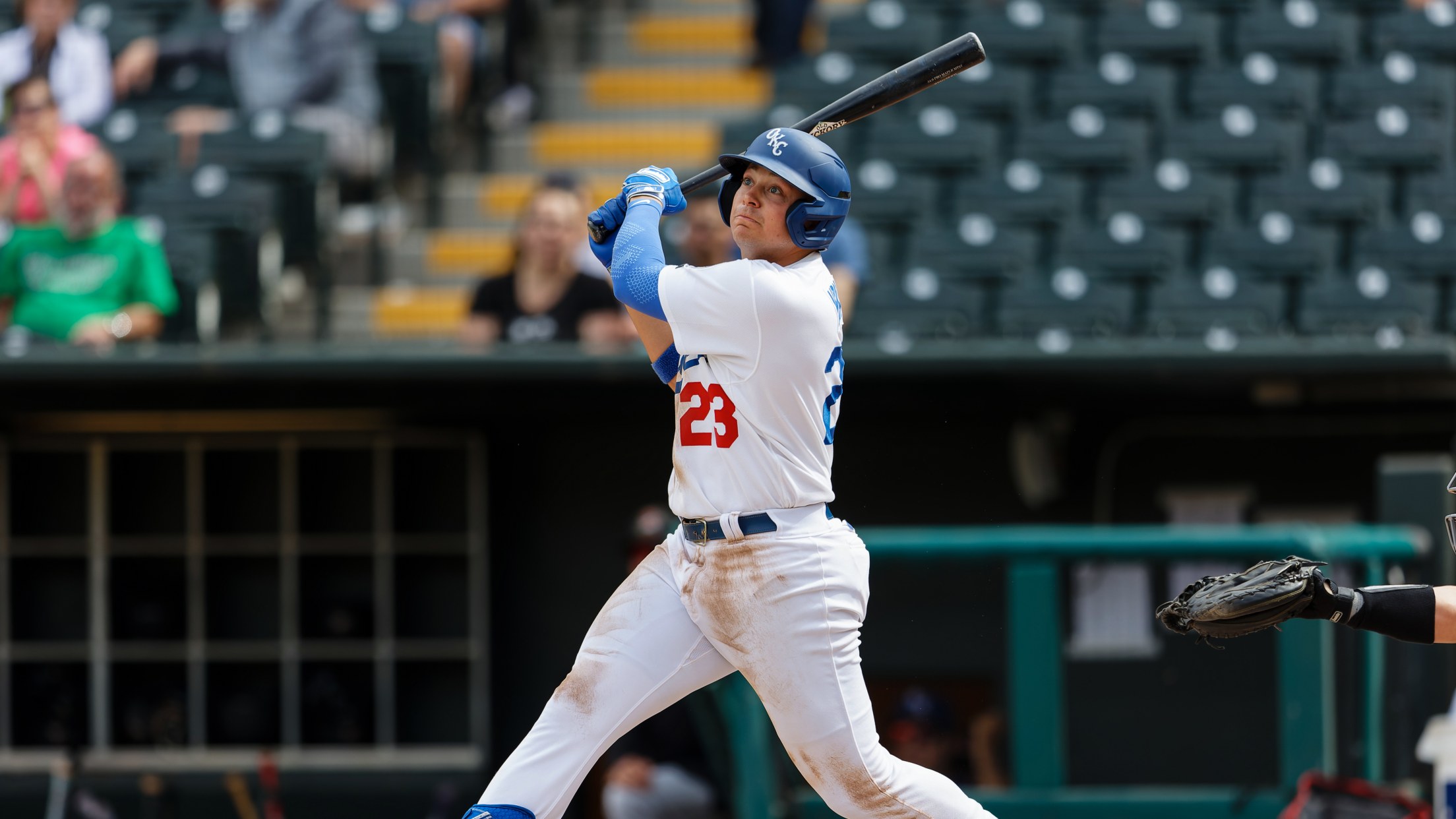 (Eddie Kelly)
OKC Dodgers – 12 Albuquerque Isotopes – 6 Sunday, April 10, 2022 – Chickasaw Bricktown Ballpark – Oklahoma City, Okla. Game Summary: Four home runs and a six-run seventh inning sent the Oklahoma City Dodgers to a 12-6 win Sunday afternoon against the Albuquerque Isotopes in the series finale between
OKC Dodgers – 12
Albuquerque Isotopes – 6
Sunday, April 10, 2022 – Chickasaw Bricktown Ballpark – Oklahoma City, Okla.
Game Summary: Four home runs and a six-run seventh inning sent the Oklahoma City Dodgers to a 12-6 win Sunday afternoon against the Albuquerque Isotopes in the series finale between the teams at Chickasaw Bricktown Ballpark. Ryan Noda homered twice while Eddy Alvarez and Jake Lamb also hit home runs. Alvarez and Miguel Vargas finished with a game-high three hits apiece. After the Isotopes (1-5) scored three runs in the top of the seventh inning to knot the game at, 6-6, the Dodgers (5-1) answered with six runs in the bottom of the inning, including a two-run homer by Alvarez and two-run triple by Zach McKinstry. Six Dodgers recorded multi-hit games Sunday, while seven different OKC players recorded at least one RBI as OKC went on to win the season-opening series, 5-1.
Of Note:
-The Dodgers have won four consecutive games and have won five of their first six games to open the season. It is the team's best start to a season since 2018 when the team began its schedule with a 10-1 record…OKC is now 29-7 at home against the Isotopes over the last 36 meetings between the teams.
-Ryan Noda connected on two home runs Sunday for the first multi-homer game of 2022 for a Dodgers player and his first two career Triple-A homers. It was also his first multi-homer game since May 26, 2021 with Double-A Tulsa at Arkansas when he also hit two homers. Noda led the Drillers and Double-A Central with 29 homers in 2021, appearing in 113 games with a team-best 78 RBI.
-OKC's four total homers Sunday marked the team's highest single-game total since Sept. 6, 2021 against the Isotopes at Chickasaw Bricktown Ballpark when the team also had four home runs. The Dodgers posted four or more homers in seven games last season…OKC has now homered in four straight games to begin 2022 and in five of their first six games this season, totaling eight homers.
-Eight of the Dodgers' 16 hits Sunday went for extra bases, including four homers, two triples and two doubles. The Dodgers have hit five triples over the last three games.
- Zach McKinstry tripled for a third straight game Sunday and went 2-for-5 with a double, triple, two RBI and a run scored. He leads OKC with 11 hits (11x24), including three doubles and three triples, and his eight RBI also pace the Dodgers. He also has scored five runs and recorded three walks.
-Eddy Alvarez and Miguel Vargas each had a game-high three hits, with Alvarez recording a triple and homer and Vargas hitting a double. Alvarez's two-run homer in the seventh inning broke the tie and gave the Dodgers an 8-6 lead. Alvarez is 5-for-9 over his last two games with three RBI and four runs scored.
-OKC's offense matched its season high with 12 runs Sunday, scoring 12 runs for a second straight game…The Dodgers also tallied a season-high 16 hits Sunday for their third consecutive double-digit hit total. It was also OKC's highest hit total since Sept. 23, 2021 in Las Vegas (16 hits) and their highest hit total in a home game since Sept. 6, 2021 also against the Isotopes (16 hits) at Chickasaw Bricktown Ballpark.
What's Next: Following a day off Monday, the Dodgers open their first road trip of the season against the El Paso Chihuahuas at 7:35 p.m. Central Tuesday at Southwest University Park. The game kicks off a six-game road series in El Paso and a 12-game road trip for OKC. Live radio coverage of each OKC Dodgers game begins 15 minutes before first pitch on AM 1340 "The Game," 1340thegame.com and through the free iHeartRadio or MiLB First Pitch apps. All OKC Dodgers games are also available streamed live on MiLB.TV with a subscription.