Three Homers Fuel OKC's 8-4 Win Saturday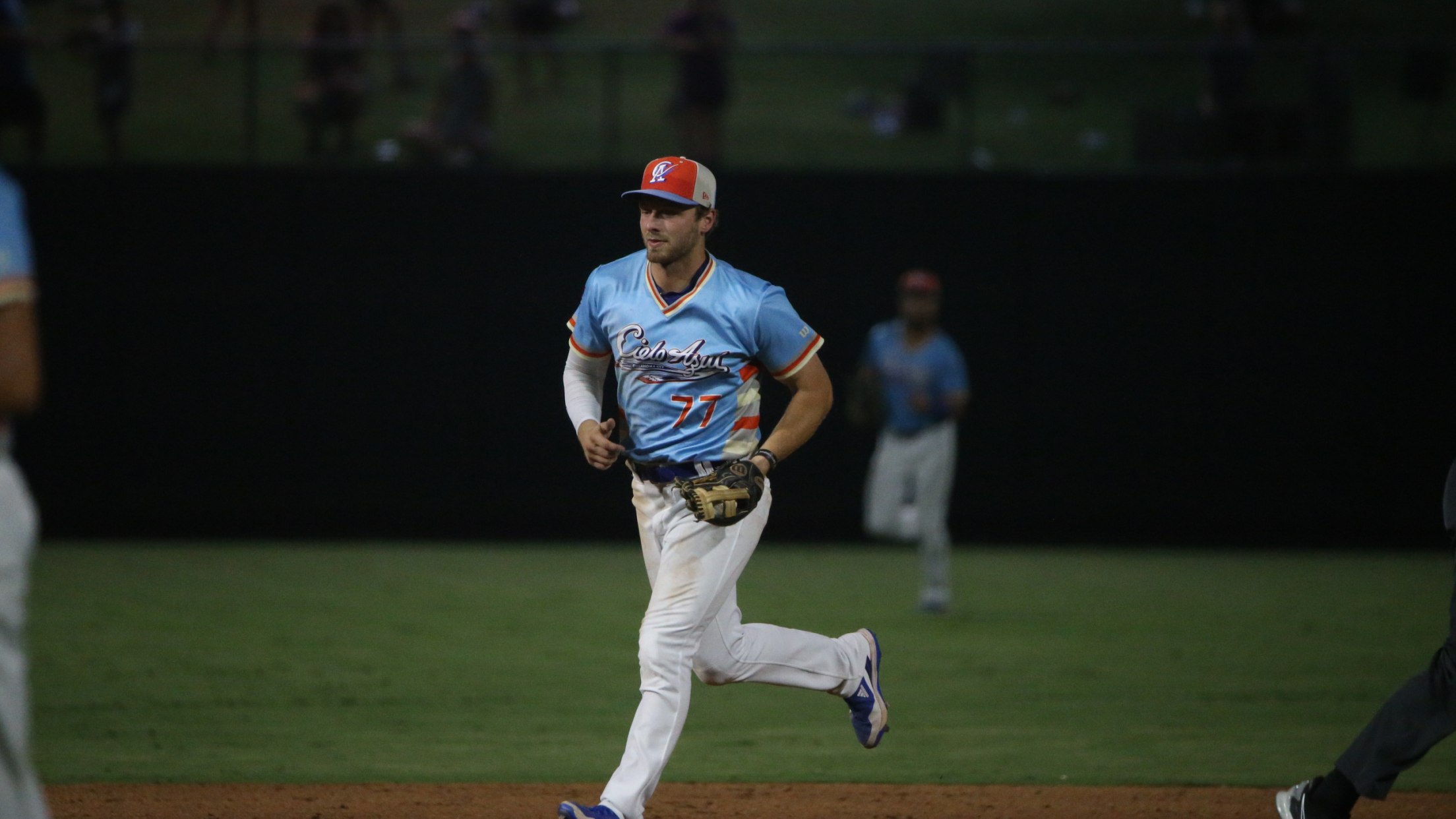 Oklahoma City Dodgers/Cielo Azul – 8 Sacramento River Cats – 4 Saturday, July 23, 2022 – Chickasaw Bricktown Ballpark – Oklahoma City, Okla. Game Summary: The Oklahoma City Dodgers hit back-to-back home runs in the third inning and added an inside-the-park home run in the seventh inning of an 8-4
Oklahoma City Dodgers/Cielo Azul – 8
Sacramento River Cats – 4
Saturday, July 23, 2022 – Chickasaw Bricktown Ballpark – Oklahoma City, Okla.
Game Summary: The Oklahoma City Dodgers hit back-to-back home runs in the third inning and added an inside-the-park home run in the seventh inning of an 8-4 win against the Sacramento River Cats Saturday night at Chickasaw Bricktown Ballpark. The Dodgers (54-38) took the field wearing Cielo Azul jerseys as part of ¡Celebración Cielo Azul! and scored four runs in the third inning on the way to a 2-0 lead in the series. Miguel Vargas hit a RBI double before Michael Busch and Jason Martin hit back-to-back home runs. Busch connected on a two-run shot out to center field before Martin hit a solo homer out to right field. Sacramento (40-52) answered with three straight runs, including a two-run home run by Jason Krizan in the fifth inning and a RBI groundout in the sixth inning. Martin added an inside-the-park home run in the seventh inning for the Dodgers. He hit a fly ball out to left-center field that dropped between two Sacramento fielders and rolled to the warning track allowing two runs to score, including Martin who circled the bases for a 6-3 OKC advantage. OKC added two more runs in the eighth inning without a hit, including one after back-to-back walks and back-to-back wild pitches and another on a sacrifice fly by Tony Wolters. Krizan hit his second home run of the game to lead off the top of the ninth inning for the River Cats and trimmed OKC's lead to 8-4.
Of Note:
-The Dodgers finished Saturday's game with three home runs, compiling the team's second straight multi-homer game…Michael Busch and Jason Martin hit the Dodgers' seventh back-to-back homers of the season and first since July 2 at El Paso…Jason Martin hit OKC's first inside-the-park homer since the 2013 season when George Springer connected on an inside-the-park home run Aug. 13, 2013 at Tucson…Martin's two-homer game was his third multi-homer game of the season as he boosted his team-leading home run total to 21.
-Michael Busch reached base four times, going 2-for-2 with a double, home run, two walks, two RBI and two runs scored. He has back-to-back multi-hit games, going 4-for-6 in the series thus far.
-Drew Avans collected a hit and walk and scored a run as he pushed his on-base streak to 31 games — the longest on-base streak by an OKC player this season and the longest active streak in the PCL. He is one of two players in the PCL this season to have an on-base streak of 31 games or longer, trailing only El Paso's Nomar Mazara who reached base in 35 consecutive games April 12-May 29…Avans has hit safely in 26 of the 31 games during the on-base streak and has reached base safely in 45 of his last 46 games.
-Dodgers pitchers combined for 14 strikeouts as the team posted its third double-digit strikeout outing in the last four games and 10th in the last 14 games.
-The Dodgers took a 2-0 lead in their three-game series against Sacramento, marking the second straight series in which they have won the first two games.
-¡Celebración Cielo Azul! weekend continued Saturday at Chickasaw Bricktown Ballpark and the Dodgers took the field as Cielo Azul. Since 2018, the Dodgers have participated in MiLB's Copa de la Diversión, or Fun Cup, which is a season-long event series designed to embrace the culture and values that resonate most with participating teams' local U.S. Hispanic/Latino communities, including creating culturally relevant on-field personas and gameday experiences. The name Cielo Azul – translated to "Blue Sky" – was derived from three key factors: Incorporating the color blue, which is a key component of the Dodgers organization; the vibrancy of Oklahoma's blue skies, and the breadth of the diversity of Hispanic and Latino culture that resides under those skies; and as a tribute to Dodgers legendary pitcher Fernando Valenzuela, who looked up at the sky during his windup.
What's Next: The first ¡Celebración Cielo Azul! of the season wraps up at 6:05 p.m. Sunday at Chickasaw Bricktown Ballpark. Kids can run the bases following the game. Live radio coverage of each OKC Dodgers game begins 15 minutes before first pitch on AM 1340 "The Game," 1340thegame.com and through the free iHeartRadio or MiLB First Pitch apps. All OKC Dodgers games are also available streamed live on MiLB.TV with a subscription.