Outman's Big Night Leads OKC to 12-3 Win and Series Sweep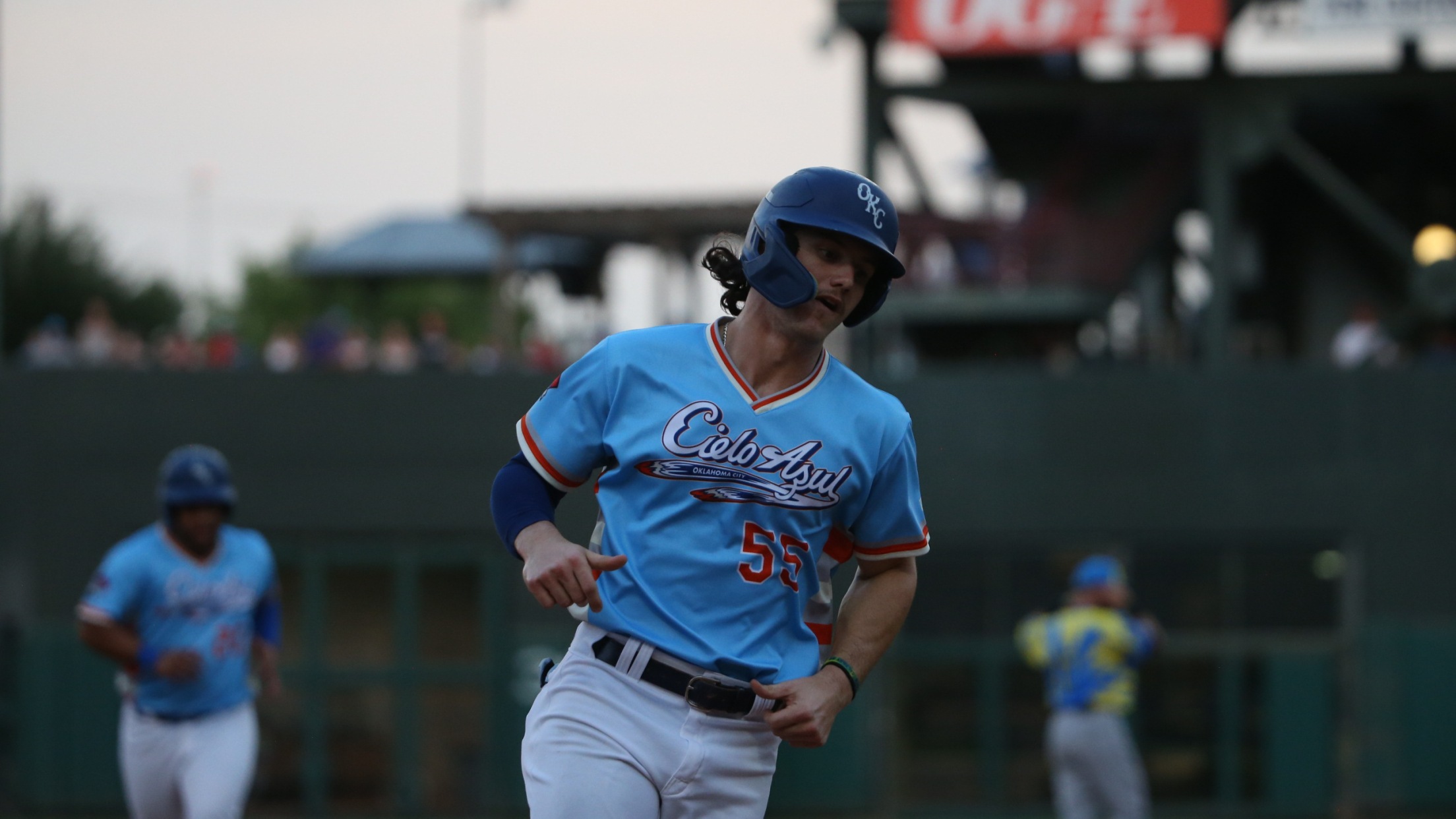 Oklahoma City Dodgers/Cielo Azul – 12 Sacramento River Cats – 3 Sunday, July 24, 2022 – Chickasaw Bricktown Ballpark – Oklahoma City, Okla. Game Summary: James Outman racked up a career-high six RBI and the Oklahoma City Dodgers scored in each of their final five at-bats in a 12-3 win
Oklahoma City Dodgers/Cielo Azul – 12
Sacramento River Cats – 3
Sunday, July 24, 2022 – Chickasaw Bricktown Ballpark – Oklahoma City, Okla.
Game Summary: James Outman racked up a career-high six RBI and the Oklahoma City Dodgers scored in each of their final five at-bats in a 12-3 win against the Sacramento River Cats Sunday night at Chickasaw Bricktown Ballpark. The win completed a three-game series sweep during ¡Celebración Cielo Azul! for the Dodgers who came back from an early deficit Sunday. The River Cats (40-53) took the game's first lead in the second inning on a RBI single by Austin Dean. In the fourth inning, the Dodgers (55-38) loaded the bases and Jason Martin hit a bases-clearing double to the wall in left field with two outs for the lead. Outman led off the bottom of the fifth inning with a solo home run out to right-center field. Dean hit a RBI double in the sixth inning for Sacramento before the Dodgers loaded the bases in the bottom of the frame and Outman connected on a bases-clearing double with two outs for a 7-2 OKC advantage. Sacramento brought in a run on a double play in the seventh inning and OKC answered with a sacrifice fly. The Dodgers, who took the field wearing Cielo Azul jerseys, then added four more runs in the eighth inning, including a two-run triple by Outman, a sacrifice fly and a RBI groundout.
Of Note:
-James Outman finished with a career-high six RBI Sunday, going 3-for-4 with a double, triple and home run, along with a walk and two runs scored. Outman joined OKC from Double-A Tulsa at the end of June and first set a career-high mark with five RBI July 13 in Tacoma before besting the total Sunday. Outman has 22 RBI through his first 18 Triple-A games, including 15 RBI in the last nine games…He hit his fourth home run with OKC Sunday and his 20th home run of the season overall, including his time with Tulsa.
-With Sunday's win, the Dodgers completed a three-game series sweep of Sacramento. It was OKC's second three-game series sweep of the season after winning all three games against Sugar Land June 7-9 in OKC. The Dodgers have won all five of their three-game series this season and are 11-3-4 in series overall this season…The Dodgers have now won three straight games for the first time since June 18.
-Drew Avans connected on a hit, drew two walks and was hit by a pitch as he reached base four times to extend his on-base streak to 32 games — the longest by an OKC player this season and the longest active streak in the PCL. He is one of two players in the PCL this season to have an on-base streak of 31 games or longer…Avans also had two stolen bases Sunday and paces the Dodgers with 21 stolen bases — exceeding his 2021 season total (19).
-Jason Martin went 2-for-4 with a double, walk, three RBI and a run scored. During the Sacramento series, Martin went 5-for-12 with seven RBI. Martin now has 73 RBI this season — second-most in all of Triple-A — and Sunday was his 18th multi-RBI game of the season.
-Michael Busch put together his third straight multi-hit game, going 2-for-4 with a walk and run scored. During the series with the River Cats, Busch was 6-for-10.
-Four Dodgers pitchers combined to hold the River Cats to three runs (two earned) — the fewest runs allowed by the team since an 8-1 victory July 13 in Tacoma. Sunday was also just the third time in the month of July OKC allowed fewer than four runs in a game…On the other hand, the 12 runs scored by OKC were the most by the team in a game since a 15-4 victory in Tacoma July 12. The Dodgers scored a total of 30 runs during the three-game series with the River Cats.
-The Dodgers drew 10 more walks Sunday and compiled 27 walks through the series, boosting OKC's Triple-A-leading total to 451 walks this season. Sunday was the eighth time this season OKC had at least 10 walks in a game.
-Tomás Telis went 2-for-4 with a RBI and scored a run for his 14th multi-hit game of the season.
-The first ¡Celebración Cielo Azul! weekend of the season wrapped up Sunday at Chickasaw Bricktown Ballpark and the Dodgers took the field as Cielo Azul. Since 2018, the Dodgers have participated in MiLB's Copa de la Diversión, or Fun Cup, which is a season-long event series designed to embrace the culture and values that resonate most with participating teams' local U.S. Hispanic/Latino communities, including creating culturally relevant on-field personas and gameday experiences. The name Cielo Azul translates to "Blue Sky."
What's Next: Following a day off Monday, the OKC Dodgers open a six-game home series against the Sugar Land Space Cowboys at 7:05 p.m. on a $2 Tuesday at Chickasaw Bricktown Ballpark. The evening features $2 select beer, soda and bottled water from a line of Budweiser and Pepsi products. COOP Ale Works draft beer will also be available at a special rate of $3.
Live radio coverage of each OKC Dodgers game begins 15 minutes before first pitch on AM 1340 "The Game," 1340thegame.com and through the free iHeartRadio or MiLB First Pitch apps. All OKC Dodgers games are also available streamed live on MiLB.TV with a subscription.