Dodgers Swat Five Homers During 13-5 Win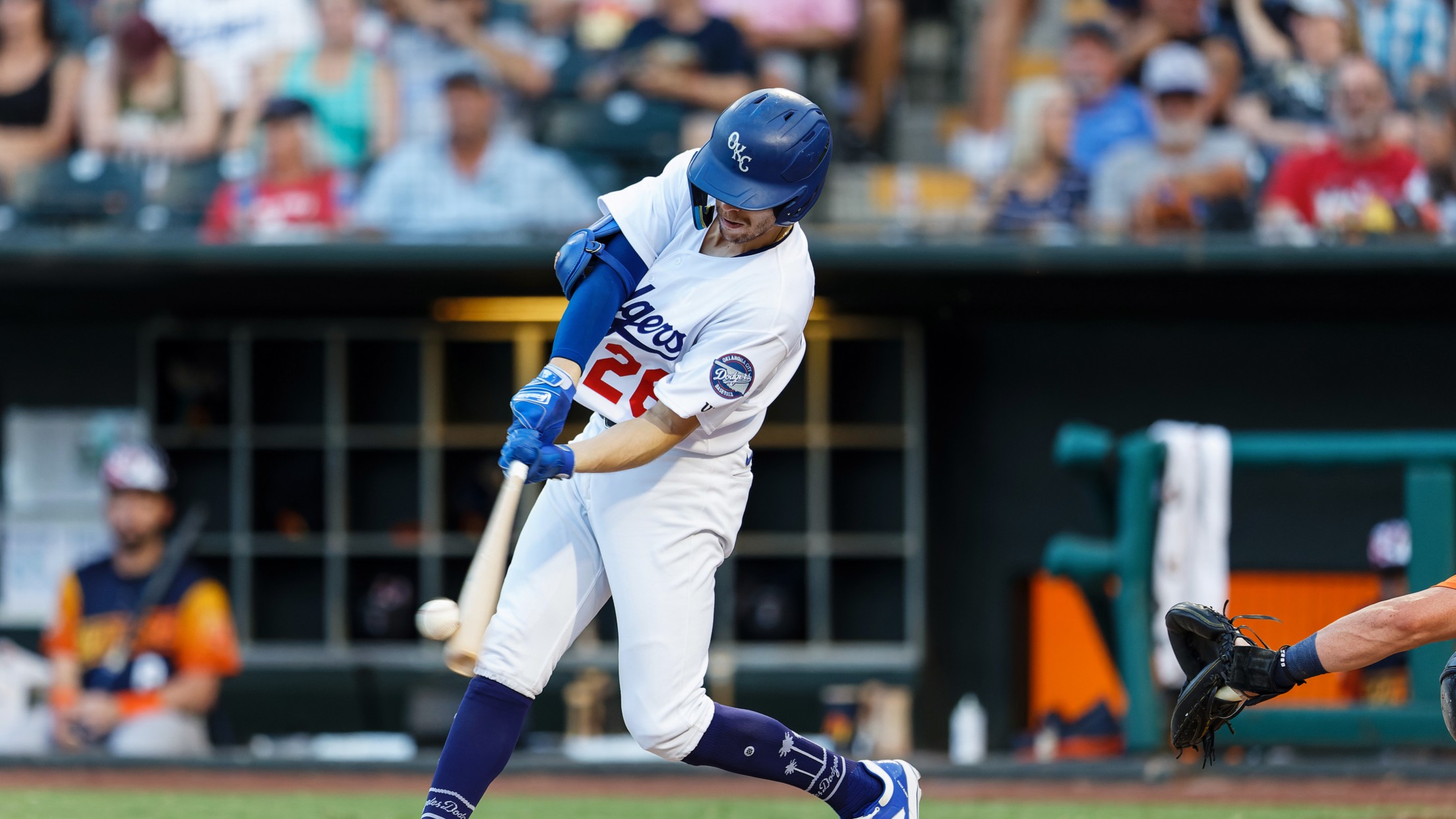 Hunter Feduccia homered in a second straight game and tied his season and career high with five RBI
Oklahoma City Dodgers – 13 Sugar Land Space Cowboys – 5 Saturday, Aug. 20, 2022 – Constellation Field – Sugar Land, Texas Game Summary: The Oklahoma City Dodgers hit five home runs and led from start to finish during a 13-5 victory over the Sugar Land Space Cowboys Saturday night
Oklahoma City Dodgers – 13
Sugar Land Space Cowboys – 5
Saturday, Aug. 20, 2022 – Constellation Field – Sugar Land, Texas
Game Summary: The Oklahoma City Dodgers hit five home runs and led from start to finish during a 13-5 victory over the Sugar Land Space Cowboys Saturday night at Constellation Field. The Dodgers (67-49) wasted no time, scoring two batters into the game on a leadoff double by Michael Busch and RBI single by Miguel Vargas. Jason Martin then hit a two-run homer to make it 3-0. OKC hit two homers during a five-run third inning, with a three-run homer by Hunter Feduccia followed by another homer by Jake Amaya. Leading, 8-2, in the sixth inning, Busch and Edwin Ríos both homered within the span of three batters and Feduccia later added a two-run single. With the Dodgers ahead by 10 runs, the Space Cowboys (53-63) plated three runs with two outs in the sixth inning before reliever Justin Bruihl got a flyout with the bases loaded to end the inning. The Dodgers scored their final run with a RBI single by Martin the ninth inning.
Of Note: -The Dodgers hit five or more home runs in a game for the second time this season and fell one shy of their season high set May 12 at Round Rock. Five different players went deep: Jake Amaya, Michael Busch, Hunter Feduccia, Jason Martin and Edwin Ríos. Feduccia and Amaya hit the team's ninth back-to-back home runs of the season in the third inning.
-The Dodgers collected at least 17 hits in game for the fifth time this season. All nine players in the lineup collected at least one hit and seven finished with multi-hit games. Jason Martin led the way with a game-high three hits.
-The Dodgers drew seven walks, thereby setting a new single-season team record with 574 walks. Andy Burns drew the record-setter leading off the ninth inning. The Dodgers lead all Triple-A teams in walks this season.
-Jason Martin went 3-for-5 with a home run, a walk, three RBI and three runs scored. Martin's 27 home runs are tied for second in the PCL, and he is now just one of seven players during OKC's Bricktown era (since 1998) with 27 or more home runs in a season. Martin has also reached 90 RBI, which ranks second in the PCL…Martin has now hit safely in 10 of his last 11 games, going 14-for-37 (.378) with three homers, a double and 10 RBI.
-Hunter Feduccia homered for a second straight game and went 2-for-5, tying his season and career high with five RBI. He also drove in five runs July 22 at home against Sacramento…Fourteen of Feduccia's 21 hits with Oklahoma City have gone for extra bases, with five homers and nine doubles, resulting in a .500 slugging percentage over his first 23 games with OKC.
-Starting pitcher Bobby Miller made his Triple-A debut and earned the win. Miller pitched 5.2 innings and allowed nine hits and five runs, although only three runs were earned. He issued one walk and notched three strikeouts. Miller faced the minimum through three innings and kept Sugar Land scoreless through his first 4.1 innings before surrendering a home run. He induced three ground ball double plays and threw a total of 88 pitches (61 strikes).
-Edwin Ríos hit his second homer in his last four games. He now has 52 home runs over his Oklahoma City career, tying him with Nelson Cruz for fifth-place on the team's career home runs leaderboard.
-Michael Busch went 2-for-5 with a home run, double, walk and three runs scored. Busch has 16 home runs with Oklahoma City and 27 home runs between OKC and Double-A Tulsa, tying him with teammate Jason Martin and Tulsa's Ryan Ward for the most among Dodgers minor leaguers.
-Miguel Vargas went 2-for-4 with two walks, a RBI, two runs and two stolen bases. He's currently on a seven-game hitting streak, going 9-for-26.
-Ryan Noda went 2-for-5 with a double and two runs scored. Over his last 15 games, Noda is 18-for-48 (.375) with five doubles, three homers, 16 RBI, 11 runs and 14 walks. He was also hit by a pitch for the third time in the last three games.
-Left-handed relief pitcher Victor González made his first appearance with OKC on Major League Rehab Assignment and pitched a scoreless seventh inning. González retired three of four batters faced and allowed one hit with one strikeout while throwing 19 pitches. He has been sidelined all season due to a left elbow injury.
What's Next: The Dodgers and Space Cowboys finish their current series and season series at 6:05 p.m. Sunday at Constellation Field. Live radio coverage of each OKC Dodgers game begins 15 minutes before first pitch on AM 1340 "The Game," 1340thegame.com and through the free iHeartRadio or MiLB First Pitch apps. All OKC Dodgers games are also available streamed live on MiLB.TV with a subscription.