10th-Inning Nunez Blast Finishes Frisco
Armenteros fires five no-hit innings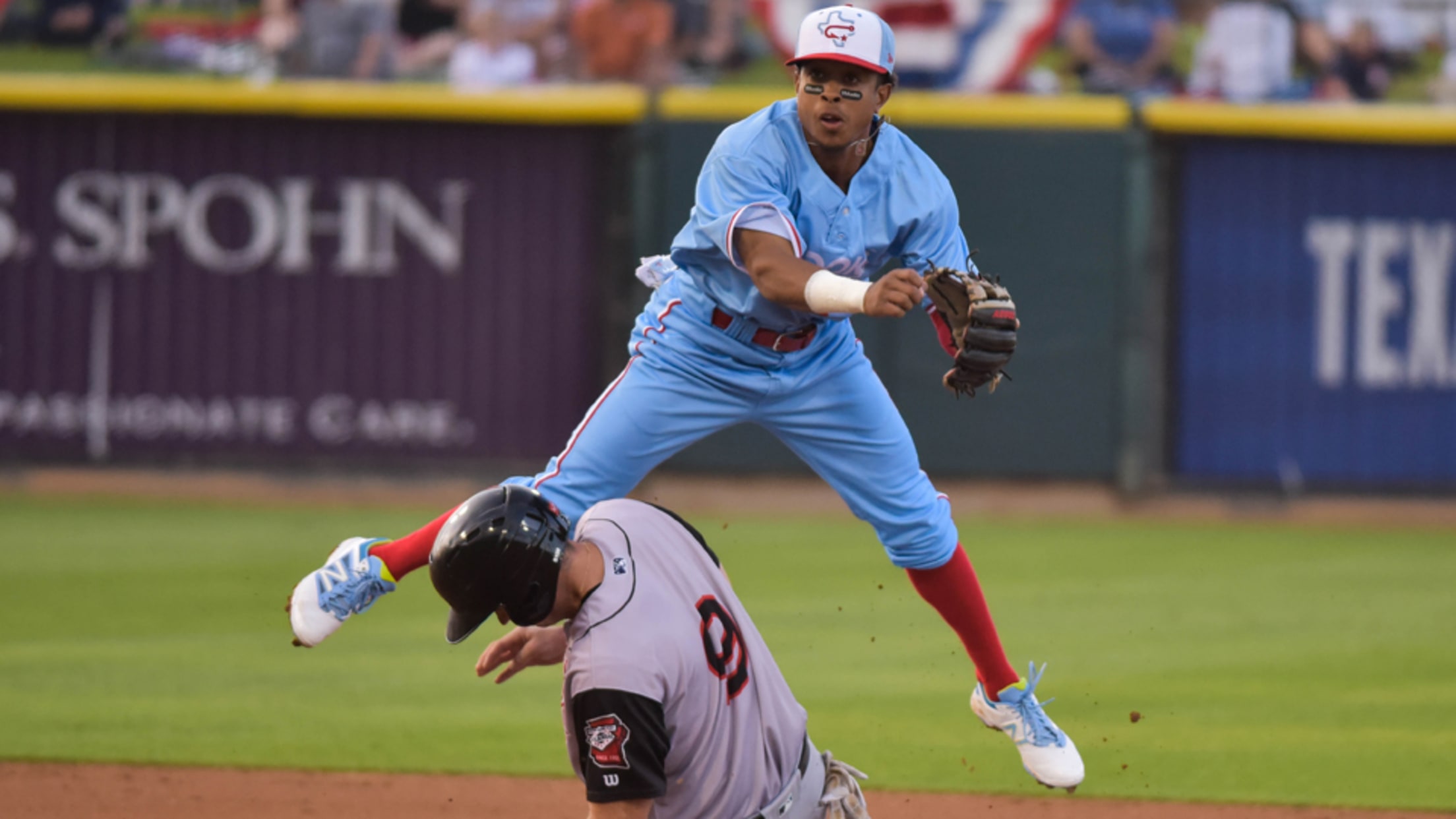 Antonio Nunez collected three hits in Corpus Christi's loss in San Antonio on Tuesday night at Wolff Stadium. (Charlie Blalock)
FRISCO - Antonio Nunez belted a two-out solo home run to left field in the 10th inning Friday night, sending Corpus Christi to a 2-1 victory over the RoughRiders before 9,095 fans at Dr Pepper Ballpark.The Hooks (20-21) have won five of their last seven games. Corpus Christi has allowed
FRISCO - Antonio Nunez belted a two-out solo home run to left field in the 10th inning Friday night, sending Corpus Christi to a 2-1 victory over the RoughRiders before 9,095 fans at Dr Pepper Ballpark.
The Hooks (20-21) have won five of their last seven games. Corpus Christi has allowed no more than one run in each of these triumphs.
Rogelio Armenteros was masterful Friday night, retiring 15 of the 16 men he faced. A two-out walk to Luke Tendler in the fifth inning accounted for lone Frisco baserunner. Armenteros, now sporting a Texas League leading 1.25 ERA, fanned five, throwing 45 of 79 pitches for strikes.
Riders right-hander Connor Sadzeck put on a show as well, striking out nine over a career-high eight innings. Sadzeck surrendered three hits, and they were all recorded in the first two innings. He issued one walk and struck out six of the final eight he faced.
Sadzeck's lone mistake was a solo home run by Jon Singleton in the second. Singleton is now third in the league in RBIs (29), and his eight dingers are tied for fourth.
Frisco's (19-22) first hit was a one-out double by Drew Vettleson in the sixth off Josh James. Vettleson was stranded and third when James coaxed a pair of groundouts to end the inning.
With the Hooks up 1-0 in the seventh, Corpus Christi native Jose Trevino snuck a one-out single through the right side. Jose Cardona was next and rolled a soft ground ball to Nunez at second base. Nunez tried to force Trevino at second but his throw skipped into left field, putting runners at the corners. James then uncorked a wild pitch to level the score.
Later in the frame, Singleton made a nifty pick to complete a 6-4-3 double play which ended the inning.
James (3-1) worked around two singles in the eighth and spun a scoreless ninth, sending the game into extras.
Lefty reliever Joe Filomeno (0-2) retired the first two batters in the 10th before Nunez stepped to the plate. Filomeno's 0-1 offering sailed onto the grass berm in left field for a 2-1 Hooks edge. It was the second career home run for Nunez, and they've come in his last 11 games.
Andrew Thome pitched a perfect 10th for his second Double-A save.
The series continues Saturday night with Cy Sneed (2-3, 4.73) on the hill for Corpus Christi. Ariel Jurado (3-3, 4.11) is slated to pitch for the RoughRiders. First pitch is 7:05.