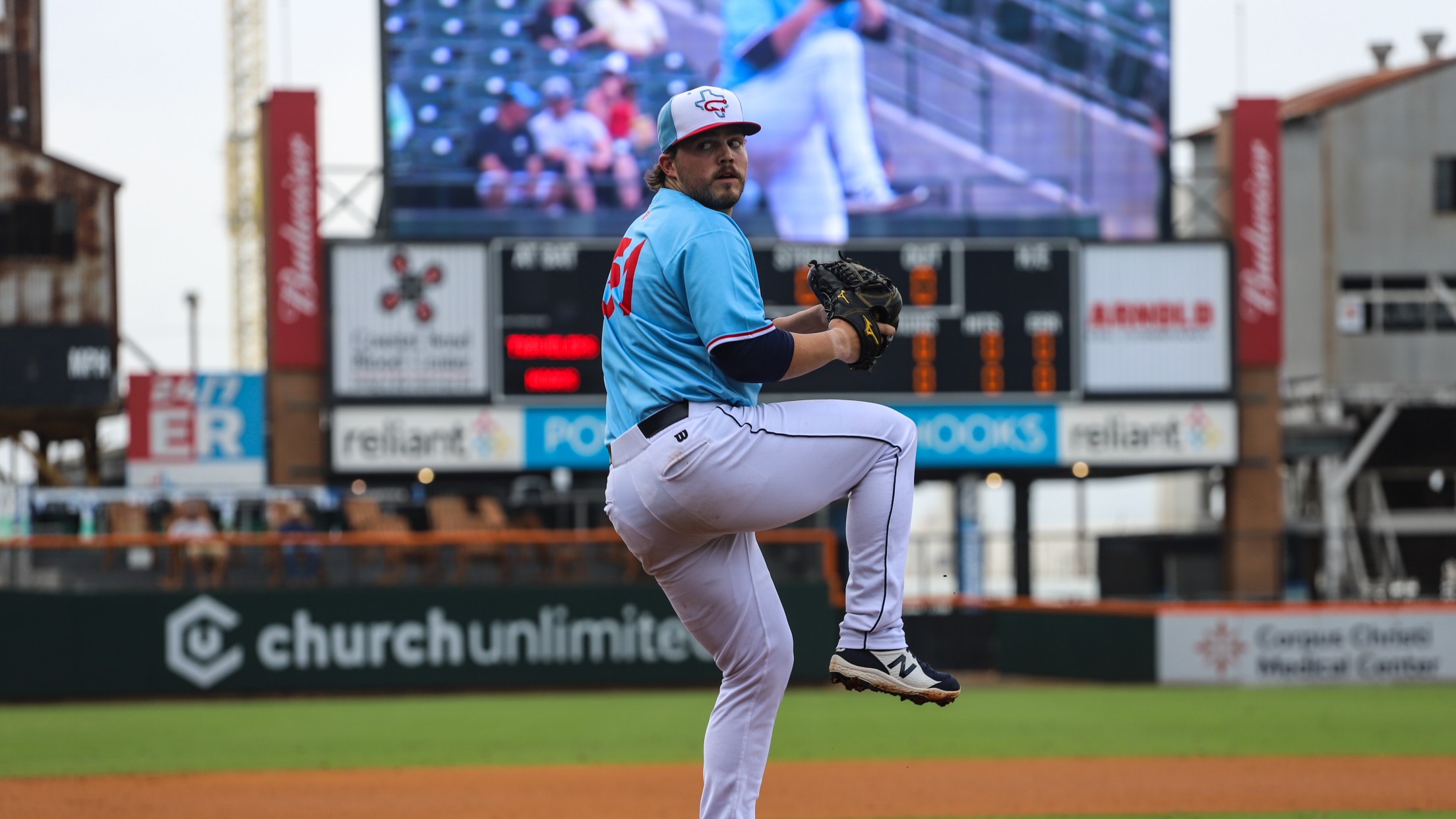 MIDLAND – The RockHounds capitalized on four Corpus Christi errors to plate six unearned runs Saturday night, needing the full allotment in a 9-4 victory over the Hooks before 4,472 at Momentum Bank Ballpark. Midland batted around twice over the first four frames against Cesar Rosado. The home club scored
Hensley's Pinch-Hit Poke Saves Day for CC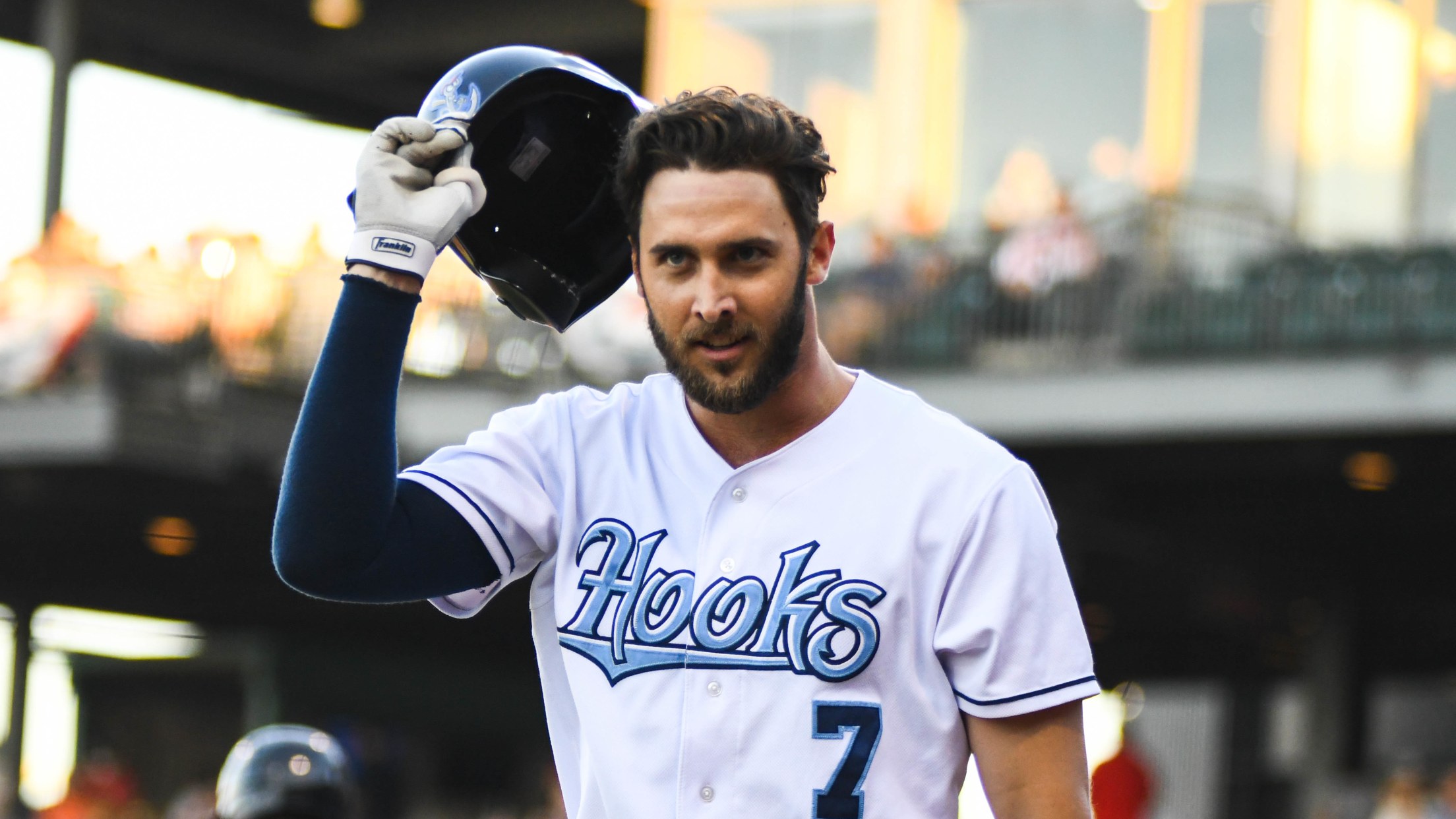 MIDLAND – The first Hooks pinch-hit home run of 2021 was struck by David Hensley in the ninth inning Friday night, sending Corpus Christi to a 5-4 come-from-behind win over the RockHounds before 3,640 fans at Momentum Bank Ballpark. With the Hooks clinging to their second lead of the night,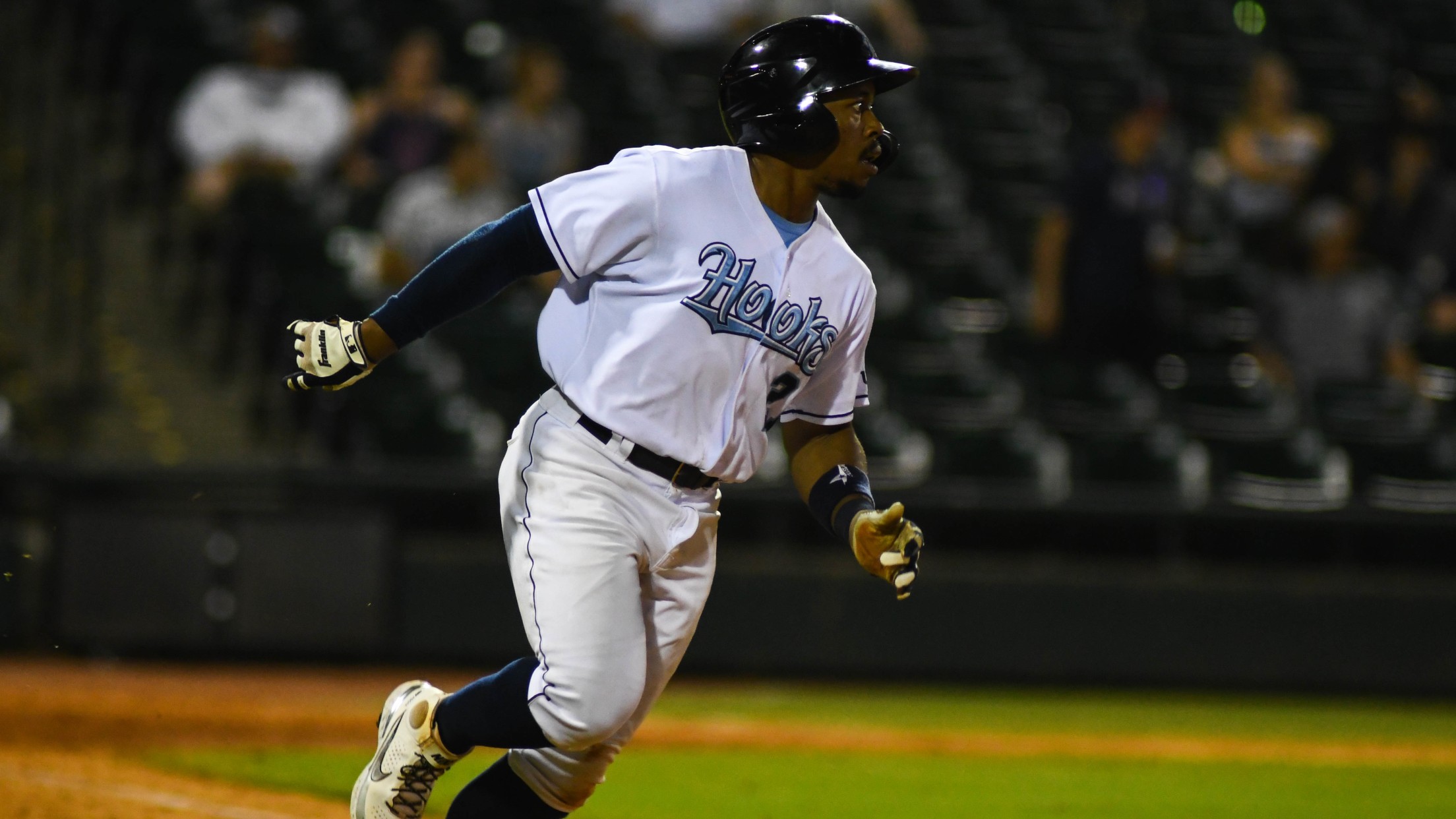 MIDLAND – The RockHounds scored all their runs with two outs Thursday night, with three coming on a home run by Jhonny Santos in the sixth inning as Midland bested the Hooks, 6-2, before 3,653 fans at Momentum Bank Ballpark. Bryce Conley picked up the win for the home club,
Hooks Host Frisco for Six Games
Dog Day, weekend giveaways among highlights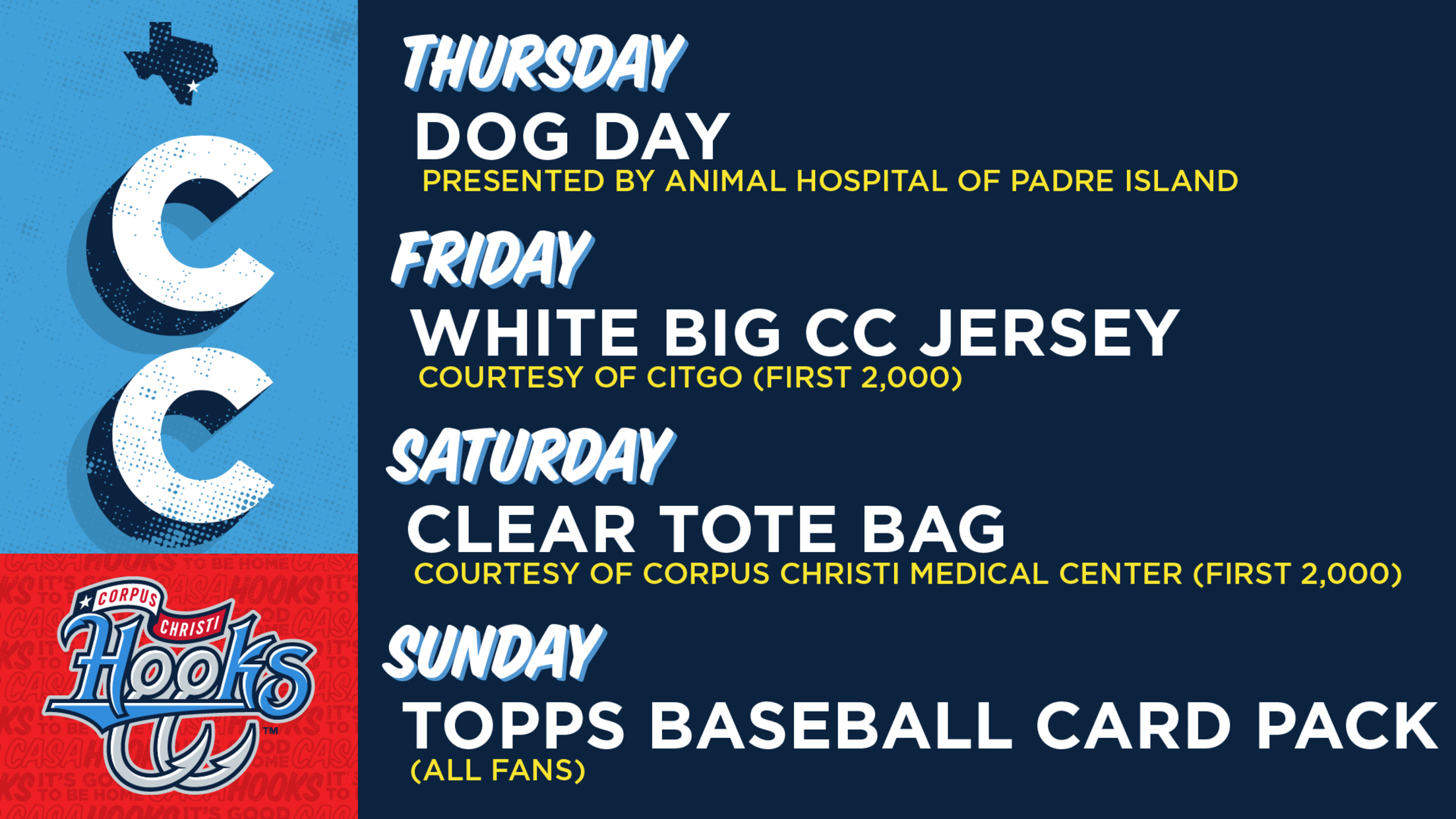 CORPUS CHRISTI – The Hooks will face the Frisco RoughRiders for six games at Whataburger Field starting Tuesday, July 27 through Sunday, August 1. Thursday, July 29 is Dog Day at the ballpark presented by the Animal Hospital of Padre Island; get $6 berm tickets per human and free bandanas
Koenig & Company Keep CC Bats at Bay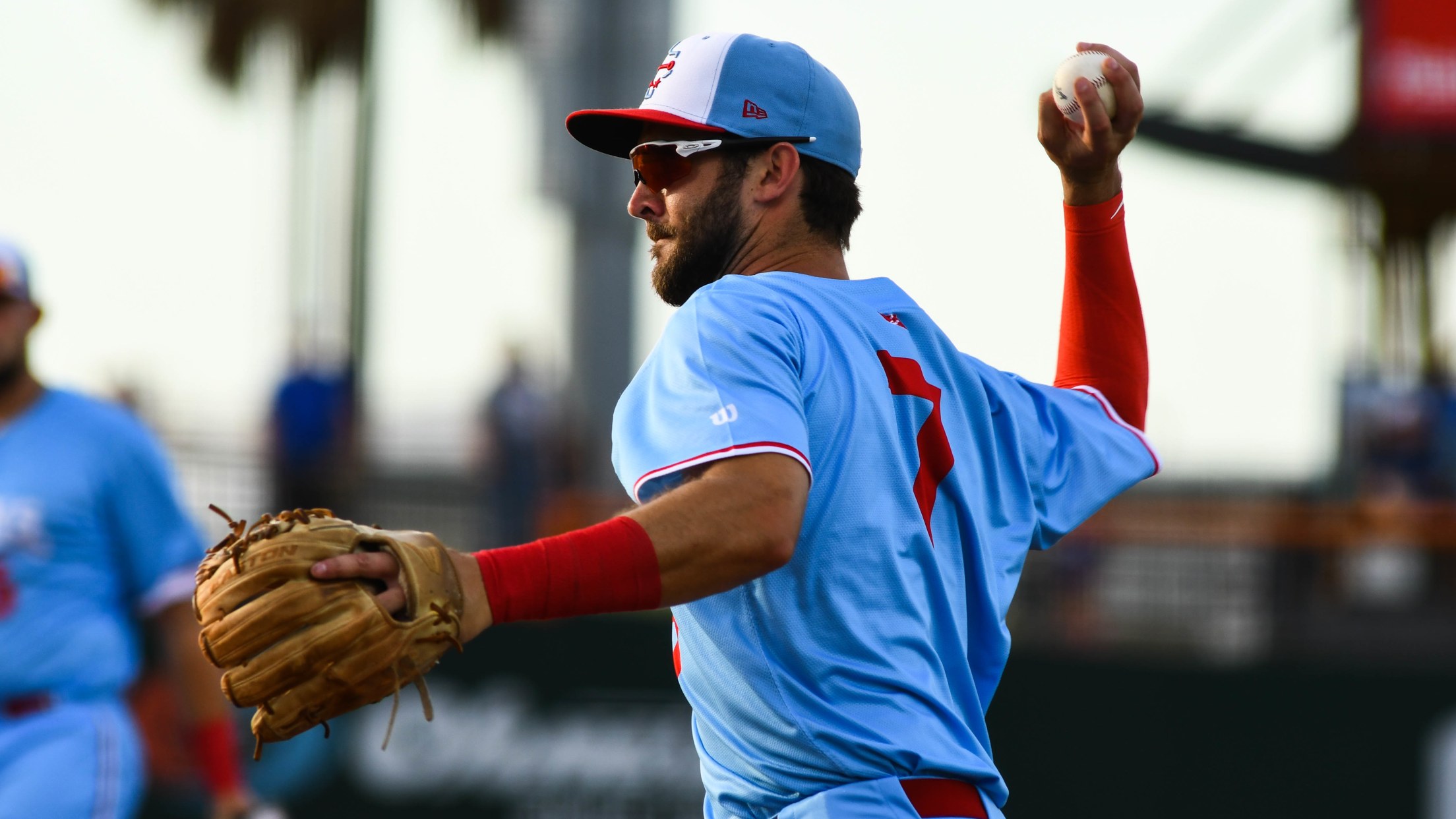 MIDLAND – Southpaw Jared Koenig captured his fifth win of the season with six strong innings Wednesday night as the RockHounds edged the Hooks, 3-2, at Momentum Bank Ballpark. Corpus Christi outhit Midland, 11 to four, but the club stranded seven and hit into two double plays, to go along
Slammin' Schreiber Sends CC to Big Win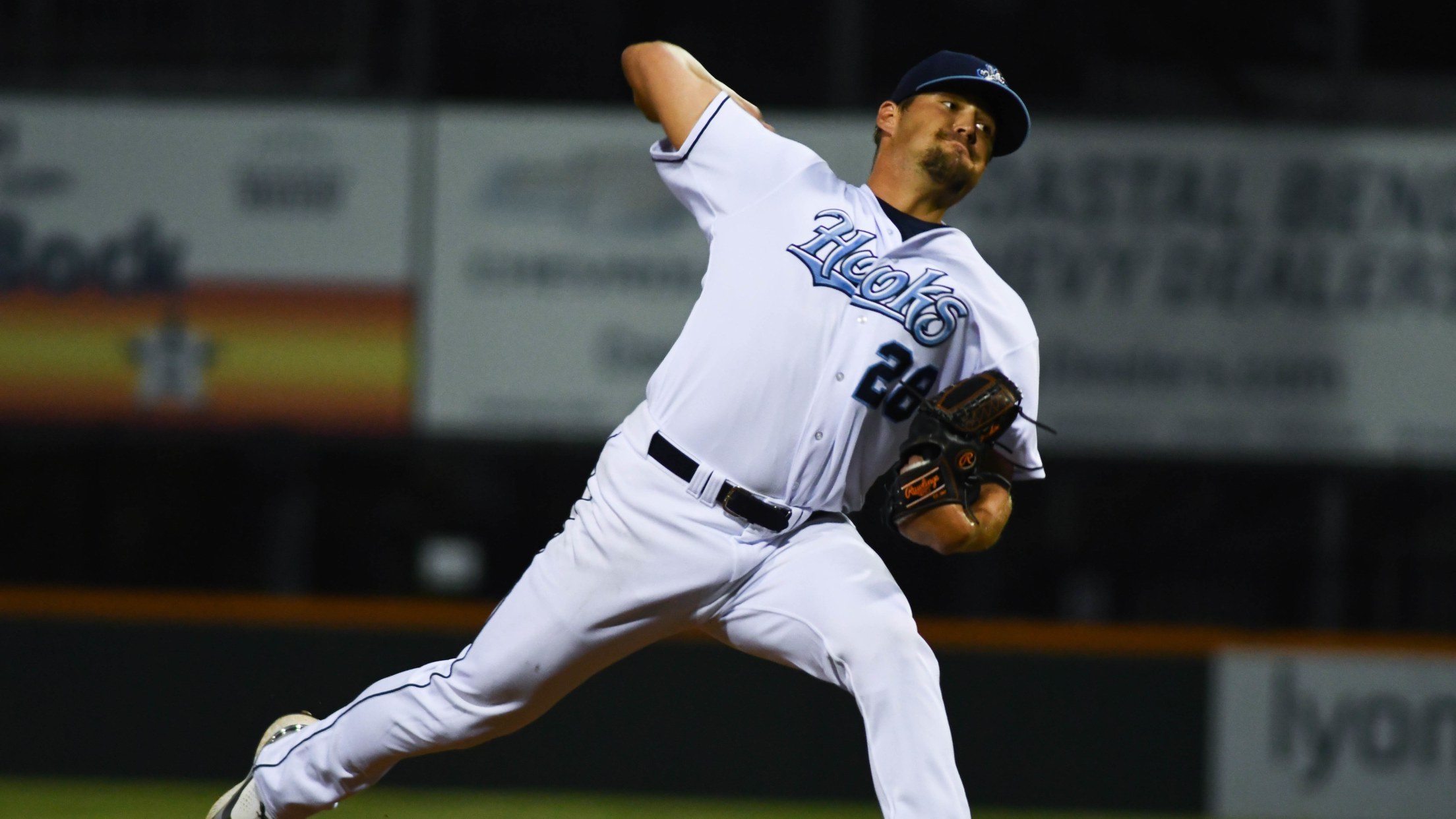 MIDLAND – Following his walk-off grand slam on Sunday, Scott Schreiber cleared the bases with a clout to left field in sixth inning Tuesday night, helping the Hooks to an 8-1 triumph over the RockHounds at Momentum Bank Ballpark. Schreiber added a solo blast to right field in the seventh,
Hooks Walk Off On Schreiber's Slam
CC scores seven in ninth for 9-5 win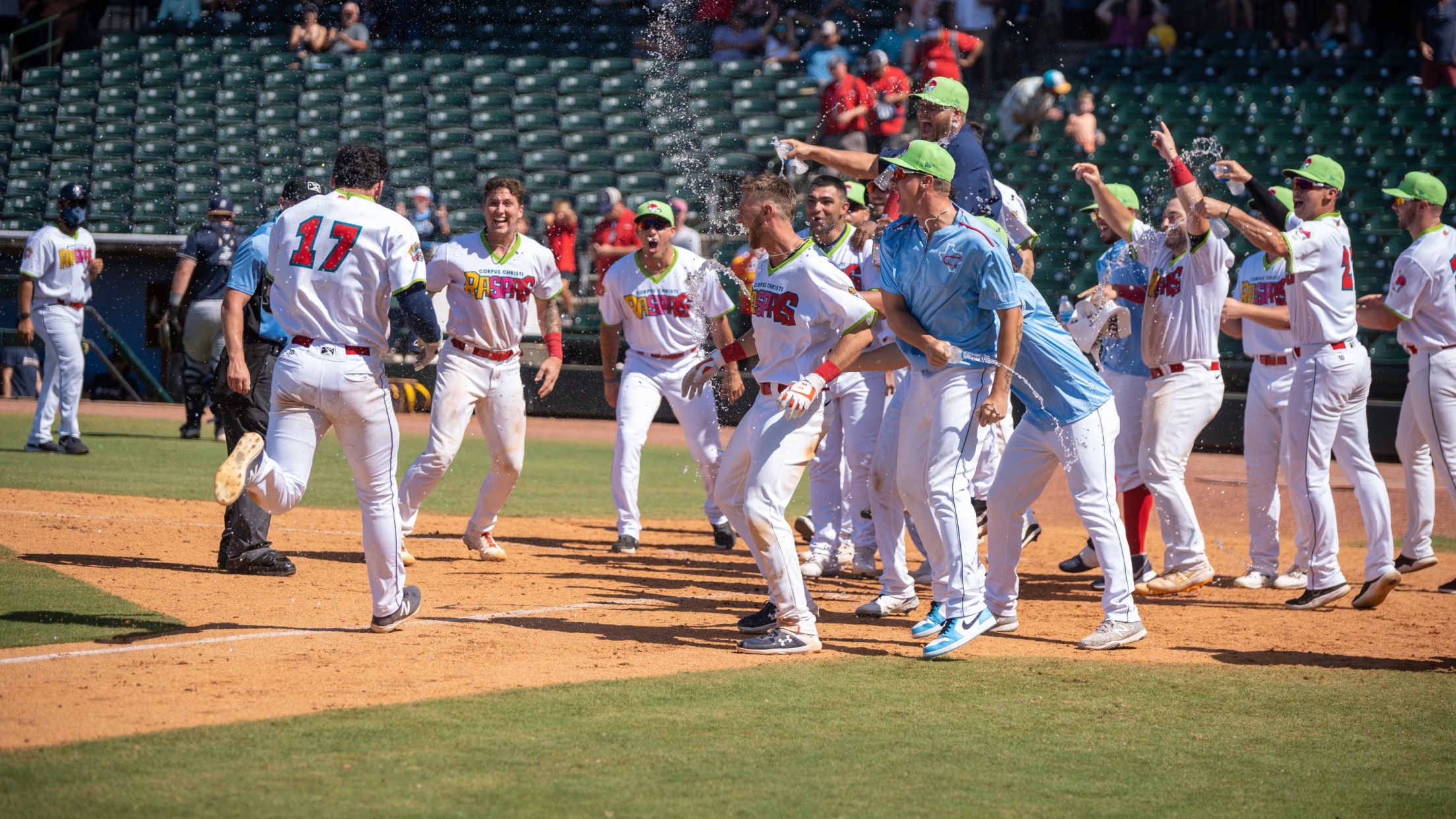 CORPUS CHRISTI - Scott Schreiber blasted a walk-off grand slam to complete big comeback in the Hooks' 9-5 win over the San Antonio Missions Sunday at Whataburger Field. Schreiber hit a first-pitch fastball from new pitcher Fred Schlichtholz over the left-center field wall to break a 5-5 tie. The Hooks
Martinez & SA Pen Shutdown CC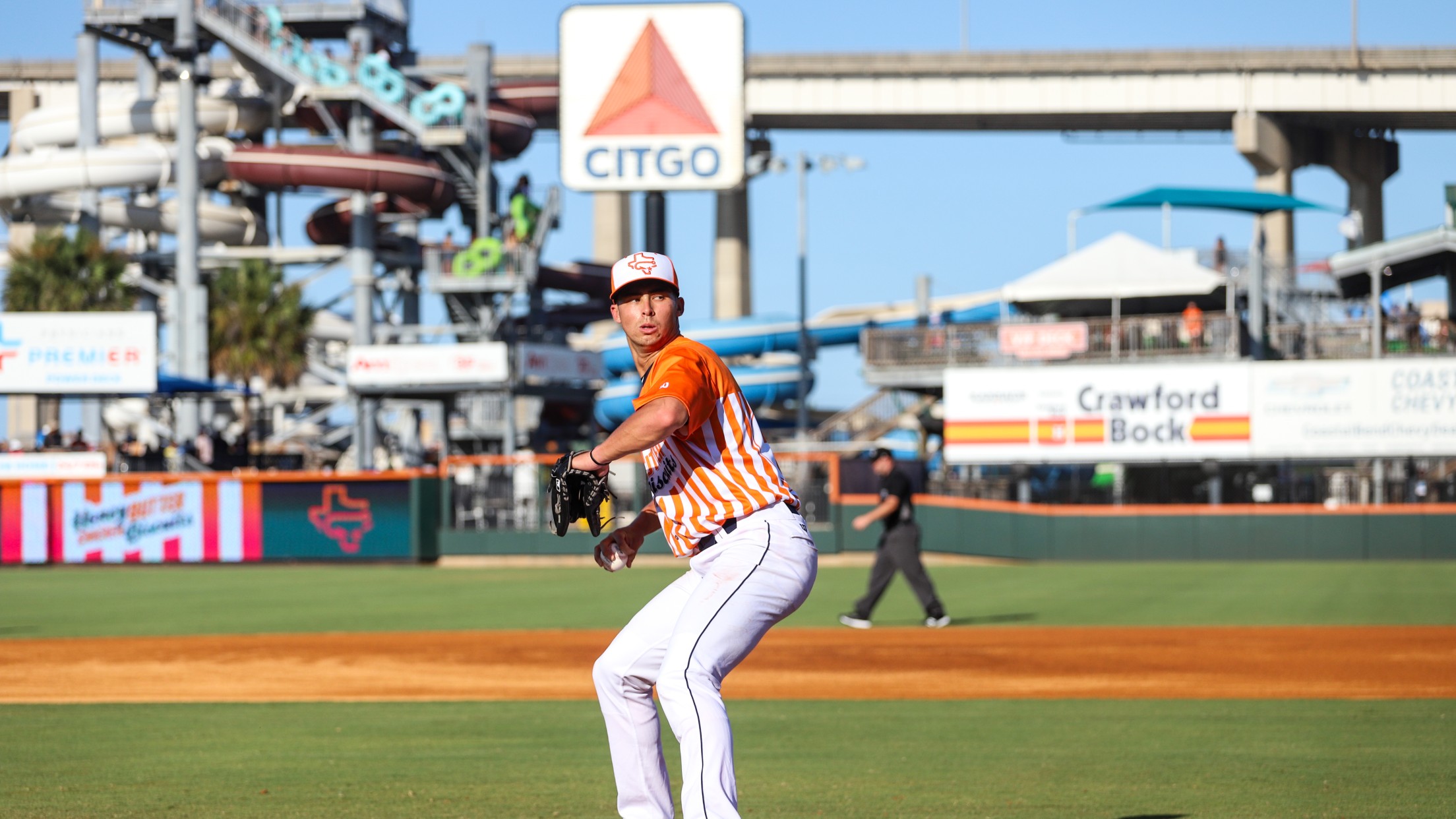 CORPUS CHRISTI – Adrian Martinez scattered six hits and three walks over 5.0 innings Saturday night as San Antonio engineered a 3-0 win over the Hooks before 4,739 fans at Whataburger Field. Despite the setback, Corpus Christi has won three of its last five, and can take the series with
Bermudez Spins Gem, Hooks Topple SA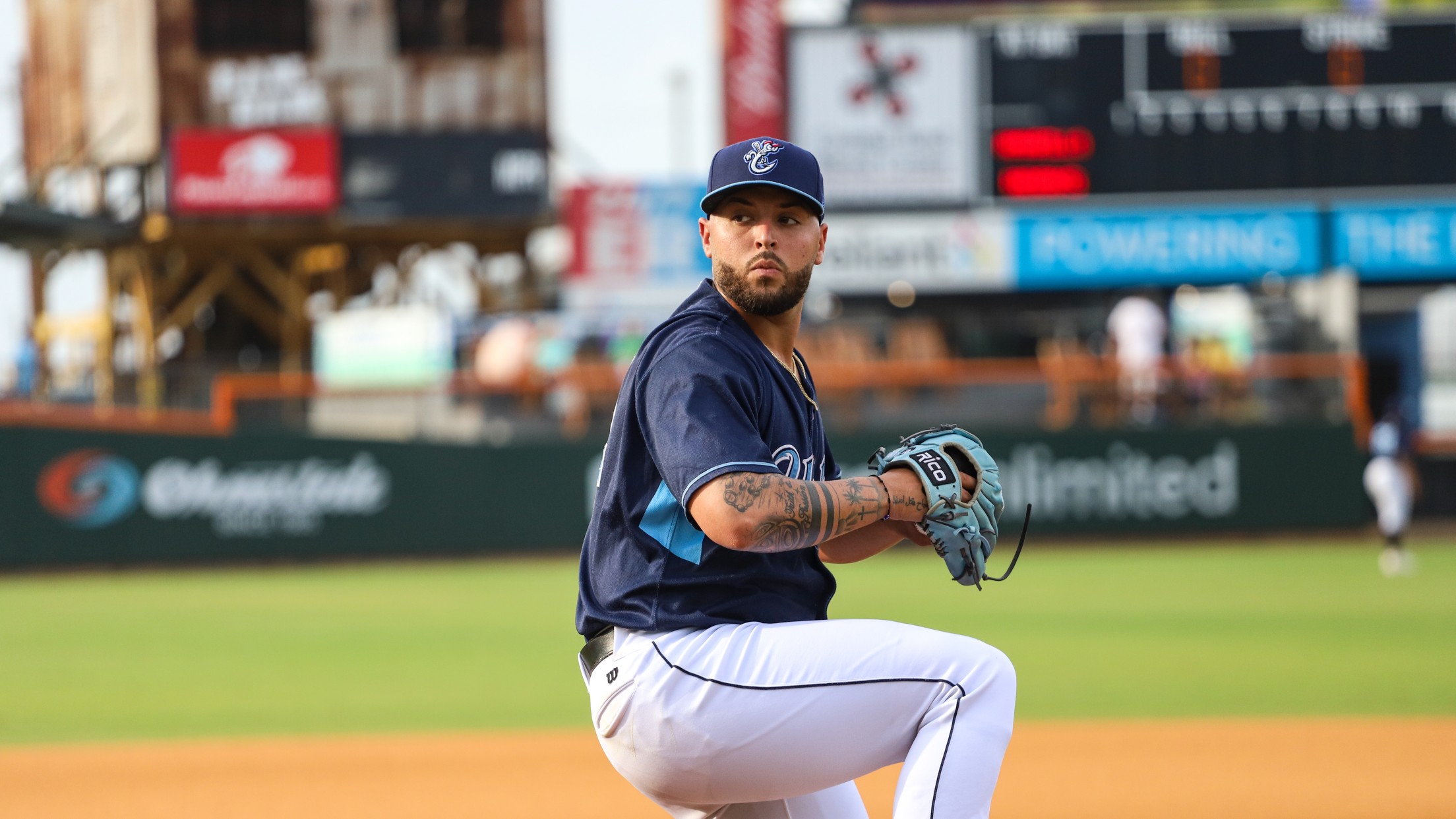 CORPUS CHRISTI – Southpaw Jonathan Bermudez struck out 10 while allowing just two baserunners over six sterling innings Friday night, as the Hooks knocked off the Missions, 4-1, before 5,449 fans at Whataburger Field. Corpus Christi held the Missions to three hits for the second time in the series, with
Late Homer Sinks Hooks Thursday
Hooks surrender three-run shot in 8th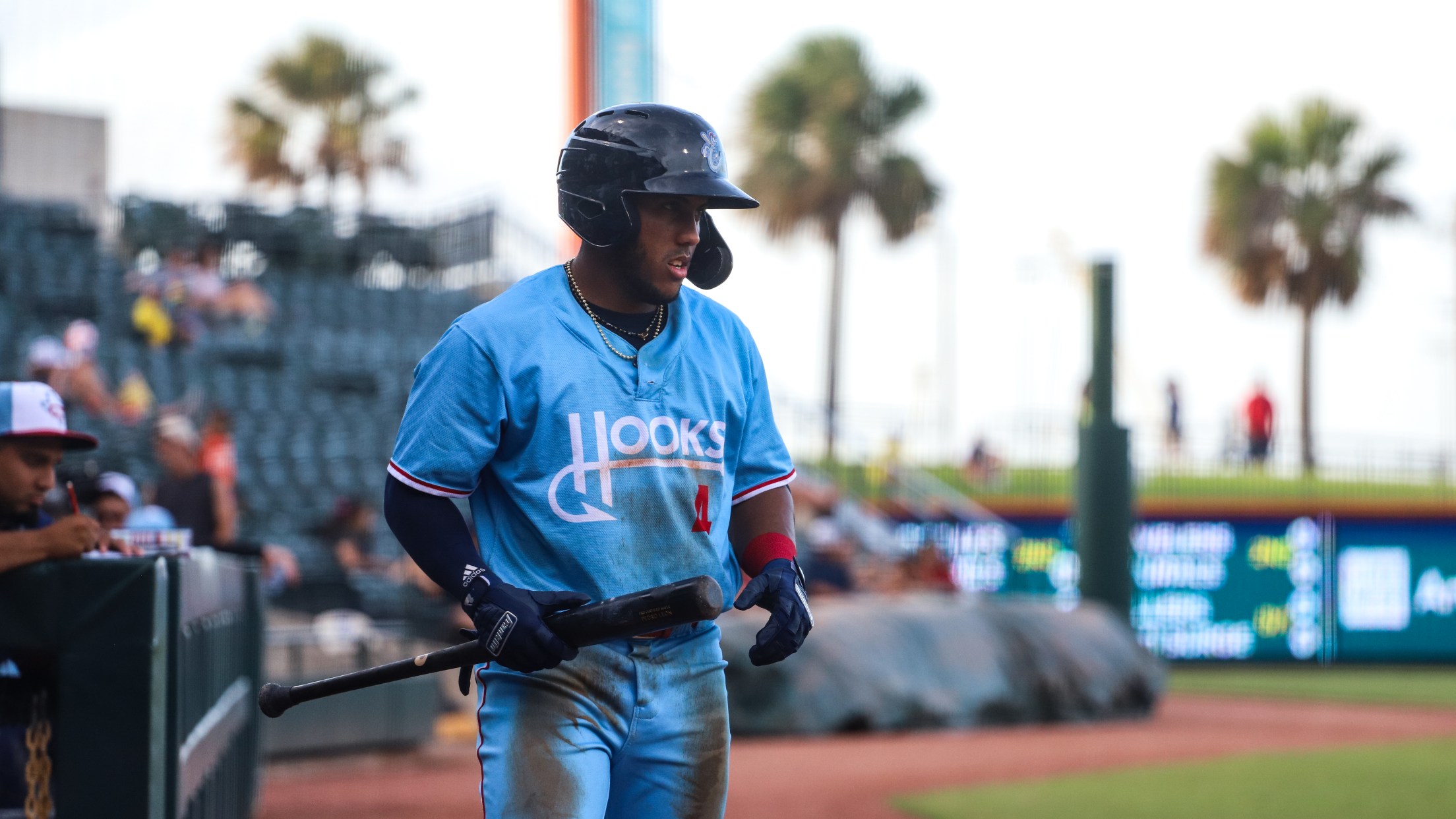 CORPUS CHRISTI - A late home run by the San Antonio Missions resulted in a 7-5 loss for the Hooks Thursday at Whataburger Field. The Hooks held a 5-3 lead going to the eighth, but Tommy DeJuneas allowed the first two men to reach. Devin Conn replaced him and allowed
Lee Delivers Walk-Off in Extras
HBCBs get 3-2 win in 10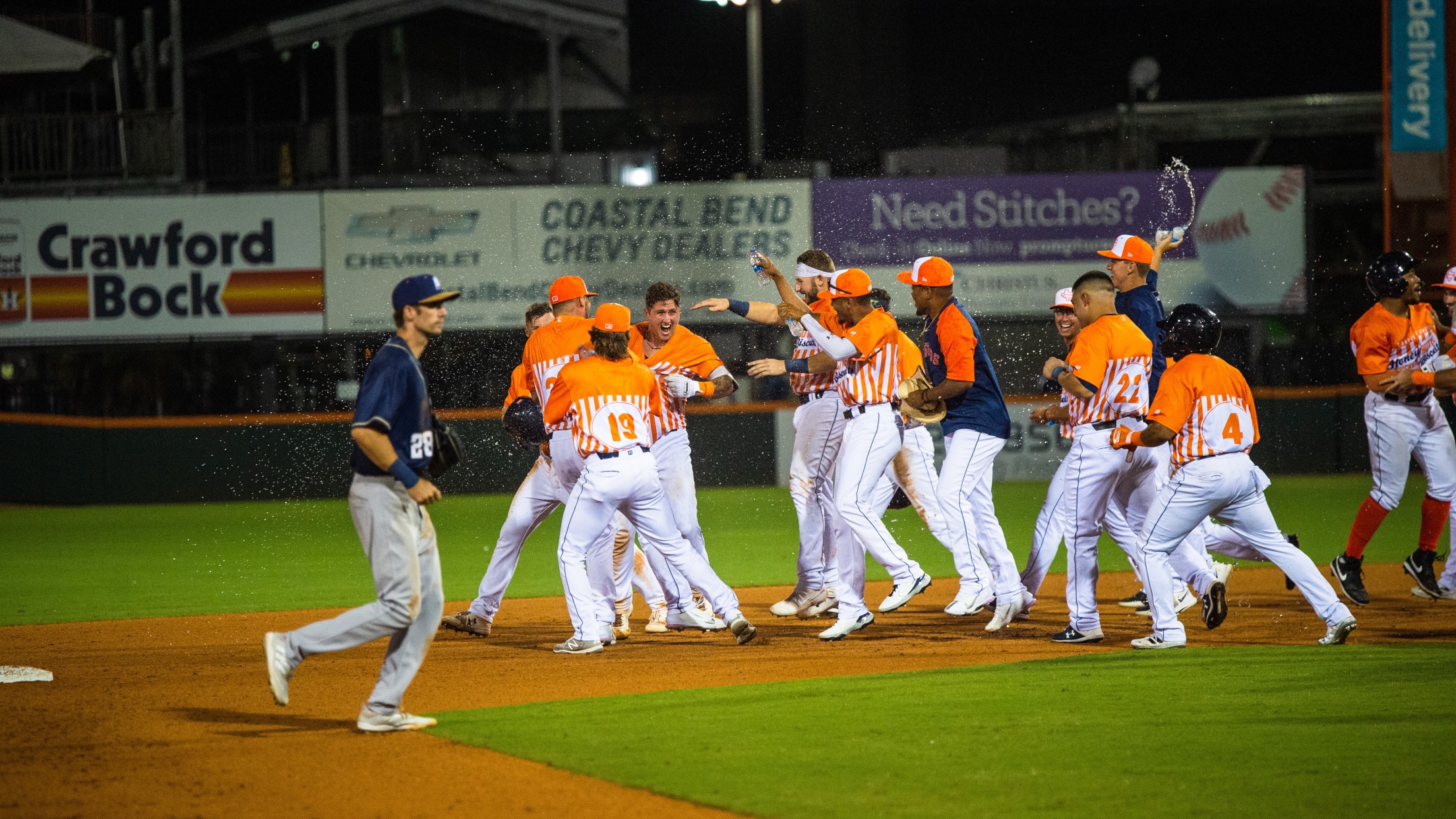 CORPUS CHRISTI - Hooks catcher Korey Lee provided the heroics Wednesday with a 10th-inning walk-off single to beat the San Antonio Missions, 3-2, at Whataburger Field. Lee stepped up with the bases loaded and one out against Nick Kuzia and lofted a single to left field to score Grae Kessinger.
Kessinger's Clout Helps Hooks Snap Skid
León 3-for-3 in 4-1 win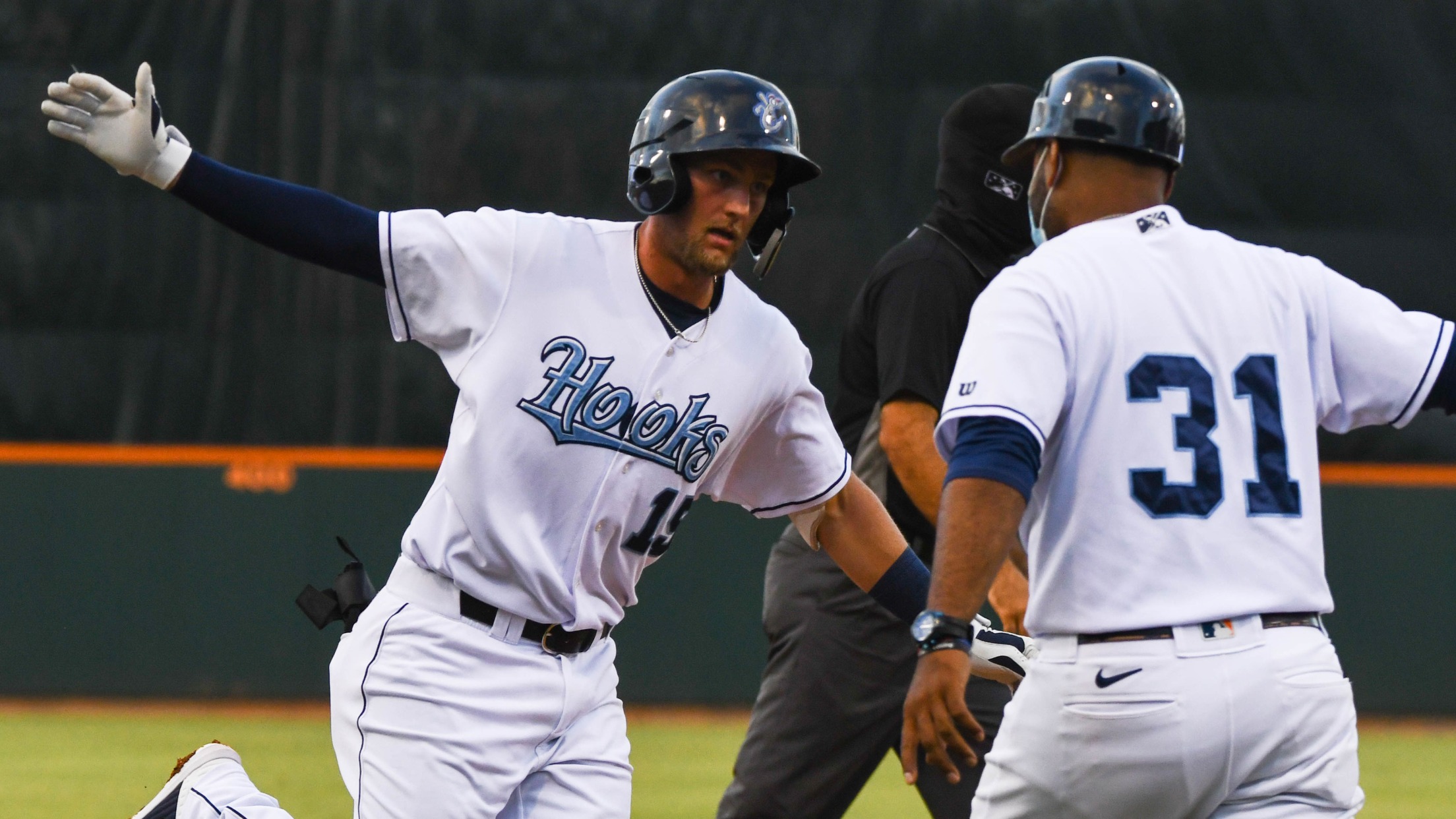 CORPUS CHRISTI - Grae Kessinger's third-inning home run helped the Hooks snap a six-game losing streak Tuesday against the San Antonio Missions in a 4-1 win at Whataburger Field. Kessinger turned on the first pitch he saw from Aaron Leasher after Ross Adolph reached on a strike-three wild pitch. His
Hooks Suffer Sweep to Midland
CC falls to 10 games below .500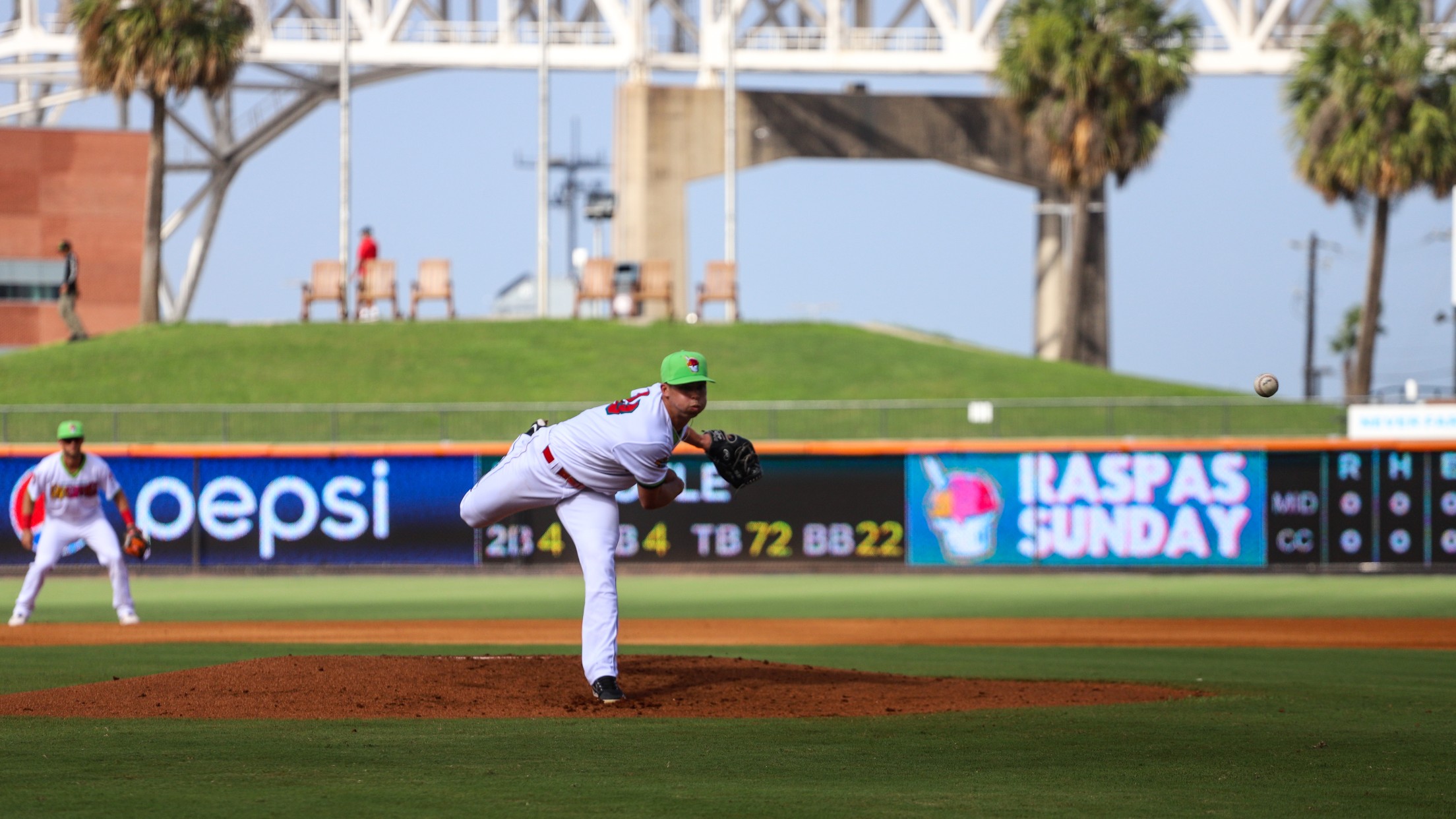 CORPUS CHRISTI - The Hooks were swept in six games by the Midland RockHounds, falling 8-1 Sunday in the finale at Whataburger Field. Midland plated five in the third inning against Jimmy Endersby, including a two-run double by Nick Allen. An throwing error with two outs allowed three of the
'Hounds Rock Hooks Saturday
CC handed fifth straight loss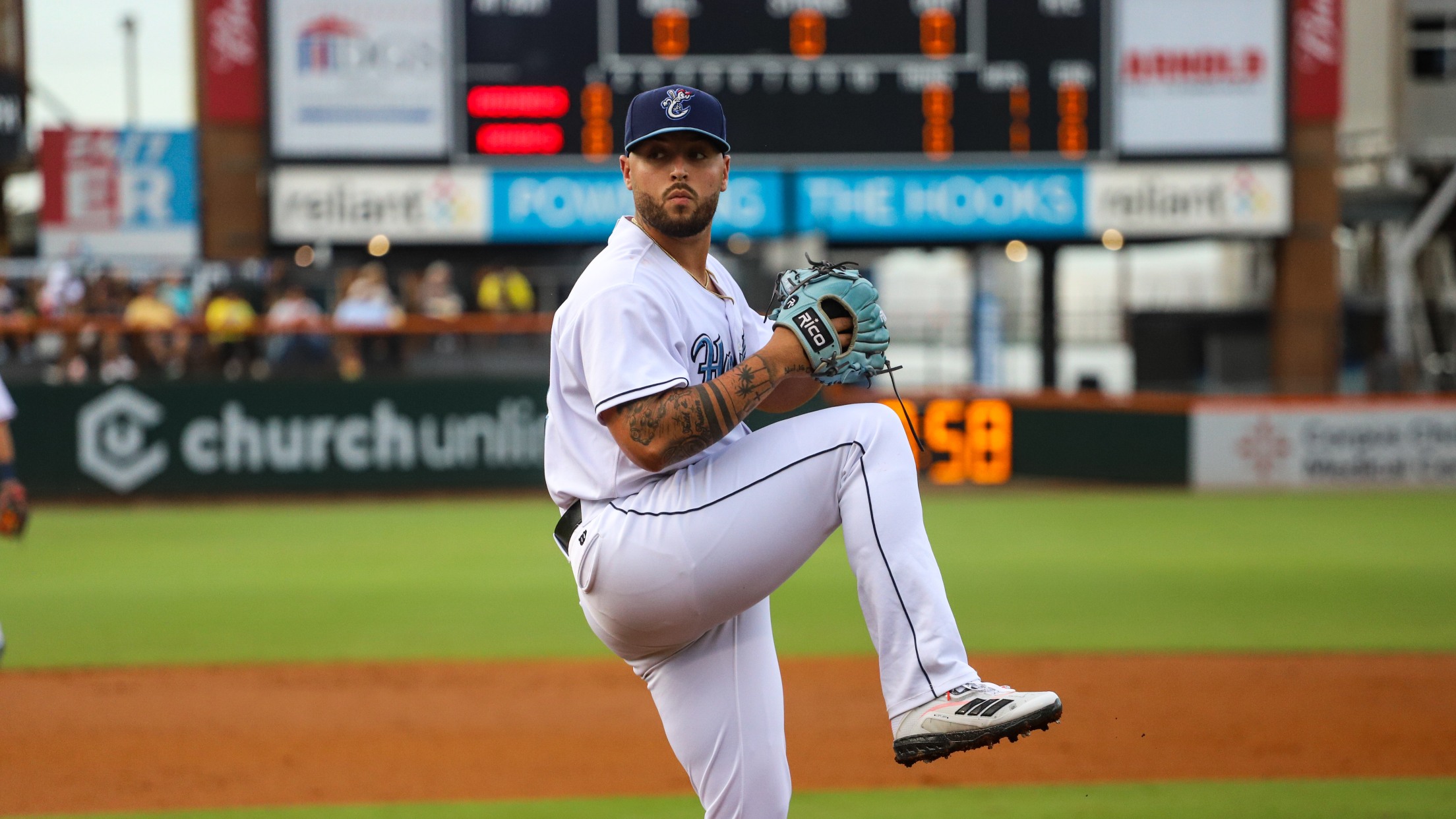 CORPUS CHRISTI - The Hooks lost 9-0 to the Midland RockHounds Saturday night at Whataburger Field, 9-0. Jonathan Bermudez allowed just one run and struck out seven over 5.0 innings, but surrendered a leadoff single to JJ Schwarz in the sixth. Bermudez was pulled for Tommy DeJuneas, who let things
Hooks Fall Late to RockHounds, 5-4
One-hour, 27-minute rain delay forces bullpen game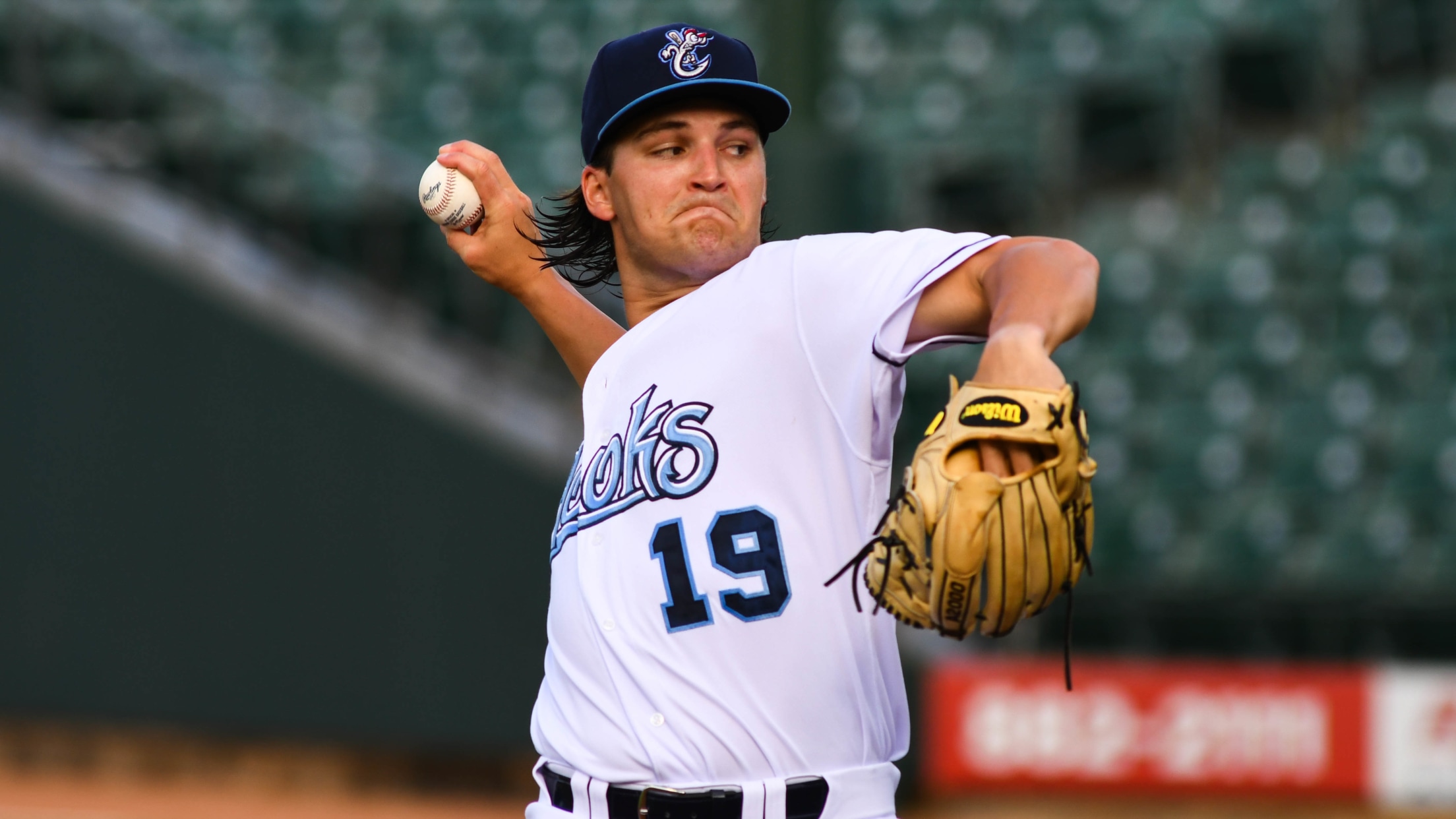 CORPUS CHRISTI - A Hooks comeback attempt was thwarted by sloppy play in a 5-4 loss to the Midland RockHounds Friday at Whataburger Field. After climbing back from a 4-1 hole, the Hooks and Hounds took a 4-4 game to the eighth inning. Brett Daniels allowed a one-out double to
Hooks Drop Both Games of Doubleheader
CC falls to 2-8 in doubleheaders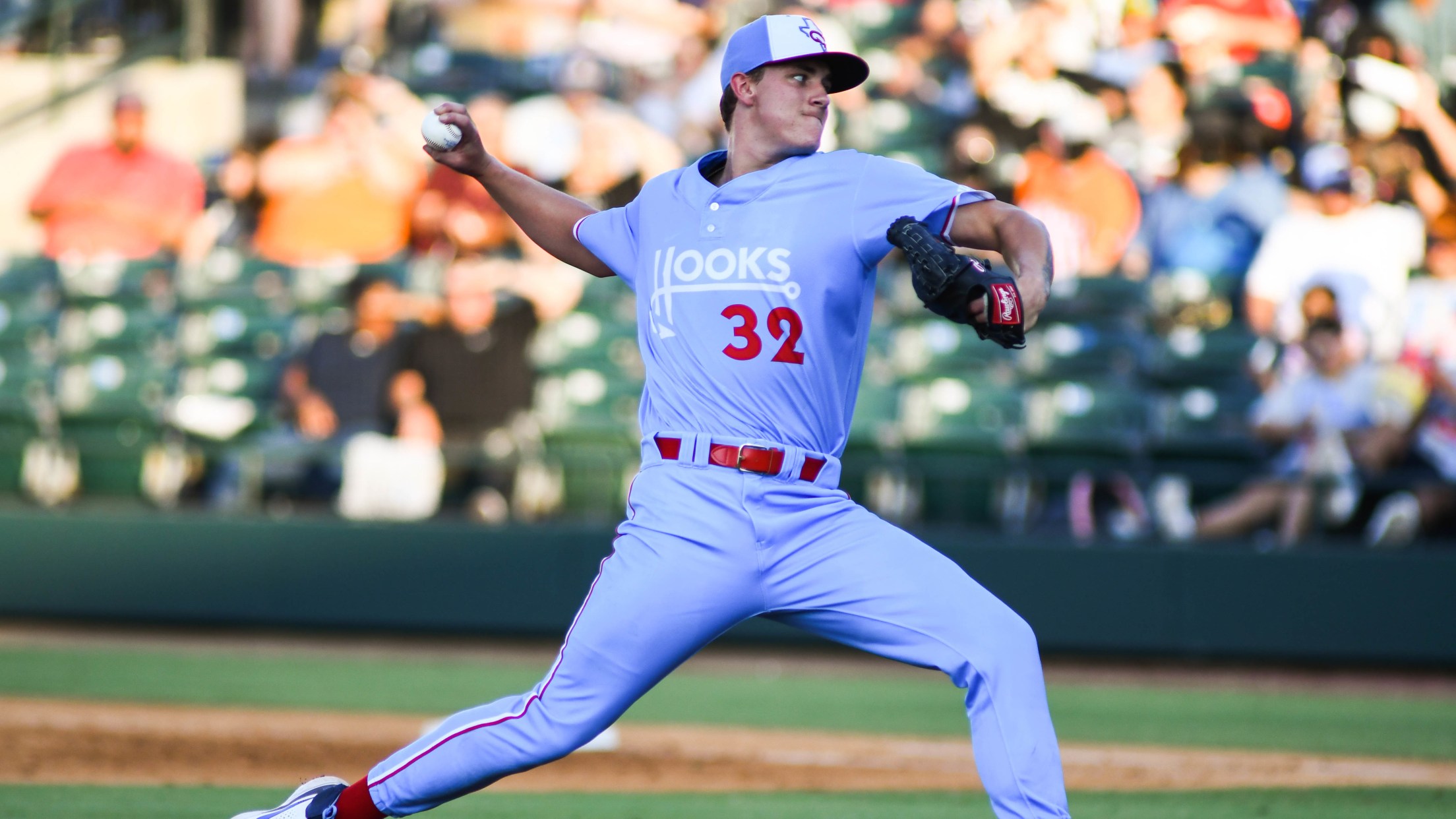 CORPUS CHRISTI - The Midland RockHounds swept Thursday's doubleheader at Whataburger Field, taking game one 3-1 and game two 6-4 from the Hooks. The Hooks held a narrow 1-0 lead in game one after a Grae Kessinger two-out solo shot (4) in the third inning off Kyle Friedrichs. Hunter Brown
Wednesday's Hooks Game Washed Out
Teams will play straight doubleheader Thursday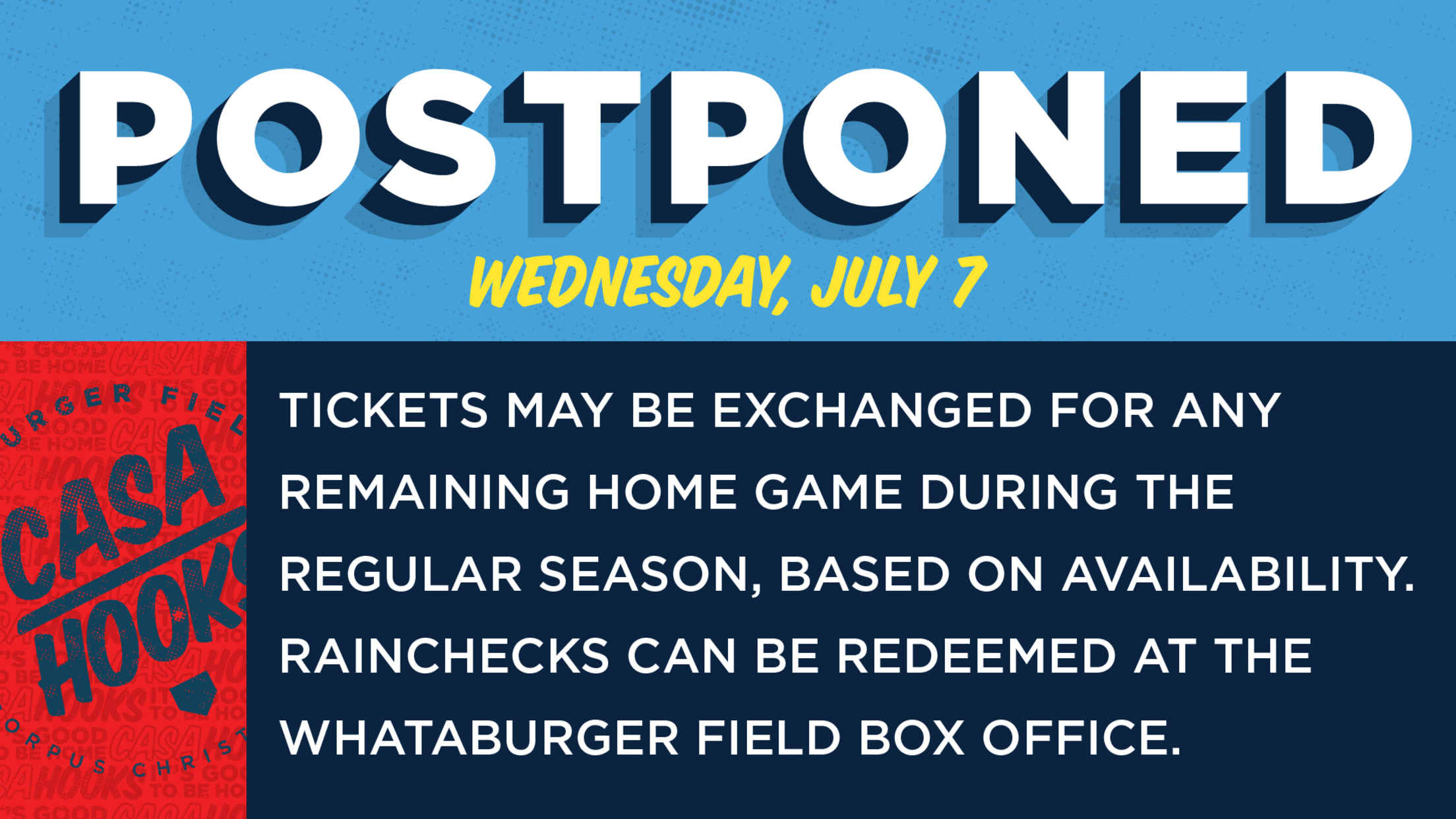 CORPUS CHRISTI – Wednesday's game between the Hooks and the Midland RockHounds has been postponed due to wet field conditions. The game is scheduled to be made up as part of a straight doubleheader Thursday, July 8, in which both contests will be seven innings. Gates will open at 3:30
Rain Stifles Hooks Comeback Attempt
Tying runs left on base with 2 outs in ninth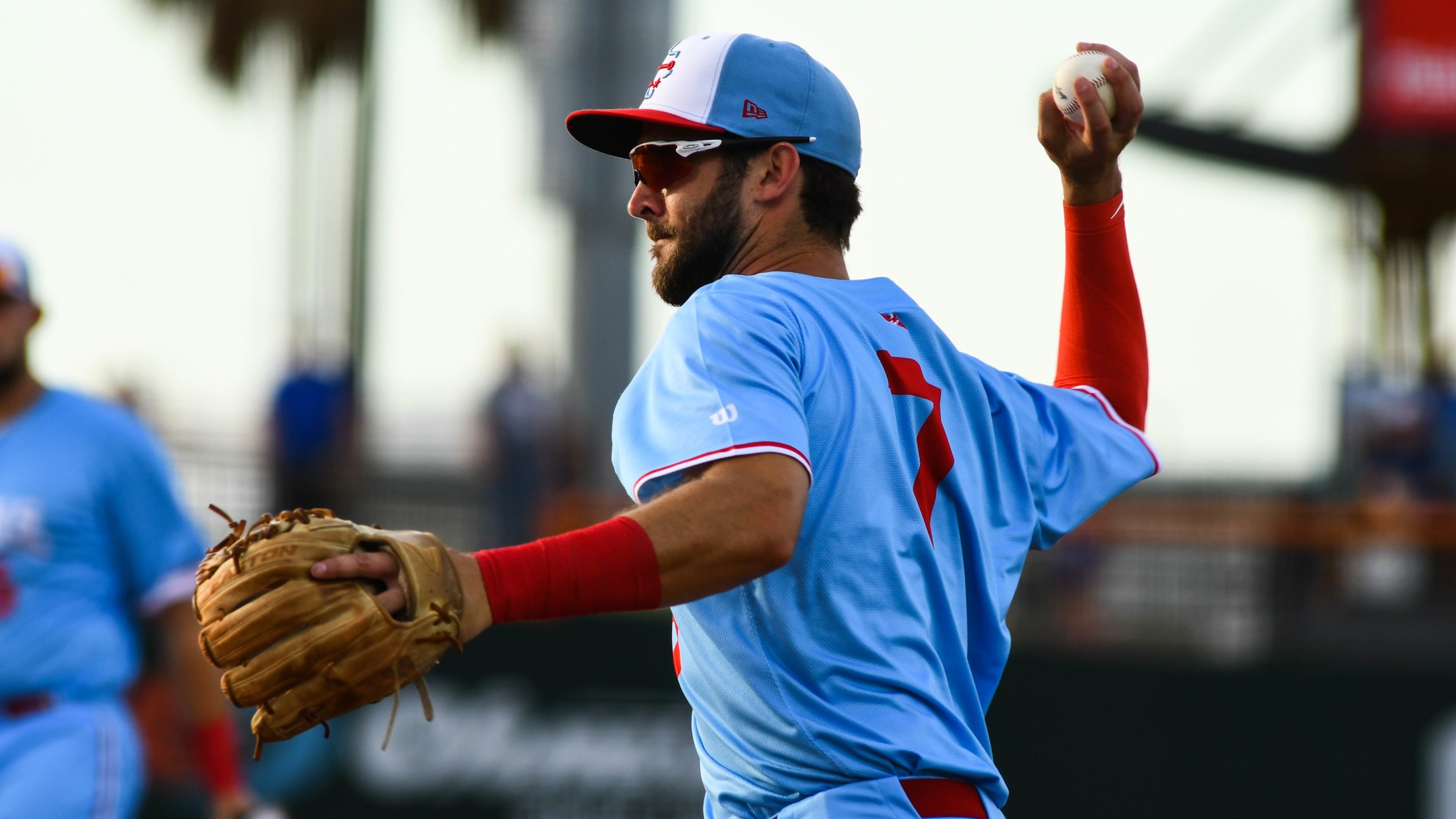 CORPUS CHRISTI - The Hooks dropped the opener of a six-game series to the Midland RockHounds Tuesday at Whataburger Field, 7-5. It was an ominous start for the Hooks and Jimmy Endersby, who loaded the bases with two outs and proceeded to give up a grand slam to Kyle McCann.
Hooks, Circle K Partner for Tuesday Food Drives
Donations will benefit Coastal Bend Food Bank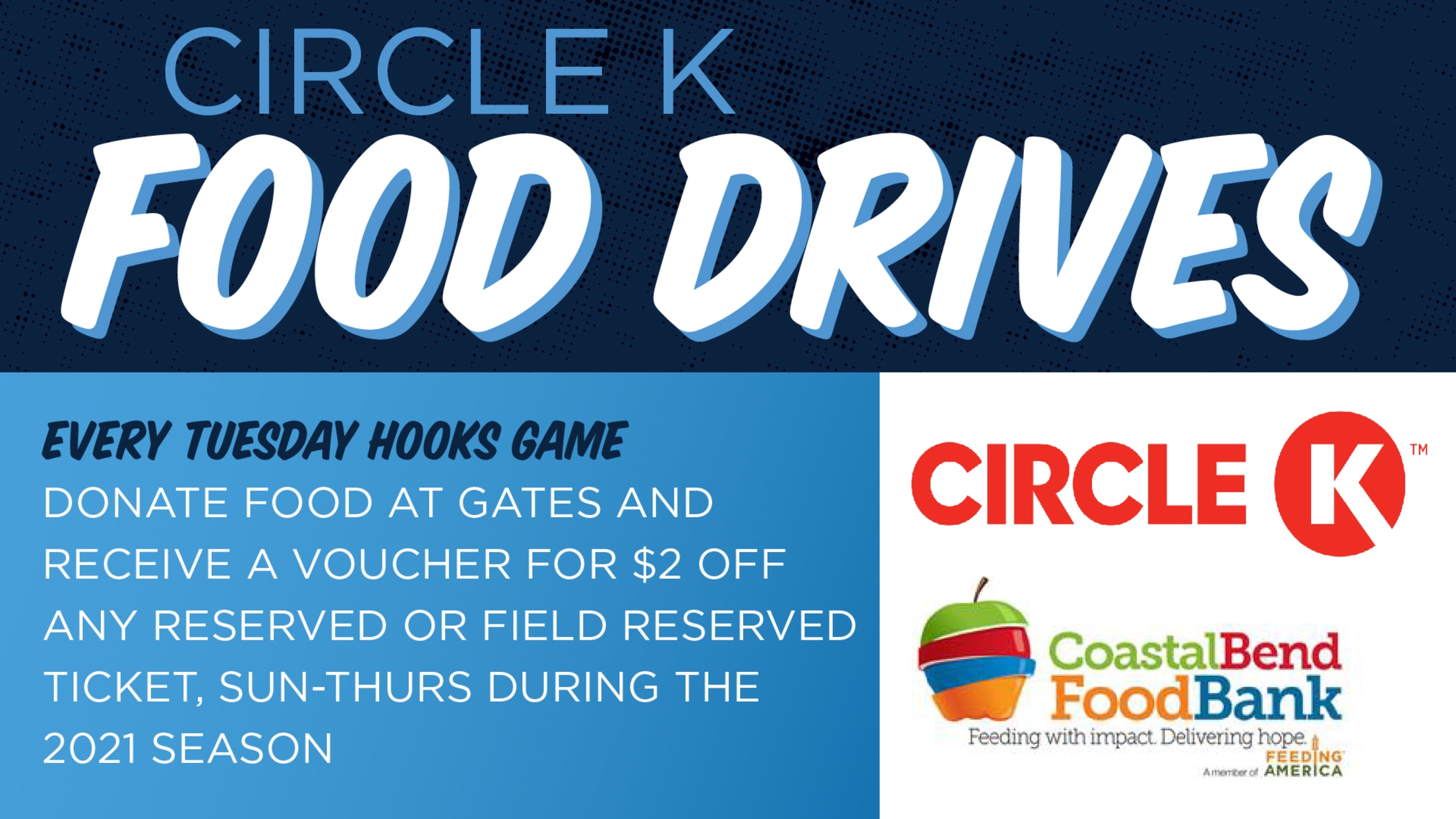 CORPUS CHRISTI – The Hooks and Circle K have teamed up to fight hunger in the Coastal Bend. At each remaining Tuesday home game, fans can donate non-perishable food items that will directly benefit the Coastal Bend Food Bank. Those who donate to the Circle K Food Drive at the
CC Busts Slump, Olczak Slams Door
Hooks plate nine runs in first three frames Sunday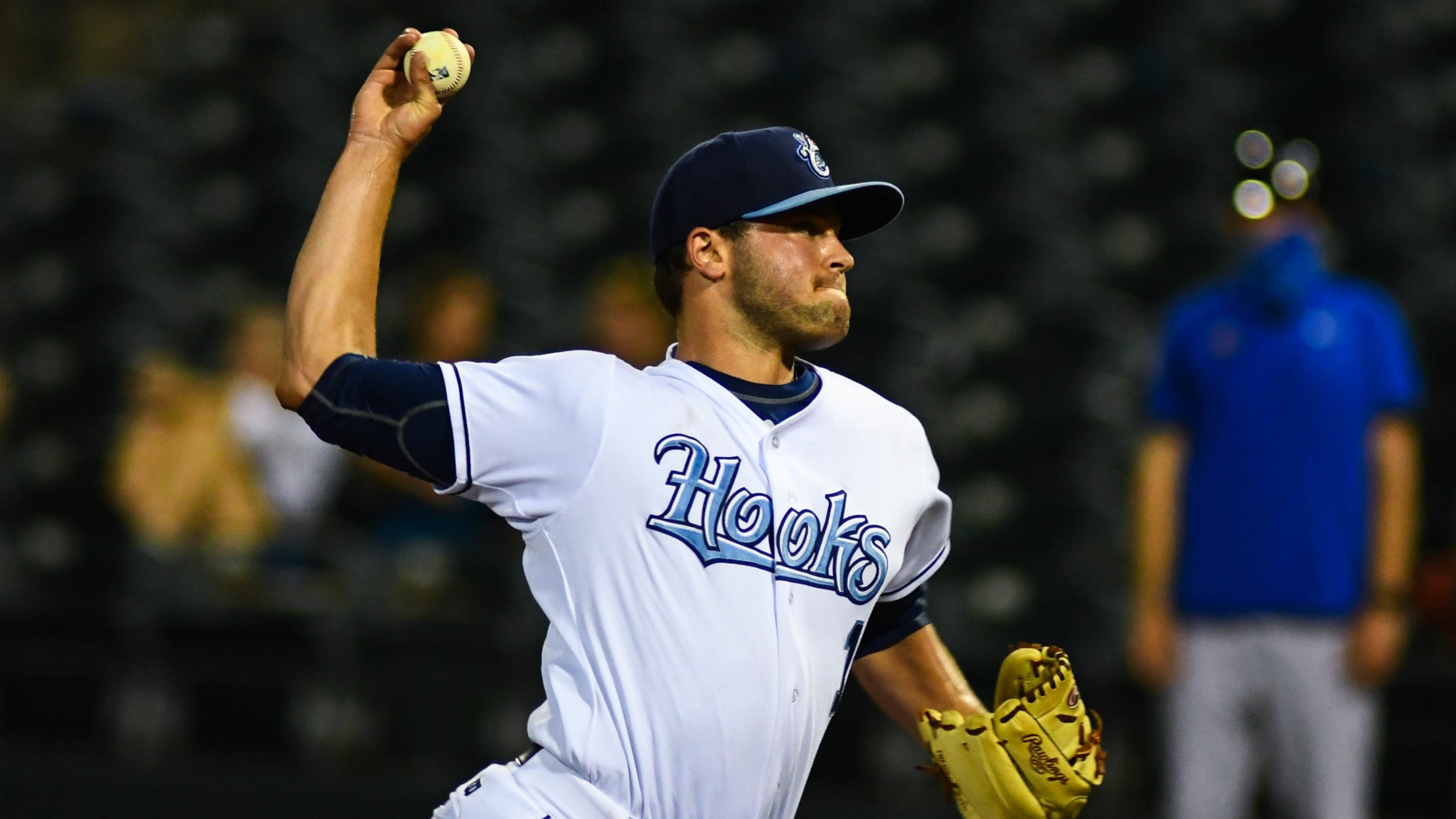 SAN ANTONIO – Back-to-back home runs by Alex McKenna and Scott Manea in the first and a Pedro León grand slam in the third helped build a 9-0 lead needed for the Hooks' 10-8 Independence Day triumph over the Missions before 5,272 fans – the largest crowd of the year
Bats Stay Cold in Shutout Loss to Missions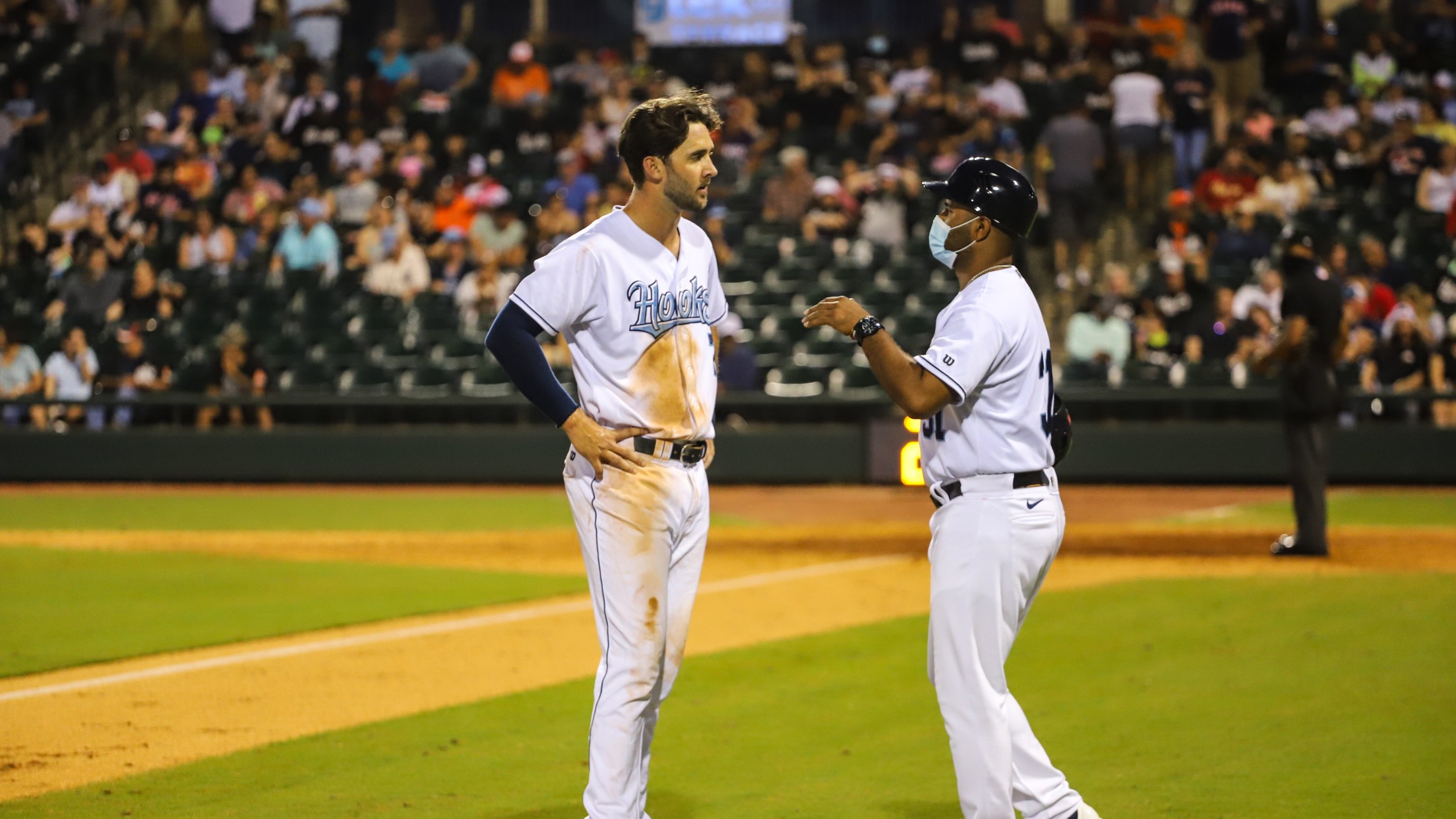 SAN ANTONIO - The Hooks failed to push across a run Saturday as their offensive struggles continued against the San Antonio Missions in a 3-0 loss at Wolff Stadium. Brett Daniels was strong over 5.1 innings, but Michael Curry tagged him for a two-run homer that tucked around the left
Gonzalez Spoils No-Hit Bid in Hooks Loss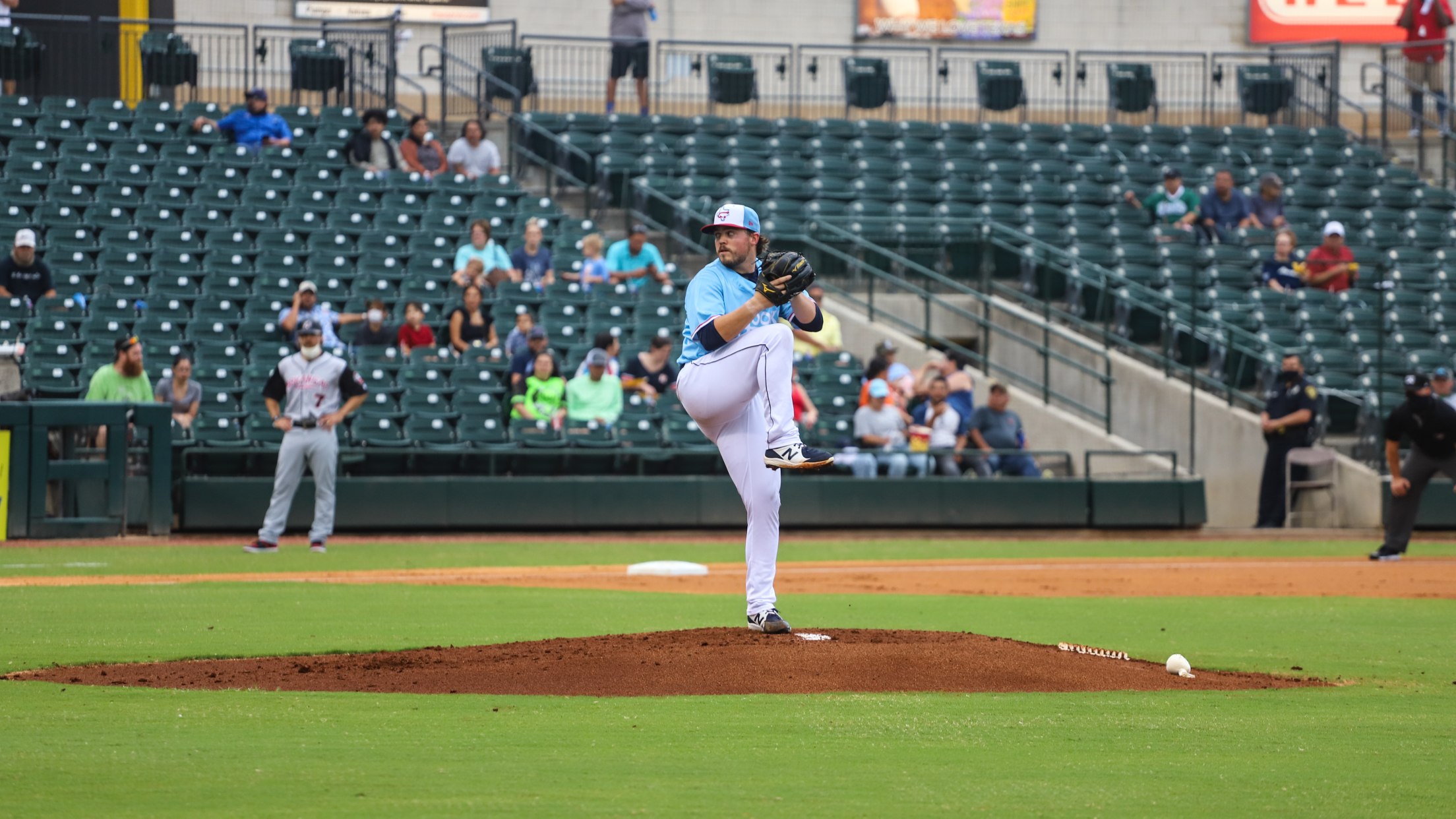 SAN ANTONIO - Norel Gonzalez's seventh-inning home run ended a no-hit bid for the San Antonio Missions Friday as the Hooks fell, 3-1, at Wolff Stadium. Missions starter Adrian Martinez didn't allow a hit over 6.0 innings, with only Marty Costes reaching base via two walks. Martinez (W, 3-3) retired
Norel González Named Double-A Central Player of the Month
Hooks slugger led league in many offensive categories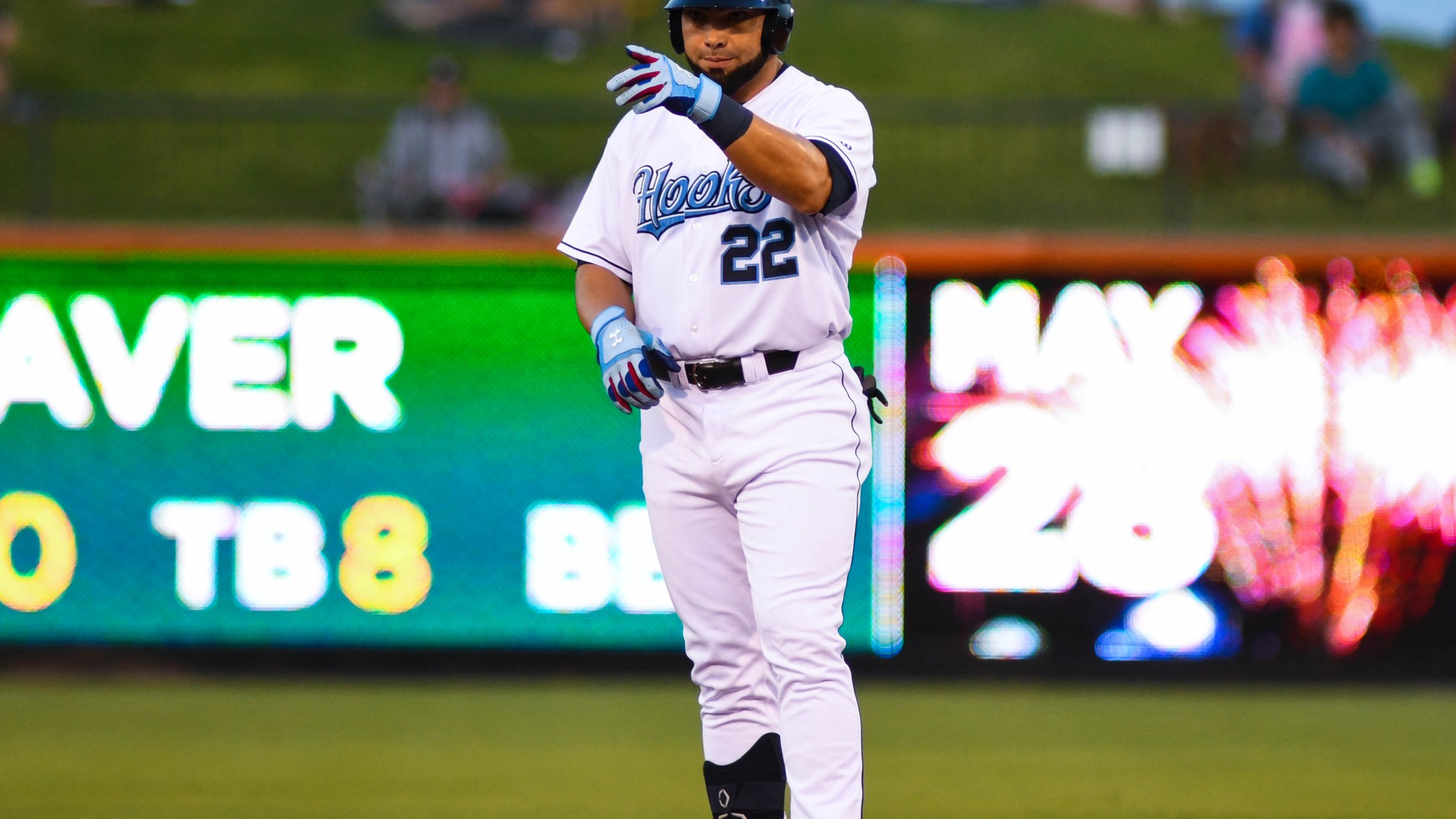 CORPUS CHRISTI – Hooks first baseman/outfielder Norel González was named Double-A Central Player of the Month, Minor League Baseball announced today. González led the league in RBIs with 22, an on-base percentage of .457 and an OPS of 1.072. His eight doubles ranked second in the circuit while his .359
Hooks, Missions Split Doubleheader Thursday
CC takes first game in comeback fashion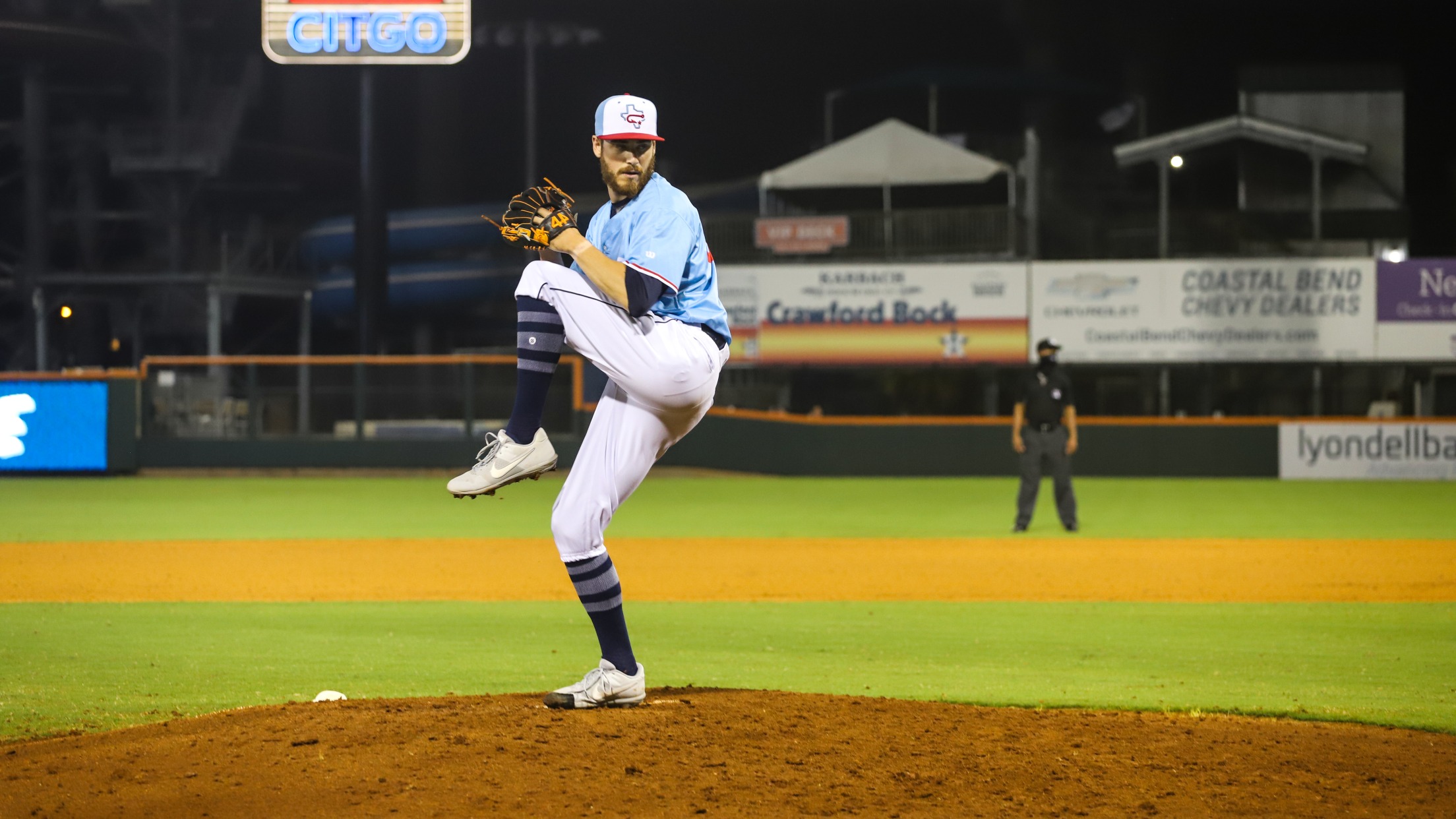 SAN ANTONIO - The Hooks split a straight doubleheader at Wolff Stadium with the San Antonio Missions Thursday, winning game one 5-2 and falling in game two 3-0. Hunter Brown struggled in the early start, particularly in the second inning. He allowed back-to-back singles to start the frame and hit
Defense Earns Hooks Game One Over Missions
Costes, pitching comes up clutch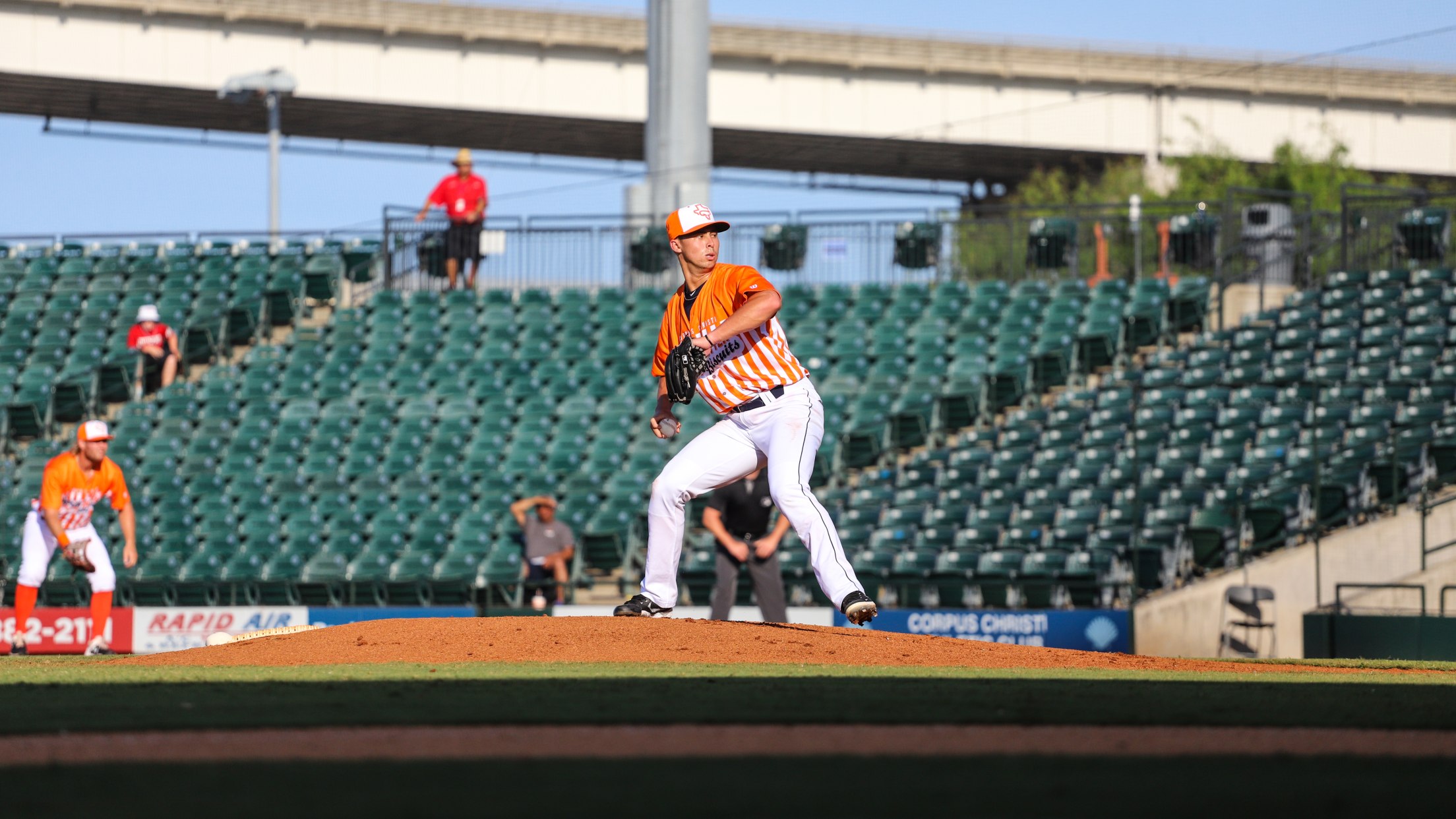 CORPUS CHRISTI - Timely hitting and sound defense secured a 4-0 victory for the Hooks in the series opener against the San Antonio Missions at Wolff Stadium. Starter Jimmy Endersby, Tommy DeJuneas and Devin Conn combined to allow just two hits to shut out the Missions. The Hooks – playing