Early Long Balls Sink Hooks
Taylor homers & Julks turns in 3-hit day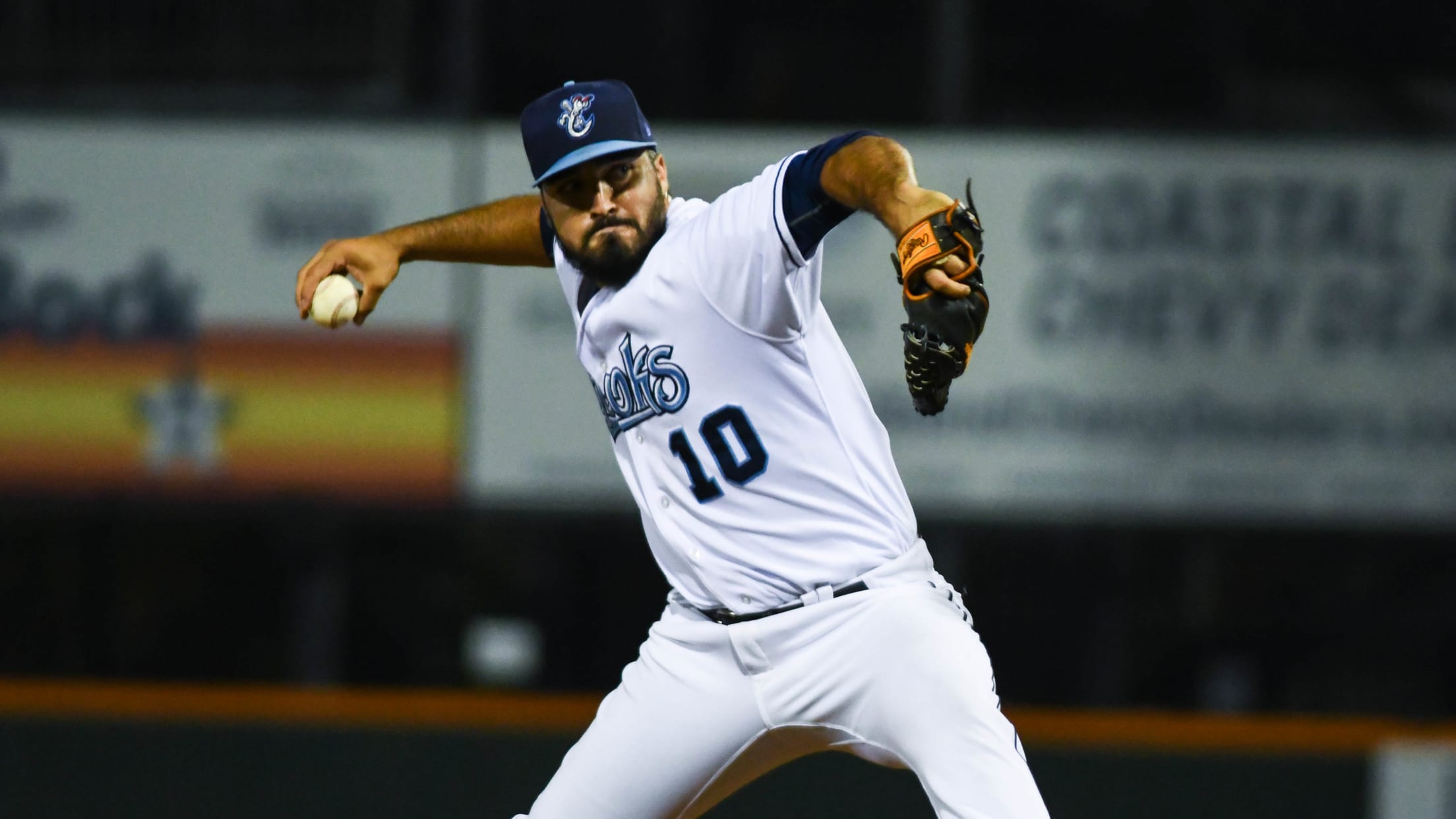 FRISCO - Two-run home runs by Diosbel Arias and Ryan Dorow helped power an 8-2 RoughRiders win before 4,747 Friday night at Riders Field. Corpus Christi seeks a split of the series Sunday with Frisco taking three of the first five contests. The damage by Arias and Dorow came in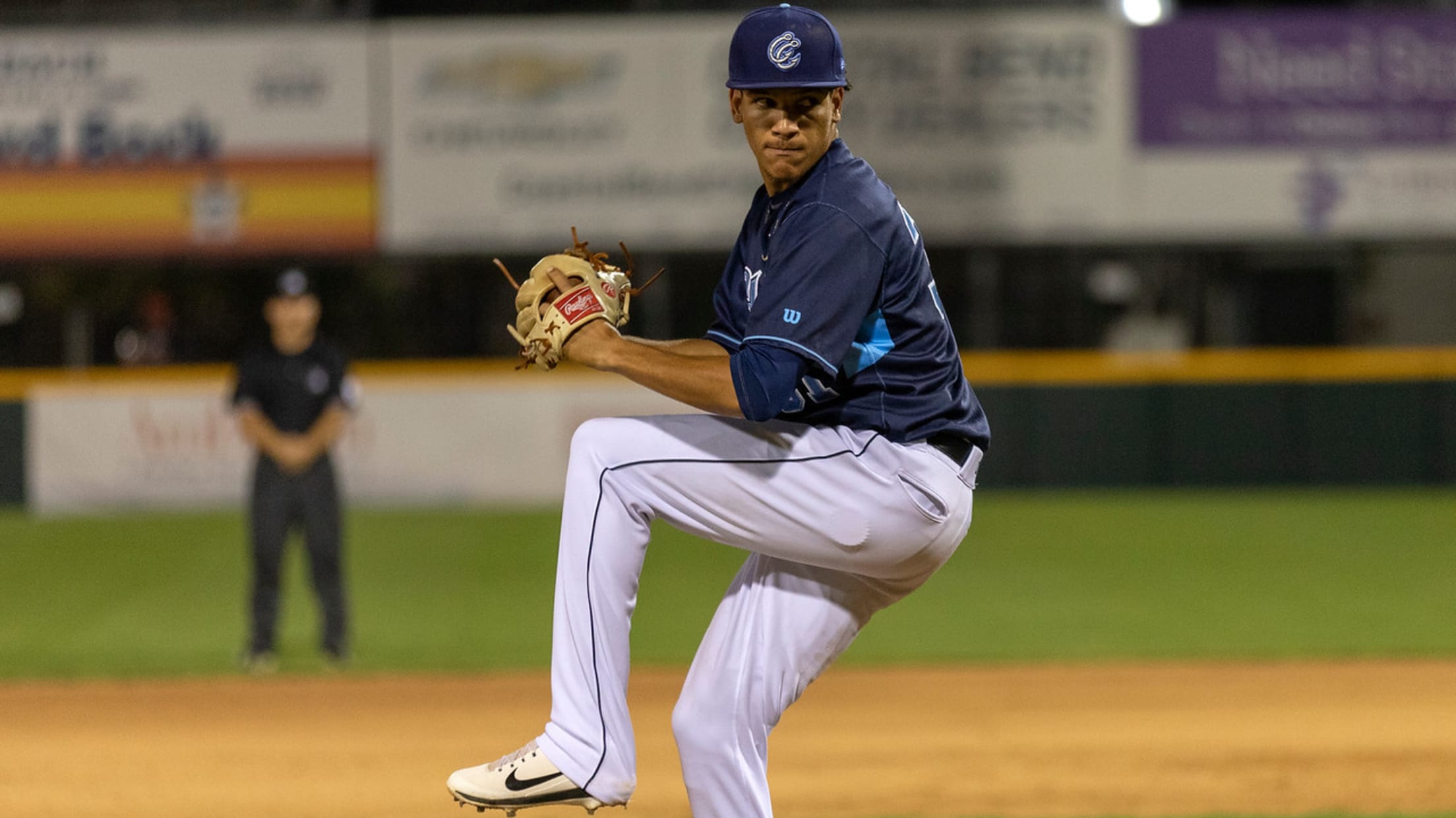 FRISCO - A late surge with the sticks and gritty relief work carried the Hooks Friday night, as Corpus Christi rallied to win a back-and-forth bout, 6-5, in 11 innings at Riders Field. With the Hooks trailing 2-0 in the sixth, Pedro Leon accounted for the first CC knock -
Manea Delivers Again
Record, Paredes, Peck & Hernandez pen first shutout of 2021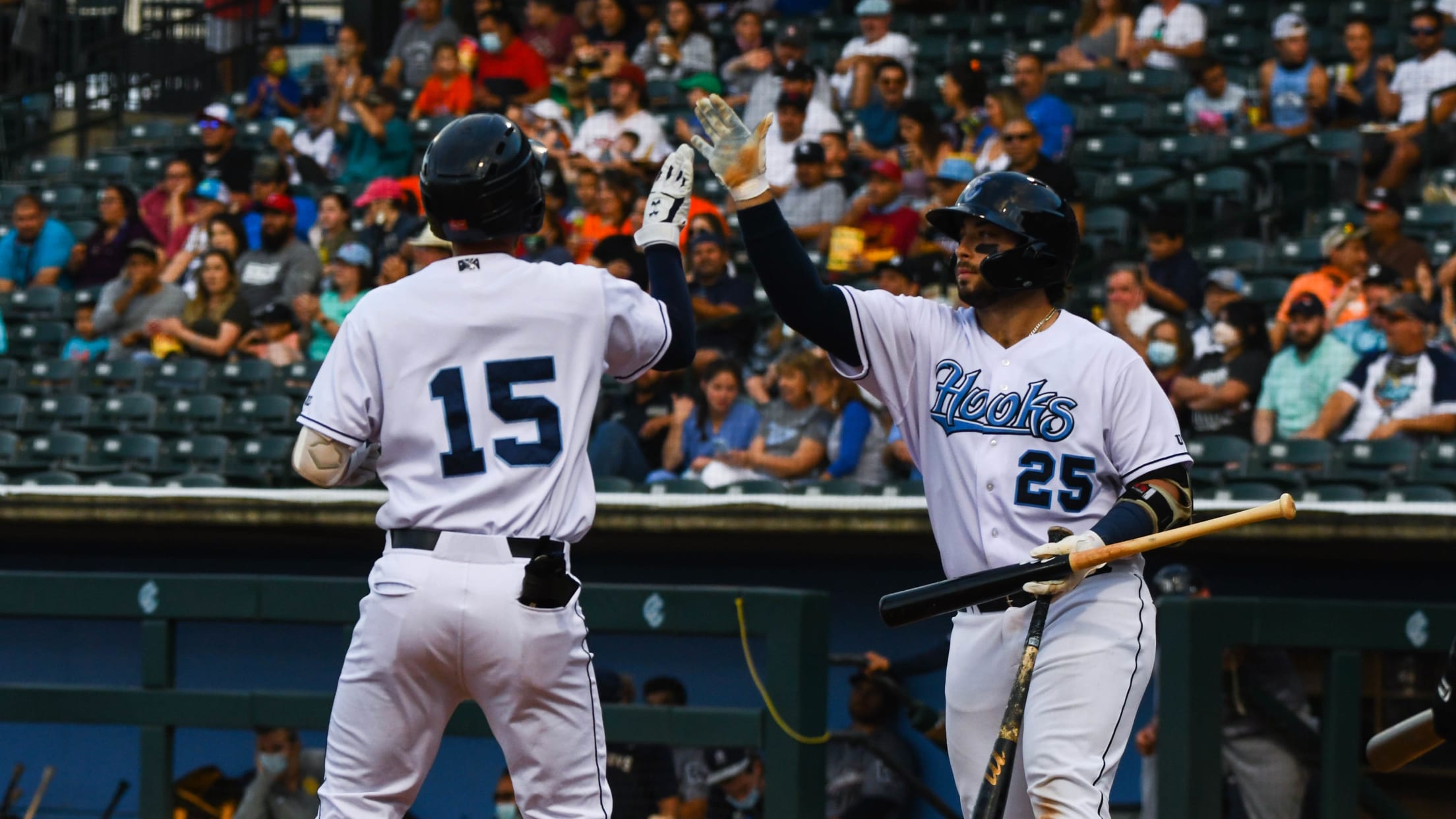 FRISCO - After clubbing a grand slam on Sunday, Hooks catcher Scott Manea capitalized on another bases-loaded chance. This one in the 8th inning Thursday night as he lined a two-out, three-run double down the right field line to lift Corpus Christi to a 4-0 victory over the RoughRiders before
Riders Edge Hooks in DH Sweep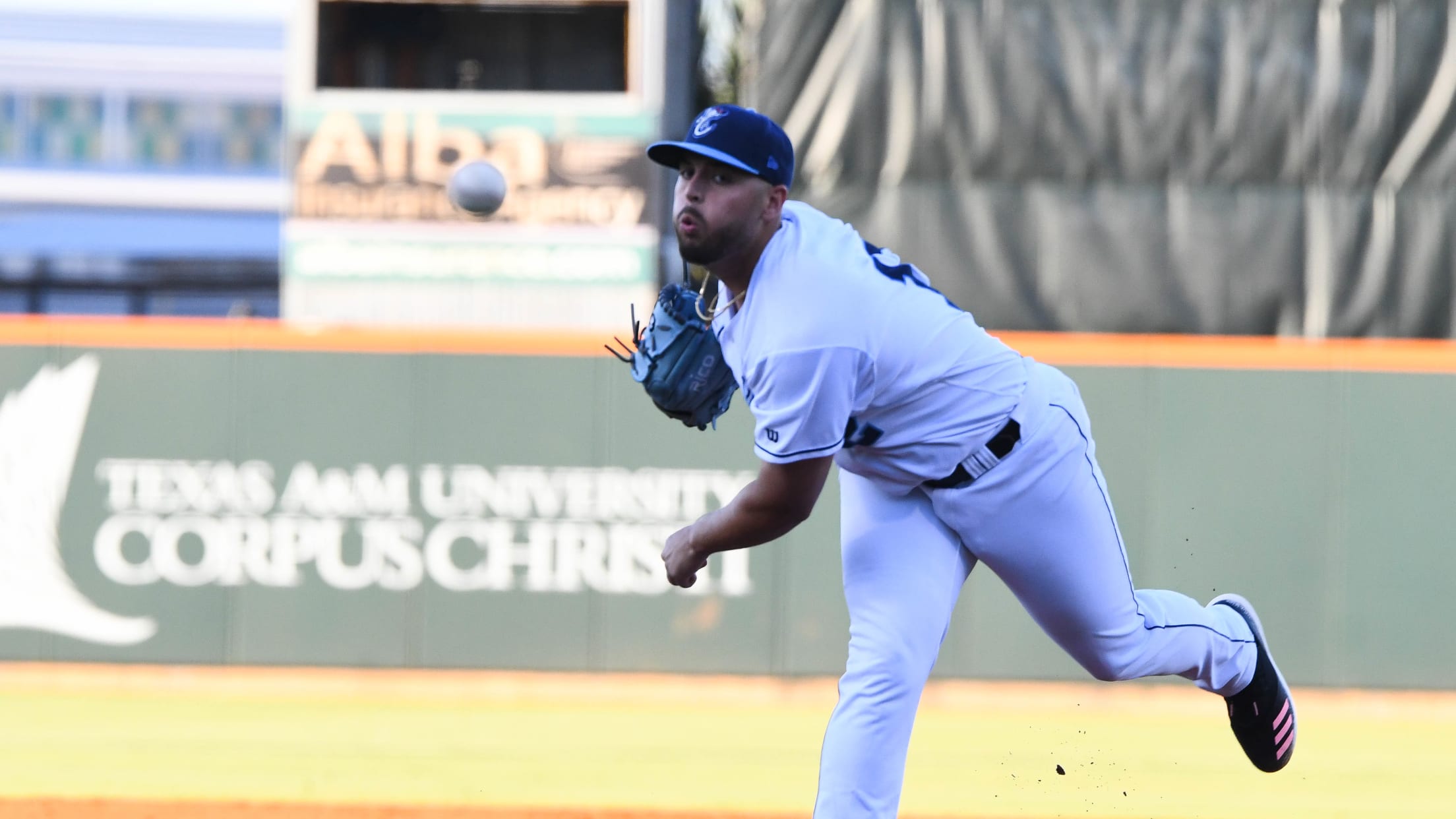 FRISCO – Despite sturdy pitching Wednesday evening, the Hooks dropped both ends of a doubleheader by scores of 3-1 and 2-1 before a crowd of 2,364 in the opening contests of a six-game series at Riders Field. Wednesday's nightcap featured a sterling start by Corpus Christi left-hander Jonathan Bermudez (1-1),
Missions Mount Rally vs. Hooks to Take Series
Manea's grand slam not enough to lift Hooks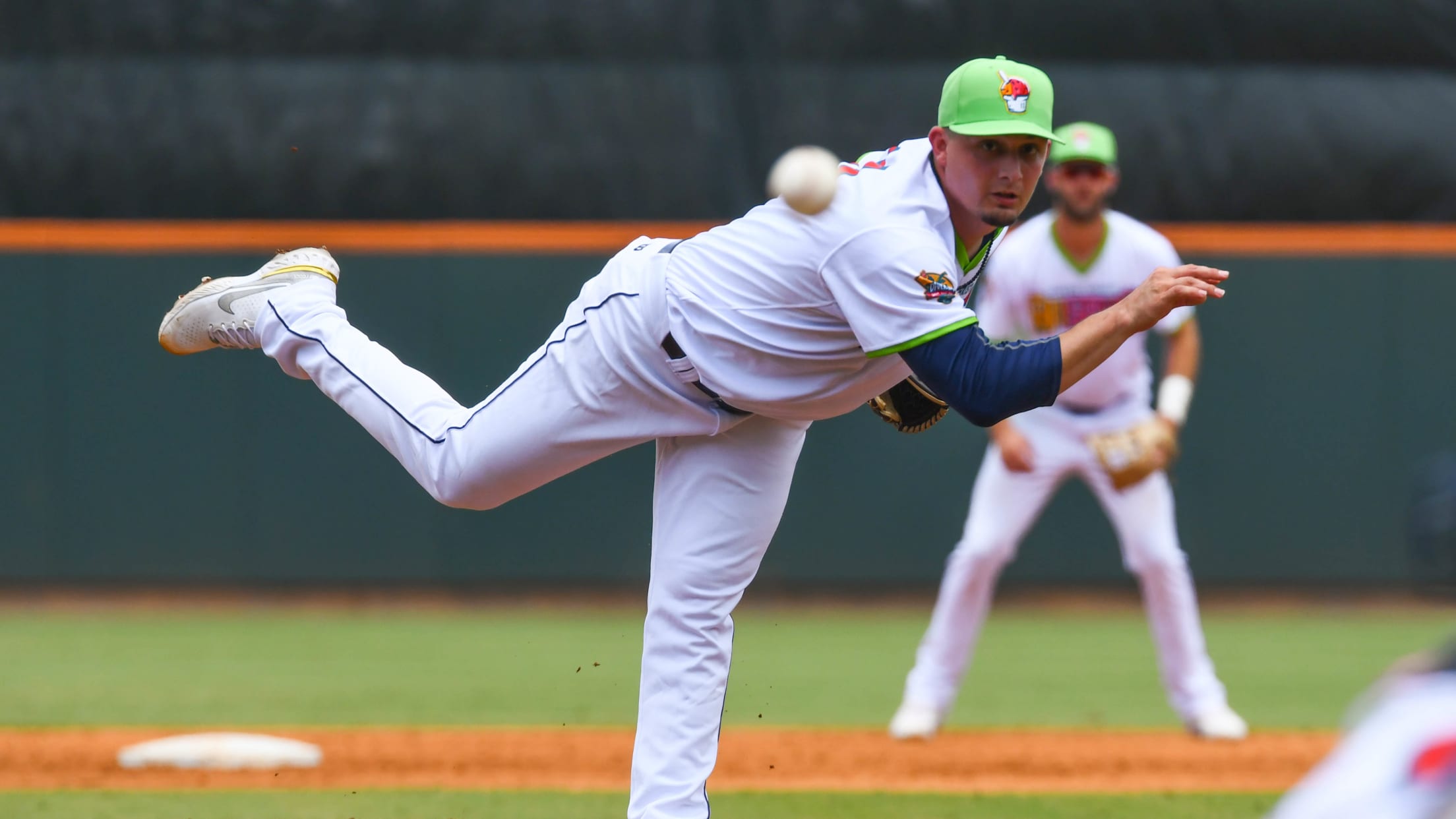 CORPUS CHRISTI - The Hooks blew a 5-1 lead to the San Antonio Missions Sunday, falling 7-5 in the series finale at Whataburger Field. Scott Manea jolted the Hooks offense in the fourth inning with a grand slam off starter Reiss Knehr. His first career grand slam broke a 1-1
Hooks Blanked By Missions, 6-0
Astros' Paredes shines in rehab outing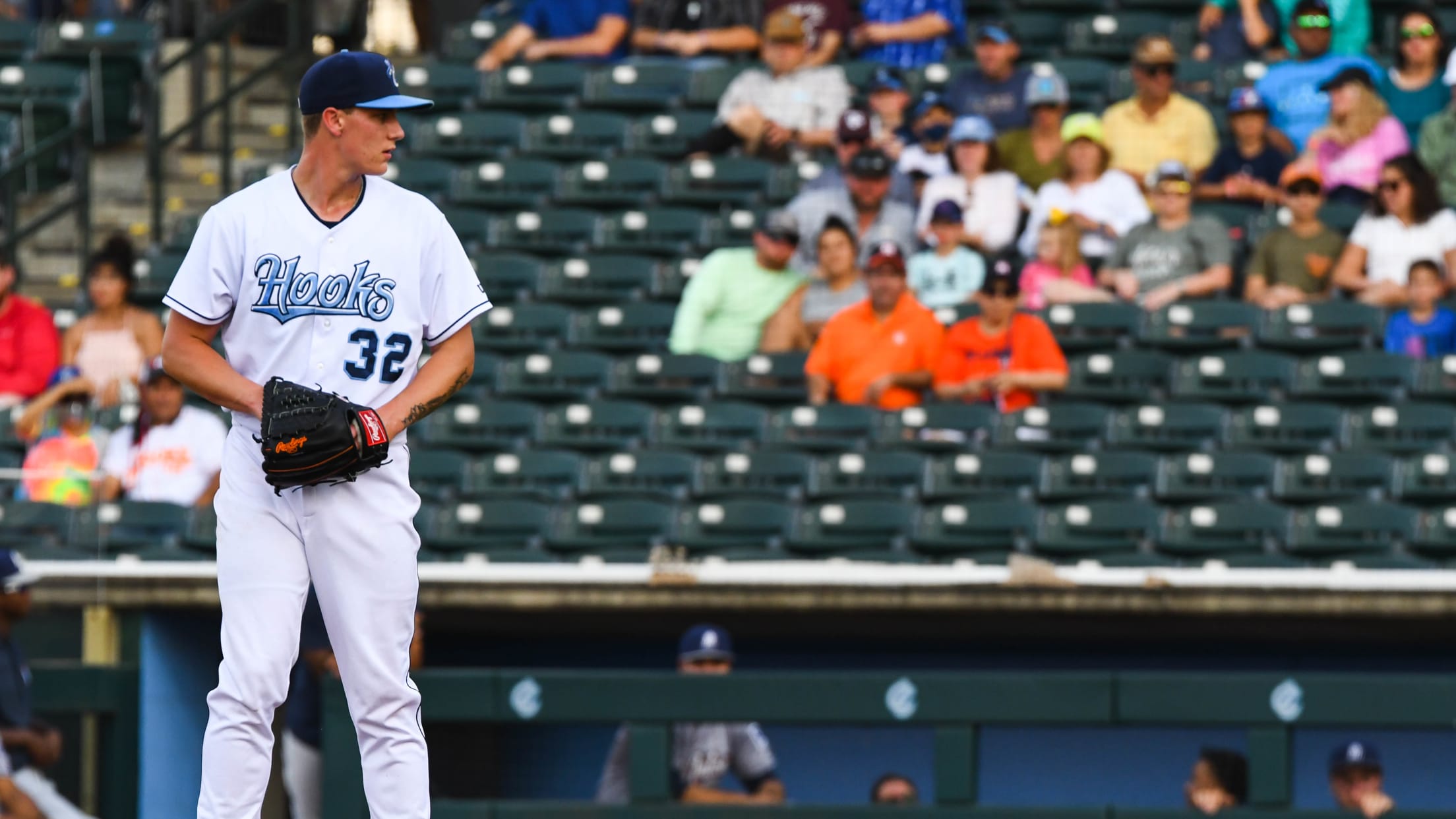 CORPUS CHRISTI - The Hooks were shut out for the first time this season Saturday by the San Antonio Missions, 6-0. The Missions jumped on Astros prospect Hunter Brown early in his first start above short-season ball. Despite striking out the side in the first inning, Brown allowed two runs
Hooks Drop Back-and-Forth Battle with Missions in Extras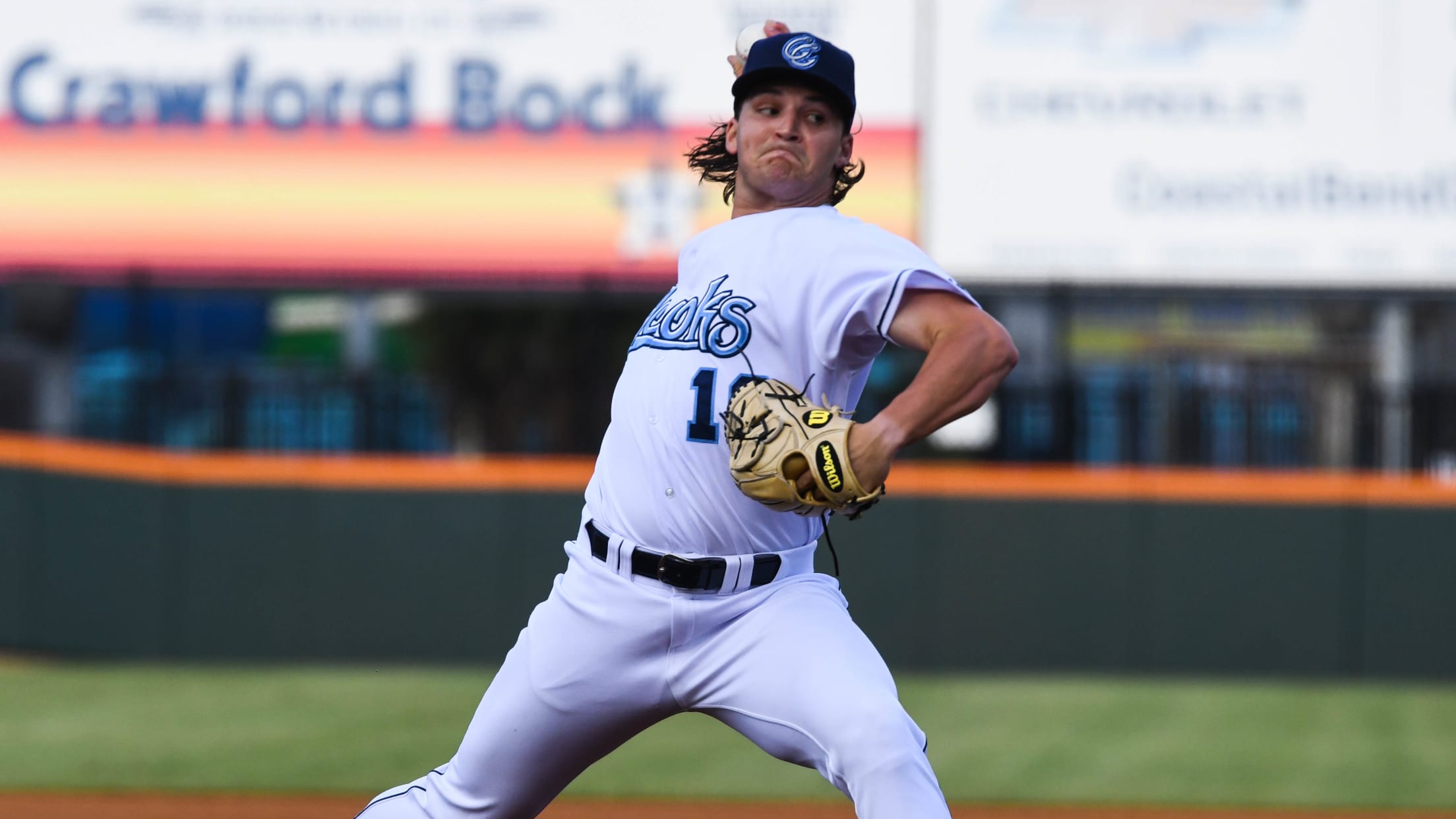 CORPUS CHRISTI - The Hooks fell in 11 innings to the San Antonio Missions Friday night at Whataburger Field by a 5-4 margin. The Hooks held a lead on three separate occasions in the second, fifth and eighth, but the Missions managed to mount a rally each time. Grae Kessinger
Hensley's Homers Lead Hooks to 6-1 Win
Astros prospect León picks up first hit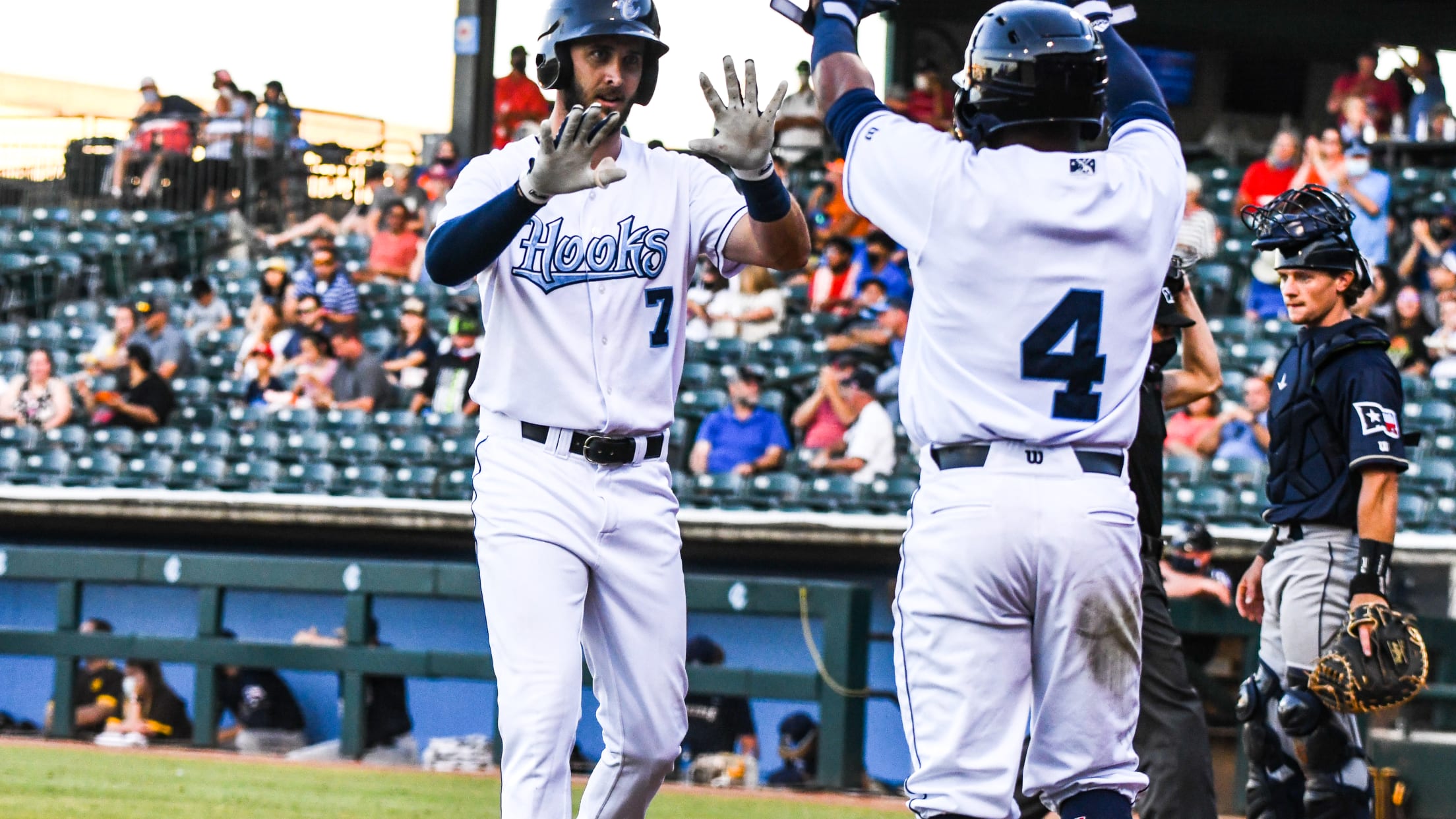 CORPUS CHRISTI - The Hooks won a decisive 6-1 contest over the San Antonio Missions powered by three home runs Thursday night at Whataburger Field. After the Missions got out to a quick 1-0 lead, David Hensley deposited a two-run shot into the Hooks bullpen in the bottom of the
Eight Hooks Games to Be Broadcast on KDF-TV
First simulcast is tonight starting at 6:30 p.m.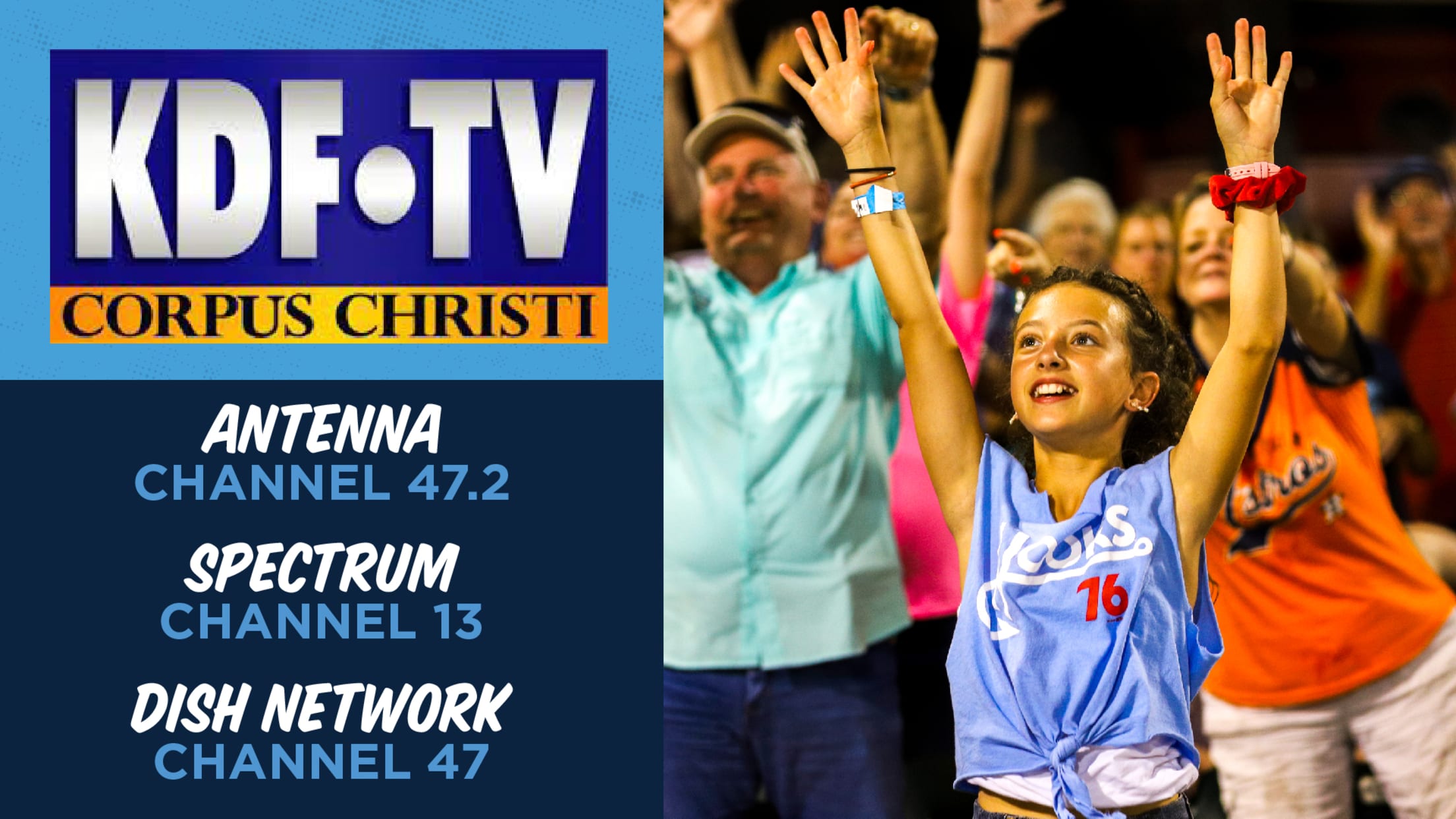 CORPUS CHRISTI – Hooks Baseball is coming to local televisions this year with eight games scheduled to be broadcast live on KDF-TV. All games will be simulcast with the live radio call on NewsRadio 1360 KKTX, with Hooks broadcasters Michael Coffin and Gene Kasprzyk. The first simulcast is tonight beginning
France Fans 11 as Hooks Pick Up First Win
Manager Petit earns first career managerial win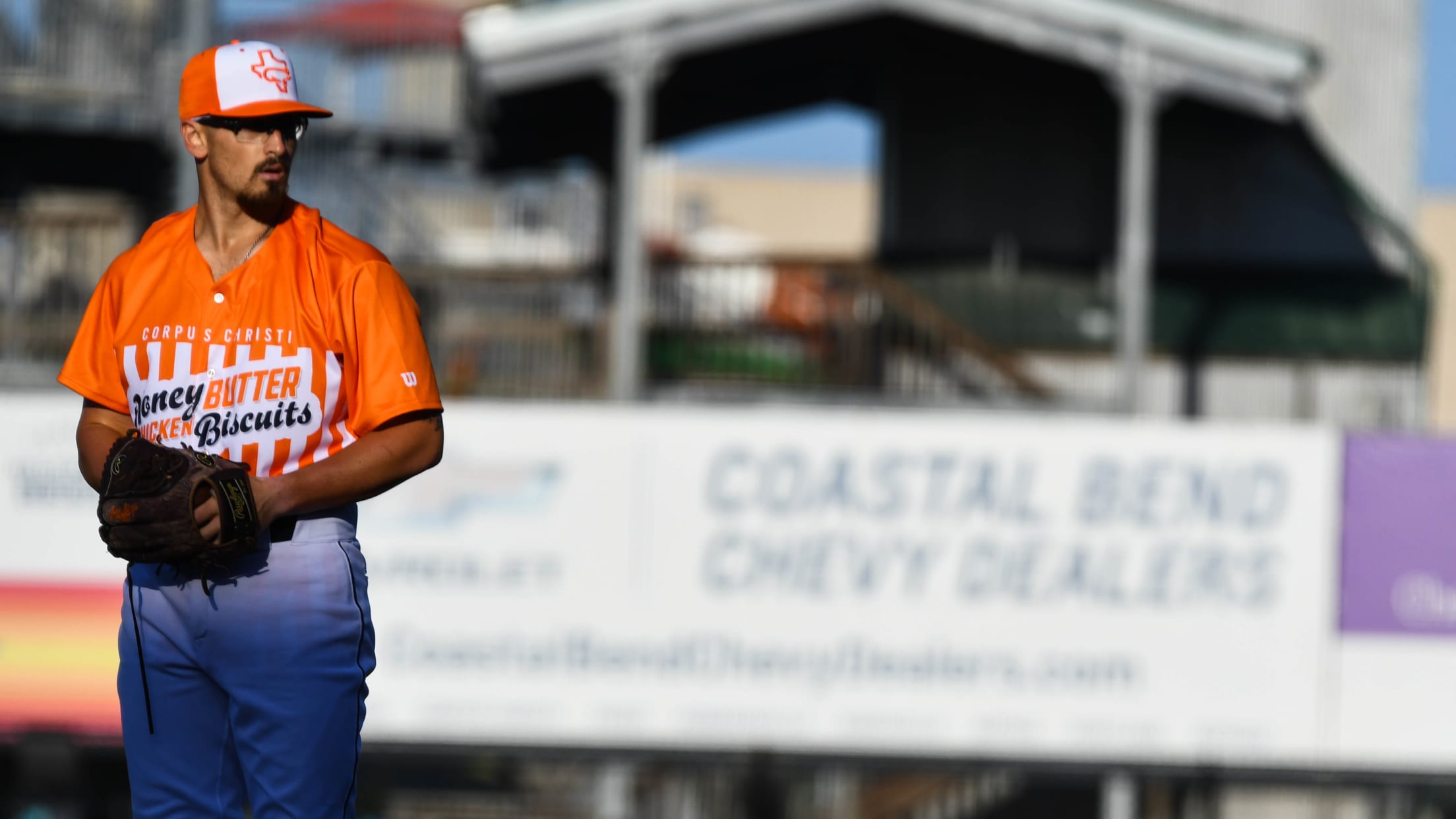 CORPUS CHRISTI - Making their on-field debut as the Honey Butter Chicken Biscuits, the Hooks got into the win column for 2021 with a 4-2 victory Wednesday over the San Antonio Missions at Whataburger Field. Hooks pitchers struck out 17 batters while allowing just four hits. Righty J.P. France led
Hooks Drop Opener to Missions, 8-3
Four errors costly in first game since 2019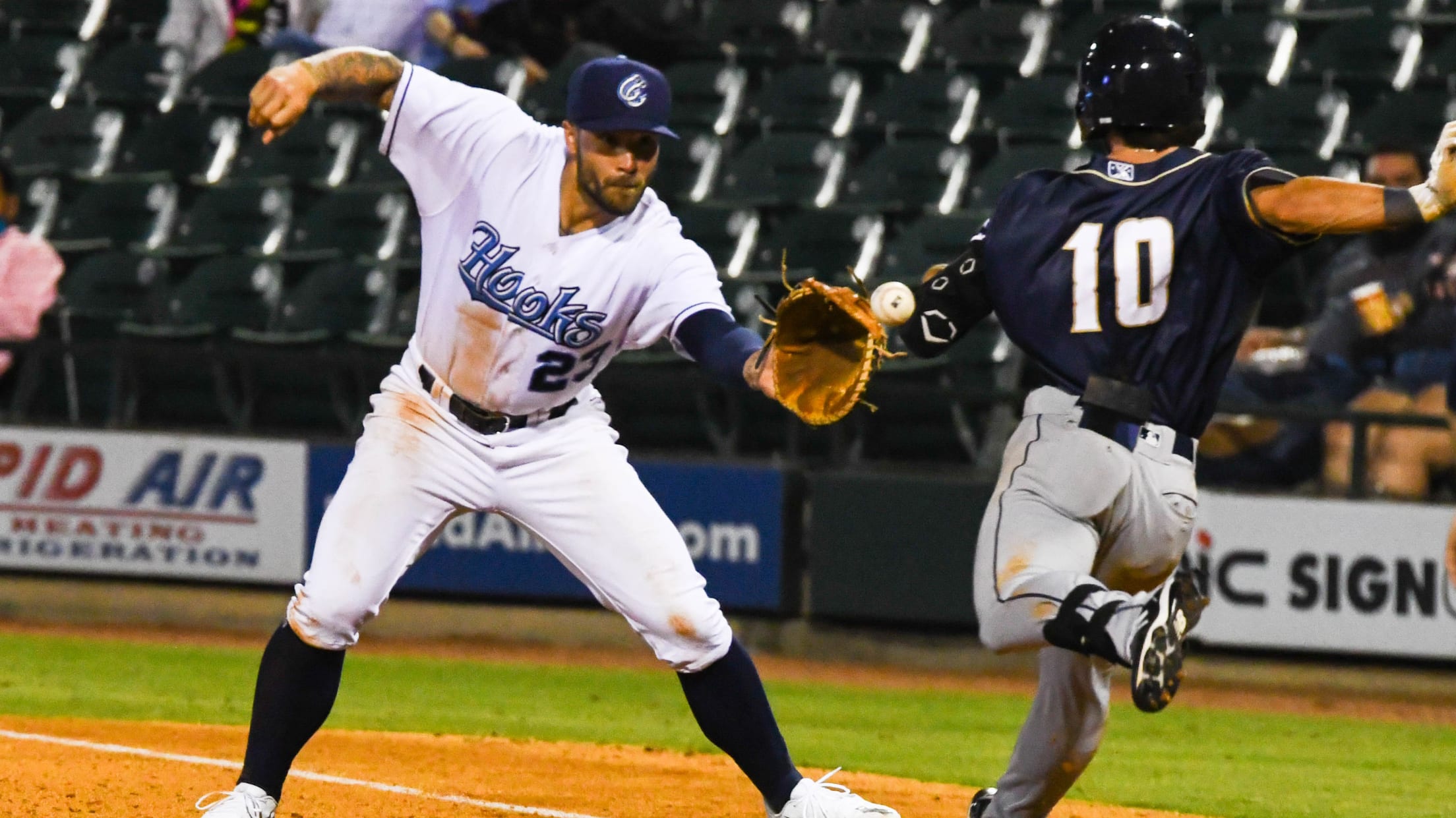 CORPUS CHRISTI – The Hooks returned to action Tuesday for the first time in more than 20 months, dropping the Opening Night contest to the San Antonio Missions, 8-3, at Whataburger Field. The Missions, in their first Double-A contest since 2018 after a season in the Triple-A Pacific Coast League,
Three Giveaways, Honey Butter Chicken Biscuits Debut Highlight Opening Homestand
Hooks take field for first time in 20 months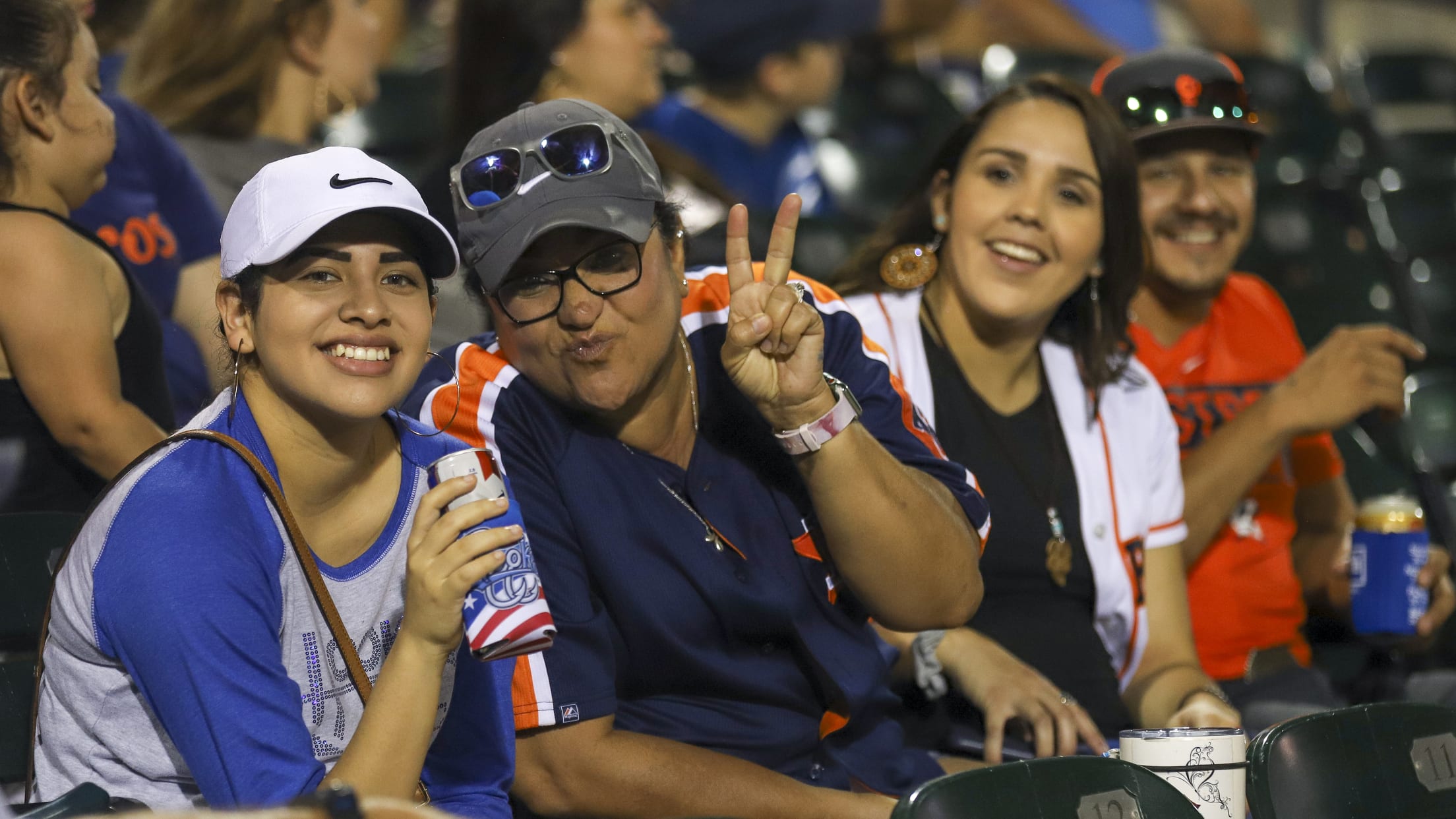 CORPUS CHRISTI – The Hooks return to Whataburger Field for the first time in 610 days Tuesday when they take on the San Antonio Missions, Double-A affiliate of the San Diego Padres. Gates open at 5:05 p.m. Tuesday as the first 1,500 fans in the stadium will receive a commemorative
Hooks Preliminary Roster Announced
Three top prospects among 17 first-time Double-A players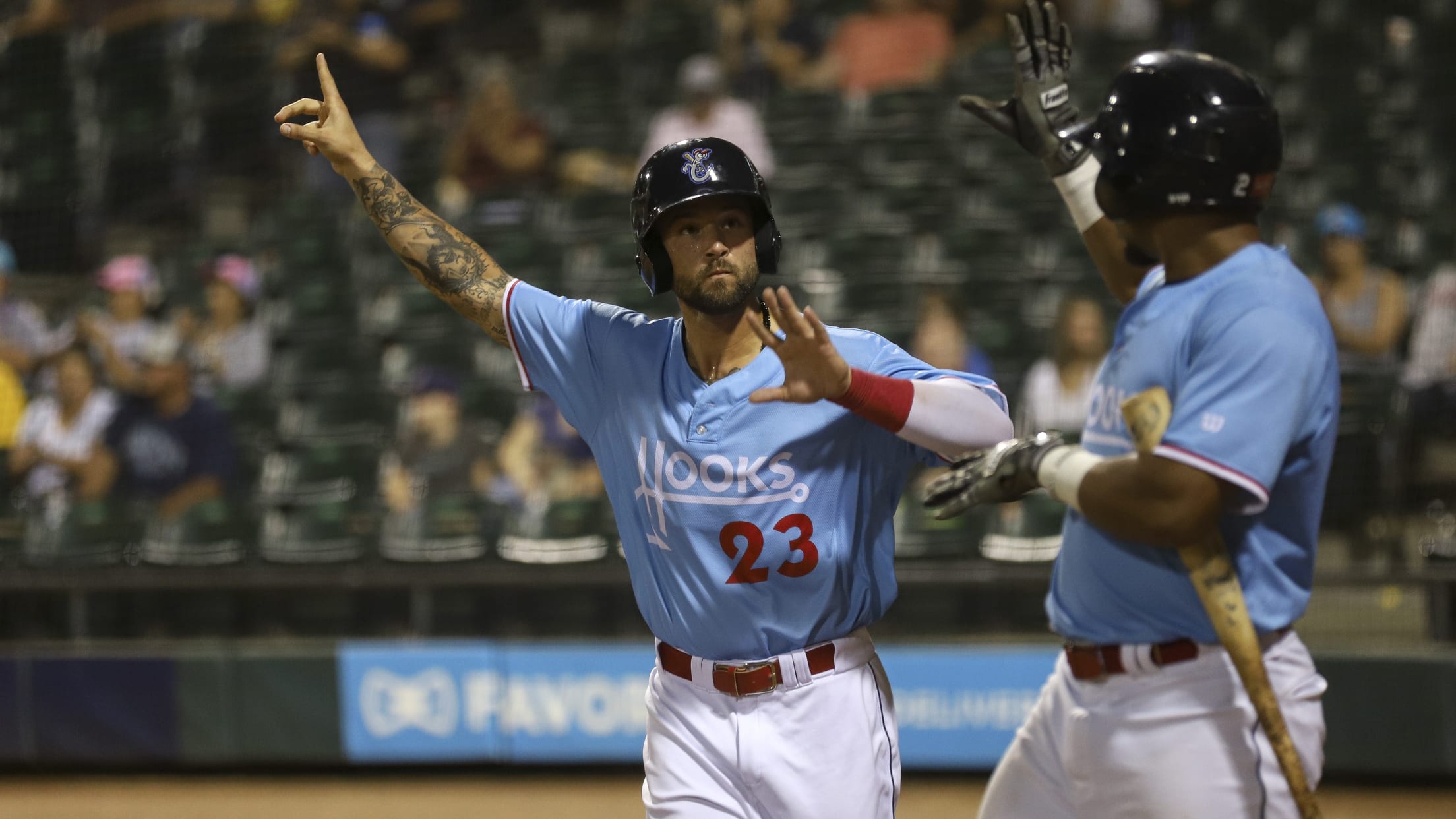 CORPUS CHRISTI – The Houston Astros announced an initial 25-man Hooks roster for the 2021 season, featuring three top-15 organizational prospects and six returning players from 2019. The Double-A roster is highlighted by utility player Pedro León (Astros' No. 2 prospect by MLB.com), right-hander Hunter Brown (No. 3), infielder Grae
Hooks Tickets for May On Sale Now; Promo Schedule Announced
Team announces first month promotional schedule with six giveaway dates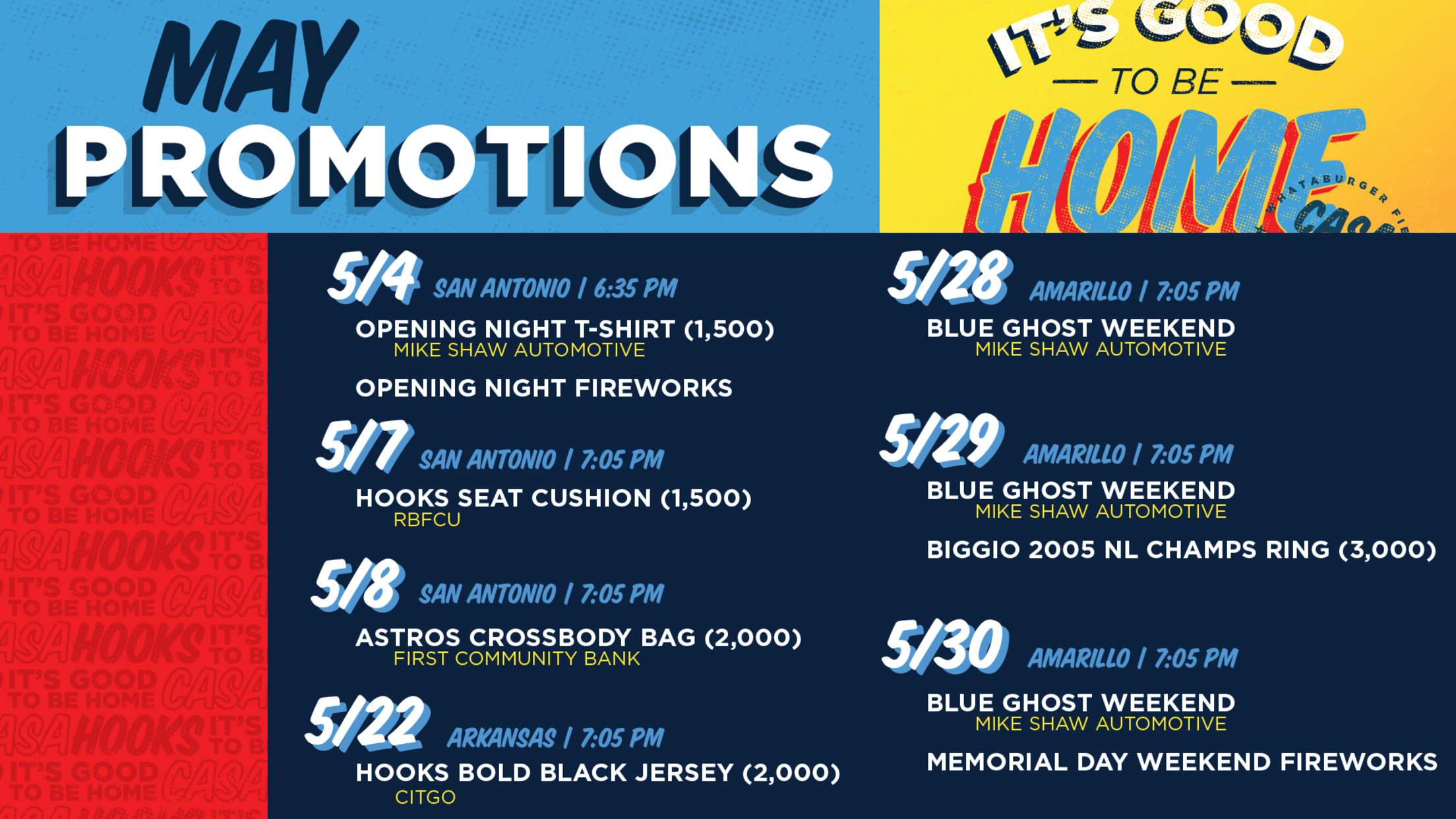 CORPUS CHRISTI – Hooks individual game tickets for month of May are on sale now! Visit our Tickets page to purchase. Whataburger Field will operate at reduced capacity to begin the season. The Hooks will offer socially-distanced seating options in sections 110-112 and 125-128. "We can't wait to have fans
Batter Up! Hooks to Play as 'Honey Butter Chicken Biscuits' Every Wednesday This Season
Hook, Line & Sinker re-opens April 22 for in-store shopping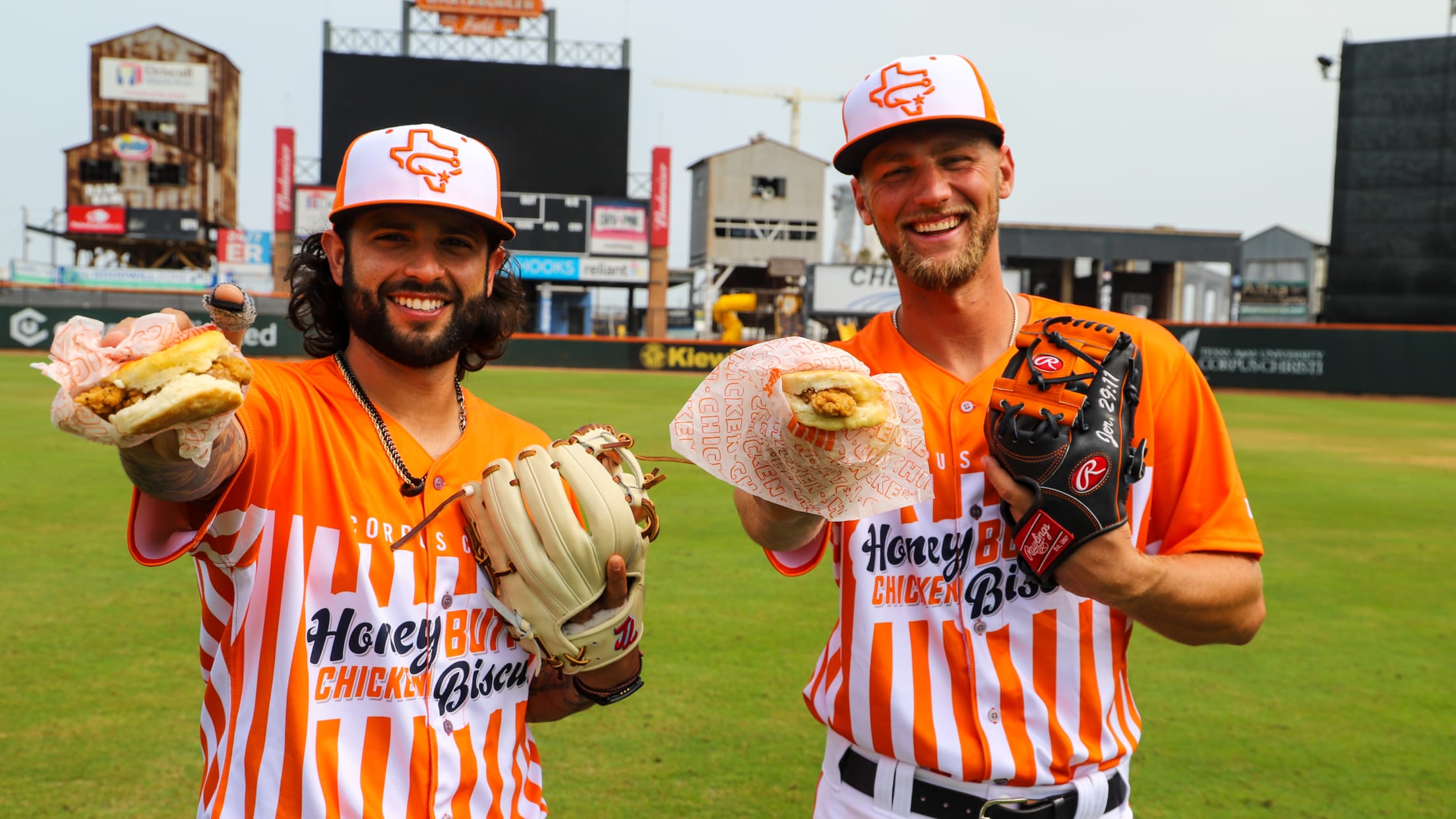 CORPUS CHRISTI – The Hooks, along with founding partner Whataburger, have cooked up a savory new alternative to the team's distinctive on-field look. Throughout the 2021 season, the Hooks will play as the Honey Butter Chicken Biscuits as an ode to the restaurant's famed breakfast sandwich. Each Wednesday, the Hooks
Hooks Job Fair is April 7-8
All applications must be submitted online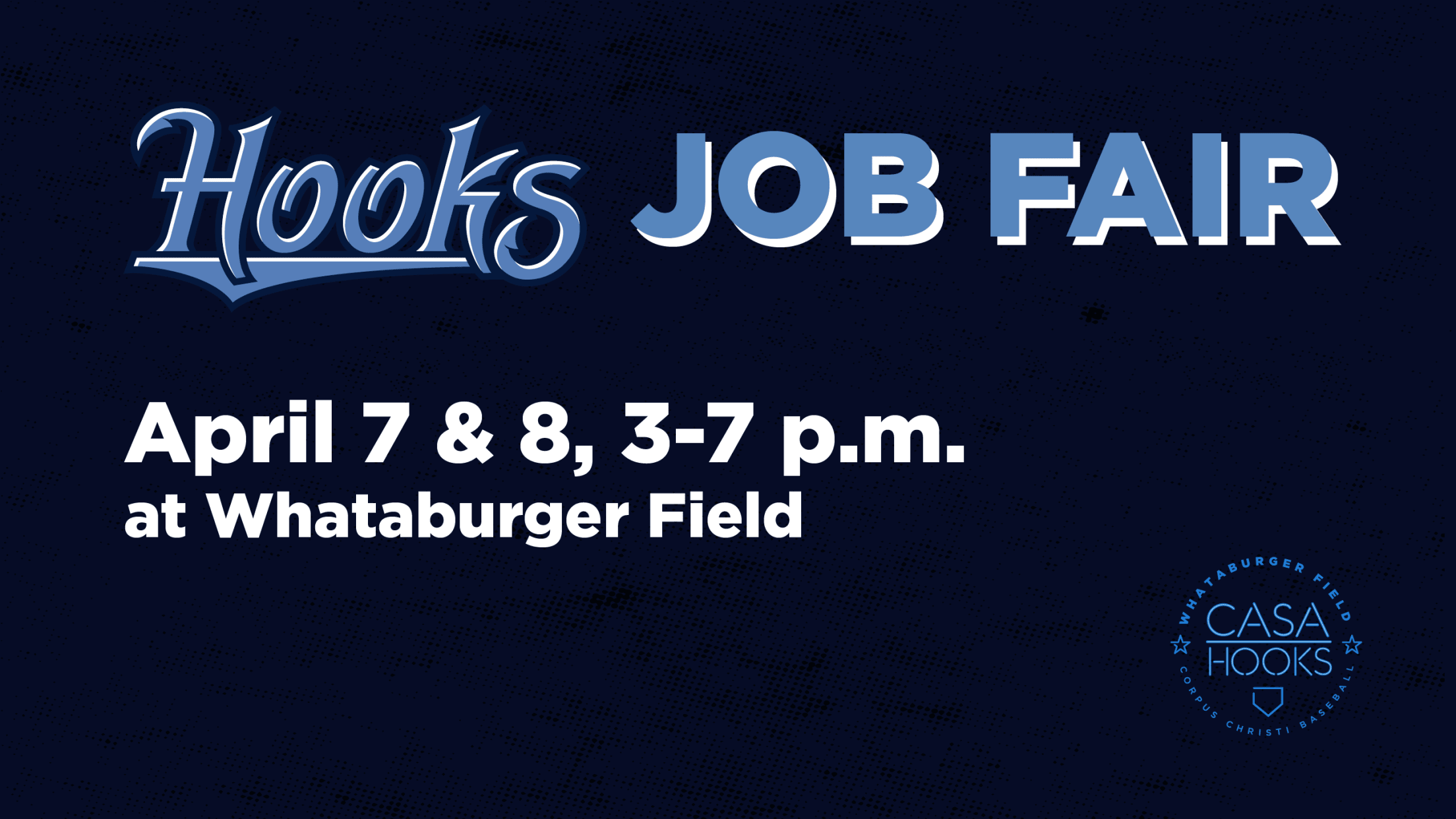 CORPUS CHRISTI – The Corpus Christi Hooks Baseball Club is hosting a Job Fair Wednesday, April 7 and Thursday, April 8 at Whataburger Field. Both sessions are from 3 p.m. to 7 p.m. All applications must be completed online before attending the Job Fair. Listings can be found here. Paper
Whataburger Field to Host Astros Alternate Site Exhibition Games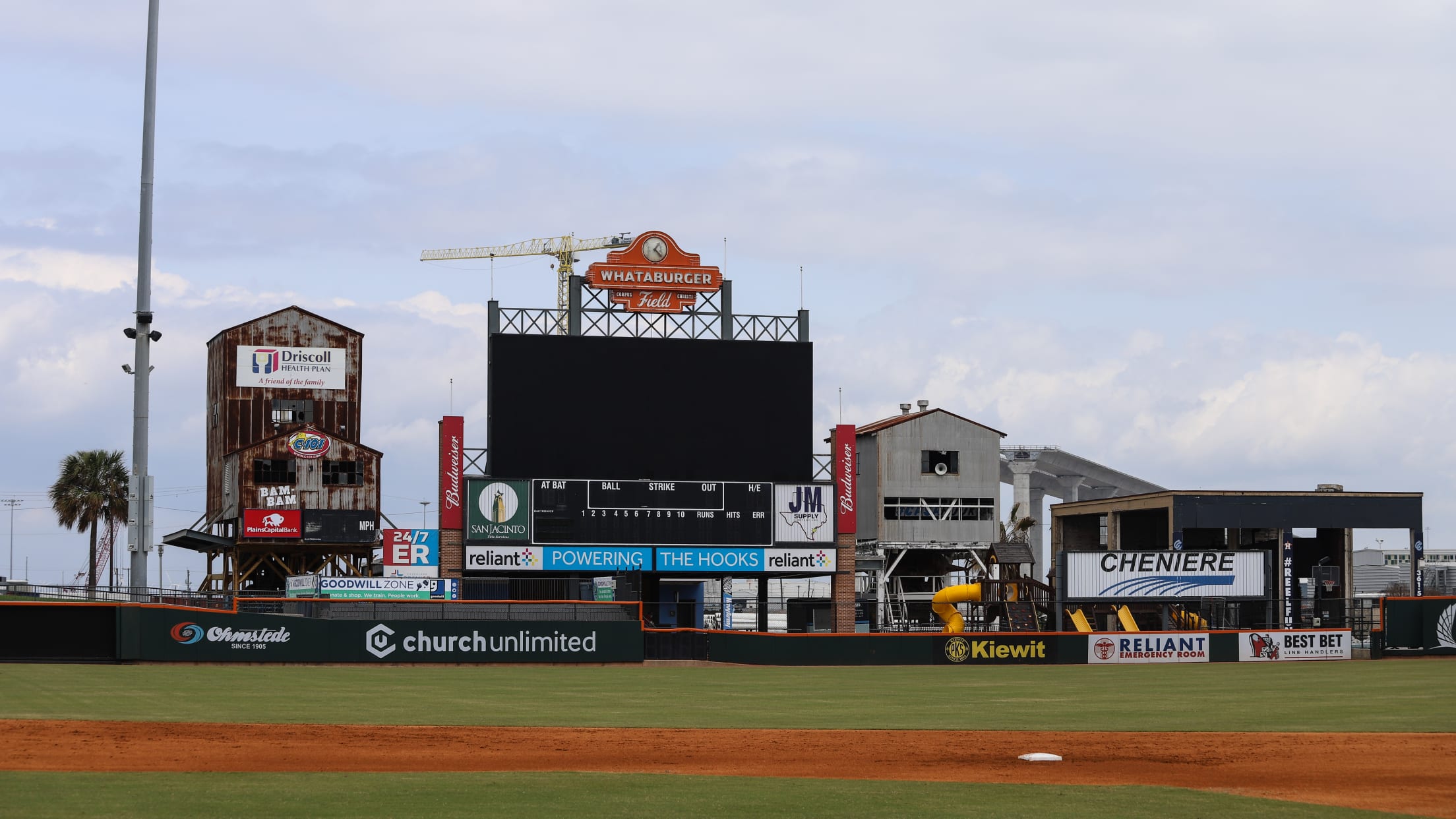 CORPUS CHRISTI – Houston Astros Baseball is back in the Coastal Bend! Whataburger Field and the Corpus Christi Hooks will host a two-game series on April 12-13 between Astros Alternate Training Site (ATS) players and the Texas Rangers' Alternate Site team based in Round Rock. The Astros ATS team's tentative
Astros Announce Hooks 2021 Field Staff
Former MLB infielder Gregorio Petit to make managerial debut after canceled 2020 season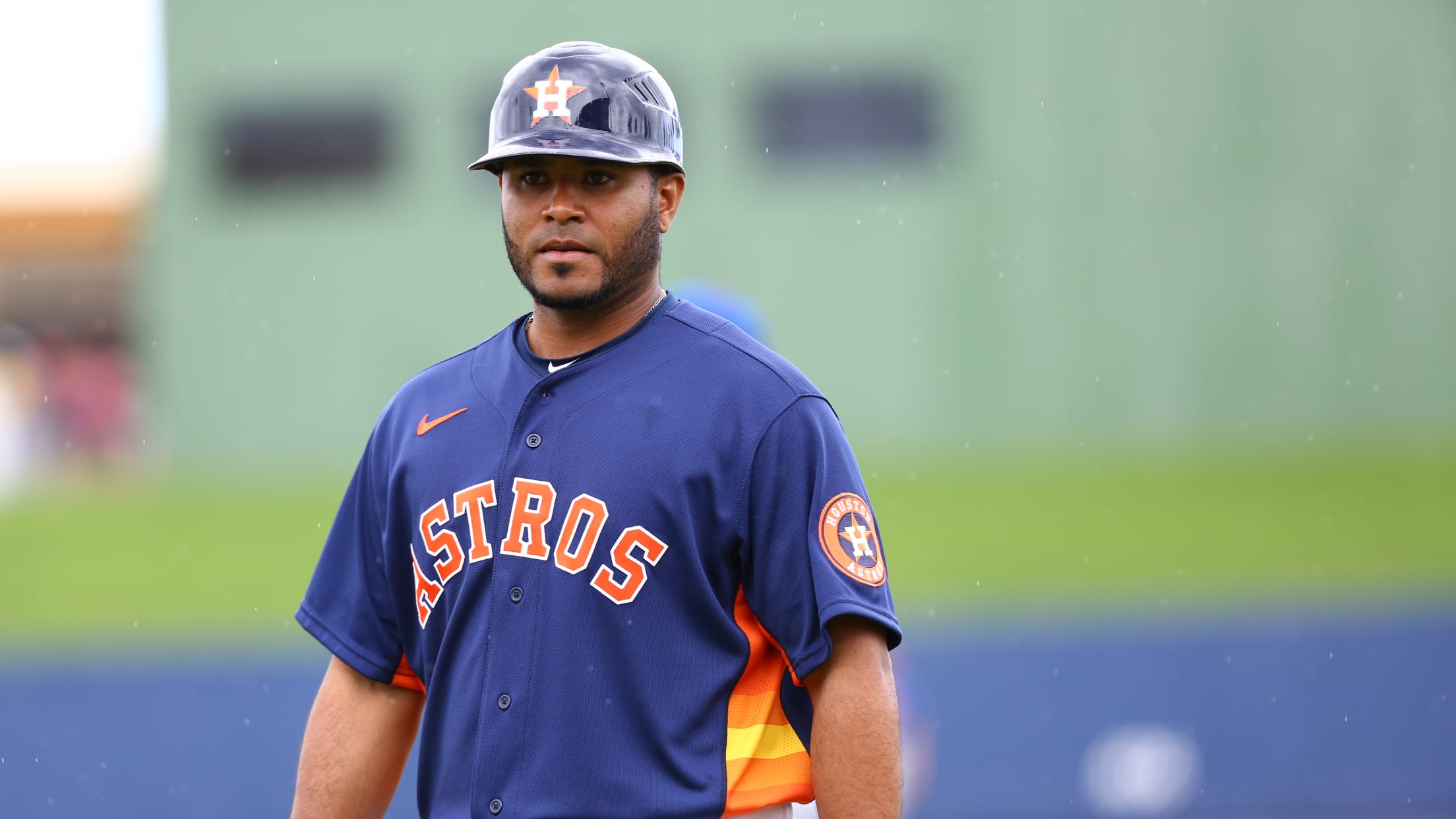 CORPUS CHRISTI – Former MLB infielder Gregorio Petit will serve as manager of the Double-A Corpus Christi Hooks, the Houston Astros announced today. Petit, 36, was set to make his professional coaching debut in 2020 prior to the cancellation of the Minor League season. He is the eighth manager in
Astros Alternate Site Returns to Whataburger Field
Houston's Triple-A-level players will report to Corpus Christi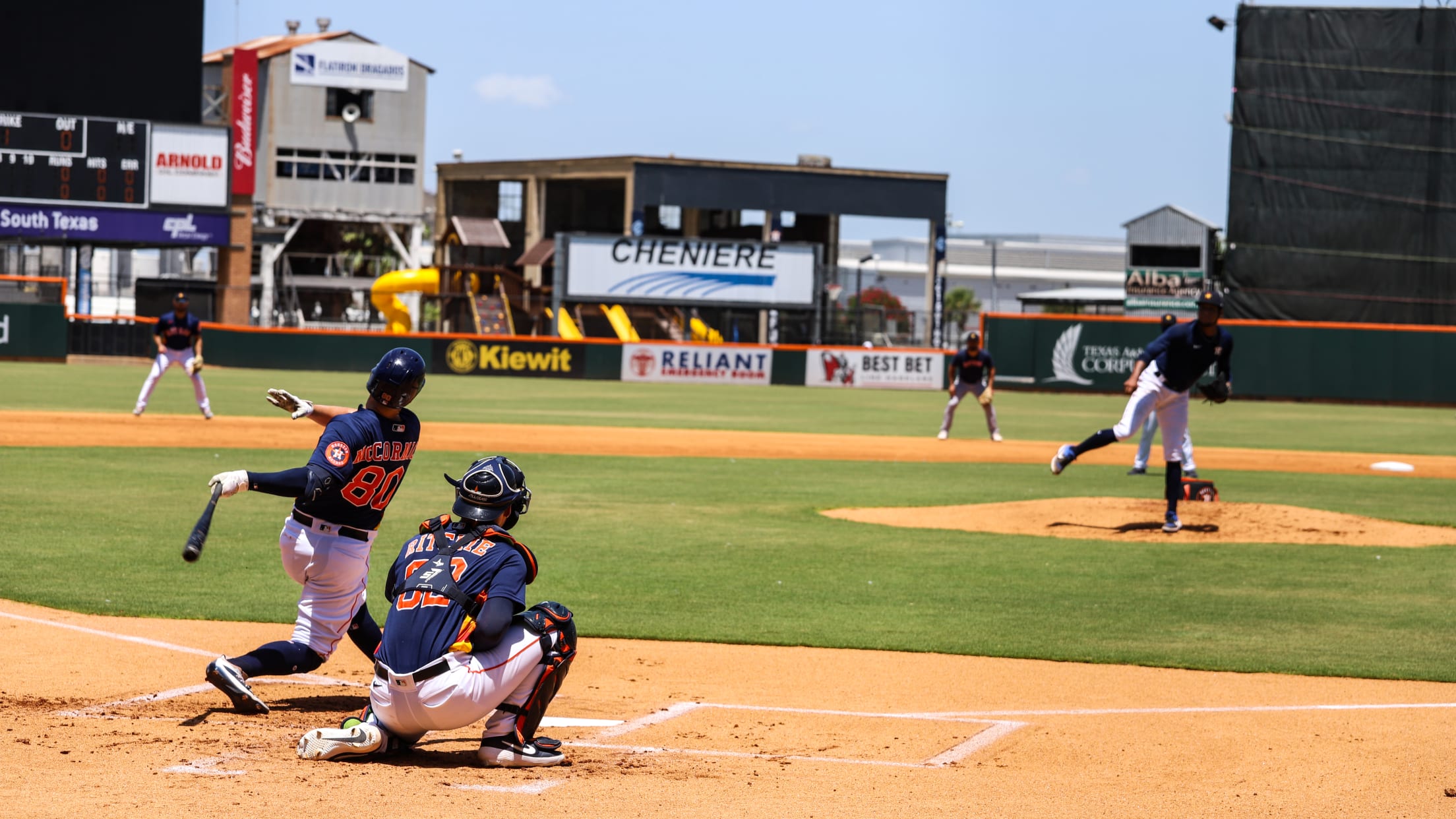 CORPUS CHRISTI – Whataburger Field, home of the Corpus Christi Hooks, will again host the top Houston Astros farmhands as the club's alternate training site to begin the 2021 baseball season. The Hooks and Whataburger Field hosted the alternate site during the 2020 Major League Baseball season. "After our successful
Premont's Gonzalez Earns 2021 Matt Beveridge Award
Honor given annually to local extraordinary student-athlete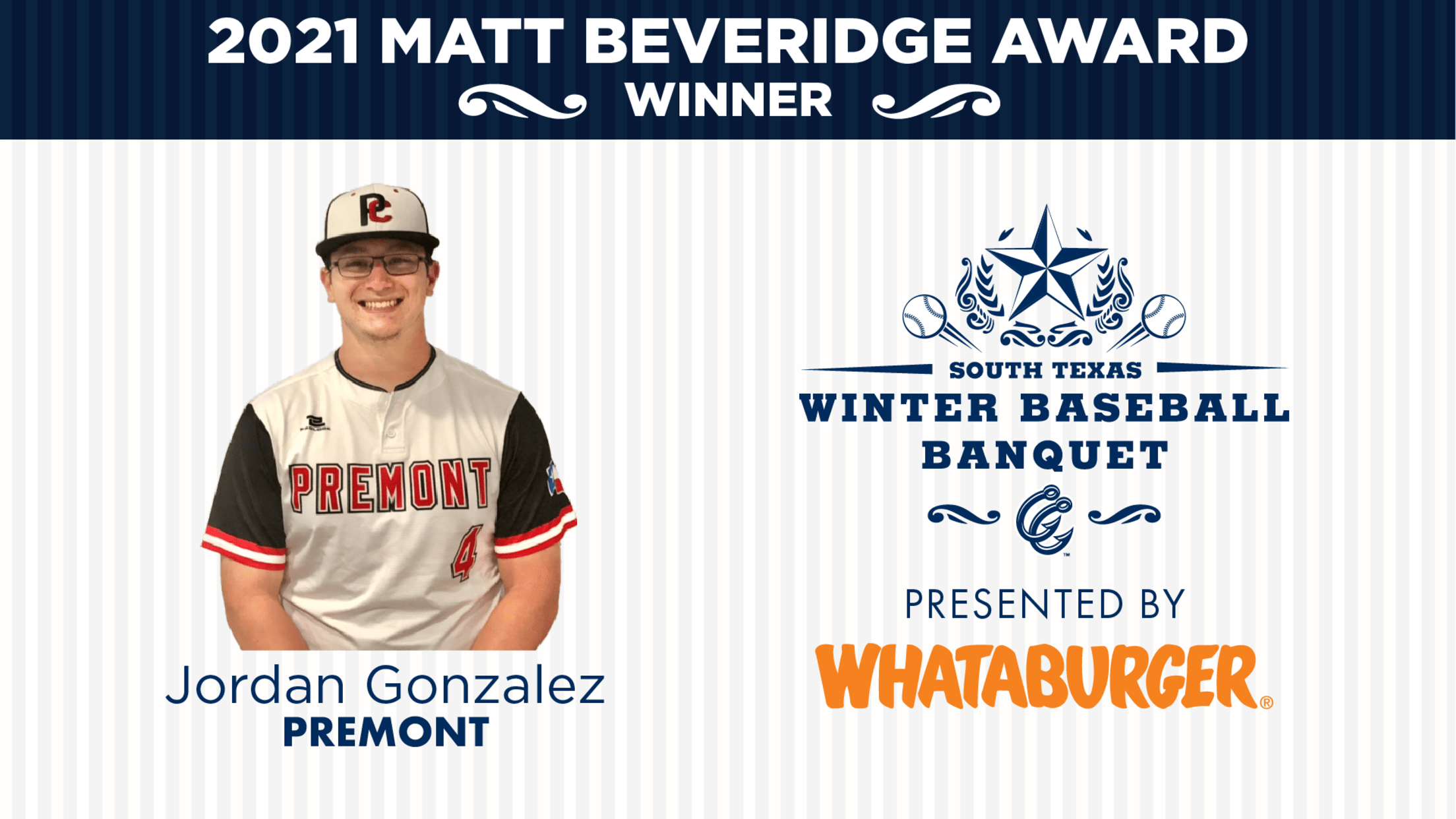 CORPUS CHRISTI – Premont Collegiate High School senior pitcher/infielder Jordan Gonzalez is this year's recipient of the Matt Beveridge Award, given annually to an athlete who exemplifies character, courage, leadership and spirit. Gonzalez is a four-year varsity baseball team member, earning All-District 16-2A as a sophomore second baseman. He also
Large School Baseball Rounds Out South Texas Preseason All-Stars
King, Moody and Veterans Comprise Majority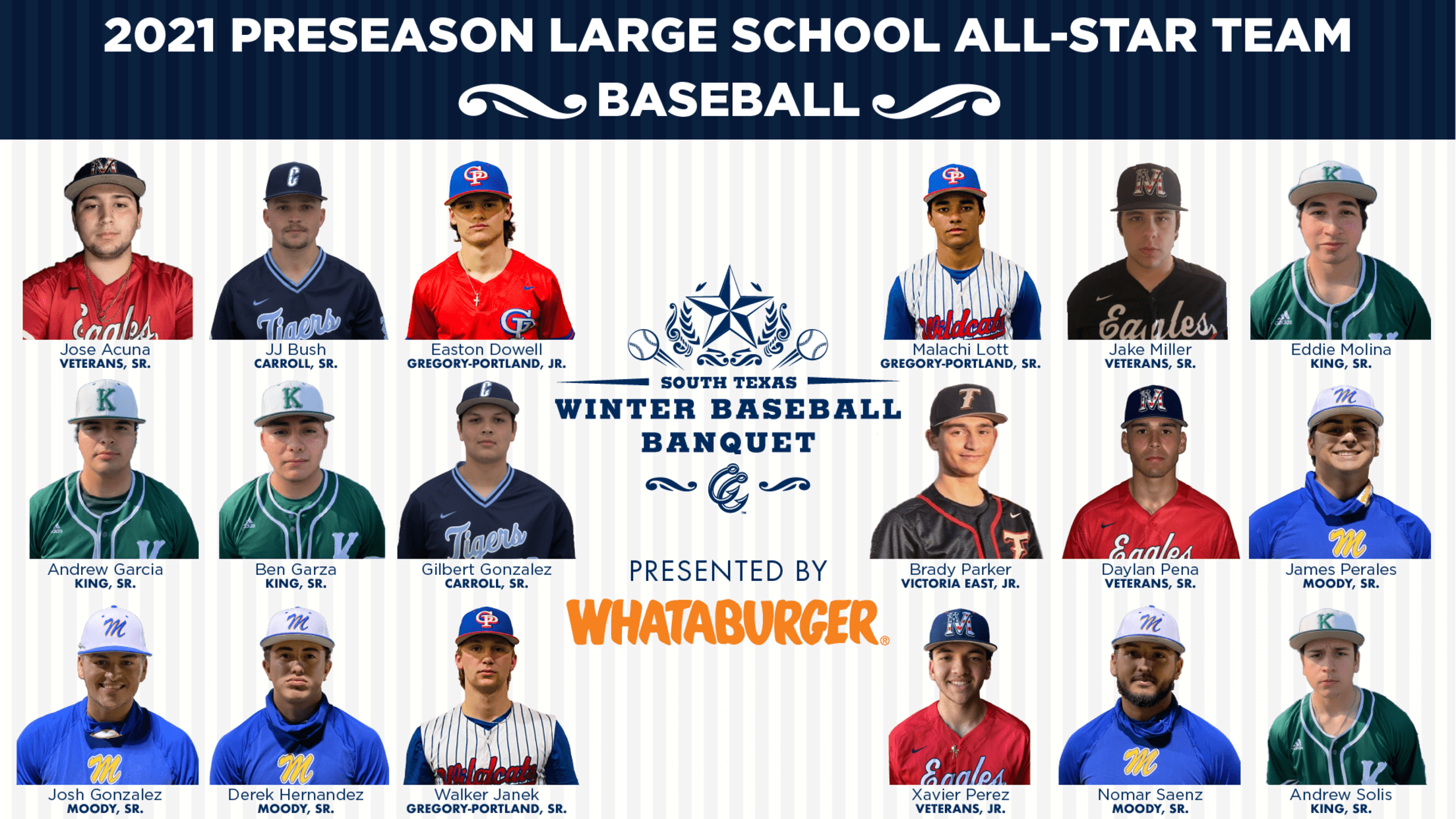 Veterans Memorial leads way with four all-stars once again, but King and Moody join ranks as well with four each. Gregory-Portland follows up with three, Carroll with two and Victoria East pulls in the final spot. Senior first baseman Daylan Pena, Veterans, is the only repeat winner from 2020. A
Small School Baseball Next Team Announced For South Texas Preseason All-Stars
Slate of Juniors Fills Pitching Staff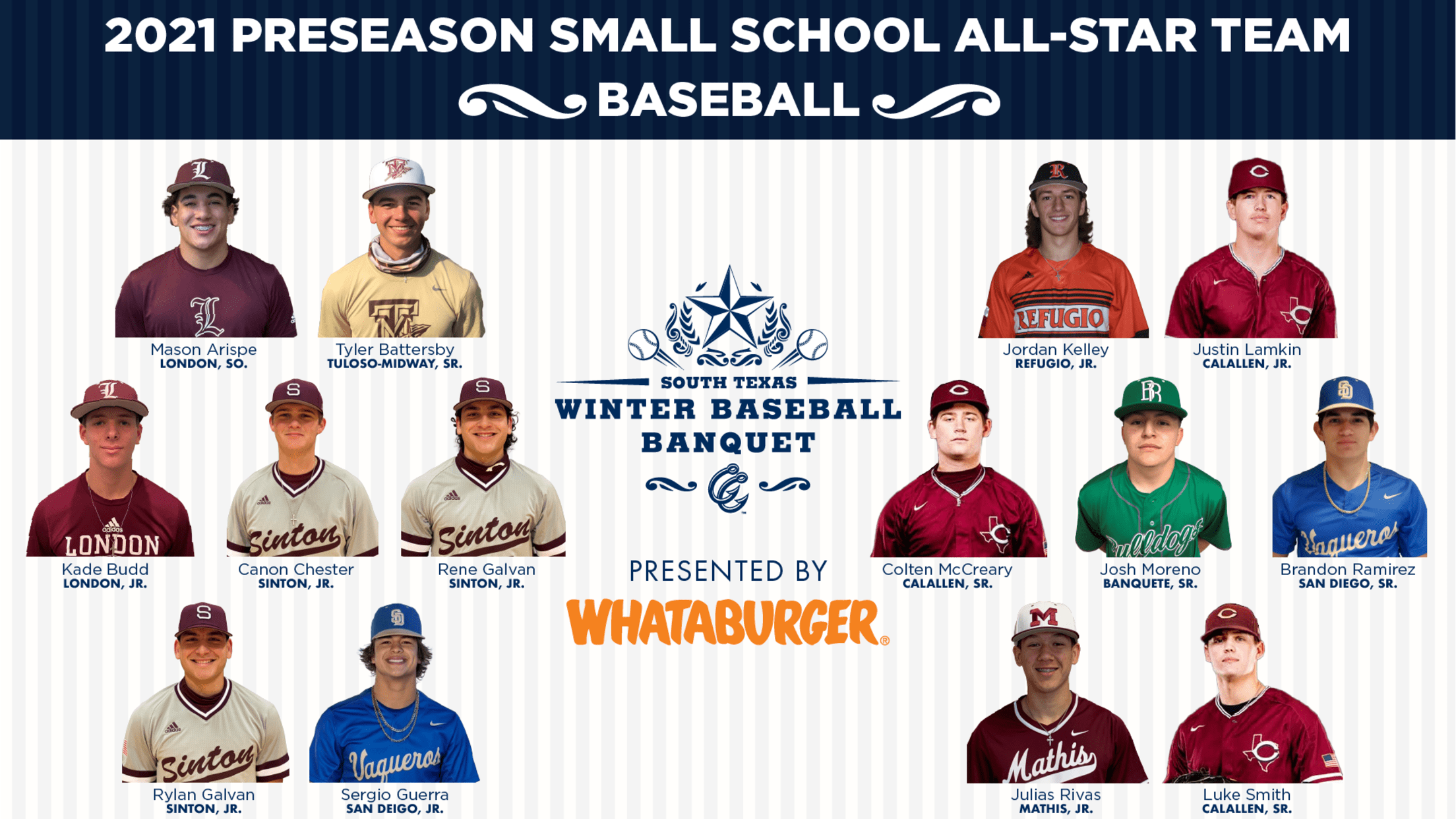 Repeat selections headline the 2021 South Texas Preseason Large School Baseball All-Star Team including a Sinton trio consisting of catcher Rylan Galvan, first baseman Canon Chester and outfielder Rene Galvan. Also repeating, but filling different positions are pitcher Jordan Kelley, Refugio and shortstop Sergio Guerra, San Diego. Guerra and third
2021 South Texas Preseason Large School Softball All-Star Team Announced
Veterans Memorial Rounds Out Roster with Four Honorees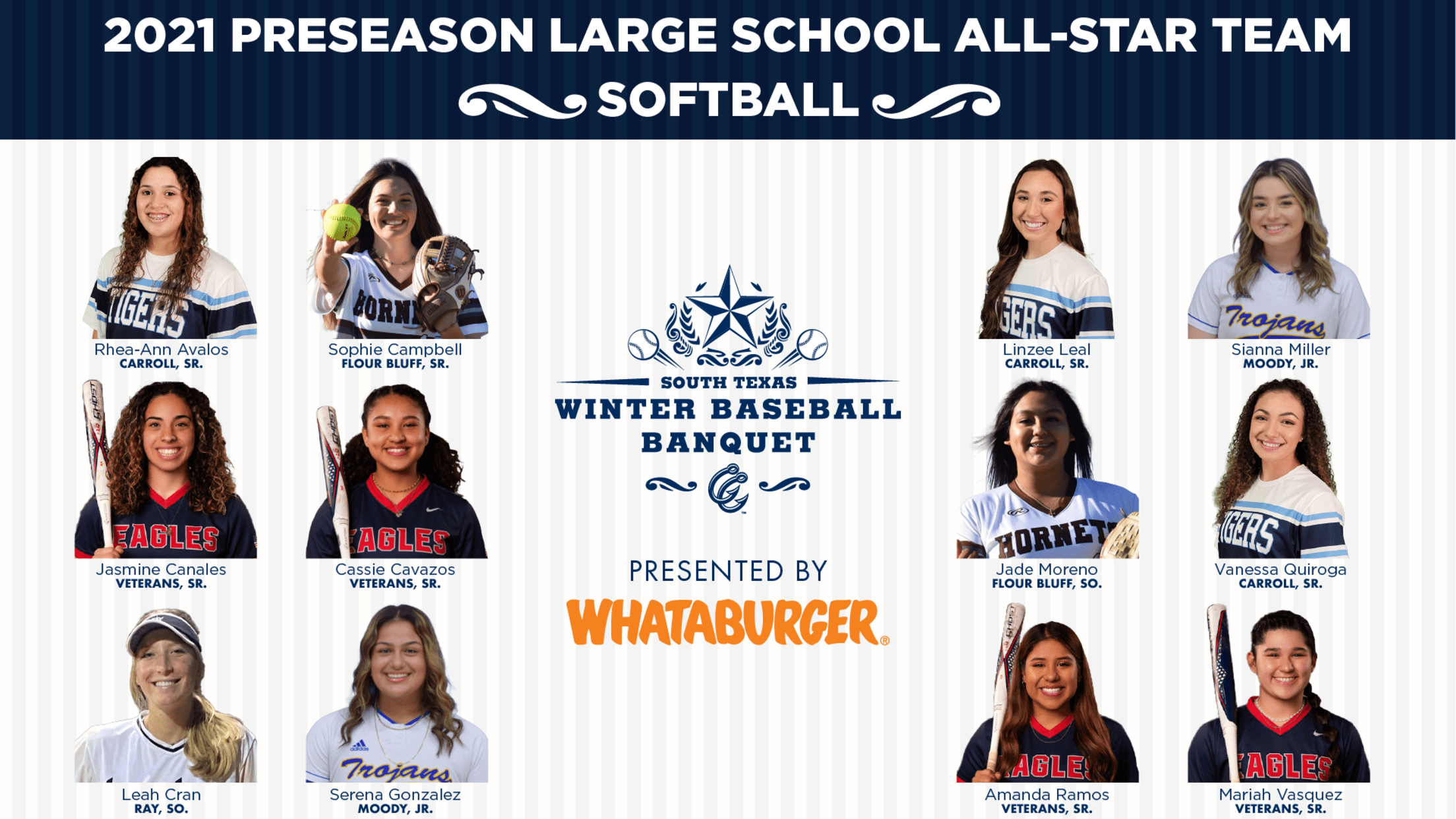 Five area schools make up the 12-person all-star squad for large school softball. Veterans Memorial leads the way with four seniors covering the field, including Jasmine Canales at catcher, Mariah Vasquez at first base, Cassie Cavazos at outfield and Amanda Ramos at designated player. Carroll follows behind with three players:
2021 South Texas Preseason Small School Softball All-Star Team Announced
Santa Gertrudis Leads Way with Three All-Stars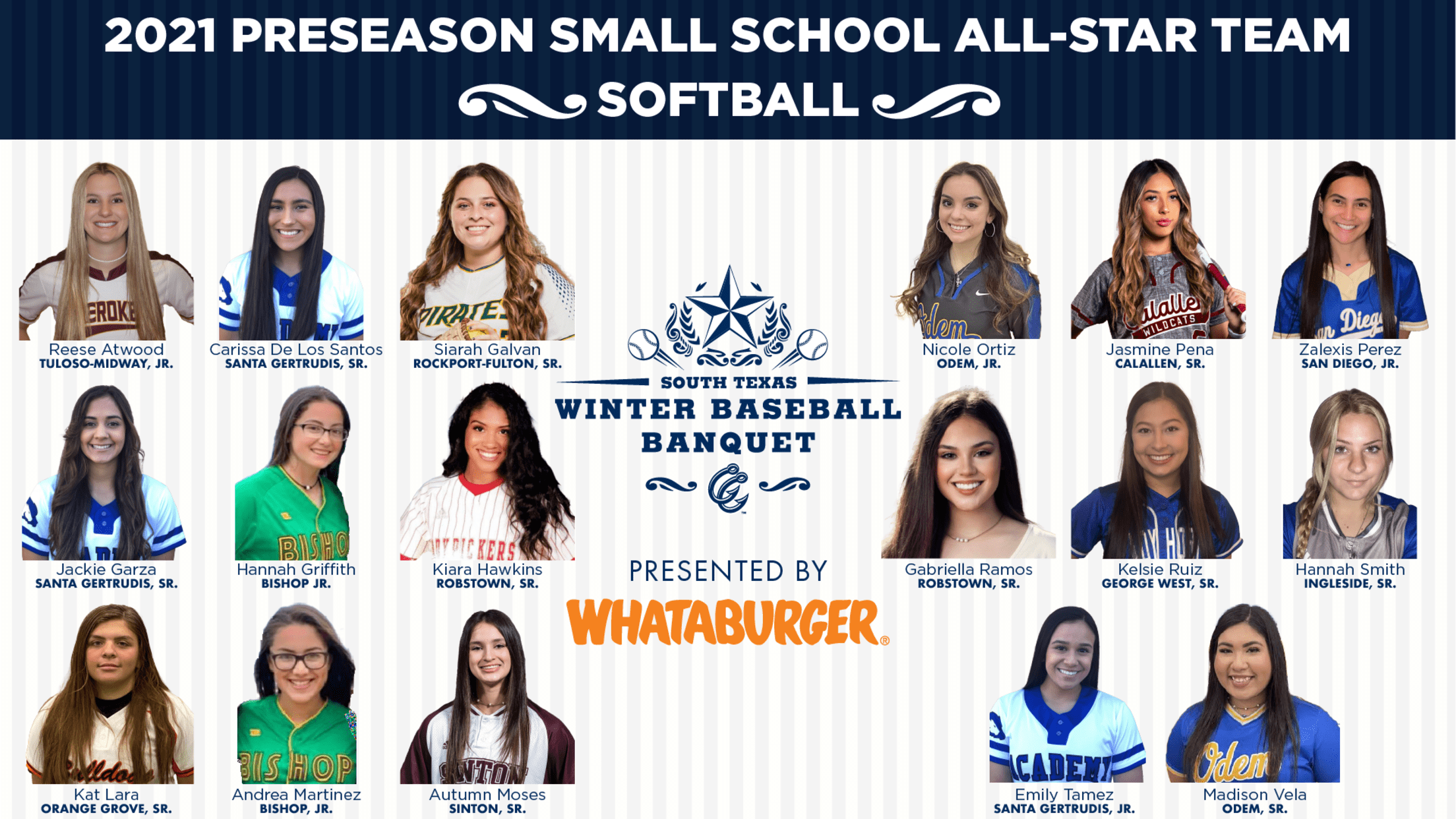 The Hooks released the first team of the 2021 Virtual South Texas Winter Baseball Banquet presented by Whataburger. Leading off the awards reveal is a 17-person squad for small school softball. Following the footsteps of last year's South Texas Preseason Small School Softball All-Star Team, Santa Gertrudis Academy highlights the
Hooks Open Season at Whataburger Field May 4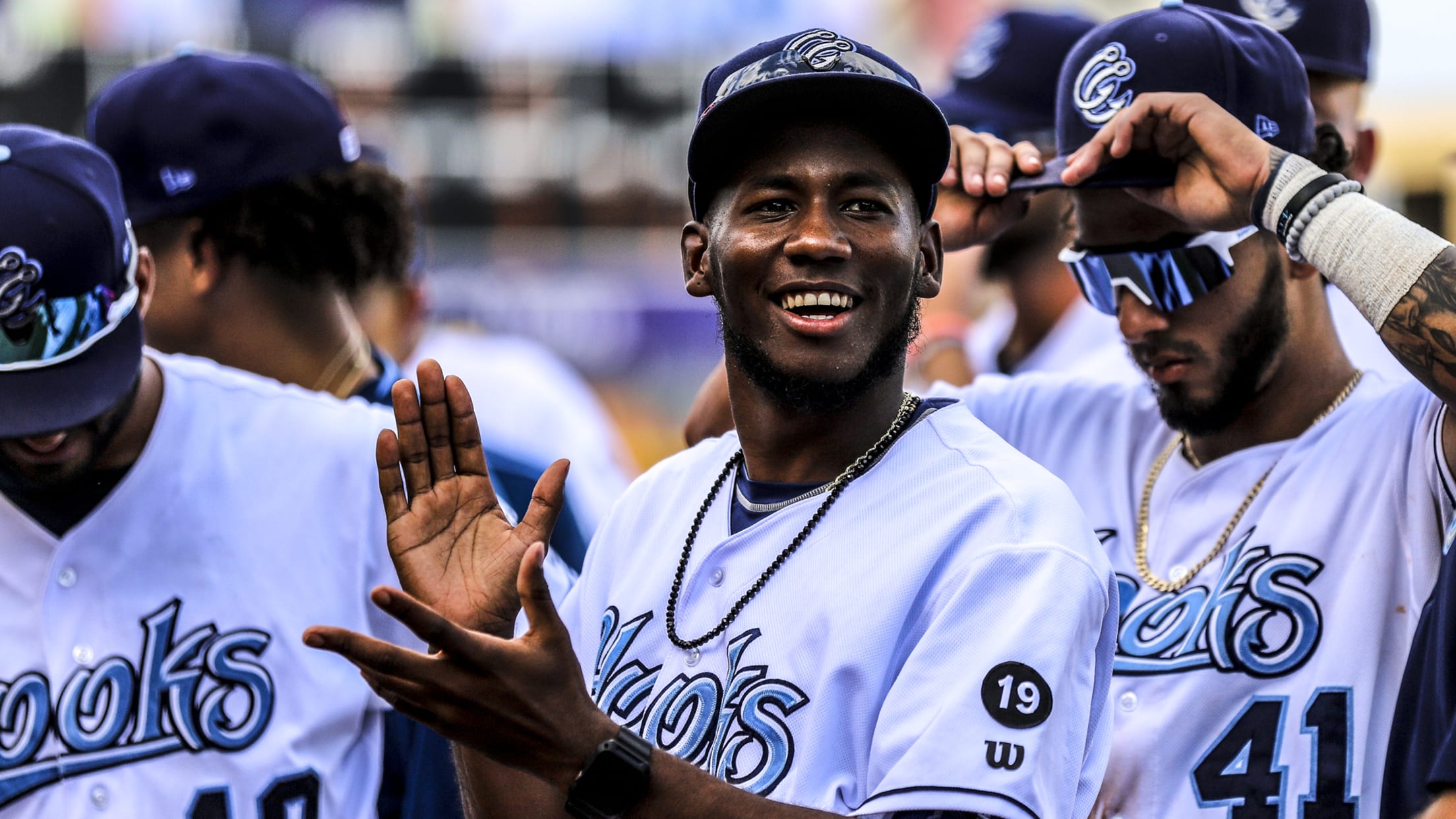 The Hooks released their 2021 Double-A Central schedule, confirming Opening Night on Tuesday, May 4 at Whataburger Field against the San Antonio Missions. All series, home and road, will be six games, for a total of 120 games- 60 home and 60 road. Each series will run Tuesday through Sunday,