IronPigs announce four bobblehead giveaways
Two record-setters and the 'Grand Slide' included in this year's lineup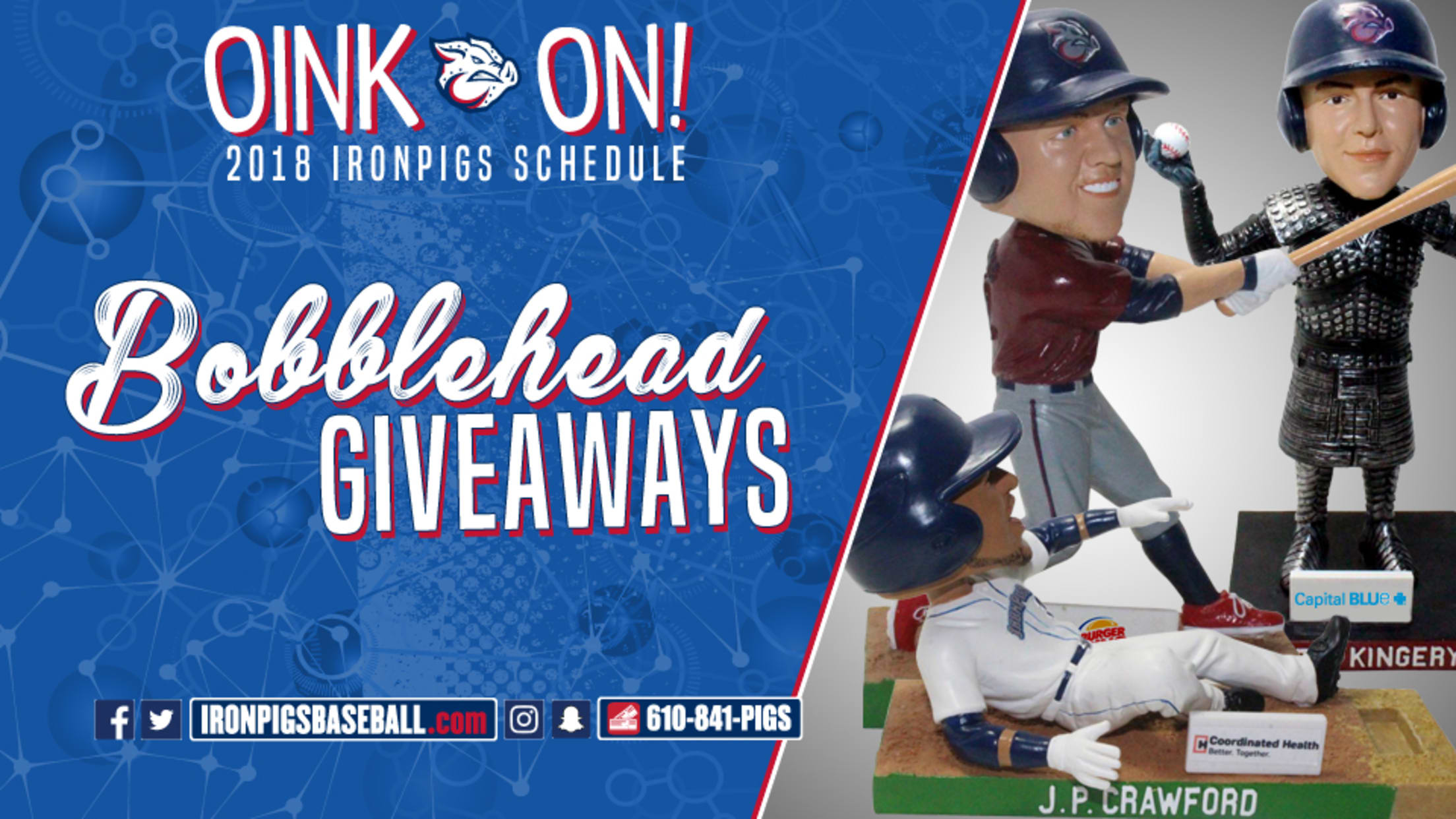 Four members of last season's 80-win Lehigh Valley IronPigs team will be featured as bobbleheads during the 2018 season at Coca-Cola Park.
Four members of last season's 80-win Lehigh Valley IronPigs team will be featured as bobbleheads during the 2018 season at Coca-Cola Park.
Scott Kingery, Rhys Hoskins, J.P. Crawford and Dylan Cozens bobbleheads will be available to the first 3,000 fans (18 and over) at four IronPigs home games this season. Single-game tickets will go on sale Saturday, March 3, as part of the IronPigs annual Pig Day celebration. A four-game bobblehead plan is already available online (click here to purchase). Note: Purchasing this package doesn't guarantee reciept of the items.

On Saturday, April 28, Scott Kingery will open our 2018 bobblehead schedule at our 6:35 p.m. contest against the Scranton/Wilkes-Barre RailRiders. The IronPigs' own King will be ready to lead the team into battle, dressed in armor from head-to-toe. The leadoff-hitting infielder arrived at Coca-Cola Park on June 26 and was a key member of the Pigs' postseason push, batting .294 with 8 home runs and 21 RBIs in 63 games. Kingery also set an IronPigs record with a 23-game hit streak. The bobblehead will be presented by Capital BlueCross.
Three nights later, during our Tuesday, May 1 contest with the Syracuse Chiefs (first pitch at 7:05 p.m.), 2017 International League MVP Rhys Hoskins will be depicted in our featured giveaway. The bobblehead shows a smiling Hoskins wearing a Bacon, USA jersey and swinging a bat with his signature two-handed follow-through. Hoskins had an incredible debut season in Triple-A, hitting .284 with a team-record 29 home runs and 91 RBIs in just 115 games before being called up to the Phillies. The Hoskins bobblehead will be presented by Burger King.
Check out our 22 scheduled fireworks dates/themes here
On Tuesday, June 12, the J.P. Crawford "Grand Slide" will get the bobblehead treatment for our 7:05 p.m. contest against the Buffalo Bisons. The bobblehead shows Crawford sliding toward home plate to complete his inside-the-park grand slam from a victory last season vs. Gwinnett. The box contains a cut-out of Braves catcher David Freitas, whom Crawford beat to the plate with his slide, which can be placed with the bobblehead for display. Crawford has produced a number of highlights in his 214 games in an IronPigs uniform, but the "Grand Slide" is his signature moment. The bobblehead will be presented by Coordinated Health.
Finally, during our July 12 game vs. the Buffalo Bisons (7:05 p.m. first pitch), a Dylan Cozens gobblehead will be available. The gobblehead, part of the IronPigs' Salute to Thanksgiving night, depicts Cozens dressed up in a turkey costume and holding a baseball bat. Cozens was anything but a turkey during his maiden season in the Lehigh Valley, as he belted 27 home runs (including two walk-off blasts) and drove in 75 runs in a campaign that landed him on the midseason All-Star team.
These bobbleheads are just a small portion of the exciting giveaways the IronPigs have lined up for the 2018 season. Check back Friday for the full schedule.
The 2018 season is the IronPigs' 11th season at Coca-Cola Park and 11th as the top affiliate of the Philadelphia Phillies. This marks the second season for the Bacon, USA, membership program -- a year-round IronPigs experience pass featuring numerous amenities such as savings on parking at games and at the Majestic Clubhouse Store at Coca-Cola Park, on-field VIP access to watch batting practice, access to an annual holiday party and an invitation to coach Q&A session. For more information, visit IronPigsBaseball.com or call (610) 841-PIGS (7447). Memberships and group outings are on sale now.
The 2018 IronPigs season is presented by Capital BlueCross.