2021 Season Recap: Asheville Tourists
Tourists Start Strong, Finish Even Stronger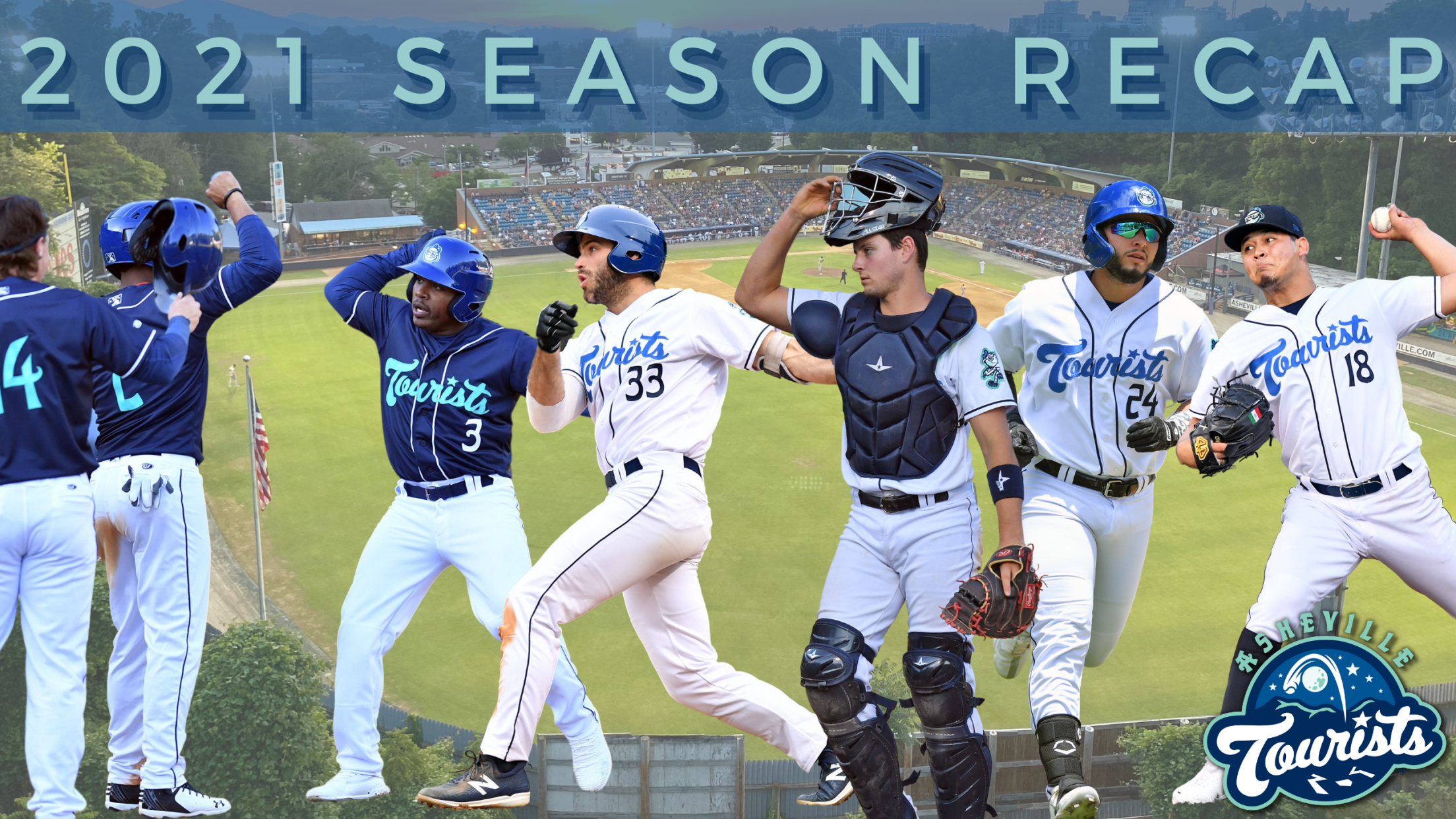 ASHEVILLE- The 2021 season of Asheville Tourists Baseball was one of the most anticipated seasons in recent memory. A step up in competition, a rekindled Major League affiliate, and fans aching to be back at one of the most iconic Minor League ballparks in America. New players, new coaches, and
ASHEVILLE- The 2021 season of Asheville Tourists Baseball was one of the most anticipated seasons in recent memory. A step up in competition, a rekindled Major League affiliate, and fans aching to be back at one of the most iconic Minor League ballparks in America. New players, new coaches, and a ton of unknowns graced McCormick Field on Opening Day. Now that the season is complete, we can reflect on the 2021 season as a whole, and all this year's Asheville Tourists team accomplished; both on the field, and in the community.
The month of May began on a high note for the 30 players who broke with the club out of Spring Training. Despite playing in front of a limited fan base across the first two homestands, Asheville managed to win three series at home against Brooklyn, Greenville, and Bowling Green. The Tourists did drop five of six to Bowling Green on the road; however, no one knew at the time the Hot Rods would wind up 46 games over .500.
Asheville finished the month of May with a 12-11 record and even had a brief stay atop the High-A East Southern division. Asheville netted come-from-behind wins in 10 of those 12 wins, including a pair of victories over a three-day stretch where the team overcame five-run deficits to win.
June and July were difficult for the Tourists when it came to chalking up wins. The team continued to play well at home as more and more fans were able to see their team play. The road became a tough obstacle. Asheville fought for a series split at Rome the final week of July for their first away set that did not result in a series defeat. The Tourists finished 19-32 across those two months; however, the team never quit and delivered a winning record over the final month-and-a-half of the season.
Asheville went 12-12 in the month of August and 10-7 in the month of September. The Tourists cured their road woes by winning 13 of their last 18 contests away from home that included series victories at Jersey Shore, Greenville, and Winston-Salem.
Offensively, the Tourists led the High-A East League in team batting average (.262), and doubles (223). Asheville also finished second in slugging percentage (.470) and third in Home Runs (186). The pitching staff responded well after a slow start to the season and finished fourth in the league in strikeouts (1,198). Asheville's team ERA of 4.08 in the month of September was one of the best in the league.
Overall, the Tourists finished with a 54-62 record. Their 116 games played is one of the fewest number of games played in decades, but the shortened season was loaded with individual accomplishments and memorable moments.
Of the 66 players who appeared in at least one game for the Asheville Tourists in 2021, only one mathematically qualified with enough plate appearances, or innings pitched, to be listed among the league leaders. That player was Wilyer Abreu. The Maracaibo, Venezuela native finished 12th in the league in batting average and ended the season on an absolute tear. In the month of September, Abreu belted seven of his 16 Home Runs, had the third highest batting average in the league, and led the circuit with 13 extra-base hits.
Shay Whitcomb, JC Correa, and Yainer Diaz all finished the season with the Tourists and had batting averages over .300. Whitcomb hit 16 Home Runs, a team-high 22 doubles, and stole a team best 16 bases in just 58 games played. He was named the High-A East League's Player of the Week for the final week of the regular season. Correa accrued 58 hits in his 45 games which included a 6-for-6 performance on August 1 at Rome. It is the first six-hit game by a Tourists player on record. Diaz also earned a Player of the Week Award in September. The catcher took the league by storm when he arrived in Asheville. His 11 Home Runs and 33 RBI in 25 games was a major factor in Asheville's strong finish.
A few other Tourists players hit over .300 during their time in Asheville which helped earned them a promotion to Double-A. Alex McKenna, Korey Lee, Scott Schreiber, and Joe Perez all produced in a major way offensively. Schreiber and McKenna each had double-digit Home Runs in only 41 games played with the Tourists while Perez hit .354 with eight Home Runs in 25 games. Schreiber's three Home Run game on June 16 was the first by a Tourists player since 2011.
Enmanuel Valdez, C.J. Stubbs, and Alex Holderbach all reached the double-digit threshold in Home Runs as well. Valdez's 21 long balls led the team as did his 72 RBI and 52 runs scored. Stubbs and Holderbach each finished with 12 Homers while Stubbs also tied for the team lead in triples.
Matt Barefoot, Luke Berryhill, and Cesar Salazar also produced during their time with the Tourists before earning promotions up the ladder. Barefoot hit .287 in 49 games with 27 extra-base hits and put together Asheville's longest hitting streak of the season at 12 consecutive games. Berryhill had 15 extra-base hits with a .277 batting average in 29 games and hit a walk-off, two-run single on June 25. Salazar appeared in 23 games with the club and helped orchestrate the Tourists first shutout victory when he called a gem behind the plate on June 13 at Rome.
Several other players contributed to Asheville offensive attack throughout the season. Luis Santana, Deury Carrasco, Freudis Nova, A.J. Lee, and Bryan Arias shifted through several infield positions from game-to-game. Santana's two Home Run game on May 6 vs. Brooklyn was highlighted by a celebration on his second Home Run that left Tourists fans in awe. Carrasco homered in his very first plate appearance with the team on June 20.
Zach Daniels, Justin Dirden, Luis Guerrero, Ramiro Rodriguez and Colin Barber patrolled the outfield. None played in more than 40 games, but all had impact performances that helped Asheville to wins throughout the season.
The Tourists pitching staff totaled 36 players that took the mound; not including position players. Chandler Casey's 27 appearances led the team and the right-hander issued only 11 free passes in his 53 innings of work. Danny Cody's 12 starts also led the team, Cody's 90 strikeouts during the season ranked first on the squad and 16th in the circuit. Juan Pablo Lopez led the team in wins with six. The left-hander shook off a slow start and reeled off four consecutive victories from June 15 - July 18.
Mark Moclair led the Tourists with four saves on the season. Jonathan Sprinkle, Michael Horrell, Devin Conn, Tommy DeJuneas, Freylin Garcia, Ernesto Jaquez, Kevin Holcomb, Yeremi Ceballos, and Felipe Tejada were all effective as primary relievers out of Asheville's bullpen as well.
The starting rotation varied constantly throughout the year; however, Tyler Brown, Jose Bravo, Misael Tamarez, Julio Robaina, Jaime Melendez, Kyle Gruller, Angel Macuare, Matt Ruppenthal, Alfredi Jimenez, R.J. Freure, Brayan de Paula, Jimmy Endersby, Cesar Gomez, Diosmerky Taveras, Blair Henley, and Jose Alberto Rivera all put in work from the mound. Freure's 88 strikeouts were the second most of the team. Robaina and Tamarez each turned in starts where they recorded a 10-strikeout performance.
Asheville's highest run-scoring game of the season came on June 20 vs. Aberdeen. The Tourists scored 19 runs on their way to a 19-4 win. Asheville hit a season-high eight Home Runs in that game and it was one of five games during the season where the offense recorded 17 hits.
The longest win streak by the Tourists was five straight and it came from May 23 - May 28, all at home. Asheville recorded a four-game road win streak from August 19 - September 1.
The pitching staff struck out ten or more batters in 74 of their 116 games played and allowed ten hits or more in only 39 games.
Asheville was 37-11 on the season when they scored first. The Tourists also finished with a winning record against the Northern division (11-10) and a winning record in front of the home crowd (30-28).
This season of Asheville Tourists baseball season showcased a little bit of everything on the field. Its effect off the field, within the Asheville community, was even more significant. Fans back in the stands making memories with friends and family while watching the 2021 Tourists represent the city of Asheville and the Houston Astros is perhaps the number one thing this team will be remembered for. Thank you to all of the 2021 Asheville Tourists players and coaches.