Blue Wahoos Announce Preliminary 2023 Promotional Schedule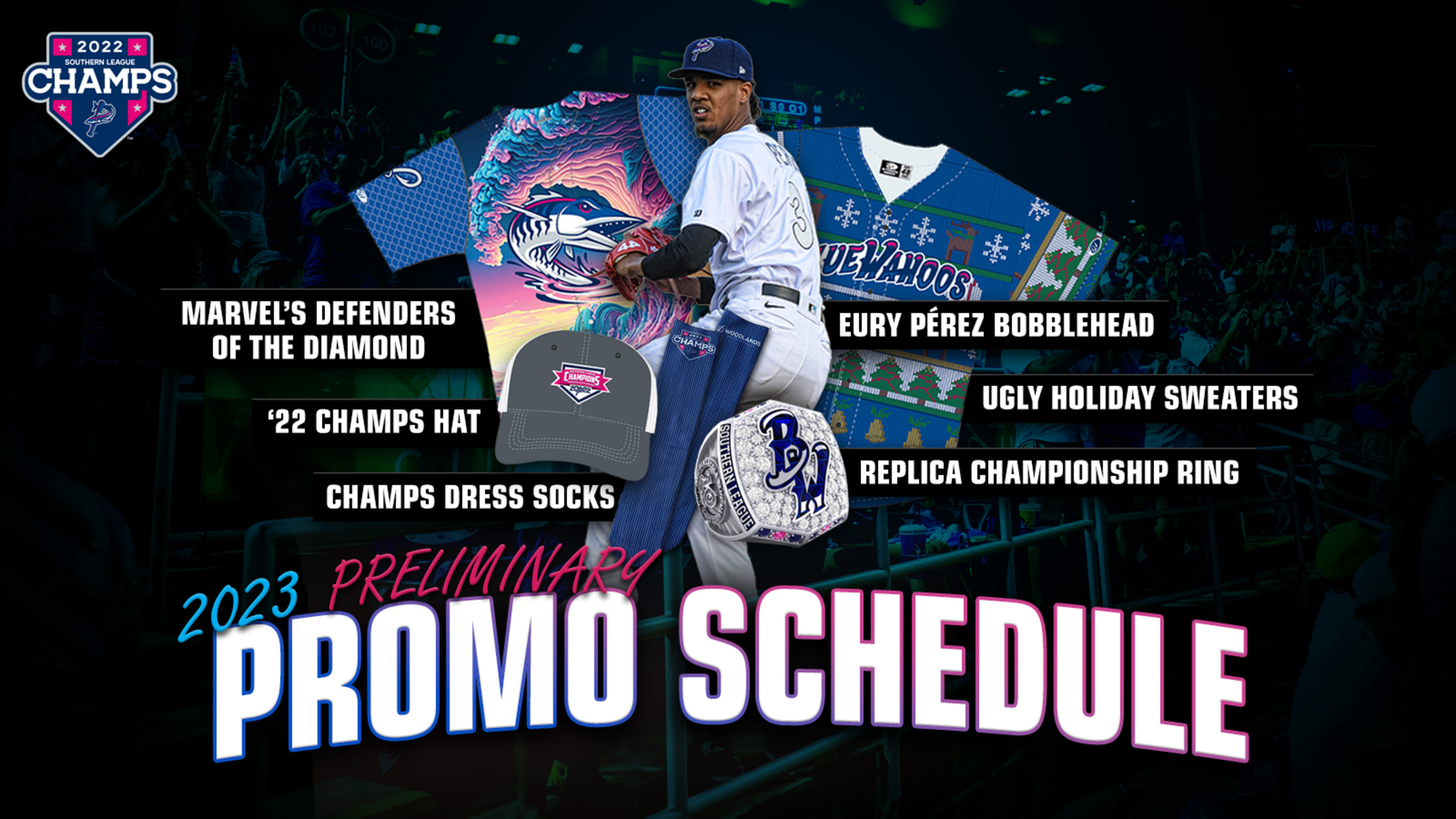 The Pensacola Blue Wahoos announced their preliminary theme night and promotional schedule for the upcoming 2023 baseball season at Blue Wahoos Stadium, bringing a jam-packed slate of giveaways and exciting promotions back to downtown Pensacola! Theme Nights The excitement begins Friday, April 7 on Opening Night at Blue Wahoos Stadium
The Pensacola Blue Wahoos announced their preliminary theme night and promotional schedule for the upcoming 2023 baseball season at Blue Wahoos Stadium, bringing a jam-packed slate of giveaways and exciting promotions back to downtown Pensacola!
Theme Nights
The excitement begins Friday, April 7 on Opening Night at Blue Wahoos Stadium presented by Hill-Kelly featuring a 2023 Magnet Schedule thanks to Hill-Kelly and Cox Communications. Prior to first pitch, returning members of the Blue Wahoos 2022 title-winning team will receive their 2022 Southern League Championships Rings in a special pre-game ceremony. Fans arriving early will also take home their own championship ring through the team's Championship Replica Ring Giveaway thanks to Hill-Kelly!
You thought that machines taking your orders at restaurants was bad? On Tuesday, April 18, labor automation will take over the ballpark at Artificial Unintelligence Night. The entire public address script for the evening and all team social media posts will be written by an AI text generator. Is this a breakthrough advancement for the future of ballpark entertainment or the start of the downfall of humanity as we know it? Uh, play ball!
The Blue Wahoos will host their first ever Education Day Games on Wednesday, April 19 and Wednesday, May 3. Designed as an engaging, educational, and entertaining field trip opportunity for local schools, both games will start at 11:00 AM and feature fun learning activities for students of all ages throughout the game.
Due to yet another unfortunate typo, the Blue Wahoos will host Legalize Marinara Night on 4/20. Fans can get sauced at the ballpark and fight for the rights of recreational marinara users everywhere by picking up a special t-shirt and ticket package in advance of the game.
In 2023, the Blue Wahoos will join Minor League teams across the nation in celebrating Latin American heritage as part of Copa de la Diversión, unveiling a brand new identity, logo, and uniforms for a trio of festival-style games on May 5, June 17, and September 16.
Marvel's Defenders of the Diamond will make its triumphant return to Blue Wahoos Stadium on Saturday, May 6 for a night full of superhero fun and the debut of Pensacola's striking new Marvel-inspired logo and uniforms.
The Pensacola Seagulls will take flight again in 2023 for a pair of celebrations at the ballpark celebrating the history and the legacy of the Negro Leagues. The Blue Wahoos will wear uniforms of the Pensacola Seagulls, members of the Negro Southern League, on Turn Back The Clock Night on Sunday, May 21 and on The Nine Night on Sunday, June 11 presented by Cox Communications.
Adding to the fun on Turn Back The Clock Night, legendary ballpark organist Nancy Faust will return to Blue Wahoos Stadium to entertain fans throughout the game!
Fans can celebrate Independence Day with America's national pastime on the Fourth of July at Blue Wahoos Stadium featuring a special America-themed charity jersey auction!
The halls of Blue Wahoos Stadium will be decked with boughs of holly on Saturday, July 22 for Christmas in July presented by the Andrews Institute. Santa has agreed to take a short break from his vacation at Pensacola Beach to take photos with fans, and the Blue Wahoos will take the field in Ugly Holiday Sweater jerseys, which will be available to fans through an in-game charity auction!
On Friday, August 18, the Blue Wahoos will honor local service members during Salute To Service Night, taking the field in special jerseys honoring all branches of the military represented in the Cradle of Naval Aviation.
On Sunday, September 3, Women In Sports Night returns to the ballpark to showcase the immeasurable impact women have made and continue to make on the Blue Wahoos, the athletics industry, and the city of Pensacola.
For the second consecutive year, the Blue Wahoos will select a local collegiate athlete to receive a Name, Image, Likeness brand sponsorship deal with the team on N.I.L. Night on Thursday, September 14.
Giveaways
In addition to great theme nights, the Blue Wahoos 2023 promotion schedule will feature 16 giveaway items!
April 7: 2022 Southern League Championship Replica Ring Giveaway presented by Hill-Kelly
April 7-9: 2023 Magnet Schedule Giveaway presented by Hill-Kelly and Cox Communications
April 9: Fred Levin Bobblehead Giveaway
April 21: 2022 Championship Hat Giveaway presented by LandrumHR
May 5: Blue Wahoos Novelty Socks Giveaway presented by Woodlands Medical Specialists
May 19: Blue Wahoos Bag Giveaway presented by CPC Office Technologies
May 21: First Half Team Photo Giveaway presented by DLUX Printing
June 16: Hawaiian Shirt Giveaway presented by Kona Brewing Co. (21+)
August 4: Back-To-School Lunchbox Giveaway presented by Columbia Southern University
September 1: Eury Pérez Bobblehead Giveaway presented by Kia Automotive
September 3: Second Half Team Photo Giveaway presented by DLUX Printing
September 15: Blue Wahoos Beach Towel Giveaway presented by Florida Blue.
Exciting Giveaway Friday items for June 9, July 7, July 21, and August 18 will be announced soon!
Single-game tickets for the 2023 season are available starting March 1 at BlueWahoos.com and the Blue Wahoos Stadium Box Office. Season Memberships and Mini Plans may be purchased now at BlueWahoos.com, the stadium box office, and by calling (850) 934-8444.