First Blue Wahoos Movie & Fireworks Night A Smashing Success
1,000 fans safely enjoy a community movie night and fireworks show at the ballpark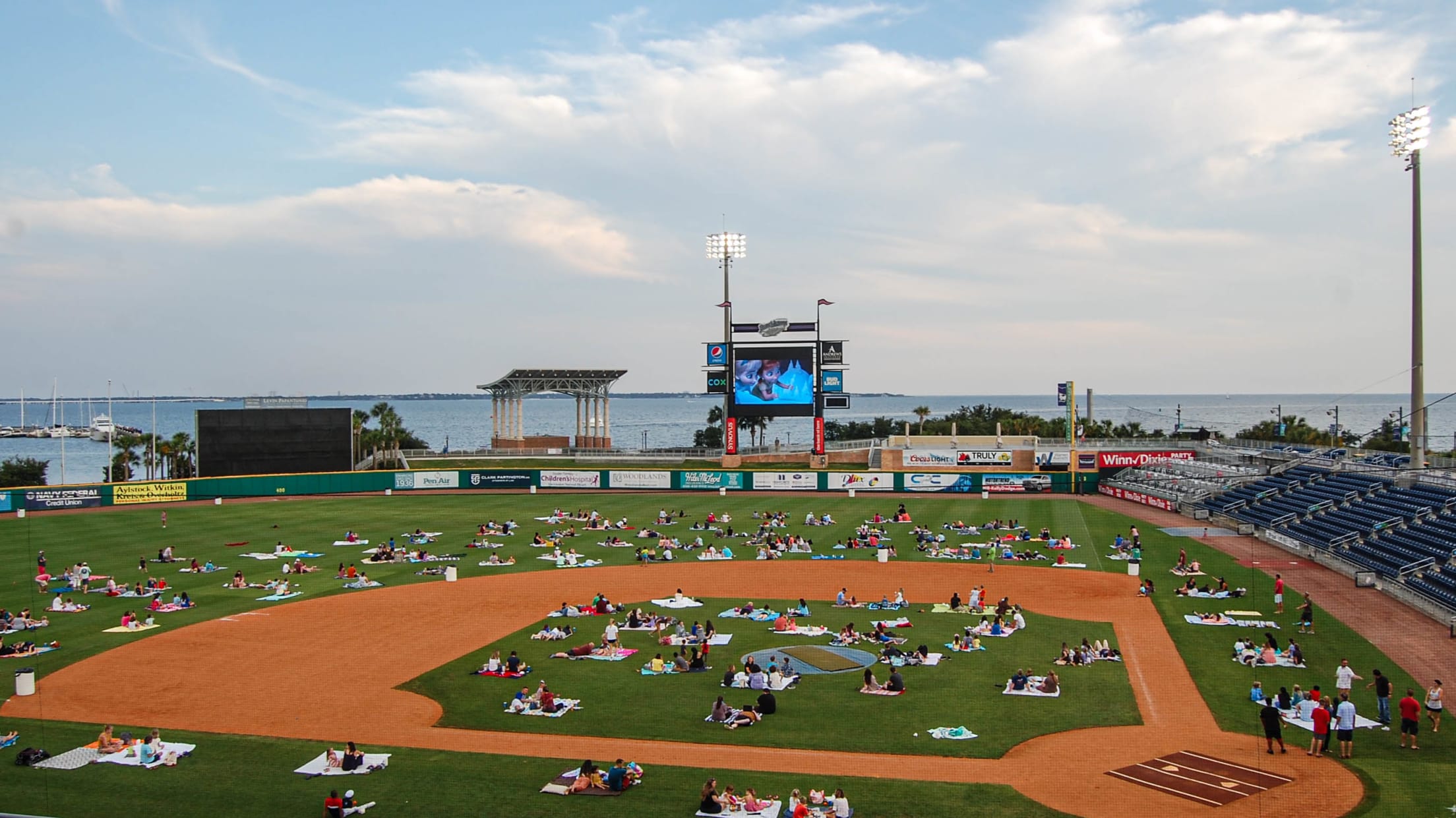 Having moved to Pensacola only three weeks ago, Andrew and Jessica Benyo wanted to surprise their two children with a special night out. A movie night. Watching Disney's Frozen 2. But not at a theater. Instead, it was under a beautiful sunset, then star-lit sky Saturday night at Blue Wahoos
The Airbnb Heard Round The World: Blue Wahoos Stadium
First ever stadium Airbnb rental becomes a global phenomenon overnight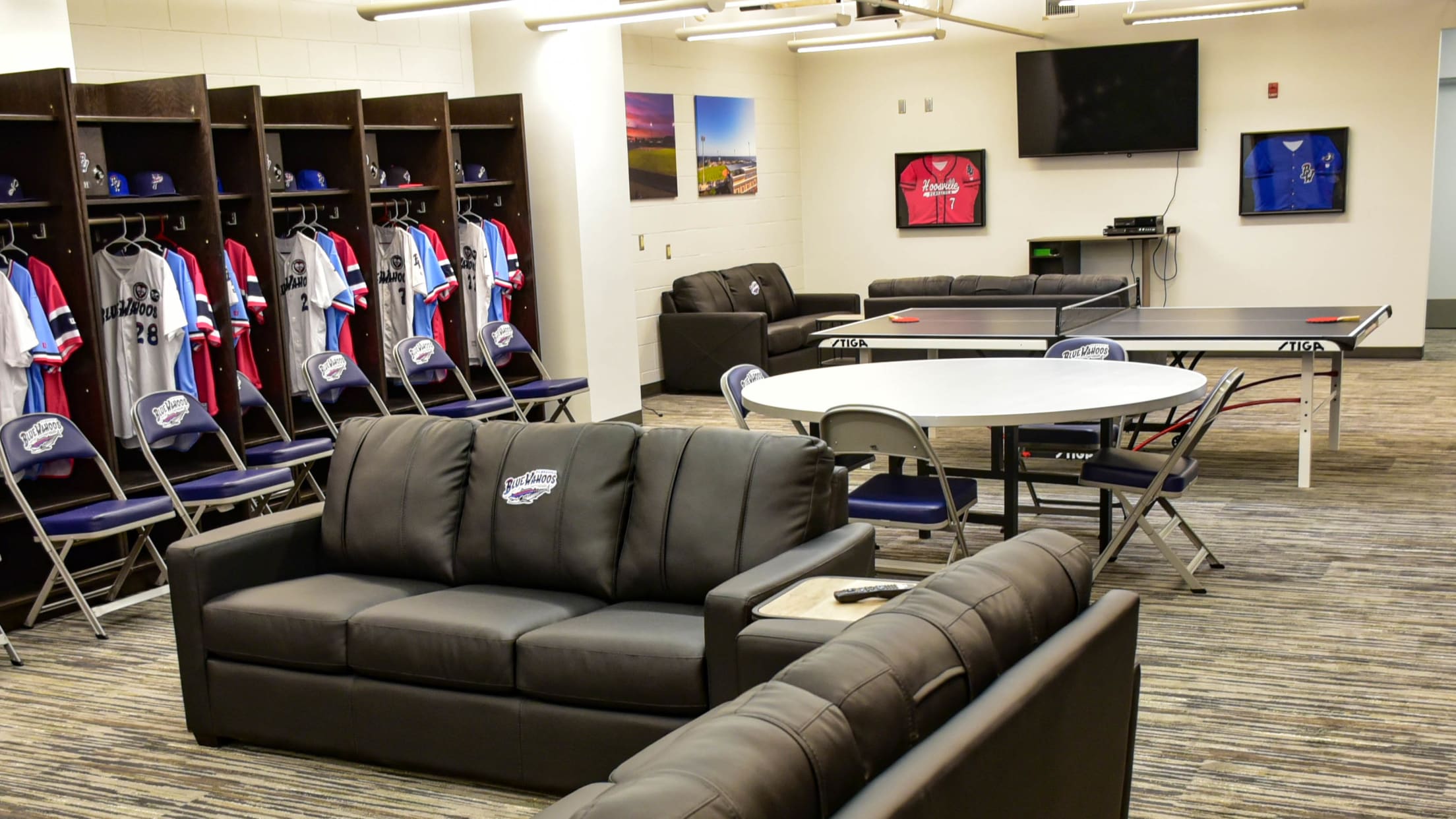 A double-eye emoji. That's it. Just a pair of eyeballs urging Blue Wahoos followers scrolling Twitter to watch the video below. The video, a herky-jerky screen grab of the previously-unannounced Blue Wahoos Airbnb listing, lasted a grand total of 18 seconds. It's impact, though, stretched around the globe.
Blue Wahoos To Host Movie & Fireworks Night On May 30
Fireworks Saturday returns with an on-field movie experience at Blue Wahoos Stadium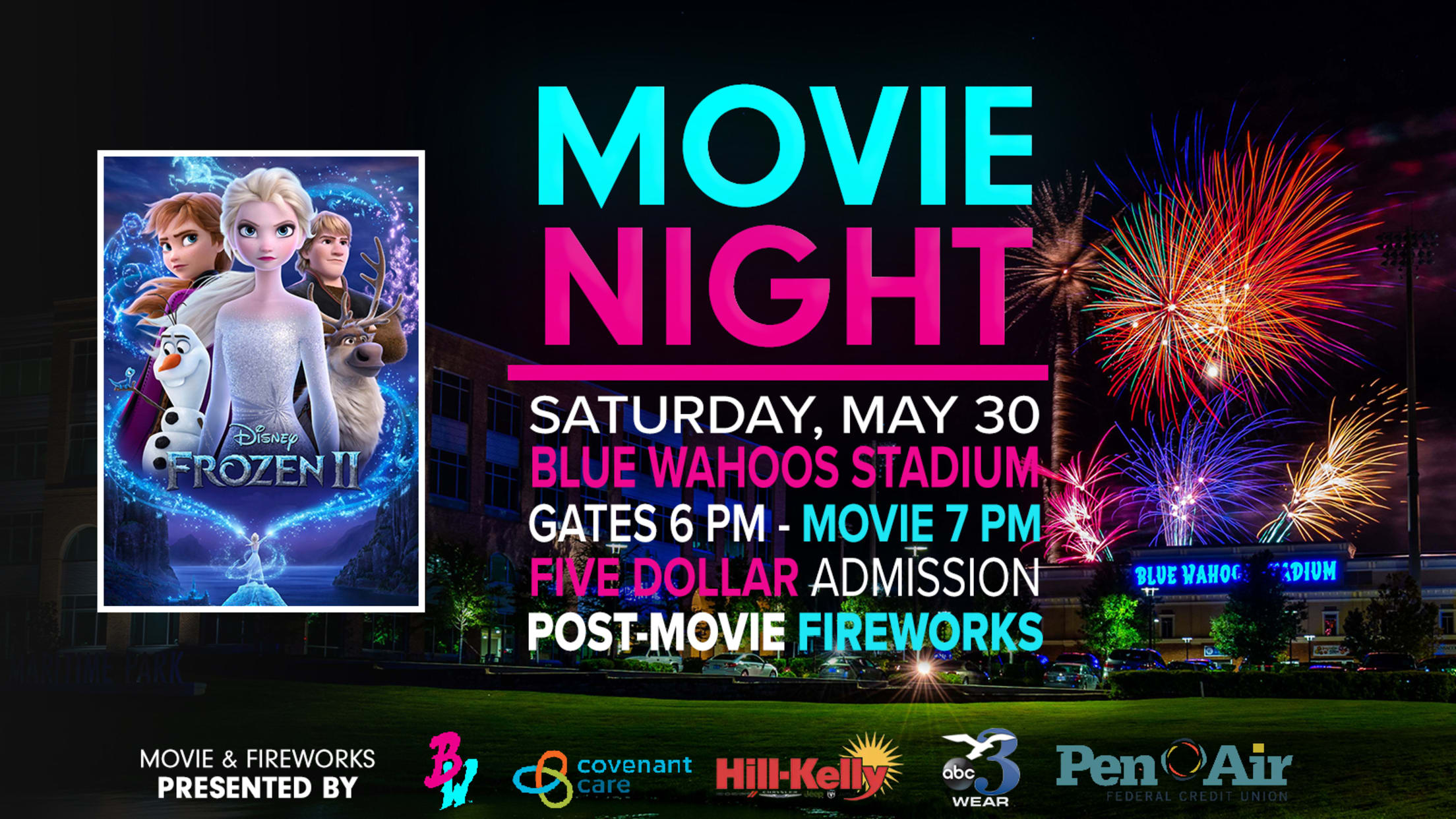 CLICK HERE TO BUY TICKETS The Pensacola Blue Wahoos will host a community movie night at Blue Wahoos Stadium on Saturday, May 30 at 7:00 PM followed by a fireworks show. Tickets are $5 per person and include both the movie and fireworks with children (12 and under), military members,
Blue Wahoos Staff Helps Restore Area Youth League Field
Blue Wahoos and Waste Management help local youth leagues prepare for the season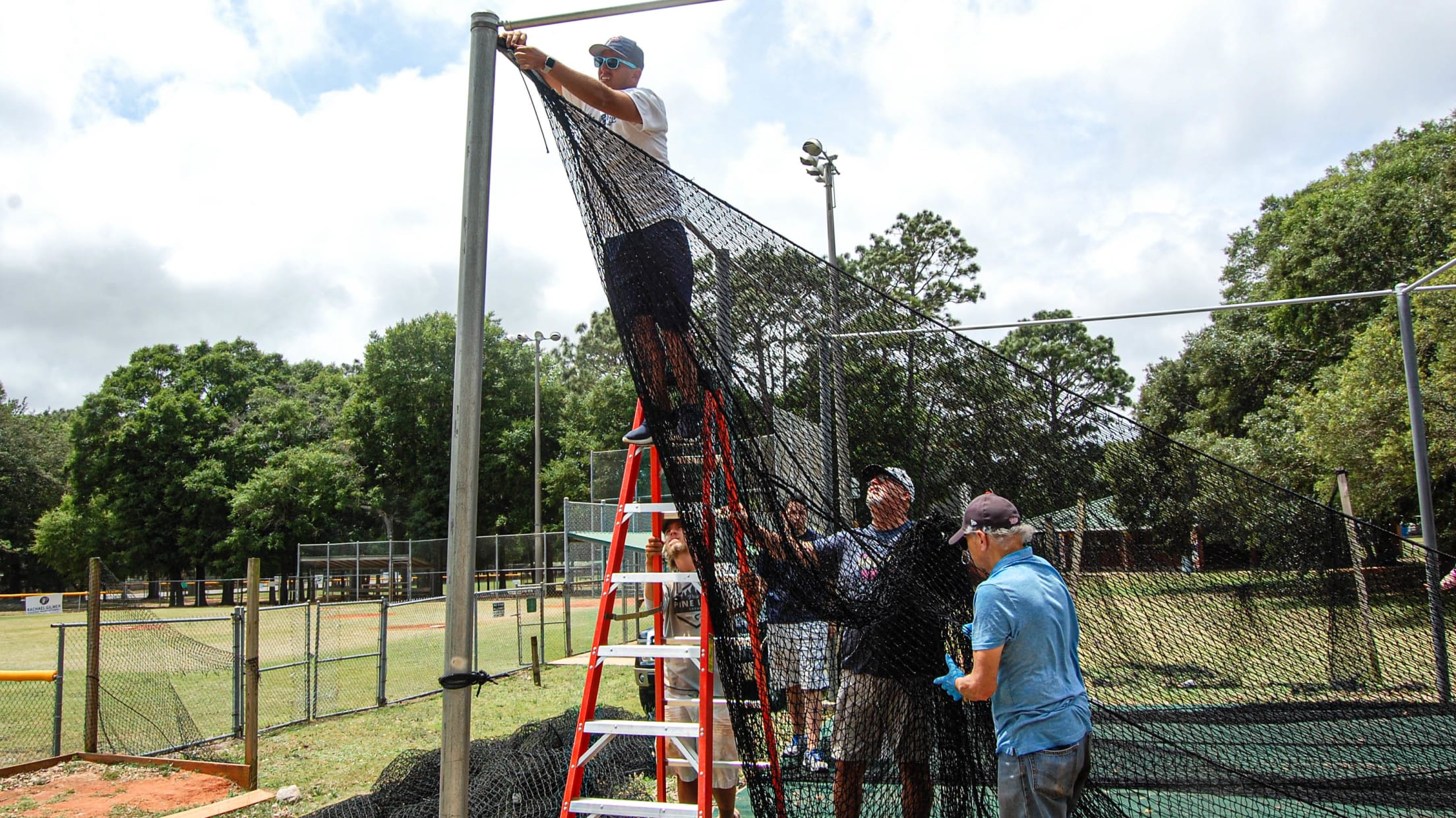 Carefully balancing himself Friday on the top step of a ladder, Blue Wahoos president Jonathan Griffith completed fastening new netting for the batting cage area at the Bill Bond League youth baseball fields. "You know, I've never done this before," he said, laughing. It looked like he had done this
Bubba Watson's Diamond Disc Golf Challenge A Home Run With Local Fans
Hundreds visit Blue Wahoos Stadium for the opening weekend of the ballpark's disc golf course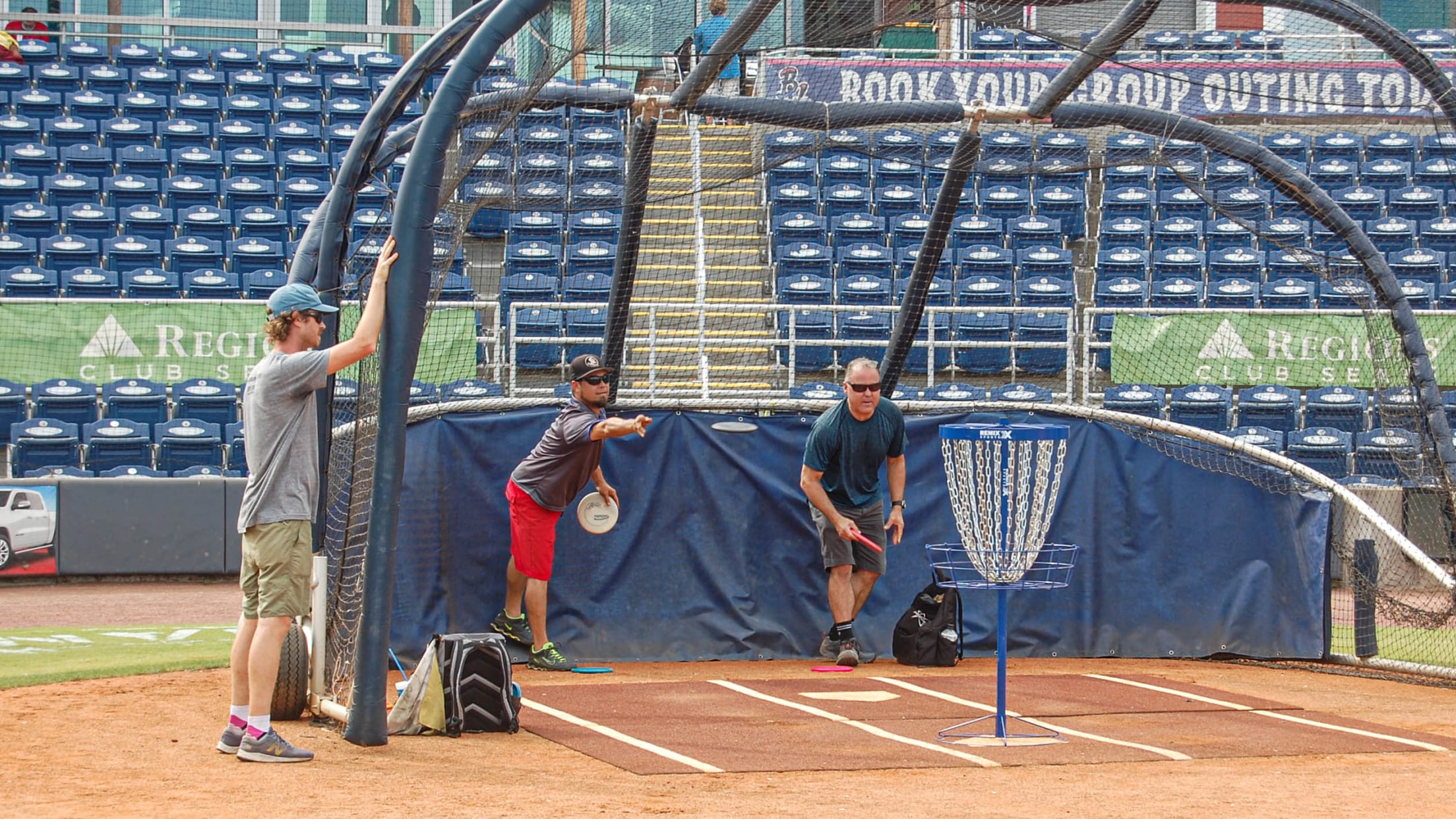 Having been part of the first-day wave of disc golf players, James Ripolio stood on the concourse at Blue Wahoos Stadium with special reflection. He's got a unique connection to the course designer, PGA Tour star Bubba Watson, a Blue Wahoos co-owner, who last week finalized the Bubba Watson Diamond
Leveling Up: From Pensacola To The Major Leagues
In their first season as a Twins affiliate, the Blue Wahoos sent eight players to the Major Leagues in 2019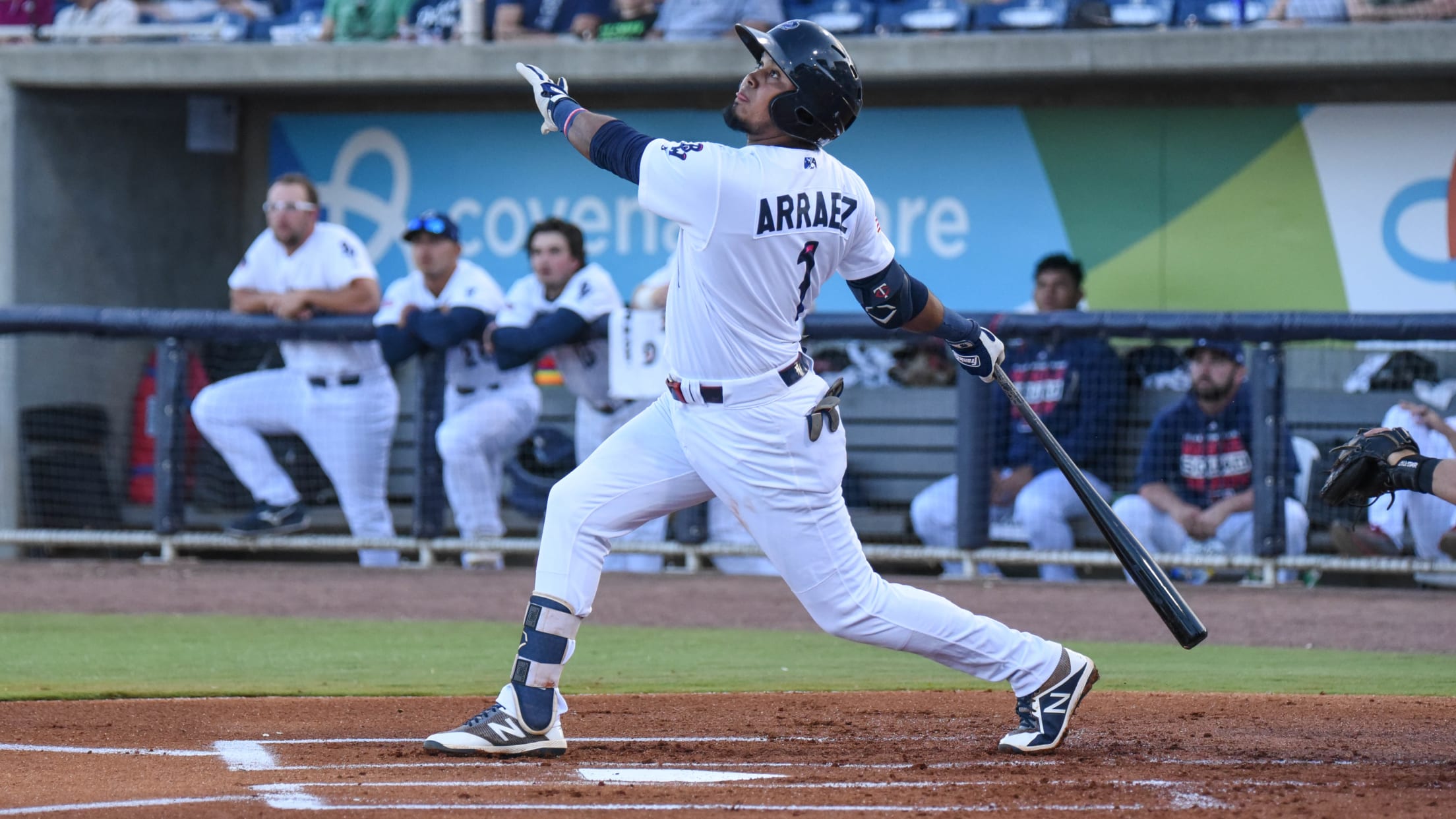 The two former Blue Wahoos teammates have occasionally conversed, which has allowed Jaylin Davis and Randy Dobnak brief time to share experience and grasp significance. In a span of months during the summer of 2019, they went from playing in Pensacola at the Double-A level to realizing major league dreams.
Bubba Watson's Disc Golf Course Opens Friday, May 15th at Blue Wahoos Stadium
9-hole course designed by the 2x Masters champ open to the public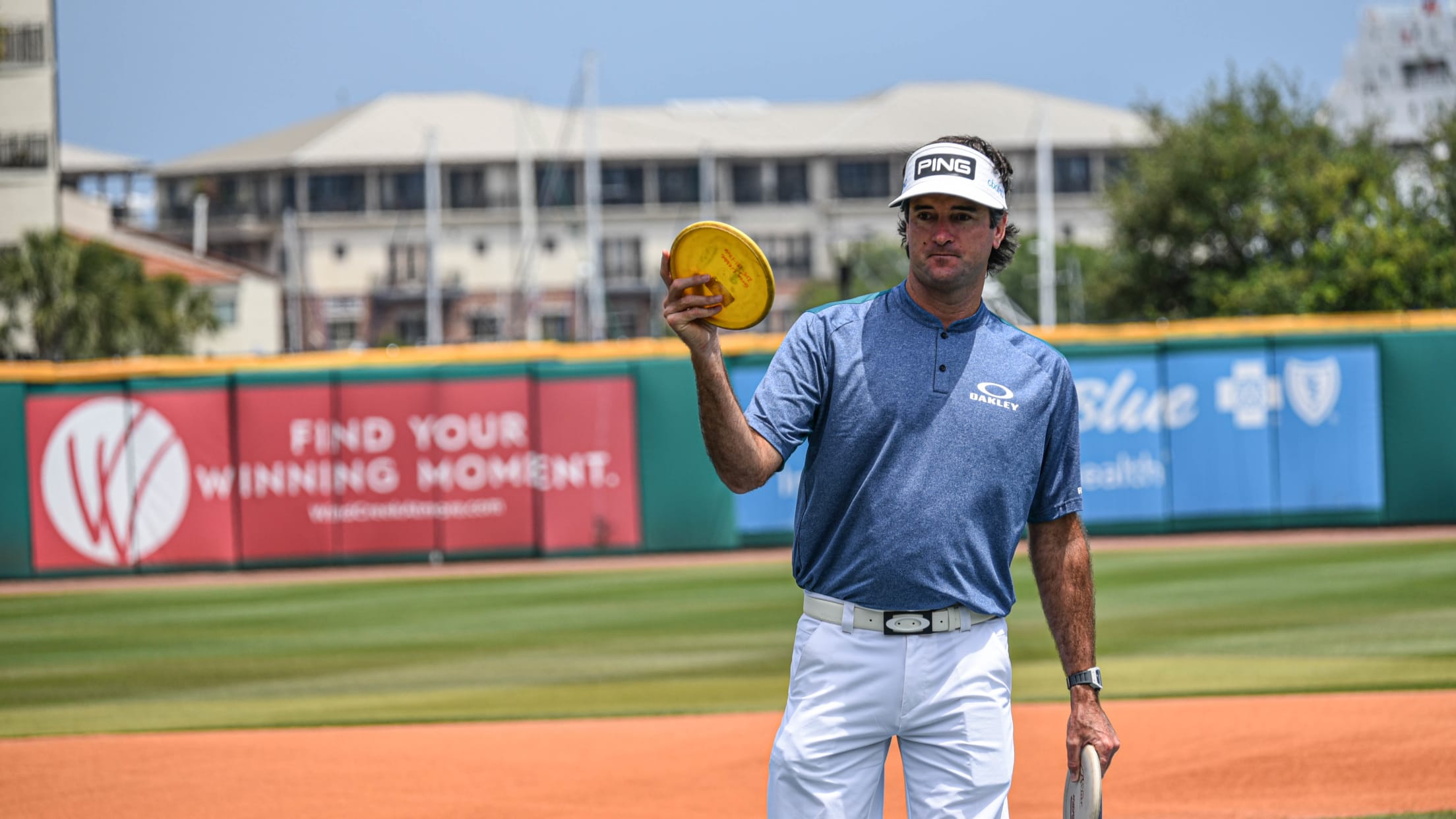 Two-time Masters champion Bubba Watson stood on the pitcher's mound, which was serving as a disc golf tee area at Blue Wahoos Stadium. His golf instincts took over. He checked the wind, then lined up his shot toward home plate… okay, now the finishing hole on the 9-hole layout. And
Bubba Watson Opens Disc Golf Course At Blue Wahoos Stadium
Two-Time Masters Tournament Champ Designs Ballpark Disc Golf Challenge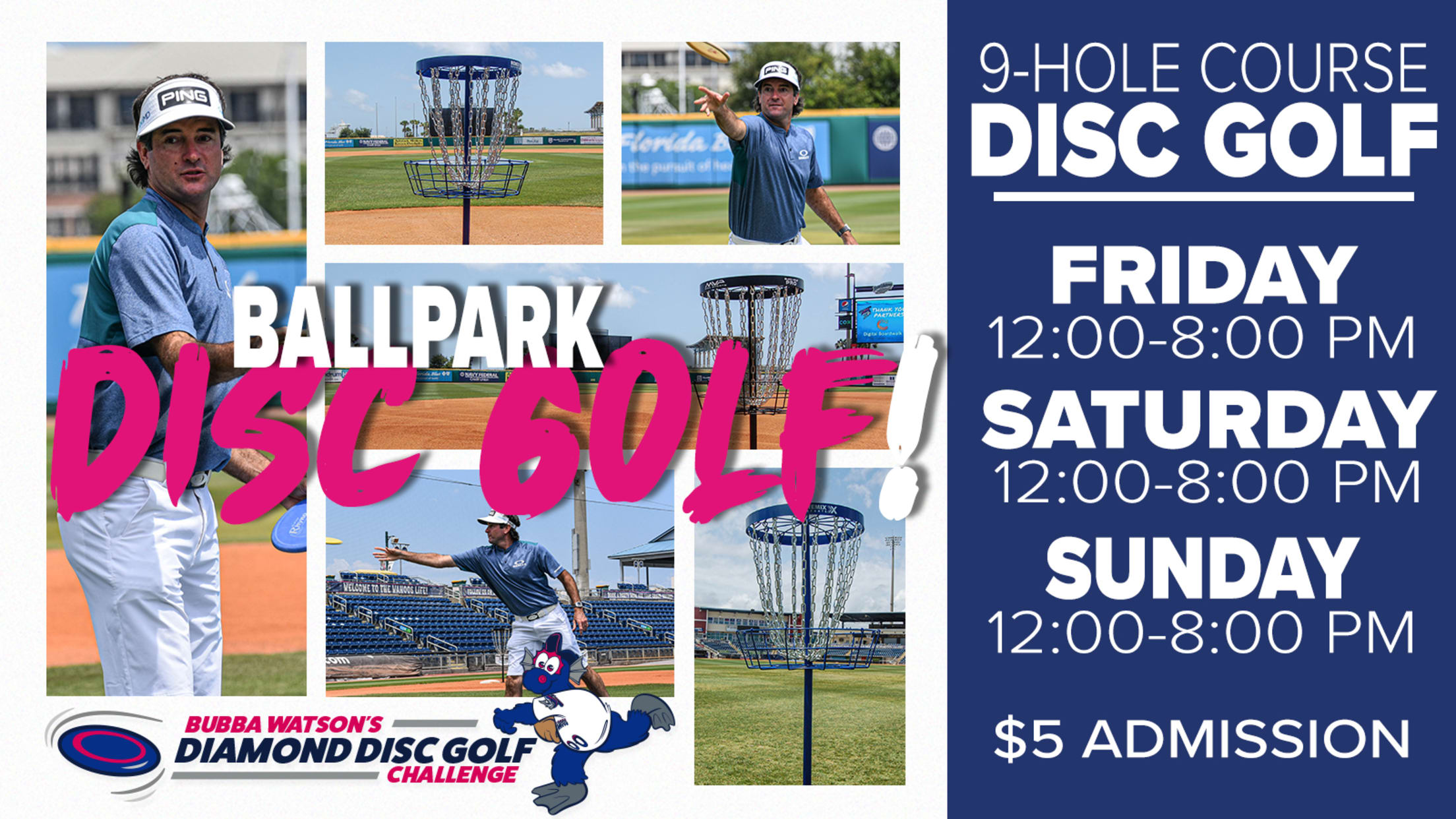 The Pensacola Blue Wahoos and team co-owner Bubba Watson have partnered to bring a new sport to Blue Wahoos Stadium! Starting Friday, May 15, Bubba Watson's Diamond Disc Golf Challenge will open at Blue Wahoos Stadium, giving fans a 9-hole disc golf experience on the field at the ballpark, designed
Enjoy In-Stadium Dining For Lunch, Dinner, and Brunch!
Fans are invited to enjoy the best view in baseball while dining at Blue Wahoos Stadium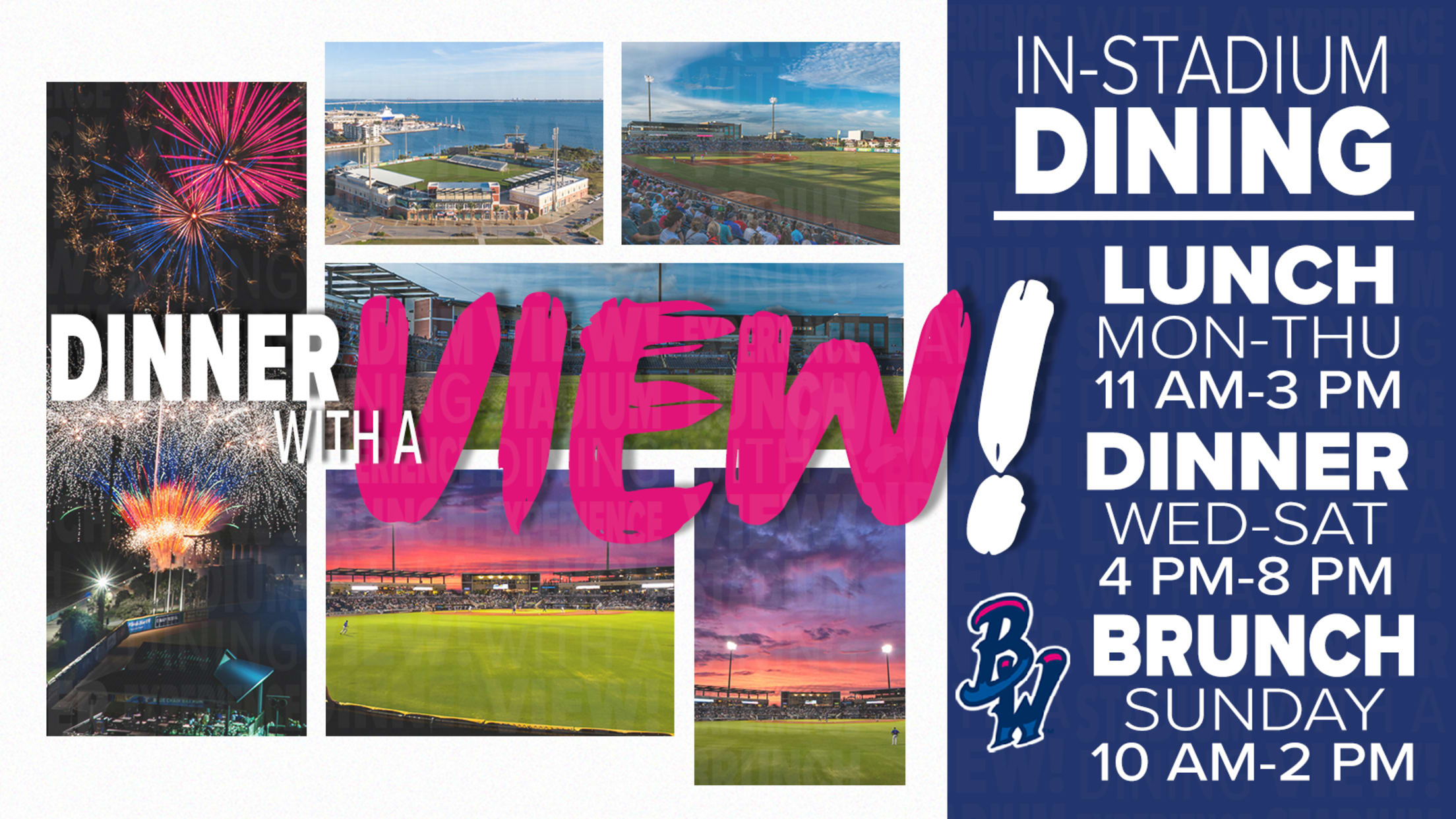 Fans are invited to enjoy the best view in baseball while dining on their favorite ballpark foods starting Monday, May 4. Blue Wahoos Stadium will be open for lunch (Mon-Thu, 11 AM-3 PM), dinner (Wed-Sat, 4 PM-8 PM), and brunch (Sun, 10 AM-2 PM) and customers will be able to
Pensacola's Dustin Hannah helps Minor League partners in Beloit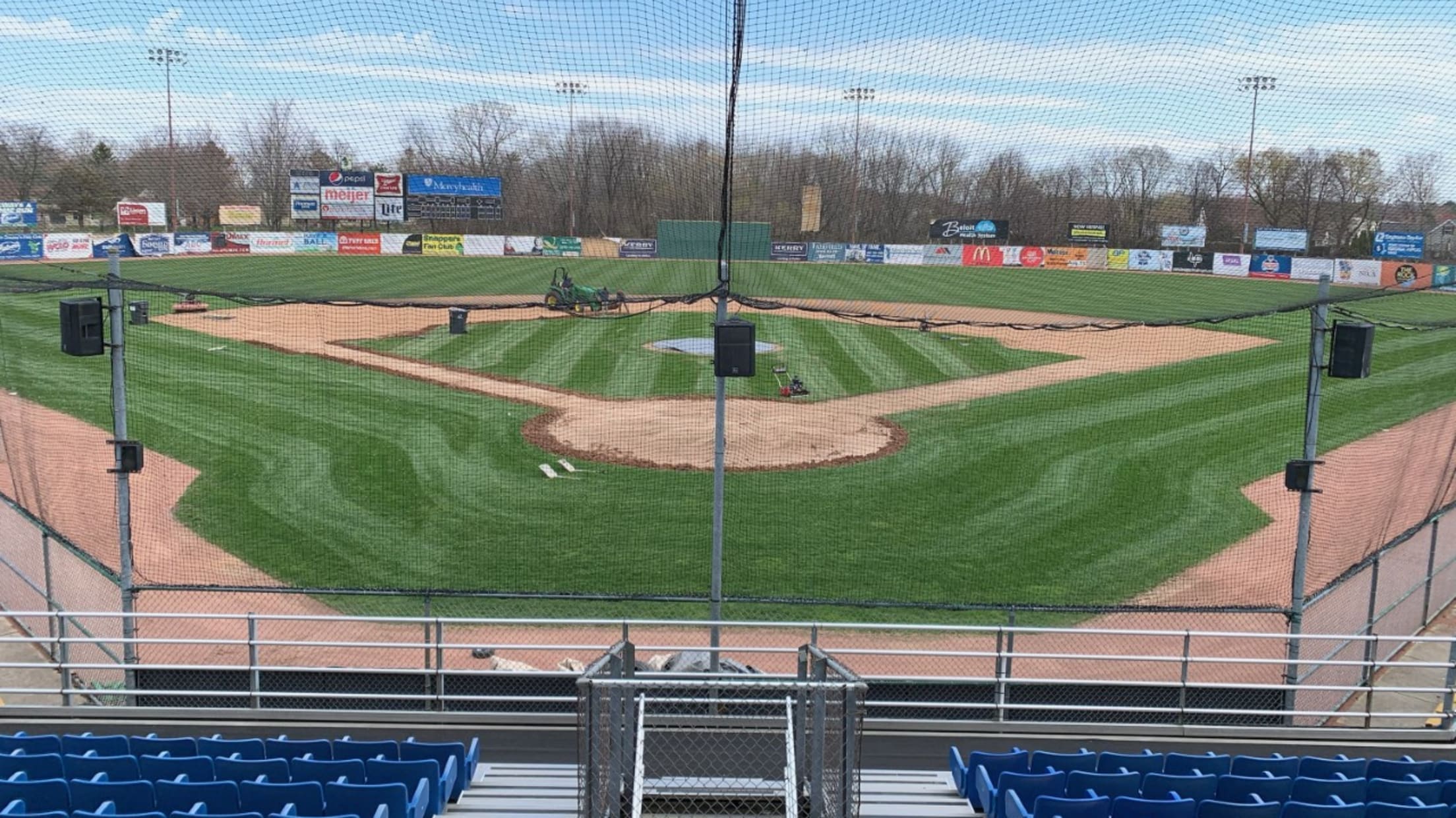 Having worked the playing surface at Blue Wahoos Stadium into prime condition, head groundskeeper Dustin Hannah traveled this week to tackle a bigger project. Hannah drove 15 hours Monday to Beloit, Wisconsin, where he led a team in field restoration at the Beloit Snappers venerable Pohlman Field. The Blue Wahoos
Blue Wahoos Continue Working Despite Opening Day Postponement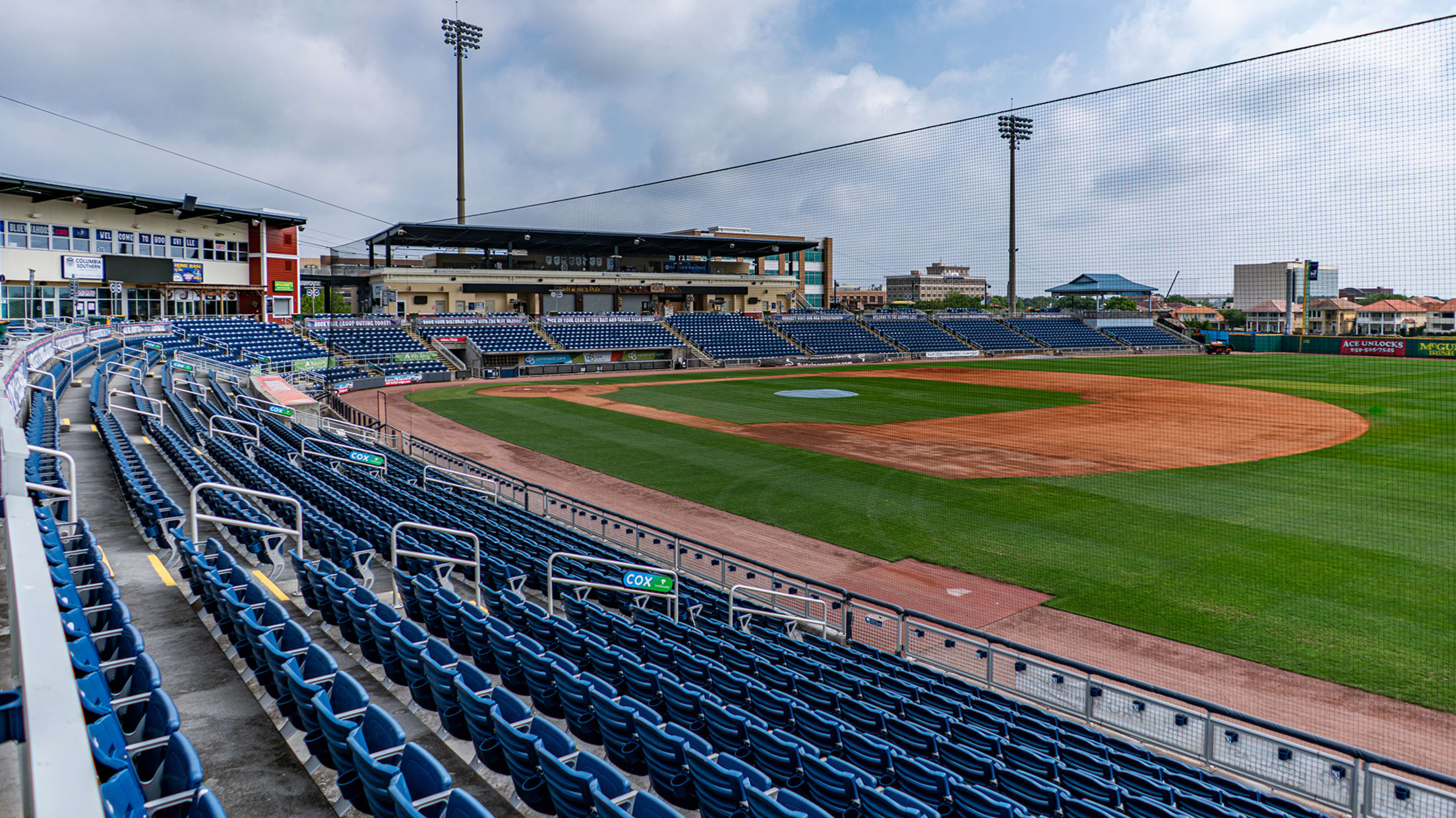 The solitude of Blue Wahoos Stadium became a reminder Thursday the originally scheduled Opening Day for the 2020 season was unlike any other. There was sunshine, a warm breeze, but no stir of activity. The grass was lush, freshly mowed, the infield in perfect shape, but no players to use
Blue Wahoos, City Of Pensacola Extend Safety Netting At Blue Wahoos Stadium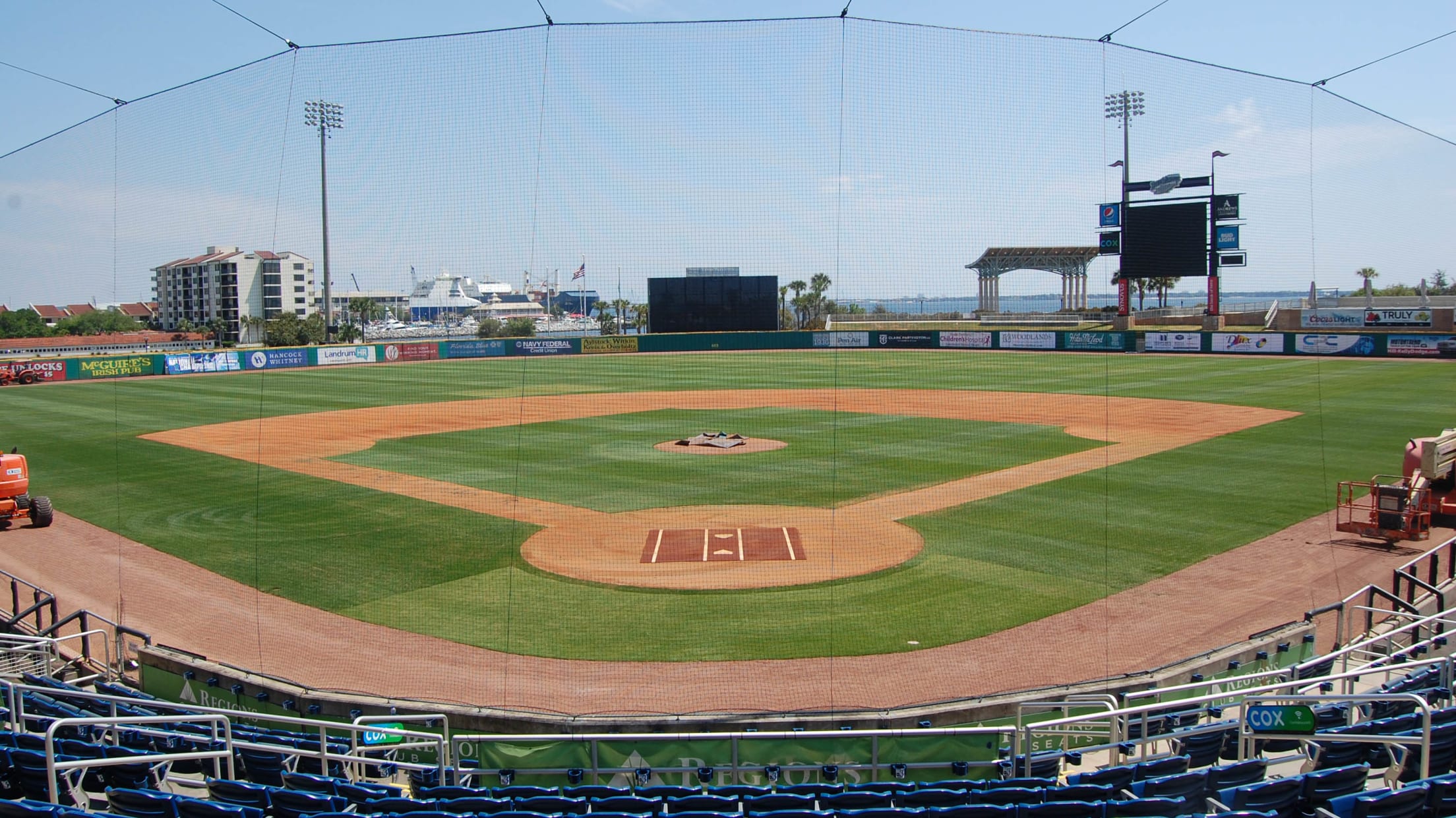 During a game last season at Blue Wahoos Stadium, a foul ball whistled so fast into the home team dugout, only a player's instant reaction avoided potential injury. "The player was sitting on top of the dugout bench and the ball slammed against the back wall, maybe three inches or
Borrego Continues Coaching From Home During Season Delay
Fan-favorite Pensacola manager coaches his players and his daughter from home while awaiting season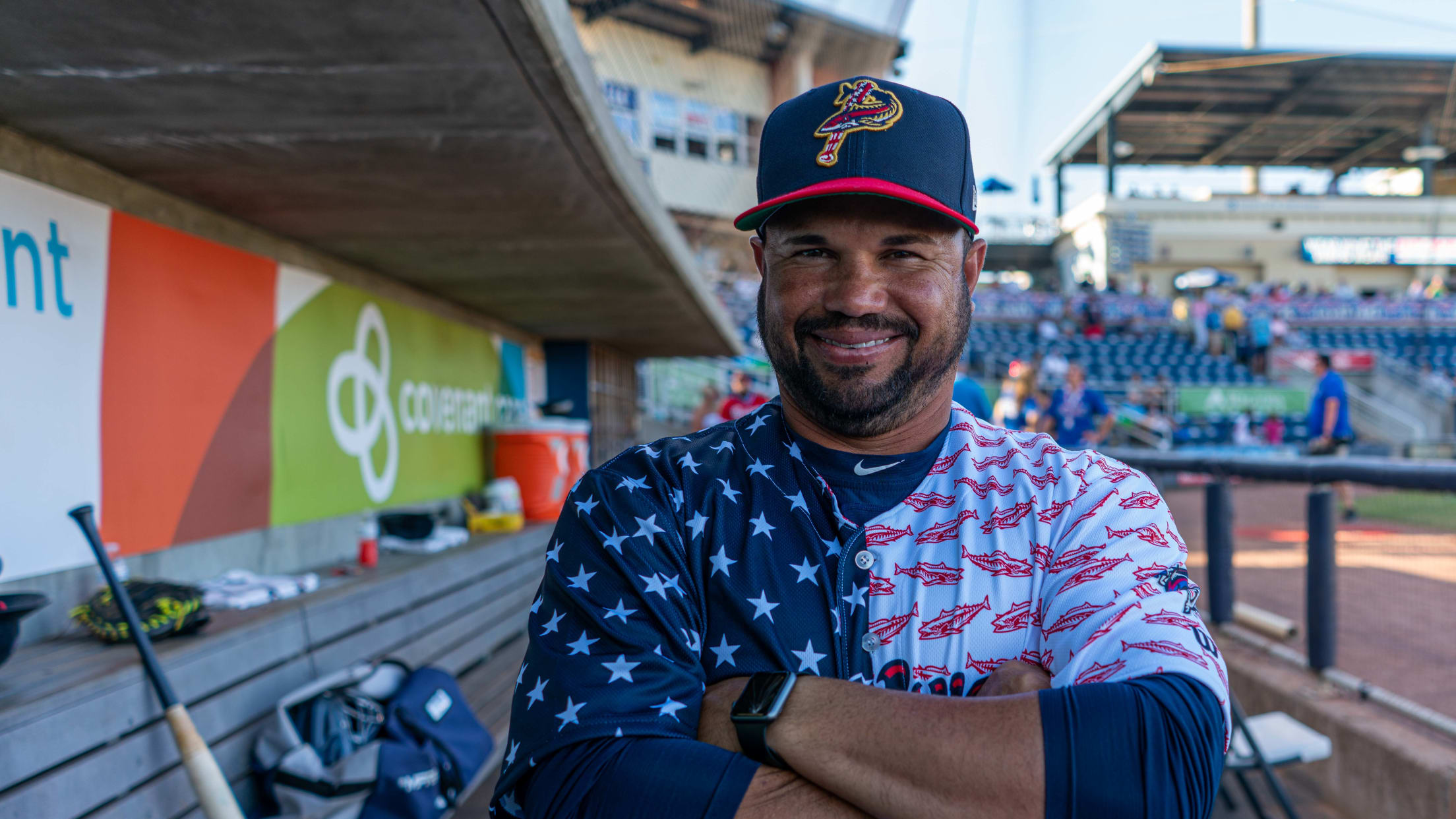 Time passes slowly these days for Blue Wahoos manager Ramon Borrego. Each day at his Fort Myers home with his family is so much like the previous one. "When you stay home and can't go anywhere, you start getting a little stir crazy," Borrego said during a recent phone interview.
Blue Wahoos Offer Family Meal Kits With Dinners And Groceries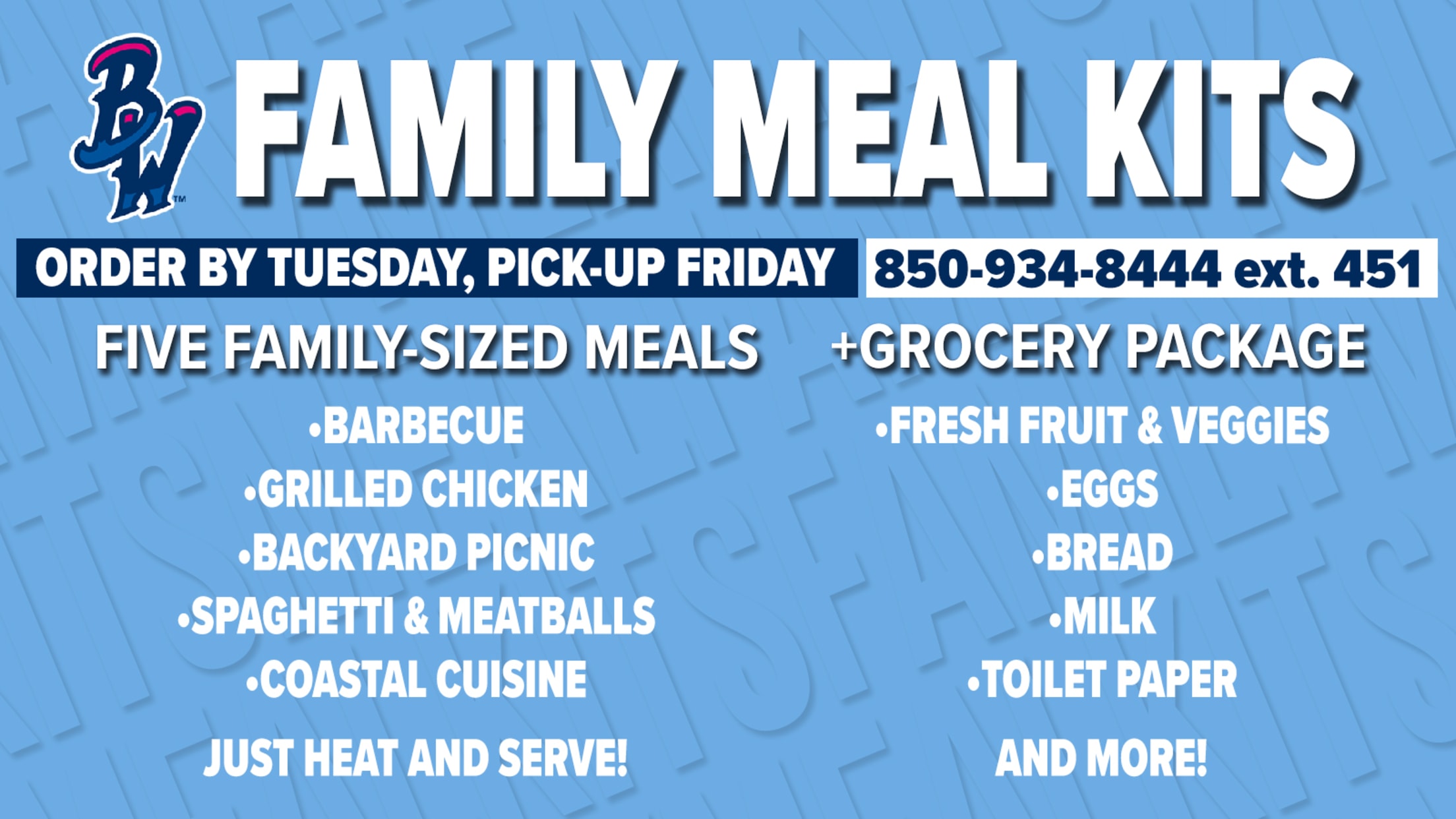 The Pensacola Blue Wahoos are expanding their popular ballpark curbside pick-up food service to offer weekly family meal kits to purchase for the community in response to the COVID-19 Florida stay-at-home order. Each family meal kit will include five easy-to-prepare full meals with cooking instructions designed by executive chef Travis
Blue Wahoos Stadium To Serve As Medical Supplies Drive Drop-Off Location On Friday, April 3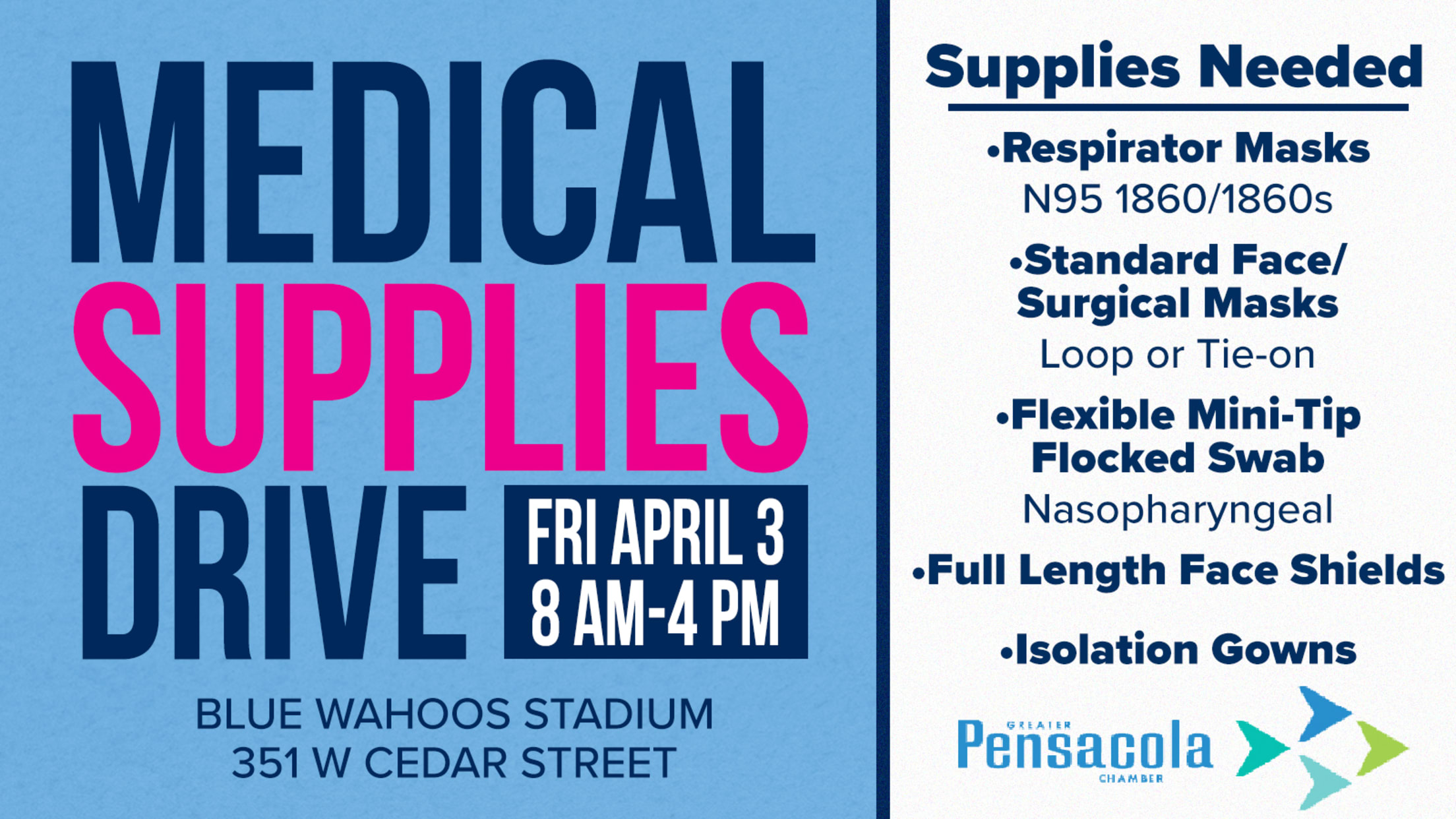 With its accessible location and expansive parking, Blue Wahoos Stadium is one of four area sites being utilized for a Medical Supply Drive on Friday, arranged by the Greater Pensacola Chamber of Commerce. From 8 a.m. until 4 p.m. Friday, volunteers will be gathering new Personal Protective Equipment (PPE) donated
Blue Wahoos Drive Thru Concessions A Hit On First Day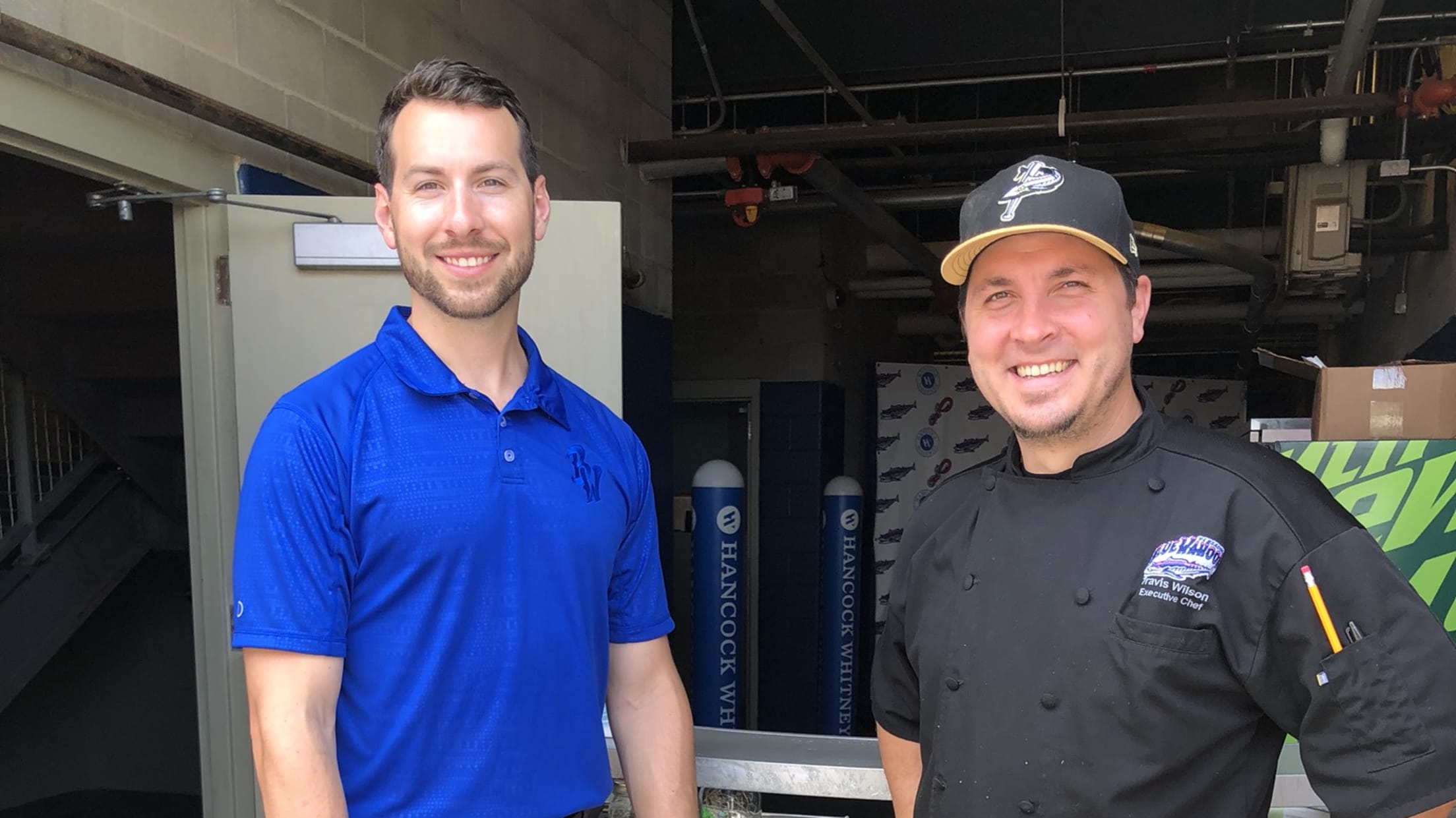 The lunch hour was approaching Monday when Charles Wiggins, an attorney with Pensacola's Beggs & Lane firm, suggested to fellow lawyer, Robert Jones III, they check out this new takeout food service offered by the Pensacola Blue Wahoos. Driving up to Blue Wahoos Stadium, the two purchased the Carne Asada
Blue Wahoos Staff Grateful For Team's Support Following Season Delay
Blue Wahoos owners dedicate $25,000 to part-time staff members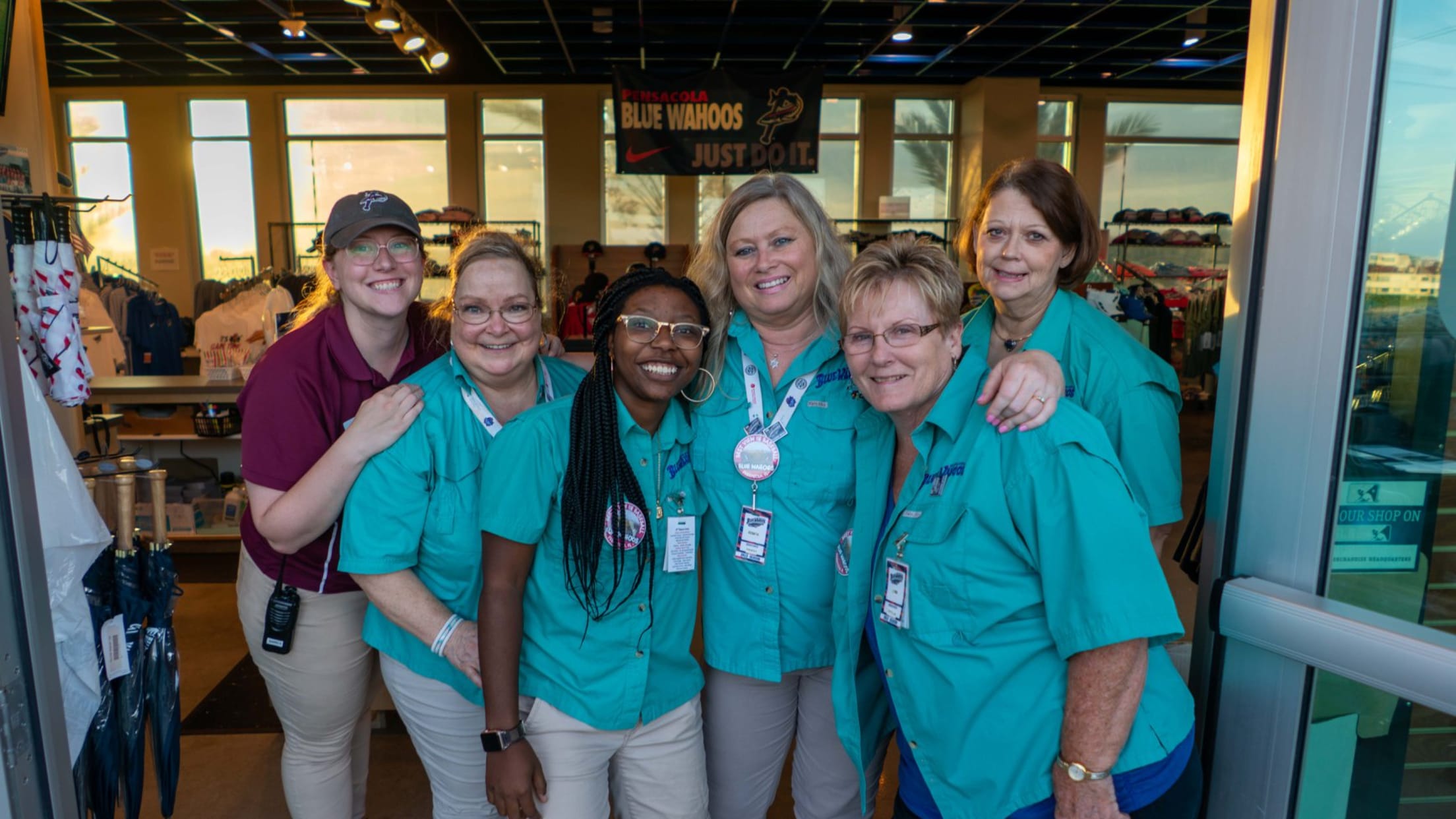 Mary Denaro walked into the Blue Wahoos main office Tuesday wearing a smile and carrying gratitude. She is among the team's seasonal employees being provided a stipend in a caring gesture by team owners Quint and Rishy Studer to help with lost income from the delay of the Blue Wahoos'
Studer's Blue Wahoos Challenge Tournament Canceled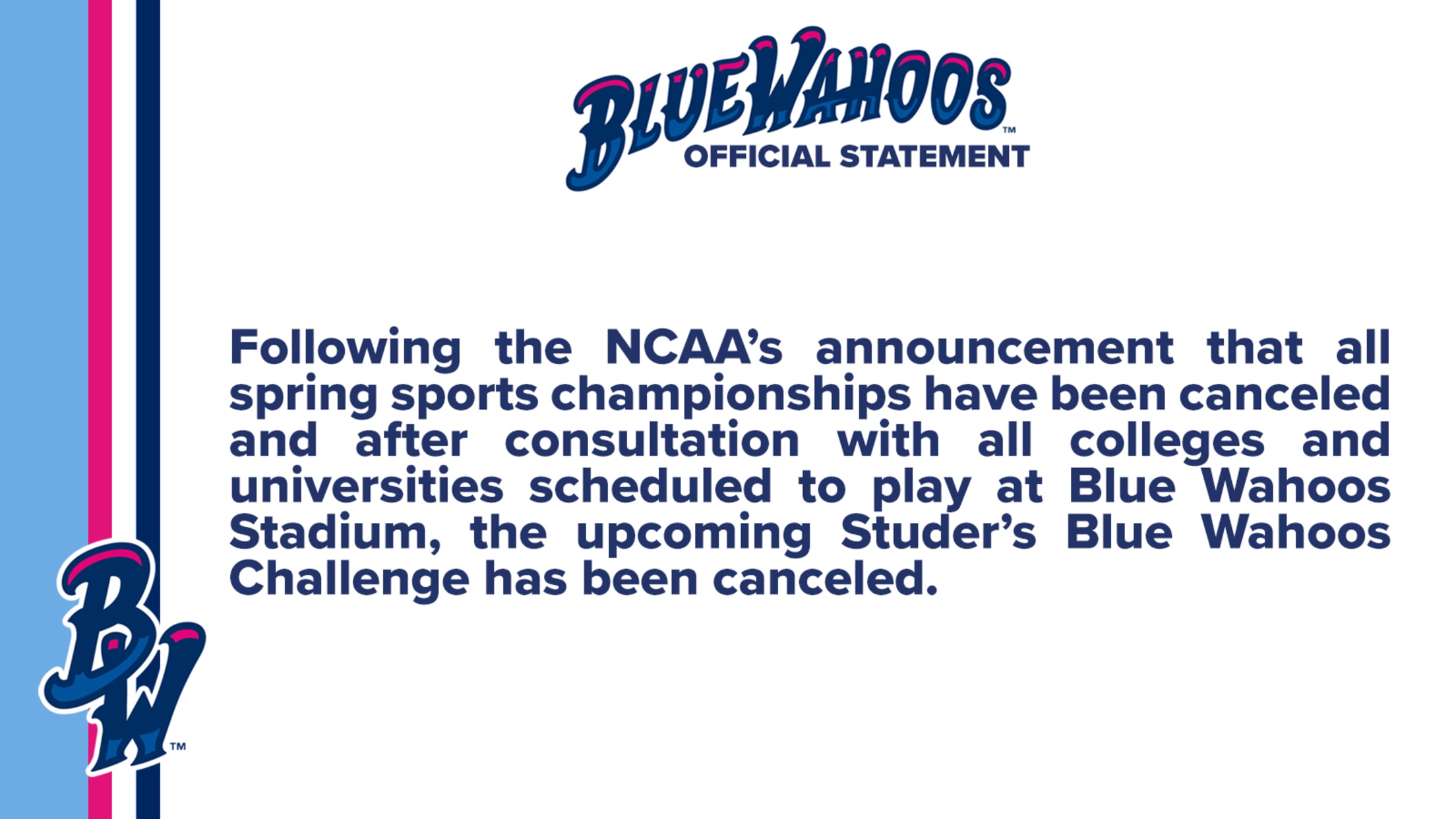 Following the NCAA's announcement that all spring sports championships have been canceled and after consultation with all colleges and universities scheduled to play at Blue Wahoos Stadium, the upcoming Studer's Blue Wahoos Challenge has been canceled. Fans who purchased tickets to the tournament or who have general inquiries should call
Blue Wahoos Dedicate $25,000 To Game Day Employees Affected By Season Delay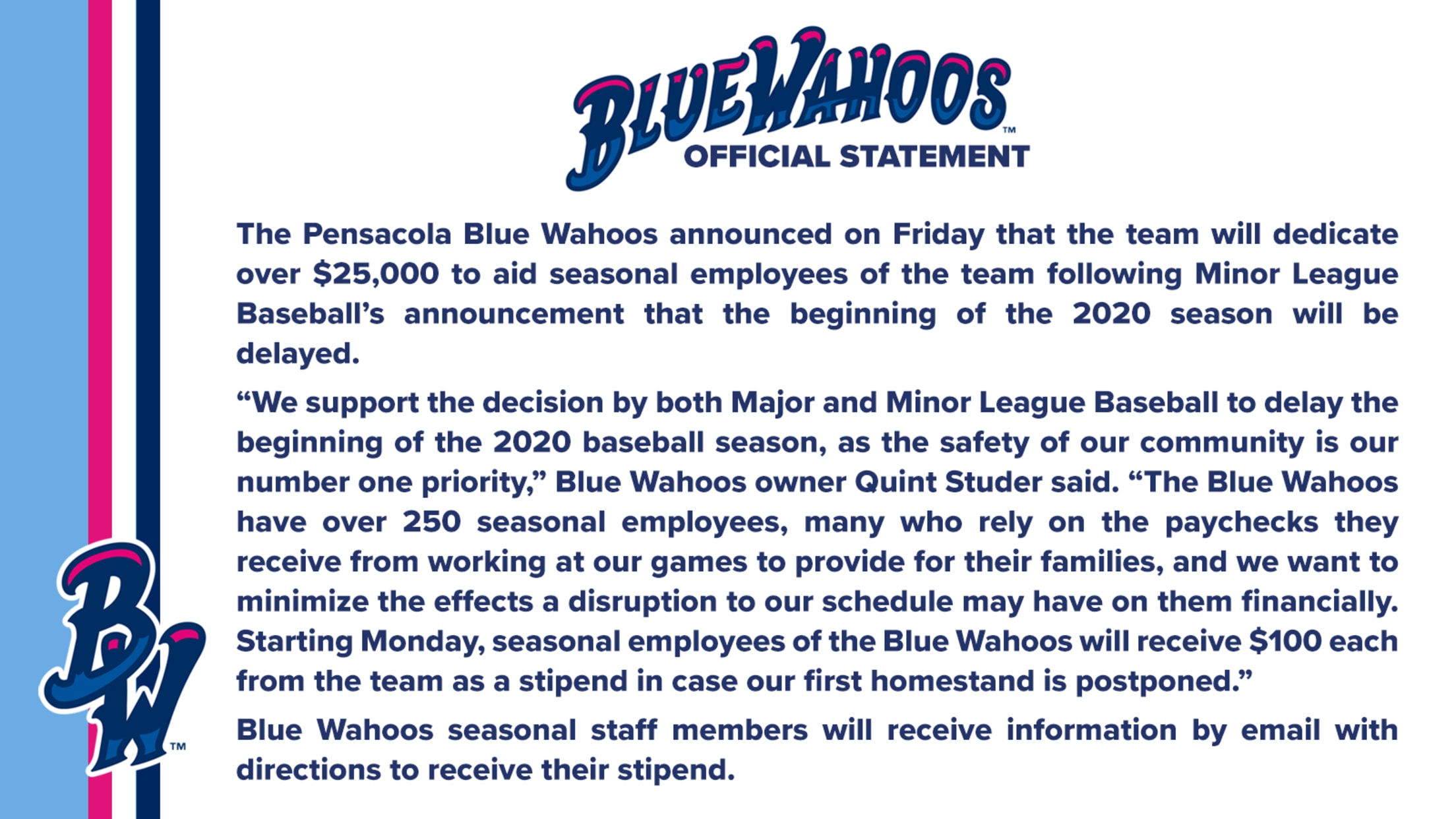 The Pensacola Blue Wahoos announced on Friday that the team will dedicate over $25,000 to aid seasonal employees of the team following Minor League Baseball's announcement that the beginning of the 2020 season will be delayed. "We support the decision by both Major and Minor League Baseball to delay the
Blue Wahoos Stadium, Hospitality Well Received At Cox Invitational 
Field condition, tournament operations impress traveling teams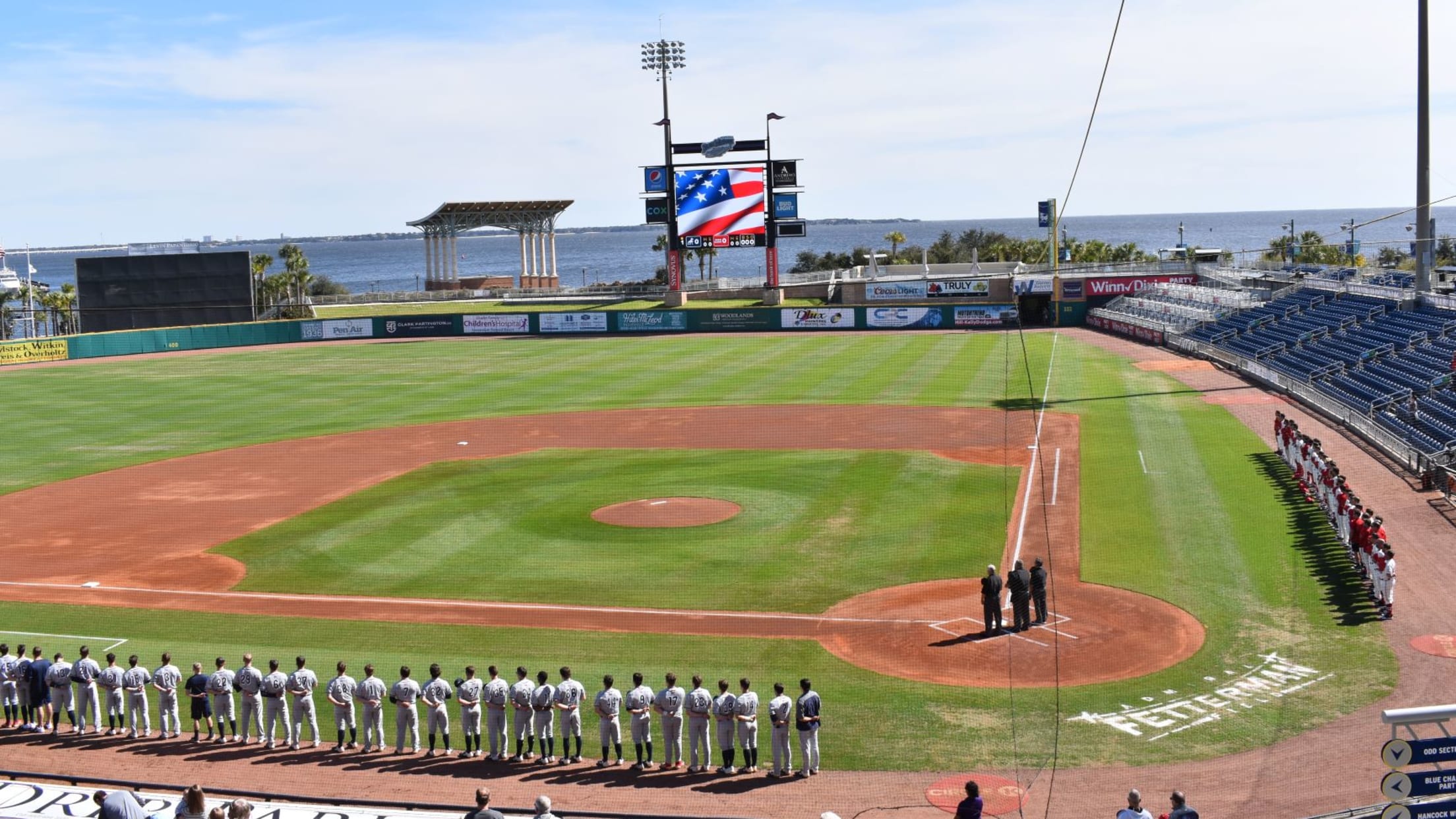 Michigan State quickly agreed years ago to return in 2020 to Pensacola and Blue Wahoos Stadium for the Cox Diamond Invitational. The experience the Spartans enjoyed, along with the other three collegiate baseball teams last weekend, reinforced their decision. The three-day, six games event, presented by Pensacola Sports and sponsored
CANCELED: Pensacola's Got Talent Is Back Bigger And Better Than Ever!
Pre-Season Block Party To Be Held March 21st from 9 AM-12 PM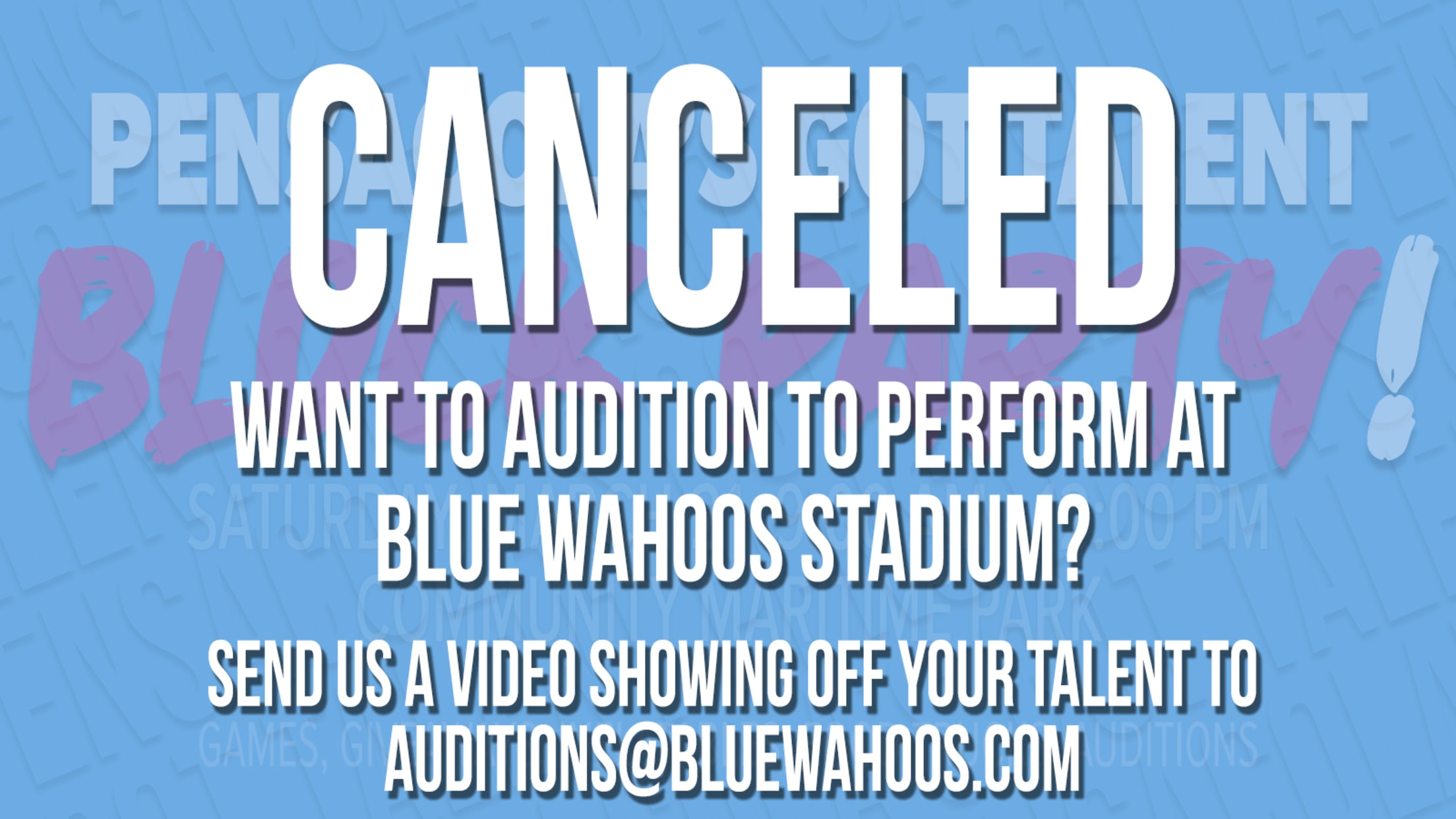 UPDATE: This event has been canceled. Fans interested in auditioning to perform at Blue Wahoos Stadium should send a video of themselves showcasing their talent to [email protected]. Pensacola's Got Talent is back and bigger than ever! The Pensacola Blue Wahoos announced Wednesday that their annual celebration of local talent will
Hundreds Of Youth Players Have Special Night At Blue Wahoos Stadium
Tiger Point Sports Association Has Youth Baseball, Softball Teams At Stadium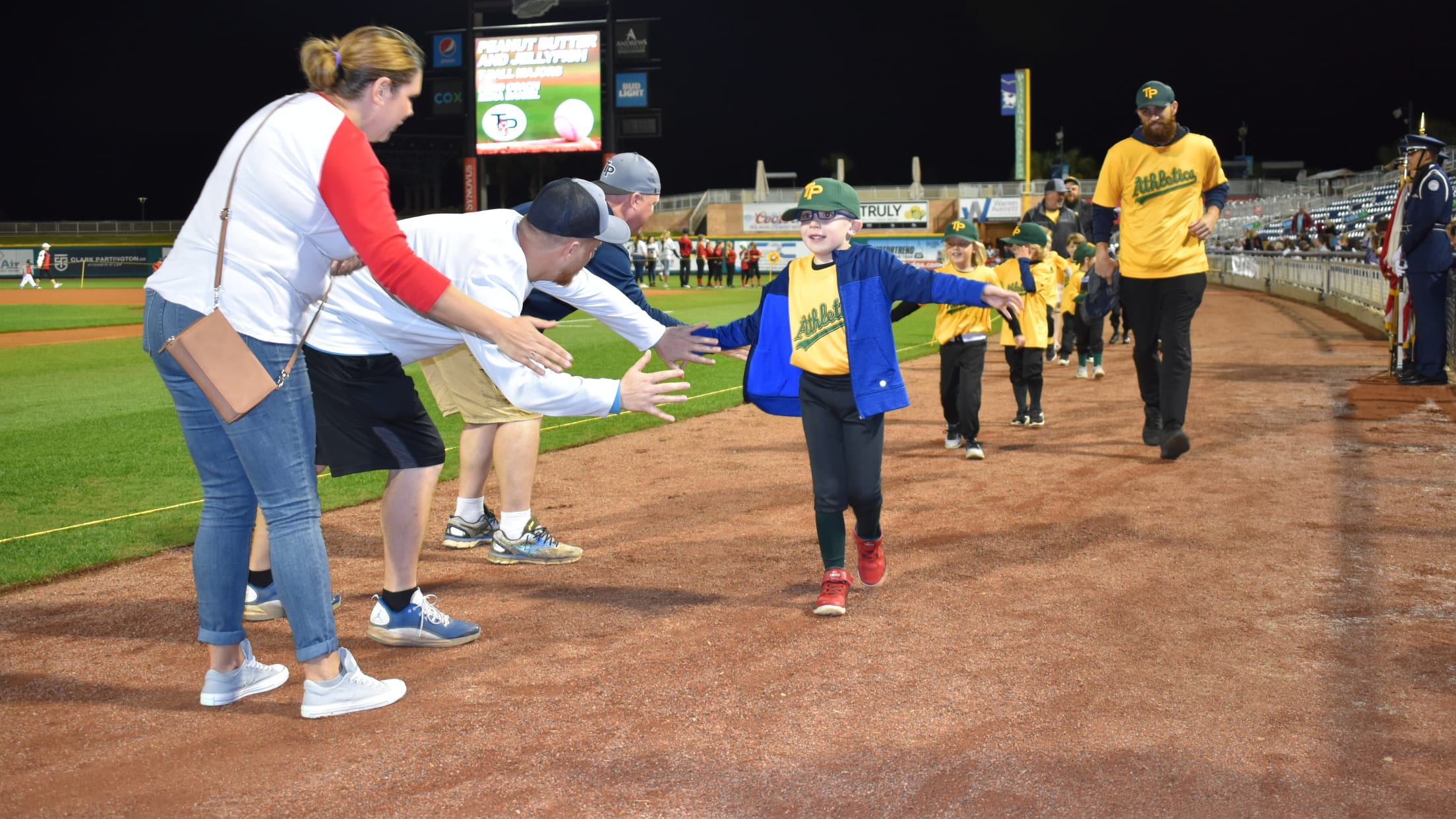 The youth baseball and softball seasons began at Blue Wahoos Stadium in a big way March 5 for the Tiger Point Sports Association. Hundreds of young players, ages pre-school to high school, participated in the Tiger Point Opening Night recently with a parade of teams in an Olympics-style opening ceremonies
Troy Trojans Welcome Return To Blue Wahoos Stadium 
Fourth appearance for Troy in annual weekend tournament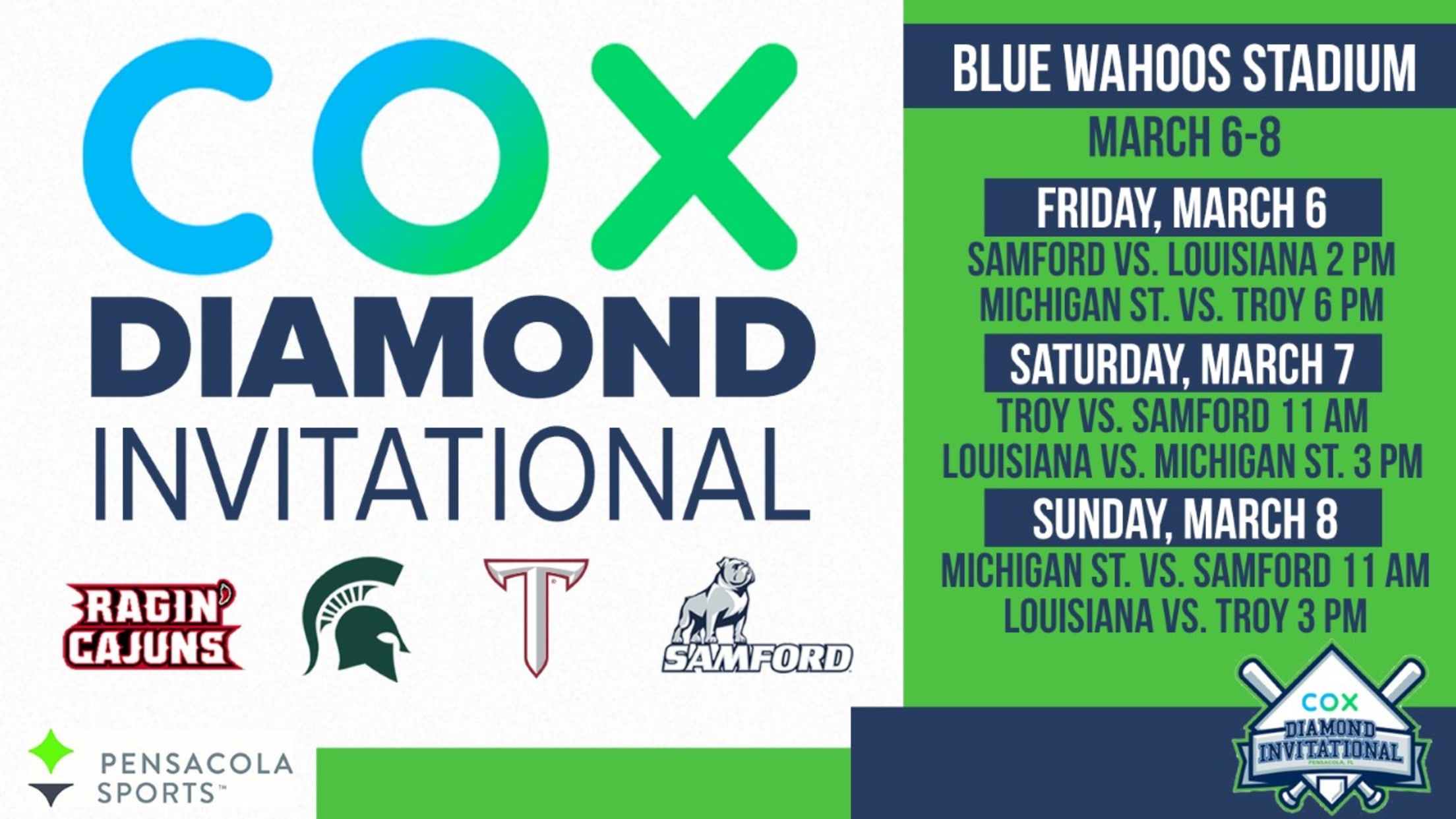 For the fourth time, the Troy University baseball team will play in this weekend's Cox Diamond Invitational at Blue Wahoos Stadium. It will be a welcome return. "There are many, many good reasons to be there," said Trojans coach Mark Smartt whose team is coming off a three-game series loss