Acuña, Kazmar Lead G-Braves to Rout in Charlotte
Gwinnett tallies season-high 19 hits in 13-4 victory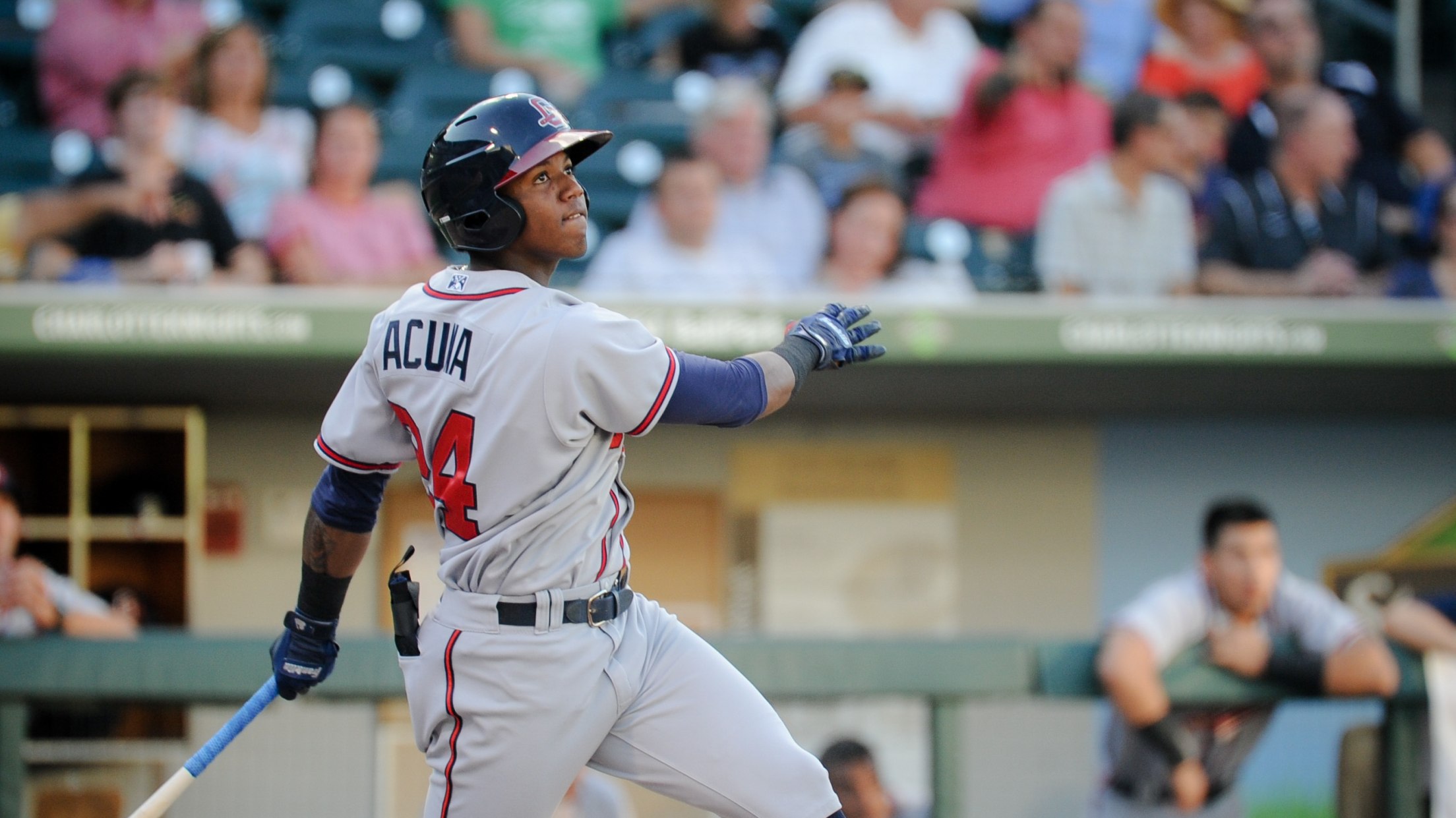 Ronald Acuna went 3-for-5 with a homer and two RBIs in his Triple-A debut on Thursday. (Laura Wolff / Charlotte Knights)
CHARLOTTE, NC - The Gwinnett Braves (45-44) pounded out a season-high 19 hits and rolled past the Charlotte Knights (39-50) 13-4 on Thursday night in game one of the four-game series at BB&T Ballpark.The game saw 19-year-old Ronald Acuña homer and notch three hits in his Triple-A debut and Sean
CHARLOTTE, NC - The Gwinnett Braves (45-44) pounded out a season-high 19 hits and rolled past the Charlotte Knights (39-50) 13-4 on Thursday night in game one of the four-game series at BB&T Ballpark.
The game saw 19-year-old Ronald Acuña homer and notch three hits in his Triple-A debut and Sean Kazmar Jr. Jr. set a new career high with six RBIs.
Acuña got the scoring started in the third inning, crushing a two-out solo home run to right off Charlotte starting pitcher Tyler Danish for a 1-0 Gwinnett lead. The advantage grew to 3-0 in the top of the fifth on RBI singles by Acuña and Rio Ruiz .
The Knights made it a one-run game in the bottom of the fifth by scoring two runs off G-Braves' starter Matt Wisler . Yoán Moncada's RBI single with runners on second and third and one out made it 3-1, and a sacrifice fly to center by Nicky Delmonico cut the lead to 3-2.
But the G-Braves went on to score 10 runs to put the game away. Four came in the top of the sixth, as Dustin Peterson greeted reliever Will Lamb with a solo homer to left, and Kazmar smashed a three-run double to left for a 7-2 lead.
Gwinnett scored six more runs in the top of the seventh to take a 13-2 lead. Micah Johnson , playing in his first game with the club, drove in a run with a double, Matt Tuiasosopo followed with a two-run single and Kazmar lifted a three-run homer to right off reliever Colton Turner.
The Knights made the score a little more respectable by plating two in the bottom of the ninth off Maurico Cabrera.
Wisler (W, 5-5) came up with his fourth quality start in his last five outings by working 7.0 innings with six hits, two earned runs, two walks and eight strikeouts. A.J. Minter tossed 1.0 inning with one walk and two strikeouts. Cabrera went 1.0 inning with three hits, two earned runs, one walk and one strikeout.
Danish (L, 2-8) pitched 5.0 innings with eight hits, three earned runs, one walk and seven strikeouts for the Knights. Lamb went 1.1 innings with eight hits, nine earned runs, two walks and one strikeout. Turner tossed 2.2 inning with three hits, one earned run and five strikeouts.
The 19-hit Gwinnett barrage was led by Acuña, who was 3-for-5 with the solo homer in his second career Triple-A at-bat, three runs scored and two RBIs. Kazmar went 3-for-6 with a double, homer (8) and career-high six RBIs. Peterson went 3-for-4 with his first career Triple-A homer and an RBI to extend his hitting streak to nine games and his multi-hit streak to six games. Tuiasosopo went 3-for-5 with three runs scored and two RBIs.
For Charlotte, Moncada was 2-for-3 with an RBI, Delmonico was 1-for-3 with two RBIs, and Tyler Ladendorf was 2-for-4 with two doubles.
The G-Braves and Knights meet in game two of the series on Friday night in Charlotte. Left-hander Andrew Albers (8-3. 3.61 ERA) will start for Gwinnett, while Charlotte will counter with right-hander Carson Fulmer (6-5, 5.55 ERA). First pitch is set for 7:05 p.m. Tony Schiavone has the broadcast beginning at 6:35 p.m. on 97.7 FM "The Other Side of the River."