Aguilera' walk-off single lifts Riders to 2-1 win in 11 innings
Riders infielder collects second walk-off this season in win over Midland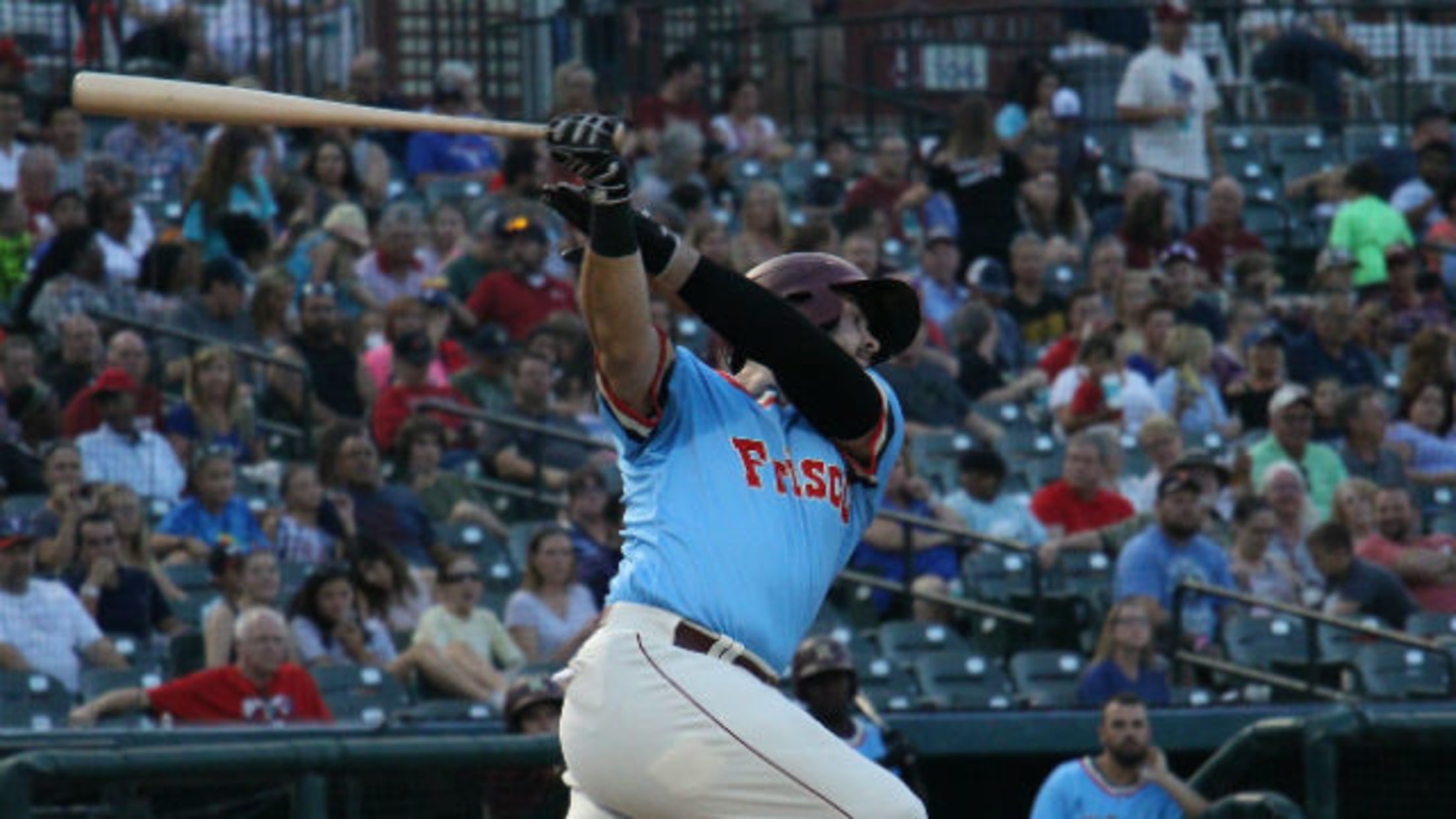 FRISCO, Texas (September 2, 2017) - Eric Aguilera hit a walk-off single in the bottom of the 11th inning, capping a 2-1 win for the Frisco RoughRiders, the Double-A affiliate of the Texas Rangers, over the Midland RockHounds Saturday night at Dr Pepper Ballpark.BIG MOMENTS Eric Aguilera hit a walk-off
FRISCO, Texas (September 2, 2017) - Eric Aguilera hit a walk-off single in the bottom of the 11th inning, capping a 2-1 win for the Frisco RoughRiders, the Double-A affiliate of the Texas Rangers, over the Midland RockHounds Saturday night at Dr Pepper Ballpark.
BIG MOMENTS

Eric Aguilera hit a walk-off single with the bases loaded in the bottom of the 11th, ending the marathon affair against Midland.
Frisco first run came on a first-inning RBI single from Luke Tendler.
Midland's Sean Murphy lead off the top of the fifth with a solo home run, tying the game 1-1.
Riders relievers Ryne Slack and Reed Garrett combined to allow two hits in five scoreless innings of relief, keeping the RockHounds from taking the lead.
KEY RIDERS PERFORMERS
Eric Aguilera: 1-4, walk-off single
Scott Heineman : 2-4, two doubles, walk, two runs
Ryne Slack: 3 IP, 2 H, 0 ER, 1 BB, 0 K
NEWS AND NOTES
Eric Aguilera delivered his second walk-off hit this season, with the other coming on a home run July 1 vs. Tulsa.
The RoughRiders played their Texas League-leading 16th extra-innings contest, and now hold a 6-10 record in bonus frames.
Ariel Jurado turned in his third-consecutive quality start to round of the season, allowing one run in six innings.
WHAT'S NEXT
Riders vs. Midland, Sunday, 7:05 p.m.
Probables: RHP
Tyler Davis
(4-2, 2.45 ERA) vs. RHP
Grant Holmes
(10-12, 4.75 ERA)
Tickets:
Click here
Video: MiLB.tv
Audio:
RidersBaseball.com
,
TuneIn Radio App
,
MiLB First Pitch App
About the RoughRiders
The Frisco RoughRiders are the Double-A affiliate of the Texas Rangers and play their games at beautiful Dr Pepper Ballpark in Frisco, Texas. The team was founded in 2003 and has finished first among all Double-A franchises in attendance in each of the last 12 seasons (2005-2016). In August 2014, the RoughRiders were purchased by an ownership group led by Chuck Greenberg. The new ownership group, together with the city of Frisco, has spearheaded numerous major franchise improvements over the past two seasons, investing nearly $8 million in a wide array of facility upgrades and improvements, including a new state-of-the-art HD video board, sound system, Bull Moose Saloon, InTouch Grille, Riders Outpost Team Store, and the newest and biggest creation, the 174-foot Choctaw Lazy River. The upgrades made prior to the 2015 season earned the Riders and the City of Frisco "Best Ballpark Renovation" of 2015 by Ballpark Digest. The same publication also honored the Choctaw Lazy River as the best ballpark improvement over $1 million for the 2016 season. More than 130 former RoughRiders players have gone on to play Major League Baseball, including All-Stars Chris Davis, Adrián González, Ian Kinsler, and Nelson Cruz, as well as current Rangers stars Elvis Andrus, Rougned Odor and Nomar Mazara. For more information on the Frisco RoughRiders and Dr Pepper Ballpark, please visit RidersBaseball.com or contact Art Garcia at
[email protected]
or Ryan Rouillard at
[email protected]
.
###