Alfaro, Hoskins Lead Way In Rout Of Paw Sox
Pigs Win 50th Game Of Season In Just 79th Game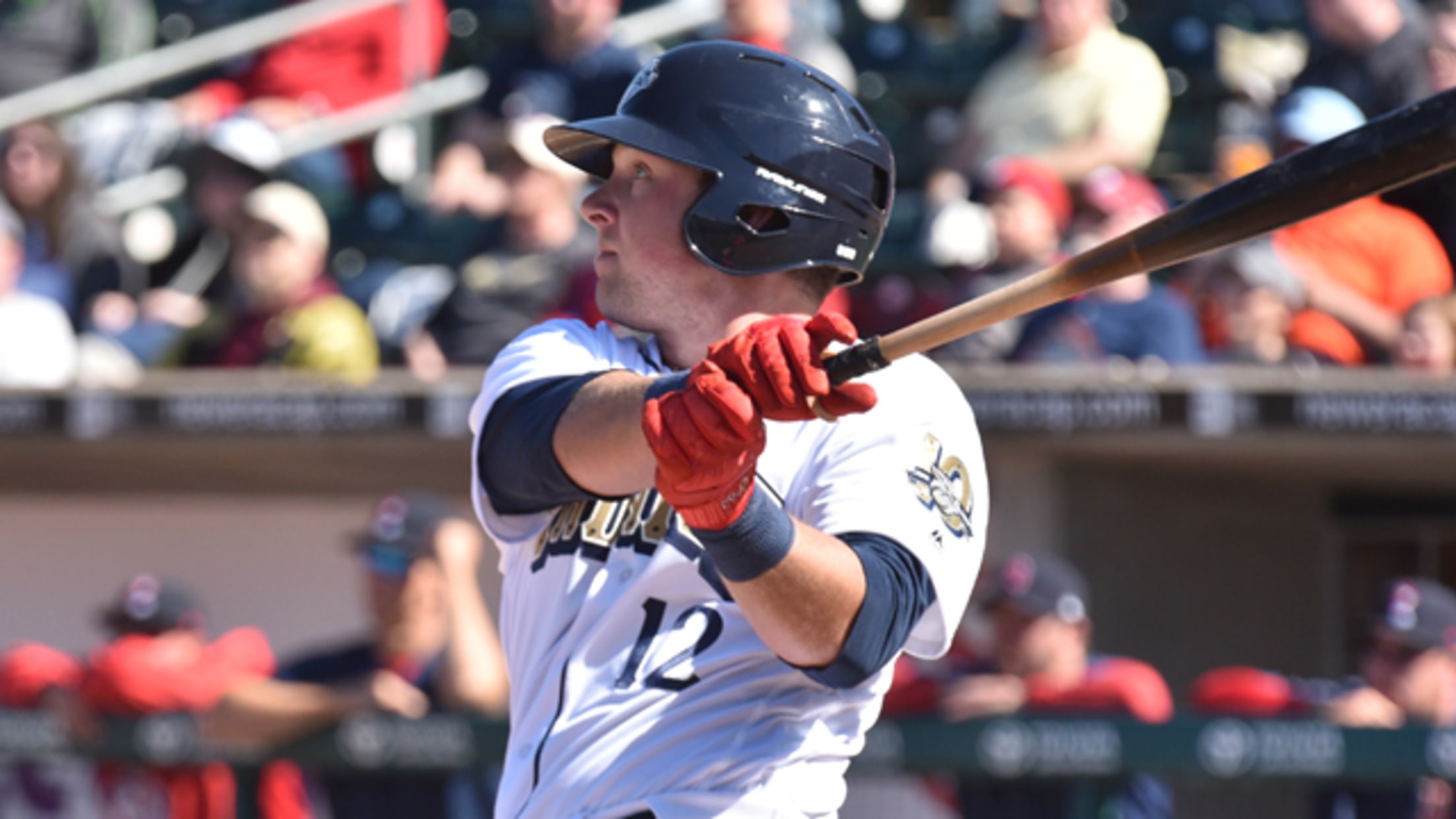 Rhys Hoskins hit his 18th homer, tying him for the International League lead, and Jorge Alfaro launched a three-run home run as the IronPigs (50-29) routed the Pawtucket Red Sox (37-39) by the score of 10-2 Wednesday night at Coca-Cola Park before 7,989 fans. 
Rhys Hoskins hit his 18th homer, tying him for the International League lead, and Jorge Alfaro launched a three-run home run as the IronPigs (50-29) routed the Pawtucket Red Sox (37-39) by the score of 10-2 Wednesday night at Coca-Cola Park before 7,989 fans.
The IronPigs offense erupted a night after taking a 14-5 loss to the Paw Sox, as the Pigs bats awoken for a 10-run 10-hit performance, powered by a five-run second inning.
Scott Kingery jumpstarted the Pigs offense as he led off the bottom of the first inning with a lead-off single to left field, and later scored on a fielder's choice and a throwing error on Red Sox right fielder Bryce Brentz. Alfaro hit a blooper to right that Brentz dove for and nearly caught but it dropped. Brentz then tried to throw out J.P. Crawford at second, however, the errant throw allowed Kingery to score from second.
With a 1-0 lead in hand, Logan Moore led off the inning with a base hit to right-center field, he was followed by a Héctor Gómez double to bring up Kingery. With Kingery batting, Moore scored on a wild pitch to give the Pigs a 2-0 advantage. Kingery then struck out, and J.P Crawford walked to set the stage for Alfaro. Alfaro then drove a 1-0 pitch from Pawtucket starter, and former Philadelphia Phillies pitcher Kyle Kendrick, 357 feet to left-center field a three-run homer to give the Pigs a 5-0 lead.
After Dylan Cozens popped out, Hoskins unloaded on a 2-1 pitch, sending his 18th home run of the season 424 feet over the left field wall to cap of the five-run inning and give the Pigs a 6-0 lead.
Pawtucket scored their two runs on solo home runs by Mike Miller in the top of the third, and another solo shot by former IronPig Brian Boguesevic in the fourth.
Kingery added two sacrifice flies to center field, as he plated Logan Moore in the third, and Andrew Pullin in the fourth.
Before Kingery drove in Pullin in the fourth, Pullin plated two on a double to right-center scoring Hoskins and Nick Williams to give the Pigs a 10-2 lead in which the held for the remainder of the game.
Pigs starter Tom Eshelman picked up his sixth win of the season, as he tossed six innings allowing the two runs on two solo home runs. Pawtucket totaled four hits on the right-hander, as he also fanned seven batters walking just one.
A night after the bullpen surrendered seven runs (four earned), switch-handed pitcher Pat Venditte and Edubray Ramos combined for three scoreless innings to preserve the Pigs 10-2 thrashing of the Paw Sox.
Venditte tossed two scoreless frames as he yielded just a base hit and a walk while fanning three. Ramos then came on to pitch the ninth inning, striking out Jhonny Peralta and Pablo Sandoval before Bryce Brentz lined out to Pullin to end the game.
The win snaps a four-game losing streak, and is the team's 50th win of the season. In just 79 games, It is the earliest the Pigs have reached the 50-win plateau in franchise history, with the previous mark of 85 games on July 5, 2011 and again July 3, 2012.
The four-game series wraps up with game four with the Pawtucket Red Sox Thursday night. The Pigs will send right-hander Mark Appel (5-3, 4.95) and the Paw Sox will send right-hander Marcus Walden (6-3, 3.68). Thursday night is "Salute To Philadelphia Night" as the Pigs will wear special "Whiz Kids" jerseys that will be part of an in game auction. The Philly Phanatic will also be in appearance! First pitch scheduled for 7:05 p.m.
The 2017 Season is the IronPigs 10th Anniversary season at Coca-Cola Park and 10th as the top affiliate of the Philadelphia Phillies. The IronPigs are debuting the brand-new Bacon, USA, Membership Program this season -- a year-round IronPigs experience pass featuring numerous new amenities such as savings on parking at games and at the Majestic Clubhouse Store at Coca-Cola Park, on-field VIP access to watch batting practice, access to an annual holiday party, an invitation to an exclusive player and coaches photo session and more. For more information, visit ironpigsbaseball.com or call (610) 841-PIGS (7447). Memberships and group outings are on sale now.
The 2017 IronPigs baseball season is presented by Capital BlueCross.