Alvarez's Eighth Inning Blast Powers Hooks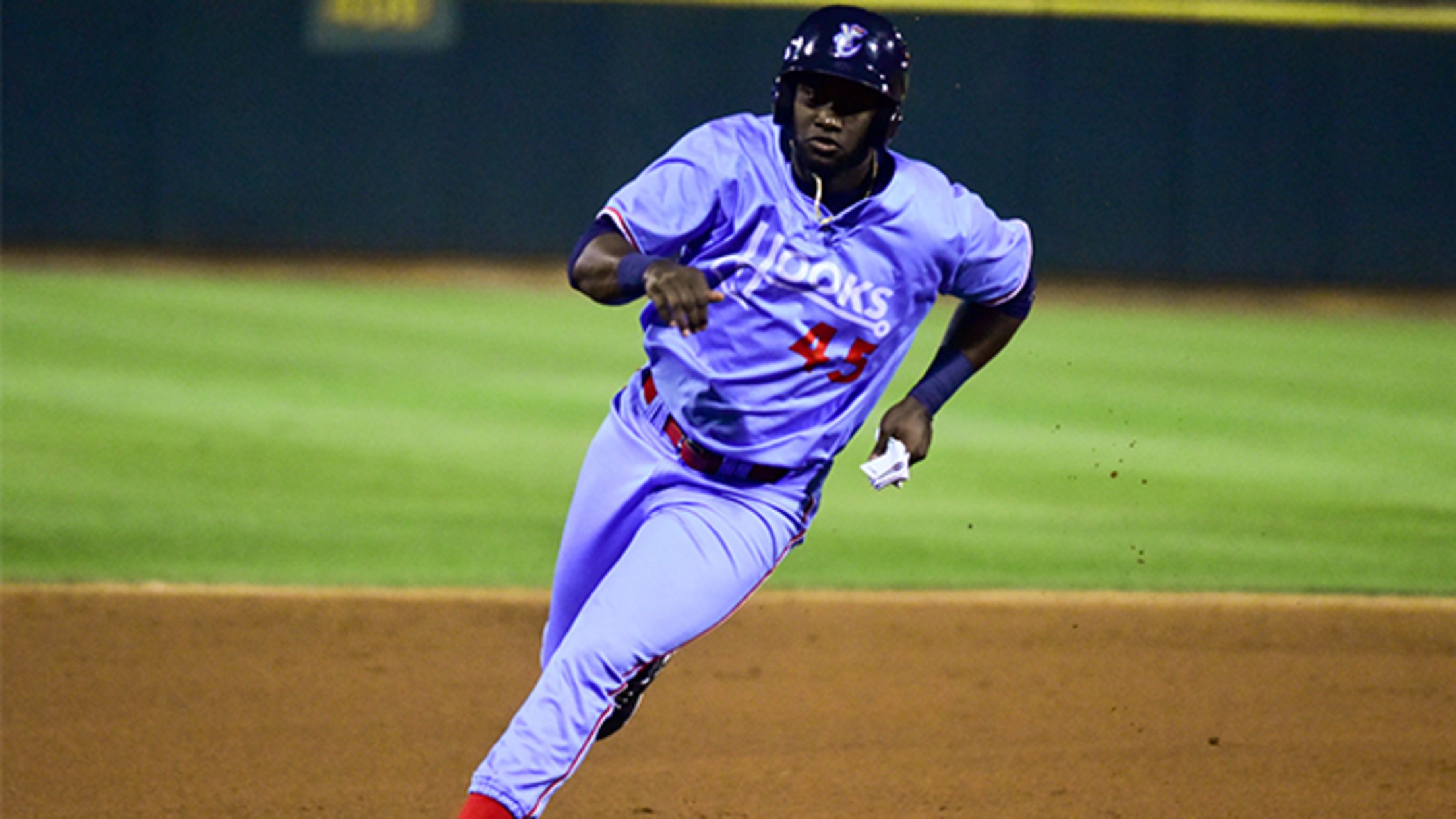 (Charlie Blalock)
FRISCO - Yordan Alvarez belted a three-run home run into the lazy river beyond the right-field wall Sunday afternoon, sending the Hooks to an 8-6 victory and a series sweep of Frisco at Dr Pepper Ballpark.The come-from-behind effort was Corpus Christi's eighth win in the last 10 games. The RoughRiders
FRISCO - Yordan Alvarez belted a three-run home run into the lazy river beyond the right-field wall Sunday afternoon, sending the Hooks to an 8-6 victory and a series sweep of Frisco at Dr Pepper Ballpark.
The come-from-behind effort was Corpus Christi's eighth win in the last 10 games. The RoughRiders have dropped 10 in a row.
The Hooks (10-6) jumped out to a 3-0 lead in the second against lefty Brett Martin. The club's first marker came courtesy of doubles by Randy César and Lorenzo Quintana. Myles Straw followed with a two-run single into right field.
The knock extended Straw's hitting streak to 10 games. He leads the Texas League with a .535 on-base percentage.
In the third, Taylor Jones hit a home run over the right-centerfield fence for a 4-0 Hooks bulge. Jones went 9-for-16 (.563) with six runs, four doubles, two home runs, and eight RBIs in the four-game series.
Corpus Christi southpaw Alex Winkelman cruised through the first four frames, holding Frisco (3-13) to two singles.
The Riders answered by sending eight men to the plate in the fifth to tie the game. Correlle Prime drove in two with a double. Michael O'Neil added an RBI two-bagger, and Eliezer Álvarez completed the rally with a sac fly to center field.
Lefty Cionel Pérez finished the game for the Hooks, scattering three hits and one walk over four innings. Perez was charged with two unearned runs in the seventh, which gave Frisco a fleeting advantage.
Trailing 6-4, Straw and Stephen Wrenn coaxed walks from Cody Palmquist to begin the eighth. Alvarez then deposited the first pitch into the river in right for his third home run of the year.
Alvarez, who plated seven runs over three games in the series, is tied for the circuit lead with 17 RBIs.
Corpus Christi tacked on in the ninth. Lorenzo Quintana worked a free pass, stole second and scored on Alex De Goti's base hit into centerfield.
Perez struck out two in a perfect ninth for his first Double-A win.
The Hooks head home to Whataburger Field for an eight-game stand against Midland and Frisco. Lefty Framber Valdez is slated to start against the RockHounds Monday night. It's Mrs Baird's $1 Day with $1 Nolan Ryan Beef hot dogs, soft drinks, candy, and prize wheel spins. First pitch 7:05.