Amarillo Drops Series Finale In Arkansas
Sod Poodles Drop Four During Road Trip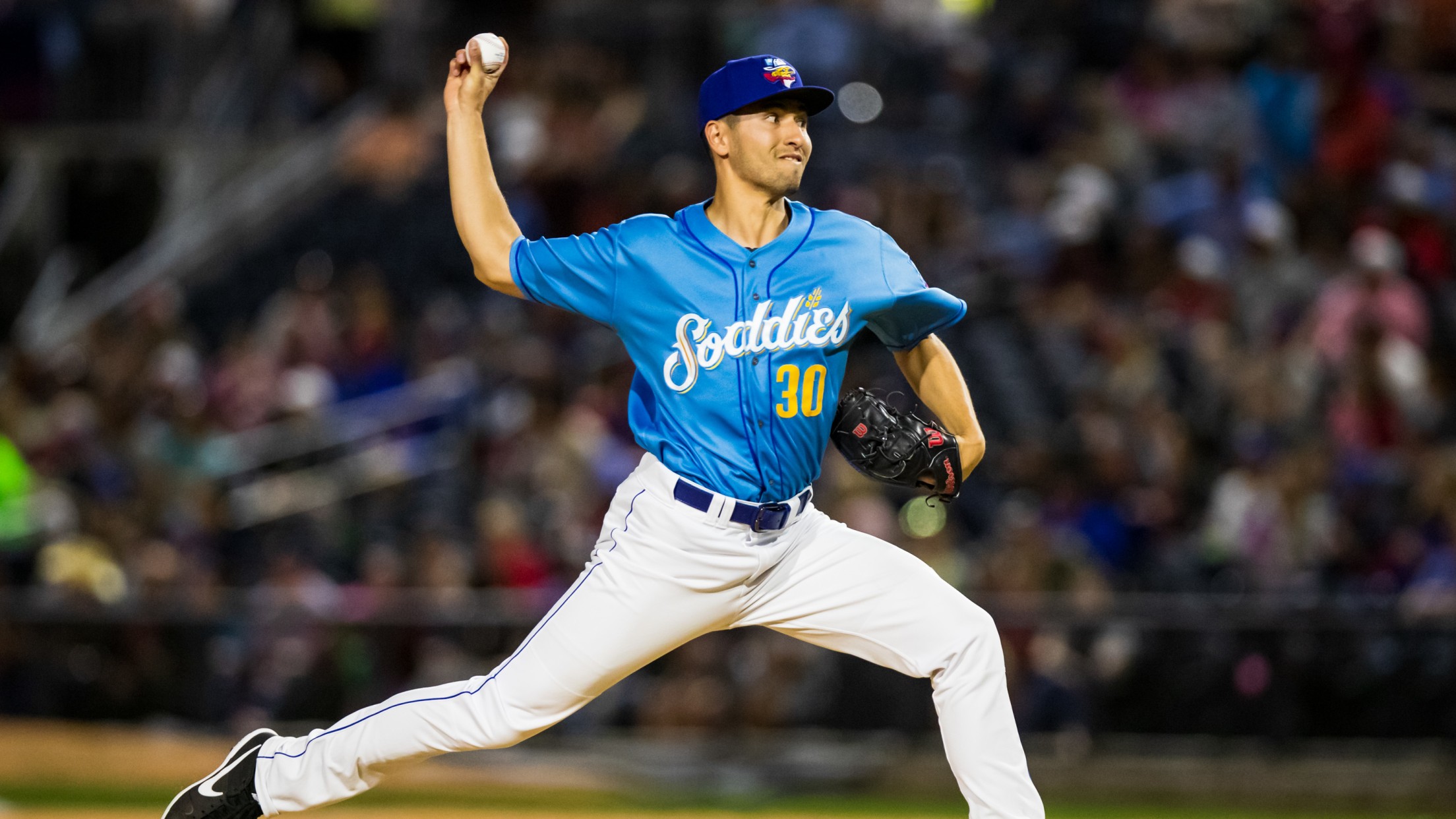 (John Moore)
North Little Rock, AR – The Amarillo Sod Poodles (20-25) were defeated, 5-3, in game six against the Arkansas Travelers (22-23) on Sunday. The Travelers won the series, 4-2. Deyni Olivero (0-4) earned the start for Amarillo and allowed four earned runs in five innings pitched. The Travelers threatened early
North Little Rock, AR – The Amarillo Sod Poodles (20-25) were defeated, 5-3, in game six against the Arkansas Travelers (22-23) on Sunday. The Travelers won the series, 4-2.
Deyni Olivero (0-4) earned the start for Amarillo and allowed four earned runs in five innings pitched. The Travelers threatened early and often, with 11 baserunners through the first four innings.
After two singles in the 1st, the Travelers jumped on the scoreboard first with an RBI double in the 2nd inning. Olivero issued a walk and two groundouts and the two-out double made it 1-0. Two singles and a fielding error made it a two-run Travelers lead in the 3rd.
Arkansas added three more runs in the 4th, creating a five-run lead that would prove insurmountable. With one out, four straight singles plated two runs and a walk loaded the bases. A sacrifice fly scored the fifth run of the game before a groundout ended the inning.
The Sod Poodles were held without a baserunner through the first 4.2 innings, but Blaze Alexander broke up the cold streak with a single in the 5th. He stole second base but was left stranded.
Olivero pitched a 1-2-3 5th before being relieved by Ty Tice in the 6th. Olivero's night ended at 5.0 IP, 9 H, 5 R, 4 ER, 2 BB, and 3 K on 78 pitches, and he was tagged with the loss. He is still searching for his first Double-A win after six starts. Tice was perfect in his lone inning of work, striking out two.
Alexander was the only Sod Poodle that had reached base in the first six innings, but they jumped back in the game with three runs in the 7th. Jorge Barrosa was hit by a pitch to lead off the inning and Eduardo Diaz followed him with a single. Ti'Quan Forbes then plated Barrosa with an RBI single to put Amarillo on the board. After a passed ball put both runners into scoring position, Nick Dalesandro came through with a two-out, two-RBI double to make it 5-3. The inning ended on a strikeout, and the score held until the end of the game.
Keegan Curtis allowed one walk in the 7th, Jeff Bain allowed one in the 8th, and the Sod Poodles drew two walks over the final two innings as well.
The Travelers out-hit the Sod Poodles 9-5 and Amarillo committed one error. Five Soddies recorded a hit and Dalesandro led the way with two RBI. Amarillo struck out 13 times and left four runners on base. All told, Arkansas out-scored Amarillo 22-13 in the series and out-hit the Sod Poodles in four of the six games.
Amarillo will return home for back-to-back home series against the Midland RockHounds and the Frisco Roughriders beginning on Tuesday, May 31. HODGETOWN will host 13 games in 14 days for the first time this season. In game one against Midland, the Sod Poodles will turn to Brandon Pfaadt (4-3, 4.10 ERA) to kick off the homestand.
Notes:
Nick's Sporting Goods: OF/C Nick Dalesandro ended the series on a high note, notching three hits in his final two games played. He hit a two-RBI double tonight in the 7th, his second two-bagger in as many games. On the year, Dalesandro is batting .256 with 10 RBI and nine stolen bases. He has only played in six of Amarillo's last 12 games, but is currently listed as the only catcher on the Sod Poodles roster after Juan Centeno was transferred to Triple-A Reno on May 28.
Bain Freeze: RHP Jeff Bain allowed just one baserunner in a scoreless inning today, his second scoreless outing in a row. The former California Golden Bear has been outstanding in the month of May, racking up a 1.13 ERA with only three hits allowed in eight appearances. Bain has actually only allowed one earned run since April 22, a solo home run on May 19 against Tulsa. On the season, Bain now owns a 4.82 ERA with 20 strikeouts and four walks in 18.2 innings pitched.
Tough Pitching: Amarillo was held at bay by the Arkansas pitching staff in the series, as they scored three or fewer runs three times and had five or fewer hits in four games. Amarillo is just 1-10 when scoring three or fewer runs this season and are 0-7 when notching five or fewer hits. The Sod Poodles have still been a force to reckon with at the plate this year, and their 299 runs still lead all of Double-A.
Let's Bring It Home: After sitting at .500 (18-18) on May 19, Amarillo is now five games under .500 (20-25) for the first time this season. They won just one of six in their previous series against Tulsa and dropped four of six to Arkansas, their first and only six-game series losses of the year. They dipped under .500 at 18-19 on May 19 for the first time since April 15, when they were 3-4. The Sod Poodles will look to right the ship in their next two series at home against the Midland RockHounds (21-24) and Frisco Roughriders (25-20). Amarillo is 4-5 against Midland this year and both series have been at HODGETOWN.
Record Watch: Four Sod Poodles inched closer to career milestones in tonight's game. Blaze Alexander stole his fifth base of the year, giving him 46 in his minor league career. Ti'Quan Forbes also notched his 654th career hit, 46 shy of 700. On the pitching side, Jeff Bain recorded his 396th career strikeout and Keegan Curtis pitched his 91st career inning. The most recent Sod Poodle to hit a career milestone was Josh Green, who recorded his 200th career strikeout on May 26.