Amarillo Wins Fourth Straight To Clinch Series
Soddies Powered By Four Homers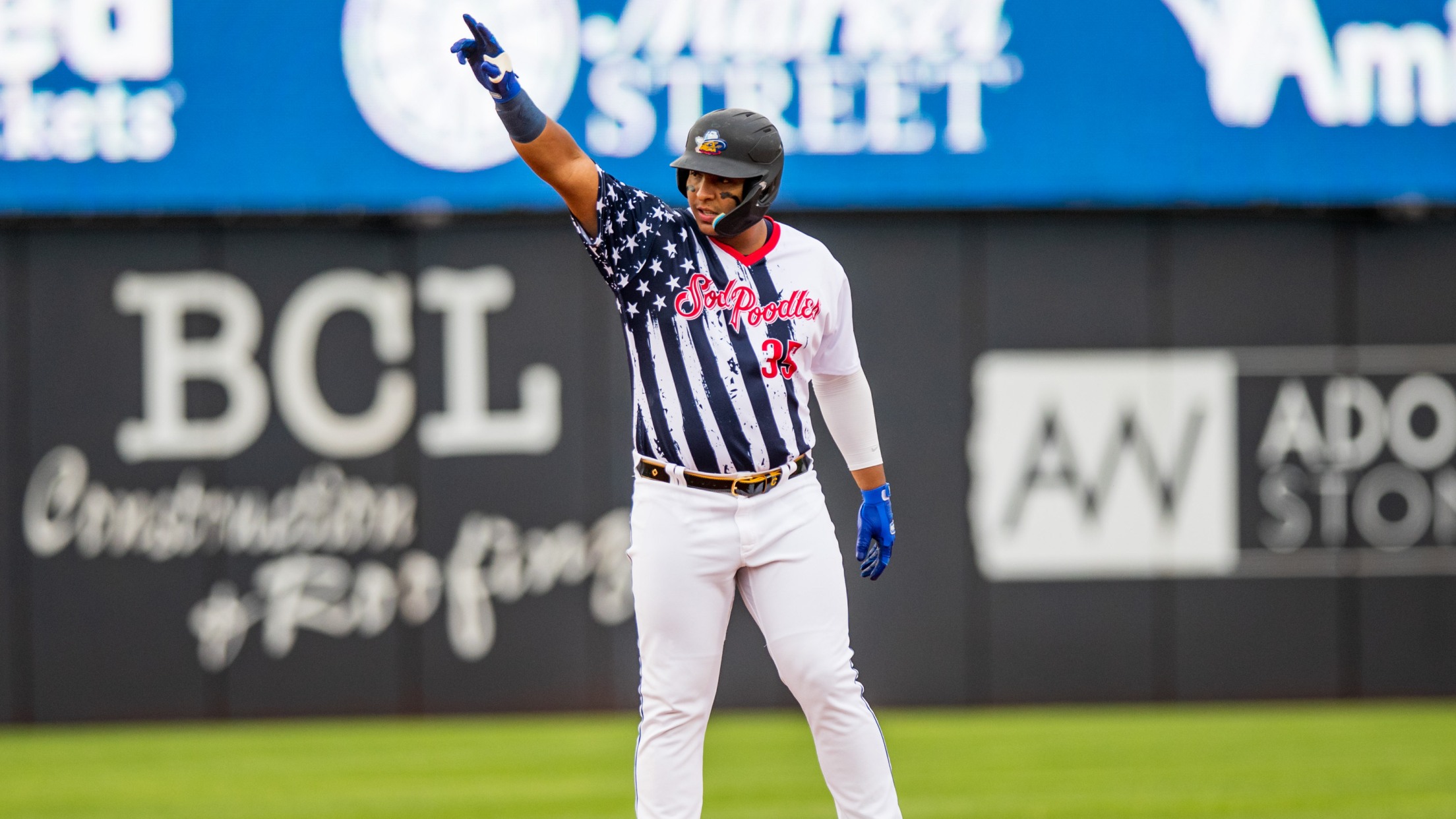 Amarillo, TX – The Amarillo Sod Poodles (36-39) secured their fourth straight victory in a 13-12 win over the Northwest Arkansas Naturals (32-41) on Saturday. A run was scored in 11 separate half-innings, but the Sod Poodles were powered by four home runs and two four-run innings. Jeff Bain (5-1)
Amarillo, TX – The Amarillo Sod Poodles (36-39) secured their fourth straight victory in a 13-12 win over the Northwest Arkansas Naturals (32-41) on Saturday.
A run was scored in 11 separate half-innings, but the Sod Poodles were powered by four home runs and two four-run innings. Jeff Bain (5-1) tied the team lead with his 5th win of the year in relief.
Amarillo had starting pitcher Kenny Hernandez on the mound, and he allowed two hits with two strikeouts in the top of the 1st. The Sod Poodles immediately gave him a four-run lead in the bottom of the frame.
Jorge Barrosa and Juan Centeno kicked off the evening with back-to-back walks and Leandro Cedeño put them on the board with an RBI double. With two in scoring position and no outs, Roby Enriquez quickly made it a 4-0 game with a three-run home run to right field. It was his third homer of the season and second game in a row with a long bomb.
Fireworks have started early in downtown Amarillo 🎆@robyenriquez17 pic.twitter.com/MghnGXyP58

— Amarillo Sod Poodles (@sodpoodles) July 3, 2022
The Naturals got on the board with a run in the 2nd off of a walk and two singles, but Amarillo added two more in the bottom of the inning to extend their lead to 6-1. Jorge Barrosa was hit by a pitch to put a runner on base, and Cedeño crushed a 109-MPH, 441-foot, two-run homer to center field. This marked the third game in a row that Cedeño has gone yard, his second time this season with a home run in three straight games. Roby Enriquez followed him with a double but was caught trying to steal third to end the inning.
Northwest Arkansas responded with two runs of their own in the top of the 3rd, the fourth consecutive half-inning with a run scored in the game. After a leadoff walk, Hernandez surrendered a two-run home run to make it 6-3. He allowed a walk and a single after the home run and was relieved by Junior Garcia after allowing three earned runs in 2.1 IP. Garcia retired his only two batters to escape the inning.
Amarillo re-grew their lead to four runs with a solo home run off the bat of Tristin English in the bottom of the 3rd. The homer was his first in Double-A after hitting 16 in two seasons at High-A Hillsboro.
The Naturals responded once again with three runs in the top of the 4th. The leadoff batter singled, and Garcia allowed back-to-back doubles followed by an RBI groundout that cut Amarillo's lead to 7-6.
Jorge Barrosa blasted Amarillo's fourth home run of the game in the bottom of the 4th to extend their lead back to two runs. He sent a full-count pitch 411 feet over Bar 352 in left field for his 7thhome run of the year to make it 8-6, Soddies.
Northwest Arkansas hit a solo home run of their own in the next half-inning, cutting Amarillo's lead back to one. Junior Garcia was relieved after finishing the frame, ending with a final line of 2.2 IP, 4 ER, and 2 K.
HE JUST WONT STOP 🔥🔥🔥@learcedeo

We hope he never does. pic.twitter.com/AQ1wFOriaK

— Amarillo Sod Poodles (@sodpoodles) July 3, 2022
Amarillo led off the bottom of the 5th with back-to-back hit-by-pitches, but couldn't plate a run and went scoreless in the frame. The scoreless half-inning was the first since the top of the 1st, marking eight consecutive half-innings with a run scored.
The Naturals finally tied the game with a run in the 6th. Jeff Bain entered in relief and retired the first two batters, but a walk and a double tied the game at 8-8. The Sod Poodles led by five in the 2nd inning, but Northwest Arkansas scored in every inning from then until the 6th to tie the game.
Following suit in the back-and-forth contest, Amarillo reclaimed the lead in the bottom of the 6th. Juan Centeno led off the inning with a towering fly ball to center field, and miscommunication in the outfield allowed the ball to drop for a double. Cedeño drew a walk to advance the runner to second, his fourth time reaching base in the contest. Tim Tawa then grounded into a fielder's choice, but a throwing error by the second baseman allowed Centeno to score. After six, the Soddies led 9-8.
The Sod Poodles eclipsed double-digit runs after batting around and plating four in the bottom of the 8th to make it 13-8. Andy Yerzy and Barrosa drew a walk and Drew Stankiewicz singled to load the bases, and Centeno promptly unloaded them with a three-RBI double. Cedeño kept his big night going with an RBI single to score Centeno, his fifth time reaching base in the contest.
In a late comeback effort, the Naturals scored four runs in the top of the 9th. The first two batters singled, and one was scored on an RBI double that went over Barrosa's head at the warning track in center field. Rogers then issued a walk to load the bases with no outs. The next batter skied a fly ball into left field, but it popped out of English's glove and one run scored on the error. The following Natural skied a pop-up into shallow left-center field, and it dropped to plate another run. One runner was tagged out on the play, but Rogers issued another walk to load the bases once again.
Northwest Arkansas cut the lead to one run on a sacrifice fly to right field. The ball was hit to the warning track and nearly got out for a go-ahead grand slam, but Enriquez gloved it for the second out. With two runners in scoring position, Rogers secured the win with a swinging strikeout. It was the second game in a row that Amarillo won by one run after leading by five heading into the 9th.
Amarillo was out-hit 14-10 and committed two errors to Northwest Arkansas' one. Both teams walked eight times, and the Sod Poodles pitchers racked up nine strikeouts. Amarillo batted 4-for-12 with runners in scoring position and left eight runners left on base, and Northwest Arkansas batted 3-for-13 with RISP and left 10 on base.
The Sod Poodles lead 4-1 in the series and have secured their fourth series victory of the season. The series will conclude in tomorrow's Indepence Weekend extravaganza, with first pitch at 6:05 PM. Amarillo's RHP Deyni Olivero (0-6, 7.74 ERA) will be on the mound to face LHP Dante Biasi (4-1, 4.27 ERA).
Notes:
En FUEGO: 1B Leandro Cedeño has been a monster at the plate to start the Texas League Second Half, and he reached base all five times tonight in a 3-for-3 performance with a HR and four RBI. He crushed his home run 109 MPH and 441 feet to center field, his third game in a row with a dinger. This is the second time this season that the slugger has homered in three straight, and he is now tied for the team lead with 16 HR (Corbin Carroll, 16). He also finished a triple shy of the cycle for the second game in a row and has reached base in nine of his last ten plate appearances. Through the first five games of the second half, Cedeño has an incredible line of .556/.667/1.111 with 3 HR, 11 RBI, 8 R, and 6 BB.
Roby Rakes: OF Roby Enriquez crushed a three-home run in the bottom of the 1st tonight to give Amarillo a 4-0 lead. He hit a two-run shot last night, giving him a homer in back-to-back games for the first time in his career. Tonight's homer was his third as a Sod Poodle. He has four total HR in his first professional season, and half have come in the last two games. Enriquez turned in a 2-for-4 effort with a home run, double, 3 RBI, and a hit-by-pitch. On the year with Amarillo, he is batting .314 with 20 RBI.
Double-A Dinger: Utility man Tristin English joined the hit parade with a solo home run in the 3rd inning, his first in Double-A. The longtime Hillsboro Hop has gotten off to an excellent start to his career as a Sod Poodle, batting .278/435/.500 with 5 RBI. In 42 games with A+ Hillsboro this year, English hit 6 home runs with 20 RBI and a .313 batting average. He now has 17 home runs in his career, with each of his first 16 coming in a Hillsboro Hops uniform.
7 For 7: OF Jorge Barrosa connected on his seventh home run of the season on a 411-foot solo shot in the 4th inning. Number 7 has now hit seven home runs this season in Amarillo. He has hit eight total, adding the one he hit with A+ Hillsboro earlier this year, which is a new single-season career-high. He hit seven in 2021 across A Visalia and A+ Hillsboro.
7️⃣ for 7️⃣.

Jorge Barrosa launches our 4th homer of the game!

Like we said, the fireworks starter early tonight 🎆🎆🎆🎆 pic.twitter.com/WJ4At1BINB

— Amarillo Sod Poodles (@sodpoodles) July 3, 2022
Back-And-Forth: The Sod Poodles and Naturals scored a run in every half-inning from the bottom of the 1st to the top of the 5th tonight, marking eight straight consecutive half innings with a run scored in the game. This tied the season record for most combined half-innings with a run, matching the eight in a row from the top of the 1st to the bottom of the 4th on June 9 against Frisco.
Double Double: C Juan Centeno connected on two doubles tonight in a 2-for-3 effort, and plated three runs on a bases-loaded double in the 7th. He also scored three times of his own. The veteran catcher has been a consistent bat through 37 games with Amarillo this year, batting .297 with 6 HR and 25 RBI. Tonight was his 7th multi-RBI game of the season, and Amarillo is 21-11 with him behind the plate.
Tightrope Finish: For the second game in a row, the Sod Poodles won by just one run after leading by five heading into the 9th inning. The Naturals brought eight batters to the plate tonight and scored four runs on four hits off of Blake Rogers, but he ended the game on a strikeout with two runners in scoring position. Amarillo has allowed 46 runs in the 9th inning this year and has scored 50 of their own.
Bomb City: Amarillo blasted four home runs tonight, their seventh game with four or more homers this season and first since June 5 against Midland. After hitting just 21 home runs in June, their fewest of any month, the Sod Poodles have hit seven already in July, and rank 3rd in Double-A with 98 HR this season.
Come One, Come All!: The Sod Poodles welcomed 7,105 fans to HODGETOWN tonight for Independence Day Weekend. It was the second time this year that HODGETOWN has seen more than 7,000 fans and the 16th sellout. Amarillo is one of two teams in the Texas League that have hosted over 200,000 fans at home games so far this season.