Gimenez, Alonso hope to be kings of Queens
Mets' top prospects leading the charge in system on the rebound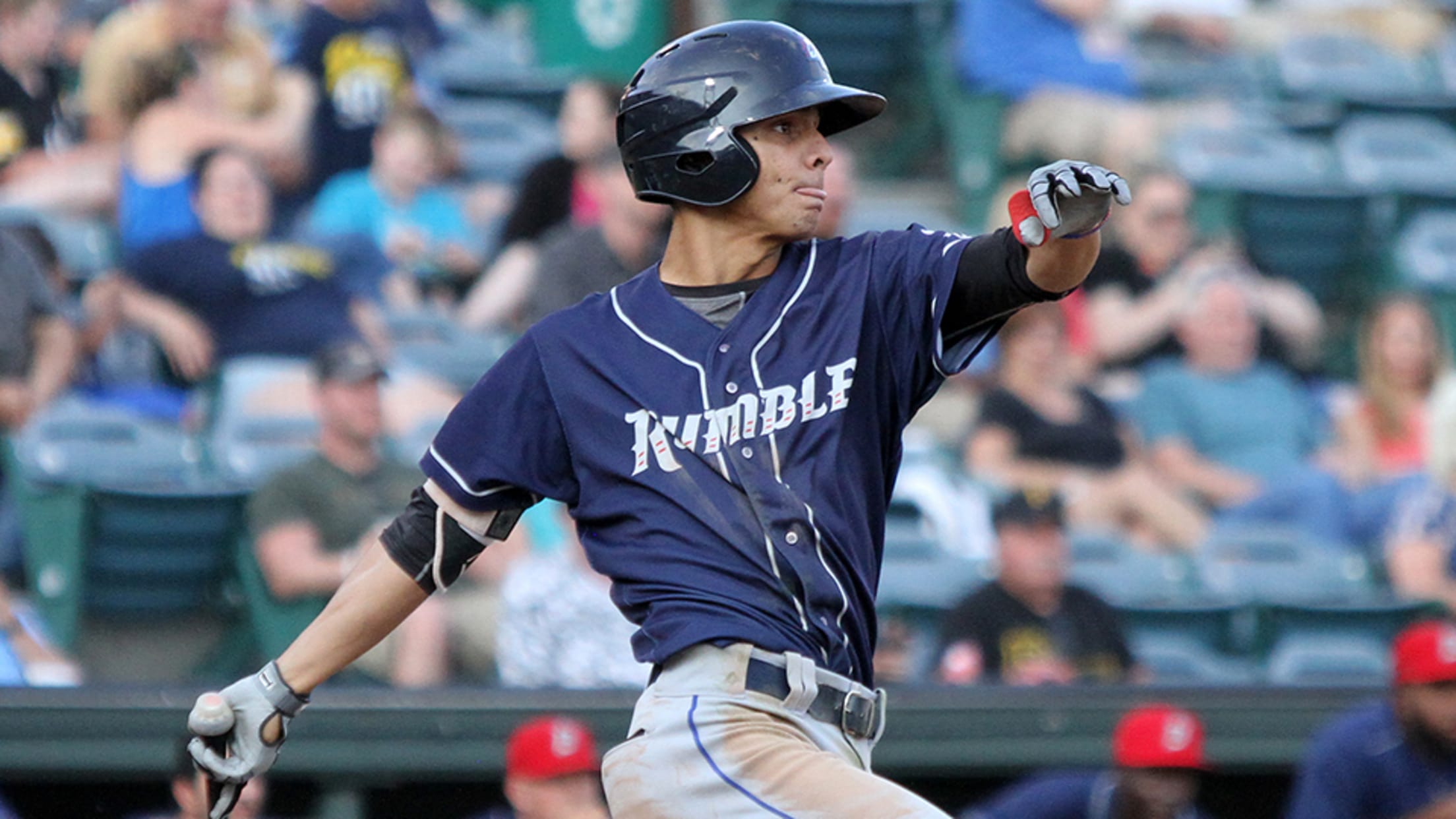 Andres Gimenez batted .281 with 40 extra-base hits and 38 stolen bases across two levels in 2018. (Mark Olson/MiLB.com)
Each offseason, MiLB.com goes position by position across each system and honors the players -- regardless of age or prospect status -- who had the best seasons in their organization. Click here to locate your favorite club.The Mets' depth at the upper levels of their farm system has been exposed the
Each offseason, MiLB.com goes position by position across each system and honors the players -- regardless of age or prospect status -- who had the best seasons in their organization. Click here to locate your favorite club.
The Mets' depth at the upper levels of their farm system has been exposed the last two years as the parent club fell victim to a rash of injuries. On the surface, New York's struggles appeared to trickle down to the Minors, where two of its seven domestic affiliates produced winning records. However, a deeper look paints a rosier picture than the records might indicate.
With breakout seasons from Andrés Giménez and Peter Alonso -- the club's top-rated prospects -- plus a bounceback year from right-hander Justin Dunn and a solid debut from 2018 first-rounder Jarred Kelenic, the Amazins' are in far better shape compared to this time last year.
The Mets ended 2017 without a player on MLB.com's list of Top 100 prospects, but Gimenez (55), Alonso (58), Kelenic (62) and Dunn (89) currently reside there. New York's system has a ways to go to reach the upper echelon, but 2018 provided a healthy dose of optimism on the prospect front.
Mets Organization All-Stars
Catcher --
Scott Manea
,
Columbia (100 games):
The transition to full-season competition didn't faze Manea, who was a South Atlantic League midseason All-Star with Class A Columbia. Manea impressed at the plate, batting .260 with 35 extra-base hits and an .800 OPS for the Fireflies. Defensively, the backstop displayed a strong and accurate arm, throwing out 37.7 percent of attempted basestealers during his 65 contests behind the plate.
First baseman --
Peter Alonso,
Las Vegas (67 games), Binghamton (65 games):
Alonso went from an intriguing prospect with plus-power to a bona fide star in 2018. The
No. 2 Mets prospect
tore through Double-A Binghamton on his way to Triple-A Las Vegas, where he went deep 21 times in 67 games, including
a three-homer outburst
on June 24. Overall, Alonso batted .285/.395/.579 with 67 extra-base hits and led the Minors with 119 RBIs. The 23-year-old tied for the Minor League lead with 36 roundtrippers, capped by a
walk-off homer
the last day of the season. Defensively, there are questions about his abilities at first base, which was a big reason he participated in the Arizona Fall League.
"What else can you say? He's one of the best hitters in the Minors," said Mets director or player development Ian Levin. "He's obviously got terrific power and we felt he made some big strides on the defensive side of things. He's going to be a big-time offensive weapon for us very soon."
Second baseman -- Jeff McNeil, New York (63 games), Binghamton (57 games), Las Vegas (31 games): To say McNeil's season came out of nowhere would be an understatement. After appearing in 51 games over the previous two years -- including three in 2016 -- McNeil compiled a .342/.411/.617 slash line with 50 extra-base hits and 71 RBIs in 88 games. The 26-year-old continued to rake after moving to Las Vegas and then Queens, where he became the Mets' everyday second baseman and hit .329 with an .852 OPS in 63 contests.
Third baseman -- Mark Vientos, Kingsport (60 games): The Mets were careful not to rush Vientos, their second-round pick in the 2017 Draft. The decision for 2019 might not be so easy. Vientos batted .287/.389/.489 and finished tied for fourth in the Appalachian League with 11 homers and third with 52 RBIs for Rookie-level Kingsport. The 19-year-old will likely begin his first full-season campaign with Class A Columbia in 2019.
"When you talk about Mark's power, it's not about his potential. He's got it already," Levin explained. "His exit velocity was one of the highest in the Minor Leagues, and it was noticeable when you watched him play. He's not a big swing-and-miss guy, which is impressive at this age. On the defensive side, Mark has soft hands and a strong arm. We were very pleased with what we saw defensively."
Organization All-Stars by MLB affiliate »
Shortstop -- Andrés Giménez, St. Lucie (85 games), Binghamton (37 games): New York may have a welcome problem on its hands if Gimenez continues his breakout from promising prospect to one of baseball's brightest young talents. The Venezuela-born shortstop has moved quickly since he signed with the Mets in 2015. Gimenez began 2018 with Class A Advanced St. Lucie and ended in Double-A Binghamton as a 19-year-old. In between, the Mets' top prospect participated in the Futures Game and batted .281/.347/.409 with a career-high 38 stolen bases in 122 games.
In the field, Gimenez displays excellent range and instincts complemented by smooth hands and a solid arm. With Amed Rosario currently entrenched as New York's everyday shortstop, the club sent Gimenez to the AFL to acclimate himself to second base, a position he's played only three times since 2017.
"Andres has been one of the best players in whatever league he's played in, regardless of age," Levin said. "He's got a feel for the game and maturity that is off the charts, and his skills on the field are obvious. He can run, play defense, hit ... and his strike zone judgement continues to improve. We've also seen him start to tap into more power, which furthers our projection for him as a strong, all-around player."
Outfielders
Jarred Kelenic, Kingsport (44 games), Gulf Coast League (12 games): Kelenic was considered one of the top high school talents in this year's Draft, and the Mets didn't let him slip past them with the sixth pick. The 19-year-old hit the ground running in the Rookie-level Gulf Coast League, batting .413 through 12 games before moving to Kingsport. Though his numbers took a dip in the Appy League, he still posted a .781 OPS with five homers, 33 RBIs and 11 stolen bases in 44 games.
"One of the most positive aspects of Jarred's season was that his last two weeks of the season [with Kingsport] were better than his first," Levin said. "That's important. He struggled for a period after moving up to Kingsport, but he was still making solid contact and putting the ball in play. He controls the strike zone extremely well already, and he's got the ability to be a true power and speed guy. We look at Jarred as a potential five-tool player."
Ross Adolph, Brooklyn (61 games): Another member of New York's 2018 Draft class, Adolph didn't come with the pedigree of Kelenic but turned in a debut that was no less impressive. The 21-year-old was selected in the 12th round and assigned to Class A Short Season Brooklyn, where was a New York-Penn League All-Star and named the game's Most Valuable Player. Adolph finished the year batting .276/.348/.509 with 28 extra-base hits -- including a league-high 12 triples -- 35 RBIs and 14 stolen bases in 61 games.
"Ross was a very nice surprise for us, and we were happy to get him [in the Draft] where we did," Levin said. "Injuries cost him a bit in college, but he was healthy for us and it showed in his debut. He's got solid offensive tools with gap power and speed. We were very impressed with what he did."
Zach Borenstein, Las Vegas (133 games): Borenstein enjoyed his second consecutive strong season, his first with the Mets. One year after hitting .279/.351/.573 with 24 homers and 91 RBIs for Triple-A Reno, the 28-year-old produced almost identical numbers with Las Vegas, albeit with a dip in average while increasing his walks and strikeouts. Despite a solid .277 average, 124 home runs and an MVP award across eight Minor League seasons, Borenstein has yet to receive a call to the Majors.
Utility player -- Levi Michael, Binghamton (103 games), Las Vegas (three games): Michael's biggest strength, his ability to play around the diamond, was matched by his consistency in 2018. The 27-year-old played every position except first, catcher and pitcher for Binghamton and put together a .305/.391/.470 slash line with 42 extra-base hits and 72 runs scored in 103 games. His performance earned him Eastern League midseason and postseason All-Star nominations as well as brief promotion to Las Vegas.
Right-handed starter -- Justin Dunn, Binghamton (15 starts), St. Lucie (nine starts): The Mets had high hopes for Dunn when they selected him with the 19th pick in 2016 following a standout career at Boston College. Dunn spent all of 2017 in St. Lucie, where he produced a 5.00 ERA in 20 appearances, including 16 starts. The Freeport, New York native repeated the Florida State League in 2018 with dramatically different results. Dunn surrendered two runs or less in eight of his nine starts before his promotion to Binghamton, where he posted a 4.22 ERA in 15 starts. Overall, the No. 4 Mets prospect went 8-8 with a 3.59 ERA and 156 strikeouts in 135 1/3 innings.
"The time spent in St. Lucie [in 2017] served him well this year," Levin said. "He went out and worked on what he needed, and the results speak for themselves, which is a credit to him. The stuff has always been there, but it was a lot crisper [in 2018], which shows how hard he focused in the offseason on making himself a better pitcher."
Left-handed starter -- David Peterson, St. Lucie (13 starts), Columbia (nine starts): The 20th overall pick in the 2017 Draft began this season with Columbia, where he limited opposing batters to a .214 average while posting a 1.82 ERA in nine starts. But Peterson found things a bit rougher in the Florida State League following his June 12 promotion. The 23-year-old surrendered four or more runs in five of his first eight starts with St. Lucie, which produced a 7.03 ERA. He rebounded down the stretch, allowing no earned runs over his final four starts to finish the year with a 3.16 ERA and seven wins in 22 starts across two levels.
"Another guy who finished strong, which was great to see," Levin said. "He went through a little dip [after his promotion to St. Lucie], which was expected, but he rebounded nicely and finished with overall numbers he should be proud of. David showed what we saw from him in college -- a pitcher who can locate, has four quality pitchers and the ability to move the ball around the zone. He had a strong year."
Relief pitcher -- Stephen Villines, Columbia (24 games), St. Lucie (16 games), Binghamton (seven games): Villines followed up an uneven first half of the season with a dominant second. Despite holding a 4.86 ERA with Columbia, the right-hander was promoted to St. Lucie, where he was nearly unhittable. Villines surrendered seven hits over 22 innings and posted an 0.41 ERA in the FSL before moving on to Double-A, where he struck out 17 in 11 1/3 innings. Overall, Villines went 5-4 with a 3.18 ERA, 0.89 WHIP and a 96-to-13 strikeout-to-walk ratio in 66 2/3 innings.