Arauz Strikes out 10 in Loss, Threshers Set Attendance Record
Starter Spins 8 Strong Innings in Home Finale at Spectrum Field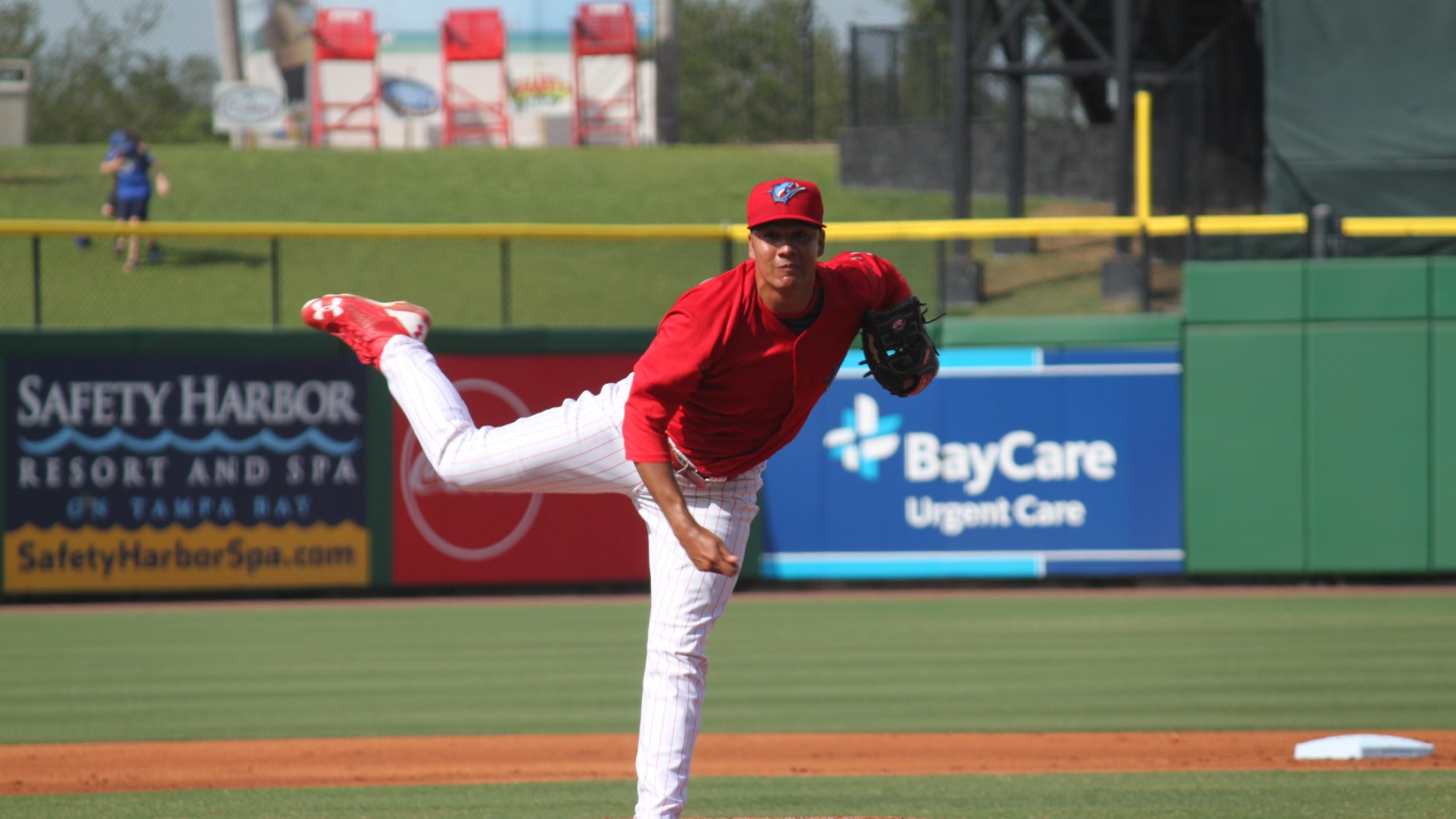 CLEARWATER, Fla. - Harold Arauz matched a career-high with 10 strikeouts in eight strong innings on Friday night, but the Dunedin Blue Jays edged out the Threshers in the final home game of the season, 2-1 at Spectrum Field.With 6,143 in attendance on Fan Appreciation Night, Clearwater set its single-season
CLEARWATER, Fla. - Harold Arauz matched a career-high with 10 strikeouts in eight strong innings on Friday night, but the Dunedin Blue Jays edged out the Threshers in the final home game of the season, 2-1 at Spectrum Field.
With 6,143 in attendance on Fan Appreciation Night, Clearwater set its single-season attendance record with a total of 200,201, surpassing the previous record of 195,063 set in 2014.
Clearwater (66-70, 28-38) wrapped up its home slate with a 38-34 record at Spectrum Field.
Arauz (4-4) suffered the tough-luck loss after turning in eight strong innings in the start. The right-hander limited Dunedin to just two hits, allowing two runs (one earned) in his longest outing of the year. Arauz did not permit a walk, and matched a career-best with 10 strikeouts.
The Blue Jays (71-65, 37-30) jumped ahead quickly after Bo Bichette led off the ballgame with a homer to the berm in right, bumping Dunedin ahead 1-0.
Clearwater brought it even in the third.
Carlos Duran got it going with a two-out double to left, and Jose Gomez reached on an infield hit toward short that put runners at the corners. Jose Antequera's grounder to short was bobbled by Bichette for an error, scoring Duran to tie the game.
Dunedin capitalized on a leadoff error to plate the decisive run in the fifth. Jake Thomas reached on an errant throw from the third baseman Antequera, allowing Thomas to take second with nobody out. A ground ball advanced him to third, and Thomas would score on Andres Sotillo's ground ball to Gomez at short.
Arauz set down each of the final 12 men he faced, and did not allow a hit from the second inning onward. All told, he retired 21 of the final 22 to bat against him.
Tyler Gilbert took over in the ninth and struck out the first two he faced before Vladimir Guerrero, Jr. drew a walk. Conor Panas knocked one off the top of the wall in right for a double, but right fielder Jan Hernandez connected with Grenny Cumana to nab Guerrero at the plate and end the inning.
Conor Fisk (8-11) limited Clearwater to just an unearned run on four hits in 6.1 innings to earn the win for Dunedin. Nick Hartman set the Threshers down in order in the ninth to earn his first save.
Game three of the series swings over to Florida Auto Exchange Stadium on Saturday, when Sixto Sanchez (0-3) will take the hill against TJ Zeuch (3-4). First pitch is set for 6:30 p.m., and the game will be broadcast live on threshersbaseball.com starting at 6:15 p.m.