Chisholm, Widener show bite for D-backs
Consistency abounds across Arizona's Minor League system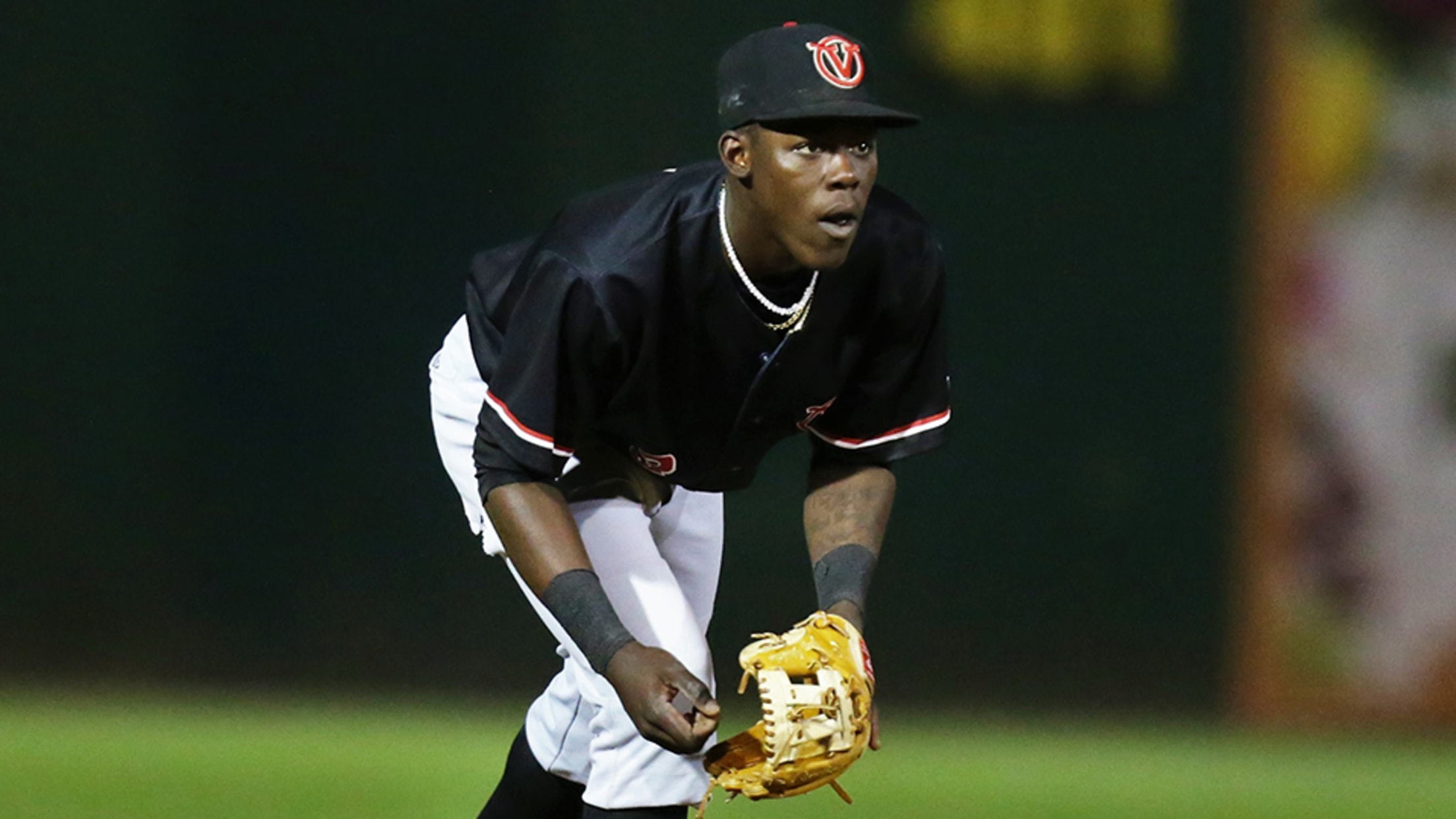 Jazz Chisholm hit .329/.369/.597 with 10 homers and 27 RBIs in 36 games after a promotion to Visalia. (Jerry Espinoza/MiLB.com)
Each offseason, MiLB.com goes position by position across each system and honors the players -- regardless of age or prospect status -- who had the best seasons in their organization. Click here to locate your favorite club.The D-backs have only one player on MLB.com's Top 100 prospect list: Jon Duplantier checks
Each offseason, MiLB.com goes position by position across each system and honors the players -- regardless of age or prospect status -- who had the best seasons in their organization. Click here to locate your favorite club.
The D-backs have only one player on MLB.com's Top 100 prospect list: Jon Duplantier checks in at No. 66. The right-hander posted a 2.69 ERA and 77 strikeouts over 74 innings during an injury-plagued season, but it wasn't enough to earn a spot among the Organization All-Stars this year.
That speaks to the quality Arizona has in its system, which produced a 412-350 (.541) overall record among its seven stateside clubs, six of which finished with winning records. Four reached the postseason, including Double-A Jackson, which claimed its second Southern League crown in three years and first as a D-backs affiliate. Class A Advanced Visalia was the only team without a winning season, but at 70-70 advanced to the California League Finals for the third time in five years.
Arizona produced another quality Draft in 2018, giving hope that a period of sustained success is in the offing.
D-backs Organization All-Stars
Catcher --
Daulton Varsho
,
Visalia (80 games), Arizona League (three games):
He's got the talent and the pedigree as the son of former Major Leaguer Gary Varsho. The only thing that held the D-backs' No. 5 prospect back from a breakout season was a fractured hamate bone in his right hand that required surgery and cost him six weeks on the disabled list. Despite the injury, Varsho hit .294/.367/.475 with 29 extra-base hits, 45 RBIs and 19 stolen bases in 22 tries. He also threw out 39.5 percent of would-be basestealers, an 8 percent jump from his debut season in 2017.
"He did very well [in 2017] as well and he can do a little of everything," D-backs vice president of player development Mike Bell said. "Daulton's probably one of the most athletic guys in our organization and he's explosive in everything he does. He's making improvements behind the plate and at it; his ability to bunt, hit for power and average and steal bases is truly unique for a catcher."
First baseman --
Zack Shannon
,
Missoula (54 games):
It was quite the debut for Arizona's 15th-round pick out of Delta State University in Mississippi. The 22-year-old tore through the Rookie-level Pioneer League while flirting with the Triple Crown. Shannon paced the circuit in homers (14), was second in batting (.354) and sixth in RBIs (55) in 54 games. His league-leading .677 slugging percentage was nearly 100 points higher than teammate
Zachery Almond
, who finished second at .594. The Ohio native joined Class A Short Season Hillsboro for the playoffs, going hitless in three at-bats.
Organization All-Stars by MLB affiliate »Second baseman --
Jancarlos Cintron
,
Kane County (97 games):
Despite appearing in 46 games in the Rookie-level Arizona League in 2017, Cintron was slated for another year of short-season competition. Those plans changed when the 23-year-old was assigned to Class A Kane County on May 15 and took over as the club's primary second baseman. Cintron showed a good approach and solid pop with the Cougars, putting together a .298/.347/.427 slash line with 39 RBIs in 97 games. After totaling 14 extra-base hits in 46 contests last year, the Puerto Rico native doubled that figure in 2018.
Third baseman --
Drew Ellis
,
Visalia (120 games):
A standout at the University of Louisville, Ellis was selected in the second round of last year's Draft and showed pop with eight homers but struggled with consistency during his professional debut, batting .227 in 48 games. On the surface, his .246 average with Visalia this year could be viewed as a disappointment, but a deeper look casts a brighter light on his season. The 22-year-old went deep 15 times among 50 extra-base hits and drove in 71 runs in 120 games in the California League.
"Drew is a real steady and consistent player," Bell said. "There weren't a lot of high highs or low lows. But he gave us a solid year, especially being his first full-season campaign. He'd get a hit or so a game, drive in big runs and play some above-average defense at third. We were impressed with what we saw from him."
Shortstop --
Jazz Chisholm
,
Kane County (76 games), Visalia (36 games):
The potential Arizona saw in the Bahamas-born Chisholm manifested itself in a breakout 2018 season. Limited to 29 games last year due to a torn meniscus in his right knee, the second-ranked D-backs prospect put together a solid first half with Kane County before turning up the dial during a five-week stint in the Cal League. A .329/.369/.597 showing with Visalia helped bump his overall slash line to .272/.329/.513 with 54 extra-base hits, including 25 homers, 70 RBIs and 17 stolen bases in 112 games with the Cougars and Rawhide.
"Jazz really grew up this year," Bell said. "He matured off the field and as a player with his discipline and knowledge during the game. He hits for a ton of power, particularly from the shortstop position, and he played some good defense as the year went on. Some of his best production came late in the year, which was another great sign."
Outfielders
Sócrates Brito, Reno (114 games), Arizona (18 games): Although he made his professional debut in 2010, Brito ended the 2018 season at the relatively young age of 26. It also was the best overall campaign as he established career highs in multiple categories for Triple-A Reno. Brito hit a personal-best .318/.383/.540 with 56 extra-base hits and 69 RBIs in 114 games. His 17 homers were seven more than his previous career high and accounted for more than 30 percent of his career total.
Alek Thomas, Missoula (28 games), AZL (28 games): Viewed as a potential first-round pick by several clubs prior to this year's Draft, Thomas fell to the second round, where the D-backs were more than happy to snatch him with the 63rd overall pick. The son of White Sox director of strength and conditioning Allen Thomas vaulted up the club's prospect rankings to No. 6 after a sensational debut campaign. In 56 games in the Pioneer and Arizona leagues, he batted .333/.395/.463 with 22 extra-base hits, 22 RBIs and 12 steals in 17 tries while flashing a strong glove in center field.
Jake McCarthy, Hillsboro (55 games), AZL (three games): Another of Arizona's crop of 2018 Draft picks -- he went 39th overall -- McCarthy spent most of his first pro season in the Northwest League, where he made quite an impression. A fleet-footed center fielder out of the University of Virginia, the eighth-ranked D-backs prospect hit the ground running with the Hops, batting .288/.378/.442 with 20 stolen bases in 55 games. Although his approach lends itself to contact over power, he totaled 24 extra-base hits in 219 at-bats with Hillsboro and the AZL D-backs.
"Both [Alek and Jake] are studs," Bell said. "They have incredible athleticism on both sides of the ball, both can play center and both really go get it. They steal bases and give you good at-bats by controlling the zone and swinging at their pitches. We're really excited to watch those two guys grow."
Designated hitter -- Kevin Cron, Reno (104 games): Always a power threat -- he has 12 homers in five Minor League seasons -- Cron has become more consistent to make him an even bigger threat at the plate. After spending two years in Double-A, the younger brother of Rays outfielder C.J. Cron took a liking to the Pacific Coast League in his first taste of Triple-A ball in 2018. Despite missing the first month with an oblique injury, the 25-year-old hit a career-high .309/.368/.554 with 22 homers and 97 RBIs in 104 games. Cron has hit 20 or more homers in four consecutive seasons.
"Look at what he's done the last two years -- his production is up there with anybody in the Minors," Bell said. "Some people might point to Reno [for his 2018 offensive output], but he did it in Jackson, too. He's becoming a more complete hitter and it shows in the results these last two seasons."
Right-handed starting pitcher -- Taylor Widener, Jackson (26 games, 25 starts): It's safe to say the D-backs are pleased with the three-team trade that brought the 23-year-old right-hander over from the Yankees. In his second full-season campaign and first at Double-A, Widener led the Southern League in strikeouts (176) and WHIP (1.03) and finished second in ERA (2.75) to help lead the Generals to a championship.
"I saw him pitch quite a few times in person and it was a real pleasure to see," Bell said. "He's got a very good fastball and some deception with his delivery plus a good changeup, slider and a presence on the mound you can't help but notice. We believe he's going to pitch a long time in the big leagues ... hopefully with us."
Honorable mention -- Emilio Vargas, Visalia (20 games, 19 starts), Jackson (six starts): Vargas took a quantum leap forward by setting career highs across the board. The 22-year-old went 9-8 with a 2.88 ERA and 170 strikeouts over 143 2/3 innings across two levels.
Left-handed starting pitcher -- Franklyn Soriano, Hillsboro (seven games, three starts), Kane County (seven starts): An uneven season led the 23-year-old back to short-season all to begin 2018, but he didn't stay there long. After striking out more than a batter per inning in the Northwest League, Soriano was bumped up to Class A and excelled. The southpaw posted a 1.82 ERA and limited opponents to a .211 batting average in seven Midwest League starts.
Relief pitcher -- Kevin Ginkel, Jackson (34 games), Visalia (20 games): "Unhittable" is an oft-used metaphor when describing a successful pitcher, but rarely is it as literal as it was for Ginkel this season. The 24-year-old was one of the Minors' best at limiting baserunners, evidenced by a 1.41 ERA and 0.83 WHIP in 54 appearances. Ginkel held opponents to a .185 average and struck out 100 over 70 innings while issuing 12.