The selection of Austin Martin, your new fave Blue Jays prospect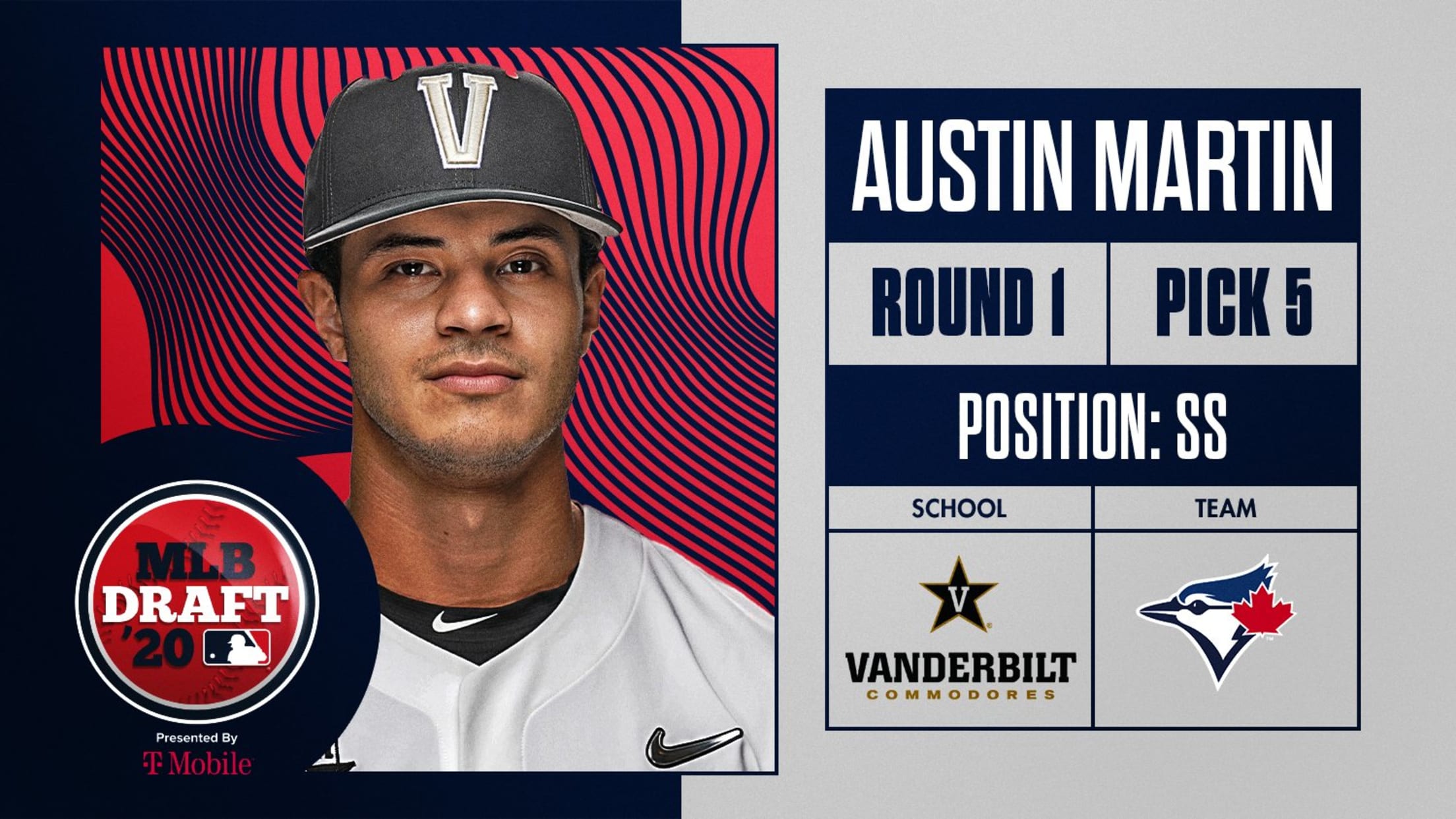 If you're a Blue Jays/Lugnuts fan, you are thrilled right now. Let's break it down. Last night was the 1st round of the 2020 Major League Baseball Draft, and certain expectations were in place. Arizona State's Spencer Torkelson and Vanderbilt's Austin Martin were considered the top two players available and
If you're a Blue Jays/Lugnuts fan, you are thrilled right now. Let's break it down.
Last night was the 1st round of the 2020 Major League Baseball Draft, and certain expectations were in place. Arizona State's Spencer Torkelson and Vanderbilt's Austin Martin were considered the top two players available and Texas A&M's Asa Lacy was considered the top pitcher available; they'd probably all be gone after the first three picks were made. The Toronto Blue Jays, parent club of the Lansing Lugnuts, were drafting 5th, which left them expecting to select from a group of the next level of talent: Minnesota fireballer Max Meyer, Georgia's change-up master Emerson Hancock, and top high school prospect Zac Veen.
Torkelson did go No. 1, as expected, to the Detroit Tigers. Hello, West Michigan!
The No. 2 pick, as chosen by the Baltimore Orioles... was not Austin Martin, as expected. It was Arkansas slugger Heston Kjerstad, ranked by MLB.com as the No. 10 prospect on the board. Said Orioles GM Mike Elias afterward, "[W]e feel that he's the best left-handed hitter in the country this year." Note: Not the best hitter. The best left-handed hitter. The best pure hitter, it was thought, was Austin Martin, and he was still available.
The Miami Marlins drafted No 3. They were expected to take a pitcher, and they did. But it wasn't Lacy, the great SEC southpaw. Instead, they went up to the Big Ten and took the Golden Gopher. (Minnesota's Max Meyer to the Miami Marlins wins you all the alliteration points.) Miami's director of amateur scouting DJ Svihlik declared him to be the "most athletic college pitcher in this draft with the most electric stuff."
Now the board was in disarray. The best hitter, Martin, and the best pitcher, Lacy, were both waiting. Only one team, the Kansas City Royals, stood in the way of the Toronto Blue Jays' fifth overall pick -- and the Royals couldn't take both of them.
Given the choice between the best hitter and the best pitcher, the Royals went with... Asa Lacy.
"It wasn't a surprise to us," said KC GM Dayton Moore. "When we had to make the decision, we had already made the decision. We just didn't think it was going to happen."
The Blue Jays' choice, then, was academic.
The best pure hitter in the draft, a player who was in firm consideration to be taken No. 1 overall, a player who has the versatility to play shortstop, second base, third base, or center field, is a Toronto Blue Jay.
"We were ecstatic to have the chance to pick Austin," said Blue Jays scouting director Shane Farrell.
Rave reviews abounded.
Baseball America's Carlos Collazo, CBS Sports' R.J. Anderson, and The Athletic's Keith Law all considered Martin the top draft prospect.
"This is the best value of the draft so far for me. Love everything about Austin Martin's profile, and believe he's the best pure hitter in the class," tweeted Collazo.
CBS Sports' First Round Takeaways' headline: "Spencer Torkelson goes No. 1 with a twist; Blue Jays get a steal." Anderson's third takeaway of six: "The Blue Jays got the best player in the draft," writing, "[The Blue Jays] have to be over the moon Martin fell to them."
"Everybody's shocked," said Law on his live stream after the Royals took Lacy, and speculated on reasons Martin's stock might have fallen. His arm health, perhaps? How much money he was looking for? But once he heard that the Jays were intending to take Martin, he declared it "an enormous home run and Blue Jays fans should be over the moon to see that. I think they get the best player in the draft.... He is everything you could look for in a college position player. He's athletic, he's extremely polished, he's disciplined, and he's going to play some skill position somewhere... That's huge. Blue Jays fans should be absolutely ecstatic."
A few key questions should be confronted now:
- How about a little more info about Austin Martin himself?
1. Thank you for asking. We did skip over that, didn't we? In three years, he combined to hit .368 with a .474 on-base percentage and a .532 slugging percentage. This year in 69 plate appearances before the season was halted, he was hitting .377 with 10 walks and just two strikeouts. Every stat is mindblowing. He can hit, he can hit for power (10 homers last year, three already this year), and he can run (43 career steals, three already this year). In his three years combined with the Commodores, he collected 200 hits, 85 walks and 29 HBPs. That's 314 times on base in 140 games.
2. Personally, he's from DeLand, Florida. His full name is Christopher Austin Martin. He majored in American studies at Vandy. He's a year younger than Bo Bichette and they played together when they were younger. Can you imagine Bo's reaction when the Blue Jays drafted Austin? We imagine, like the analysts said above, he was over the moon.
- How does taking Martin affect the rest of the Blue Jays draft?
1. Martin's agent is Scott Boras, and Law mentioned the likely money that Martin was looking for, likely upwards of $7 million. That limits the Blue Jays' spending in going overslot for their remaining four picks, meaning it would be unlikely for them to take a tough sign should a top prospect slip to them. (The Blue Jays' total bonus pool is $9,716,500.)
2. The Blue Jays have prospect needs in the outfield (where Martin might be able to help, should they try him eventually in center field) and on the mound. Since Toronto took a position player in the first round, expect to see the Blue Jays pivot toward pitching in the rounds to come.
- Will we see Martin in Lansing?
1. Who knows?
2. Keith Law believes that he's advanced enough to compete in Double-A next year. That's not good news for the Lugnuts, since even a more conservative assignment to A-Advanced skips him over the Midwest League. The answer is... we hope so! Meanwhile, let's watch the 2nd-5th rounds closely (and the Blue Jays' free agent signings afterward) for more likely candidates to come to Lansing.
- How does Martin fit in with the Blue Jays?
1. He's another terrific young bat for a lineup that is rapidly filling with them. Imagine Bichette, Biggio, Martin, Guerrero as the Blue Jays' top four hitters (not to mention Lourdes Gurriel, Jr., or Teoscar Hernandez). There are a lot of folks in Toronto imagining the same right now.
2. Defensively, he possesses the versatility to play where they need him. Is the infield set? Move him to center field. Need a second baseman? Martin. Need a shortstop to spell Bichette? Martin. Need a third baseman to move Vladdy Jr. to first? Martin.
You can understand why there's such excitement about Austin Martin in Toronto.
***
The Major League draft concludes tonight with the 2nd, 3rd, 4th and 5th rounds at 5 p.m. Eastern.
The Blue Jays have the 42nd, 77th, 106th and 136th picks.