Avery Powers G-Braves Past Tides, 5-3
Xavier Avery homers twice to lead Gwinnett to second straight win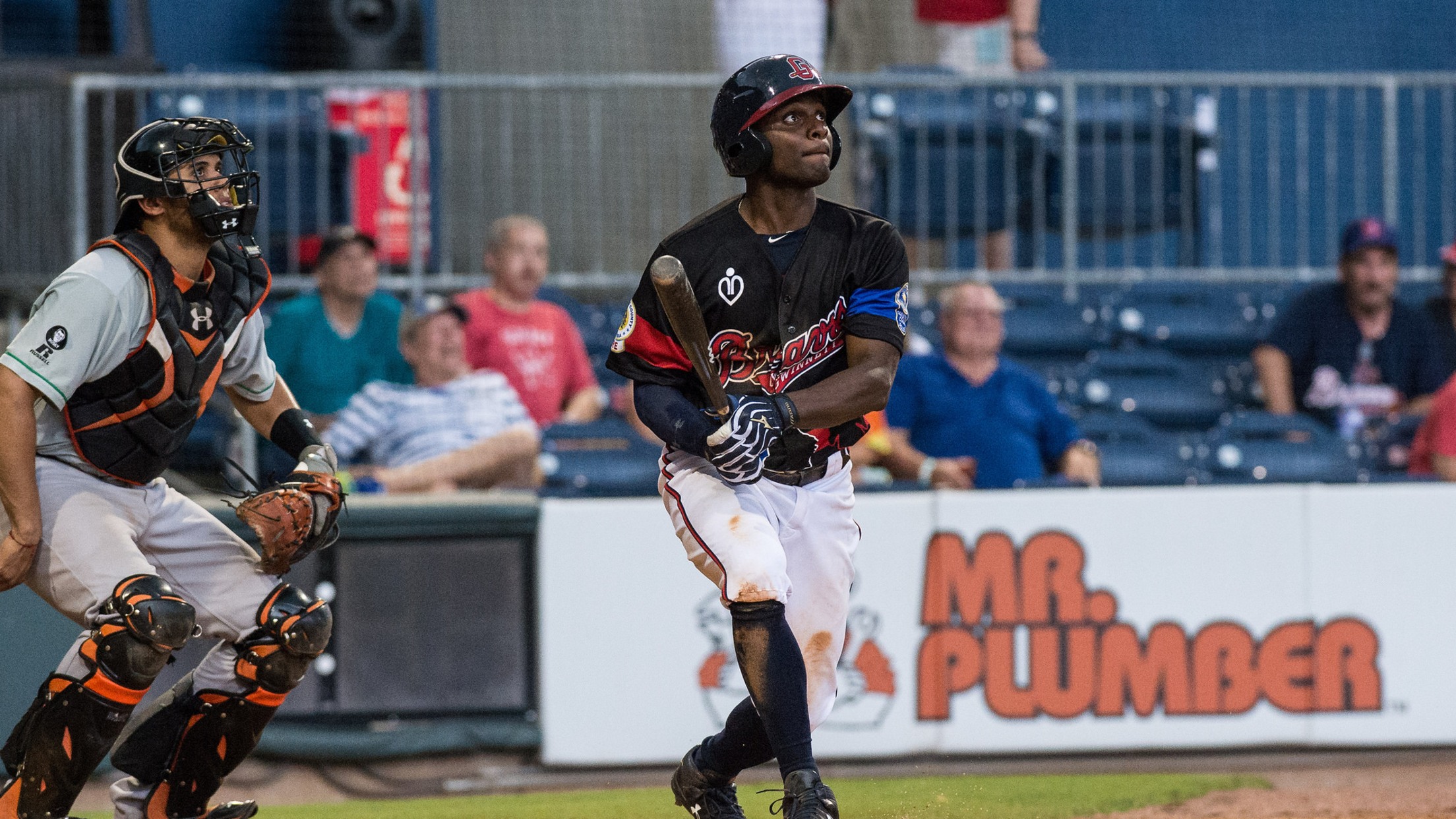 Xavier Avery hit two home runs against his former team to lead Gwinnett to a win on Saturday night. (Chuck Pitts)
LAWRENCEVILLE, GA - Behind a pair of home runs and four RBIs from Xavier Avery , the Gwinnett Braves (38-35) defeated the Norfolk Tides (31-44) 5-3 in game two of the three-game series in front of 5,664 at Coolray Field on Saturday night. Facing the Tides, a team he spent parts
LAWRENCEVILLE, GA - Behind a pair of home runs and four RBIs from Xavier Avery , the Gwinnett Braves (38-35) defeated the Norfolk Tides (31-44) 5-3 in game two of the three-game series in front of 5,664 at Coolray Field on Saturday night.
Facing the Tides, a team he spent parts of three seasons with, Avery went 3-for-3 and matched single-game career highs in homers and RBIs to lead the G-Braves to their third win in the last four games.
After a scoreless first inning, both teams got on the board in the second. In the top half, Norfolk got a two-out RBI single from Logan Schafer to take a 1-0 lead against Gwinnett starter Andrew Albers .
In the bottom half, the G-Braves were quick to answer. David Freitas reached on an error with one out, and Avery followed with a two-run home run an estimated 388 feet to left-center for a 2-1 lead. The next batter, Ozzie Albies , swiftly added to the lead by hitting a solo homer of his own an estimated 411 feet to center to put Gwinnett up 3-1. The blasts by Avery and Albies were the second set of back-to-back homers hit by the G-Braves this season, a feat last accomplished on April 21 vs. Pawtucket (Johan Camargo and Mel Rojas Jr. ).
Albers retired seven in a row between the second and fourth innings before running into trouble in the fifth. Johnny Giavotella got the Tides within a run with a sacrifice fly, and Jesus Montero tied the game at 3-3 with an RBI double.
In the sixth, Albers got the first out of the inning before a single from David Washington ended his night. David Peterson came out of the Gwinnett bullpen and induced an inning-ending double play from Sharlon Schoop to close the book on Albers. In 5.1 innings, Albers gave up three earned runs on eight hits while walking none and striking out two.
Gwinnett regained the lead in the bottom of the sixth. With a runner on first and two outs, Avery struck again by lining another home run, his second of the game, an estimated 404 feet to right to put the G-Braves in front 5-3.
Peterson (W, 1-1) returned to the mound in the seventh and pitched a clean inning to keep Gwinnett in front. Mauricio Cabrera (H, 2) retired the Tides in order in the eighth, and Enrique Burgos (S, 1) did the same in the ninth to earn his first save as a G-Brave.
Avery's multi-homer game (#4-5) was the second of his career, first since a two-homer game on June 28, 2014 with Triple-A Tacoma at El Paso. It was also his eighth career four-RBI game. Albies' solo homer (#5) was part of a 2-for-4 game that extended his team-best on-base streak to 22 games. Rio Ruiz added three singles, finishing 3-for-4.
Norfolk was led by a 2-for-4 night from Washington, who scored a run. Three different Tides tallied one RBI each.
In the series finale on Sunday afternoon, Gwinnett is scheduled to start right-hander Kris Medlen (0-1, 5.29), while Norfolk will go with left-hander Chris Lee (3-4, 5.71). First pitch at Coolray Field is scheduled for 1:05 p.m. Tony Schiavone has the play-by-play call on 97.7 FM The Other Side of the River beginning at 12:35 p.m.
As part of Sunday Funday (sponsored by Georgia United Credit Union), fans are invited to play catch on the field before the game at approximately 12:05 p.m. Following the game, kids ages 12 and under are welcome to run the bases. For tickets, call 678-277-0340 or visit GwinnettBraves.com/tickets.