Back-to-back home runs lift Hot Rods over Hoppers
Bowling Green scores 3 in the eighth inning to break open tie game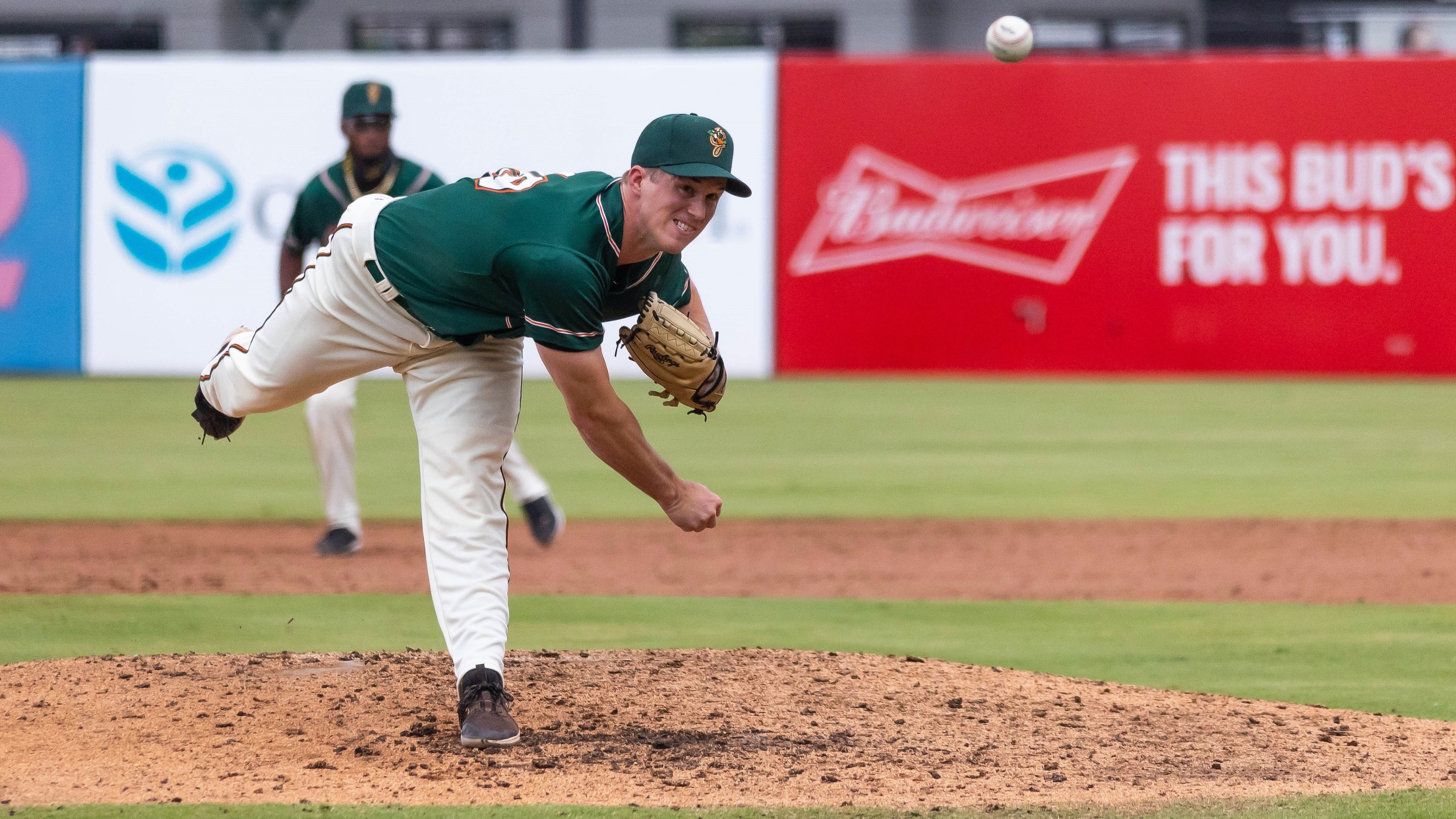 In 15 appearances this season, Greensboro reliever Will Kobos is 2-2 with a 2.33 ERA, and he has struck out 35 in 27 innings. (Jak Kerley/Greensboro Grasshoppers)
BOWLING GREEN, Ky. ― Grant Witherspoon and Jordan Qsar hit back-to-back home runs with two outs in the bottom of the eighth inning to break open a tie game and lead the Hot Rods to a 6-3 win over the Grasshoppers at Bowling Green Stadium on Friday night. Right-hander Will
BOWLING GREEN, Ky. ― Grant Witherspoon and Jordan Qsar hit back-to-back home runs with two outs in the bottom of the eighth inning to break open a tie game and lead the Hot Rods to a 6-3 win over the Grasshoppers at Bowling Green Stadium on Friday night.
Right-hander Will Kobos (2-2, 2.33 ERA) was the tough luck losing pitcher. Kobos came on in the seventh inning and struck out four of the first six hitters he faced. But Witherspoon lined a 2-1 pitch over the right-field fence, and Qsar followed with his 10th homer of the season.
Alan Strong (4-0, 2.38 ERA) picked up the win in relief for Bowling Green despite giving up the tying run in the top of the eighth inning.
Trailing 3-2, the Hoppers tied the game on consecutive two-out singles from Matthew Fraizer, Nick Gonzales and Fabricio Macias. It was Macias' team-leading 37th RBI, and the 23-year-old outfielder from Mexico ranks third in the High-A East in RBIs and fourth with a .317 batting average.
Lolo Sanchez drew a walk to load the bases, but Strong struck out Matt Gorski to end the threat and keep the score tied.
Gorski went 1-for-4 with a solo home run in the seventh inning to cut Bowling Green's lead to 3-2. Fraizer finished 2-for-4 with an RBI double in the third inning.
The first-place Hot Rods (34-16) have won three out of four games against the second-place Hoppers (29-23), with two games remaining in this series.
In his career at the News & Record, journalist Jeff Mills won 10 national and 12 state writing awards from the Associated Press Sports Editors, the Society for Features Journalism, and the N.C. Press Association.