Bailey, Ramirez & Arauz Selected in Rule 5 Draft
2019 Hooks alums accounting for three of the top 10 picks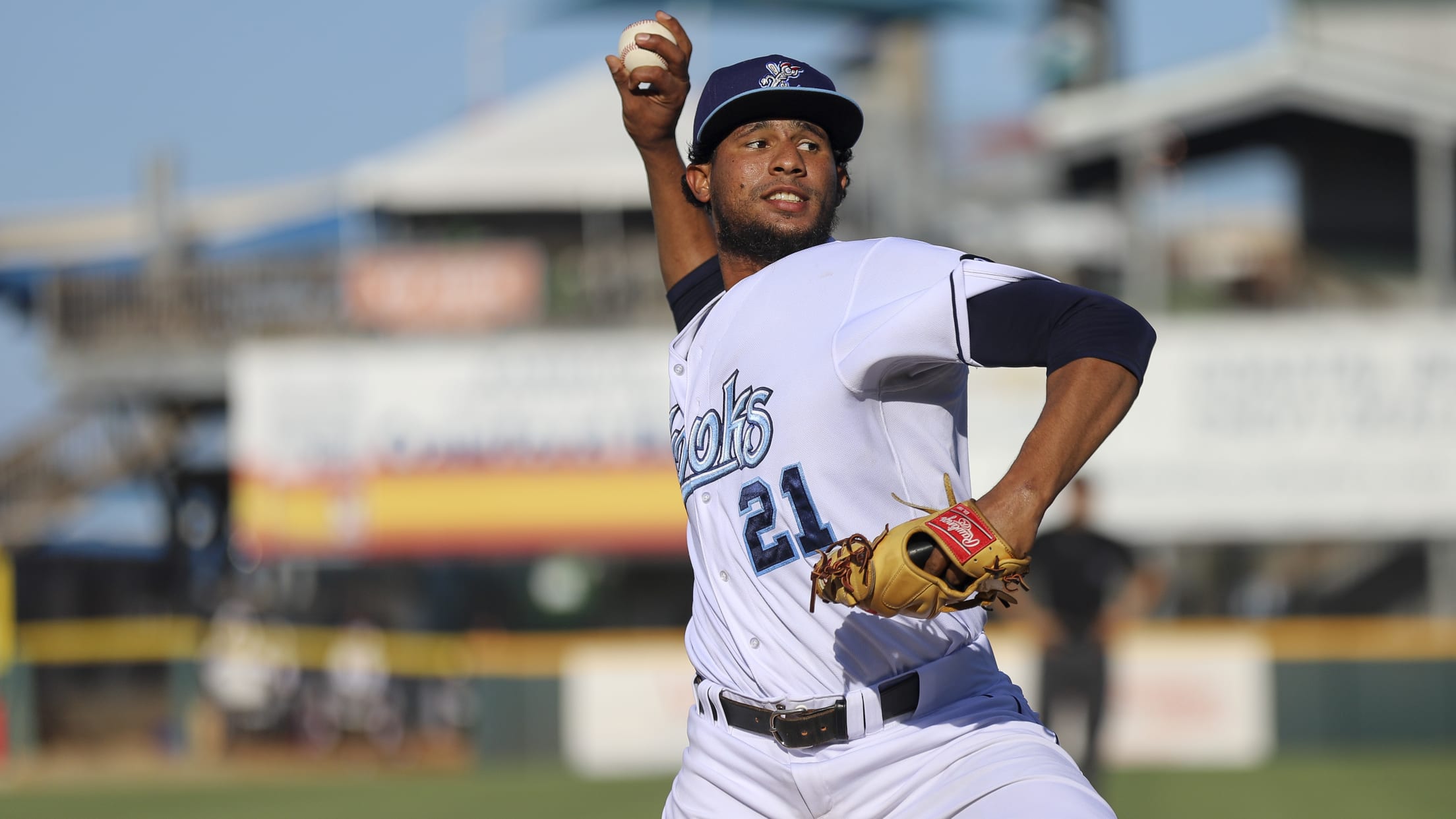 Yohan Ramirez ranked third in the Astros system with 158 strikeouts in 2019. (Photo by Olivia Rook)
CORPUS CHRISTI - Right-handed pitchers Brandon Bailey and Yohan Ramirez and shortstop Jonathan Arauz were taken in the Major League Phase of the Rule 5 Draft, held Thursday morning during the final day of the 2019 Baseball Winter Meetings in San Diego.Baltimore garnered Bailey with the second overall pick while
CORPUS CHRISTI - Right-handed pitchers Brandon Bailey and Yohan Ramirez and shortstop Jonathan Arauz were taken in the Major League Phase of the Rule 5 Draft, held Thursday morning during the final day of the 2019 Baseball Winter Meetings in San Diego.
Baltimore garnered Bailey with the second overall pick while Ramirez was the fifth selection, going to Seattle. Boston was the 10th club to participate, choosing Arauz to wrap up the first round of the big-league phase.
Players without 40-man protection who signed with their current team at age 18 or younger and have played professionally for at least five years are eligible to be selected, in addition to those who signed at 19 or older and have at least four years of pro service time. Bailey, Ramirez, and Arauz must remain on their new clubs' 26-man roster throughout the 2020 season or else be offered back to the Astros at half the acquisition cost of $100,000.
Acquired by Houston from Oakland in a trade for outfielder Ramón Laureano in November 2017, Bailey pitched exclusively for Corpus Christi last year, going 4-5 with a 3.30 ERA over 22 appearances (17 starts). The 25-year-old right-hander struck out 103 against 41 walks while the opposition batted .212 with 12 home runs in 92 2/3 innings.
Bailey, who did not permit a run over four June assignments (17 2/3 IP), boasted a 1.88 ERA & .165 batting average against in 14 outings at Whataburger Field. The Westminster, Colo. native was originally selected by the A's in the sixth round of the 2016 June draft out of Gonzaga University. Over parts of the last two campaigns, Bailey logged a 3.45 ERA in 27 appearances (18 starts) for Corpus Christi.
Ramirez split 2019 between High-A Fayetteville and the Hooks, going 4-7 with a 3.99 ERA in 27 games (15 starts). The 24-year-old out of Villa Mella in the Dominican Republic averaged 13.4 strikeouts and 6.3 walks per nine innings pitched. Ramirez led the Carolina League with 69 strikeouts at the time of his June promotion, earning midseason all-star honors. He finished the year with 158 strikeouts which ranked third among Astros farmhands. Ramirez was signed by Houston as a non-drafted free agent in July 2016 at the age of 21.
Arauz began the year with Fayetteville, batting .252 with 19 doubles, eight home runs, and 42 RBIs in 87 Carolina League games. The 21-year-old from Panama earned his first Double-A call-up at the start of August. Arauz, who hit safely in 15 of his first 20 Texas League contests, finished his Hooks tenure with a .241 batting average, eight extra-base hits, and 13 RBIs. He joined the Houston organization in December 2015 via a trade that shipped right-handed pitchers Vince Velasquez and Ken Giles to Philadelphia.
The Astros recently added right-handed pitchers Cristian Javier, Enoli Paredes, and Nivaldo Rodriguez and infielder Taylor Jones to their 40-man roster, protecting them from exposure in the Rule 5 Draft.