Orioles' Rodriguez claims EL Derby crown
After coming close in 2016, infielder launches 28 to capture belt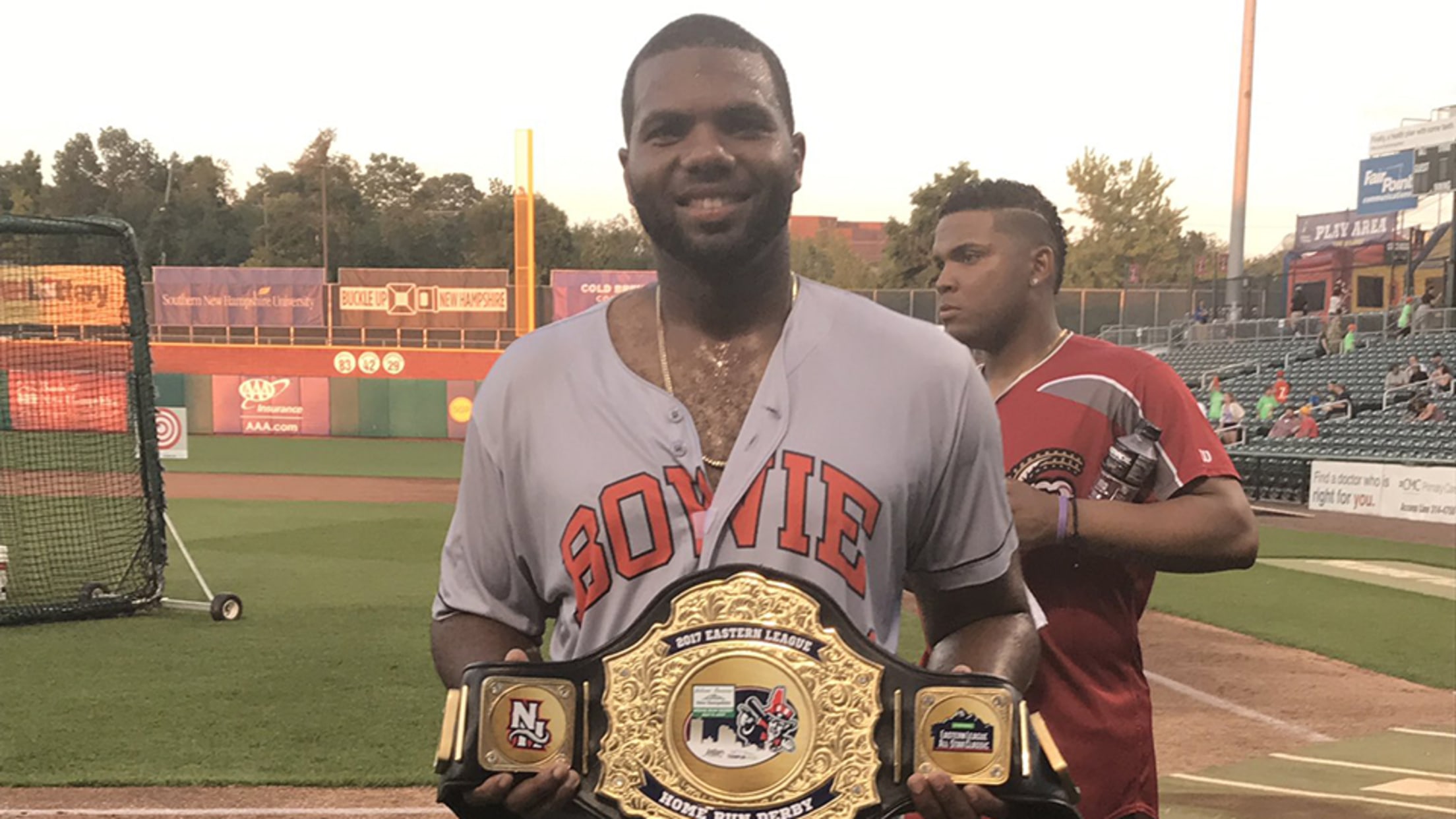 Aderlin Rodriguez has 123 roundtrippers over nine seasons in the Minor Leagues. (Bowie Baysox)
While Aderlin Rodriguez doesn't want to be known for his pop, he definitely put it on display Tuesday."I'm not saying that I'm a power hitter, but I can hit it good," the Orioles infield prospect said with a laugh.Rodriguez utilized that swing to launch 28 long balls and win the
While Aderlin Rodriguez doesn't want to be known for his pop, he definitely put it on display Tuesday.
"I'm not saying that I'm a power hitter, but I can hit it good," the Orioles infield prospect said with a laugh.
Rodriguez utilized that swing to launch 28 long balls and win the Eastern League Home Run Derby at Northeast Delta Dental Stadium. The Double-A Bowie third baseman edged Erie's Gabriel Quintana in the final round, 14-13.
"It was great," Rodriguez said. "Last year, I had the opportunity to participate in the Home Run Derby too and it was fun. And this year was the same -- great. It's nice to be here."
The 25-year-old experienced the evolution of the event. It was in an outs-based format in the Class A Advanced Carolina/California League competition last year rather than the time-based setup in Double-A. The 25-year-old said he likes both formats.
"I think that with time, you have more time to do more swings," Rodriguez said. "But at the same time, at the beginning, it's a little bit hard to get the timing going because you can't swing until the ball lands."
Eastern League All-Star Game rosters
In the first round, the No. 4 seed used the slot to his advantage as he watched Slade Heathcott of Richmond go first.
"When you hit second, you have the benefit to know how many you have to hit," Rodriguez said. "At the beginning, I didn't have the timing yet, but then I felt more comfortable with it. I think that helped me."
He slugged his final homer of the first round off the foul pole at the buzzer to edge Heathcott, 7-6, and advance to the semifinals, where he faced New Hampshire's Gunnar Heidt, who was competing in his home ballpark.
Heidt won a free pillow after hitting a target from sponsor TempurPedic, but Rodriguez emerged victorious -- again by the score of 7-6 -- to reach the finals for the second straight year.
Tweet from @FisherCats: FINALIST @BowieBaysox pic.twitter.com/phNi5q5XEG
In the final round, Rodriguez faced his toughest competition in Tigers infield prospect Gabriel Quintana, who hit one over the Brewhouse to advance to the semifinals. Rodriguez went first against the No. 3 seed.
"You just want to hit as many as you can and put the pressure on the next guy," he said. "I wasn't nervous at all, but I wanted to do my best effort, so that's what I did. I tried to hit as many as I could and just wait to see what happened."
After losing to Mariners prospect Kyle Petty, 8-4, in the final round last year, Rodriguez was able to capture the belt this time.
"When you come here, you, of course, want to put on a show for the fans. We want to have fun, but we are competing," he said. "I think everyone that was there was trying to win. To be able to bring the win back to our team, to our city, was great."
Rodriguez was grateful to Akron bench coach Omir Santos, who threw pitches down the middle for him to tee off on. The Dominican Republic native is looking forward to Wednesday's main event.
"There are a lot of good players on both teams, so to be able to spend some time with them and learn from them is a great experience. I can't wait to play the game with them and have fun," he said. "We laugh a lot and talk about the situations that happened before [in games against each other]. You see how they are in the clubhouse. That's the kind of thing you don't see from them because we are in the opposite dugout most of the year.
"And to come here and see how they are, it's great. We know each other a little bit better. That's the kind of thing you don't see when you are on the opposite side."
In 85 games with Bowie this season, Rodriguez has hit .295/.347/.470 with 13 homers and 54 RBIs.
"I have some power, but I always work hard to try not to be just a power hitter. I want to be a complete hitter. I've been in the game for nine years, and everything I've been trying to do is just being a better hitter every day."
Rodríguez and the rest of the Eastern League All-Stars square off in the midsummer classic at 7 p.m. ET on Wednesday.
Kelsie Heneghan is a contributor to MiLB.com. Follow her on Twitter @Kelsie_Heneghan.