Hall keeps posting zeros for Shorebirds
Orioles No. 4 prospect allows two hits, fans eight in six innings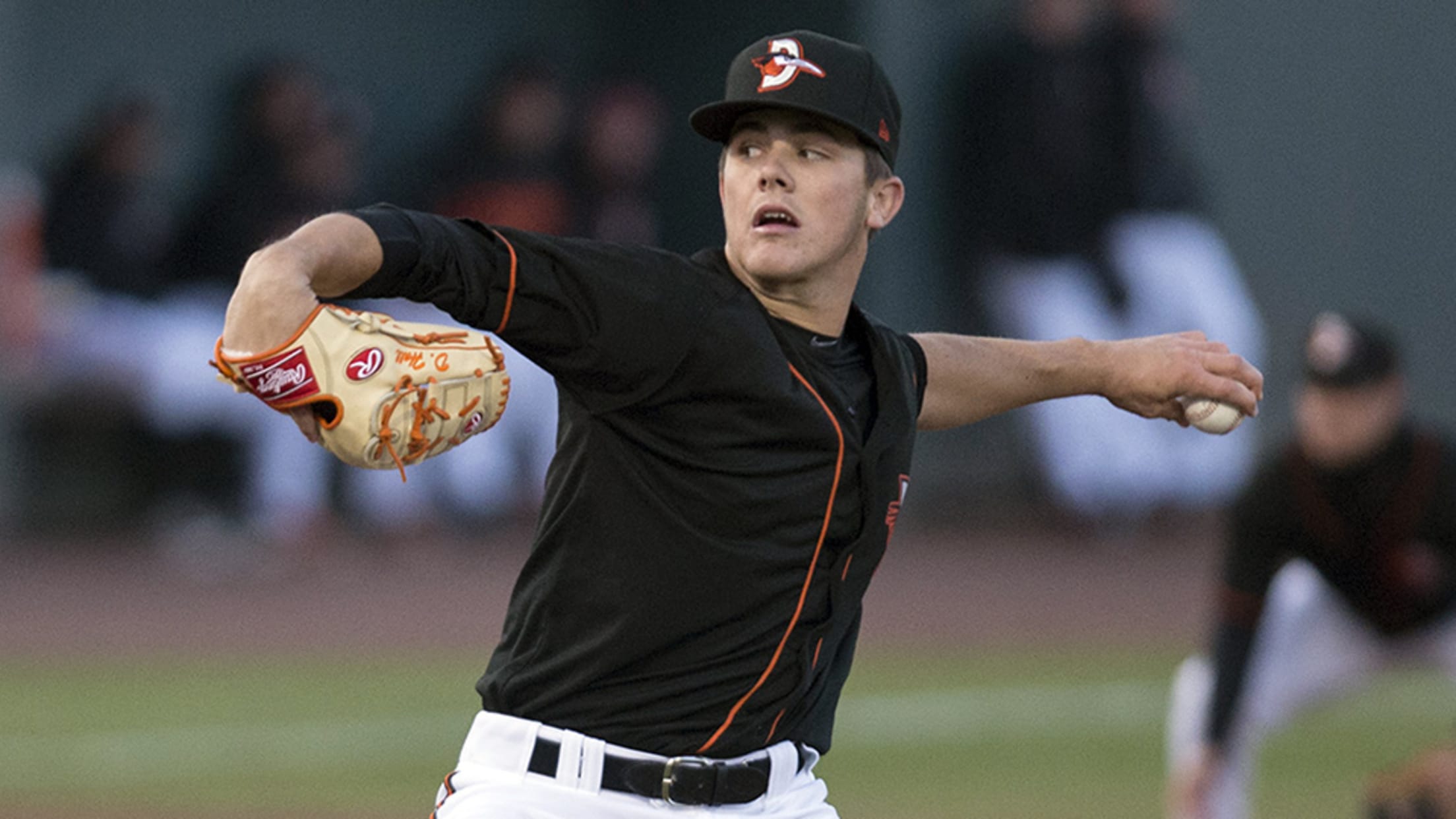 DL Hall lowered his ERA to 2.54 after not allowing an earned run over his last 15 2/3 innings. (Joey Gardner/Delmarva Shorebirds)
Unhittable is an often-used term in baseball, but it seems appopriate for DL Hall right now.Baltimore's No. 4 prospect allowed two hits and established career highs with eight strikeouts and six innings as Class A Delmarva blanked Charleston, 6-0, on Wednesday night at Joseph P. Riley Jr. Ballpark. The reigning
Unhittable is an often-used term in baseball, but it seems appopriate for DL Hall right now.
Baltimore's No. 4 prospect allowed two hits and established career highs with eight strikeouts and six innings as Class A Delmarva blanked Charleston, 6-0, on Wednesday night at Joseph P. Riley Jr. Ballpark. The reigning South Atlantic League Pitcher of the Week has not allowed an earned run in his last 15 2/3 innings dating to June 15.
It was the first Minor League victory of his career.
"It was pretty cool to get the win," Hall said. "I didn't think much about it coming into the year. You really don't think of wins. It's more about development and trusting the process, but it was definitely awesome to get that first one under my belt."
Hall (1-5) allowed his hits in the first three innings -- a two-out single to Oswaldo Cabrera in the first inning and a base knock to Matt McPhearson in the third. The southpaw helped his own cause by picking McPhearson off first and striking out Frederick Cuevas to end the frame. That kicked off a stretch of 10 consecutive batters retired through the end of his outing. Hall fanned four of the last five Sea Dogs, establishing a new career high in strikeouts for the second consecutive start.
Gameday box score
"It's fun to be a in groove like this," he said. "I've just been building my confidence up since the beginning of the season through tonight. That's what has been the biggest key for me this season. Being confident in my stuff, going out there and competing. There's definitely some luck sprinkled in, but that goes for everyone in our sport."
The Georgia native was coming off his finest performance to date last Thursday, when he tossed 5 2/3 hitless frames against Hagerstown. Hall has been watched carefully by the Shorebirds, who have limited him to no more than 90 pitches in any of his 13 starts this season. He was lifted after throwing 79 on Wednesday-- 56 for strikes.
"It's definitely a lot better to go deep into these games," Hall said. "Even tonight, I wanted more, but when they say it's time to cut it off, that's it. I trust they're doing it to my benefit and to help me develop."
The Orioles selected Hall with their first pick (21st overall) in last year's Draft and assigned him to the Rookie-level Gulf Coast League, where he posted a 6.97 ERA in five starts. That figure was skewed by his final appearance, in which he surrendered four runs in two-thirds of an inning.
This season, Baltimore promoted Hall directly to Delmarva, bypassing its Class A Short Season affiliate in Aberdeen. Hall has responded with a 2.54 ERA while holding opponents to a .204 average in 15 appearances -- 13 starts.
"It's definitely a noticeable difference [competition-wise]," he explained. "The differences opened my eyes a bit early on this season and it took some time to adjust. But it's been a great learning experience and it's helped me learn how to become a better pitcher. Even in three months, I've gained a lot more wisdom to what it takes to succeed."
Alex Katz and Nick Vespi combined on the final three innings to complete the Shorebirds' 10th shutout of the season.
Zach Jarrett and Ryan Ripken both went deep while Cadyn Grenier, the 37th overall pick in this year's Draft, drove in three runs and reached safely three times.
Charleston starter Deivi Garcia (1-3) allowed five runs -- four earned -- in 4 1/3 innings. The No. 14 Yankees prospect allowed four hits and four walks while striking out six.
Cabrera singled twice, the only multi-hit effort by either team.