Rogers shines in debut for Tides
O's prospect puts up seven zeros in first start since trade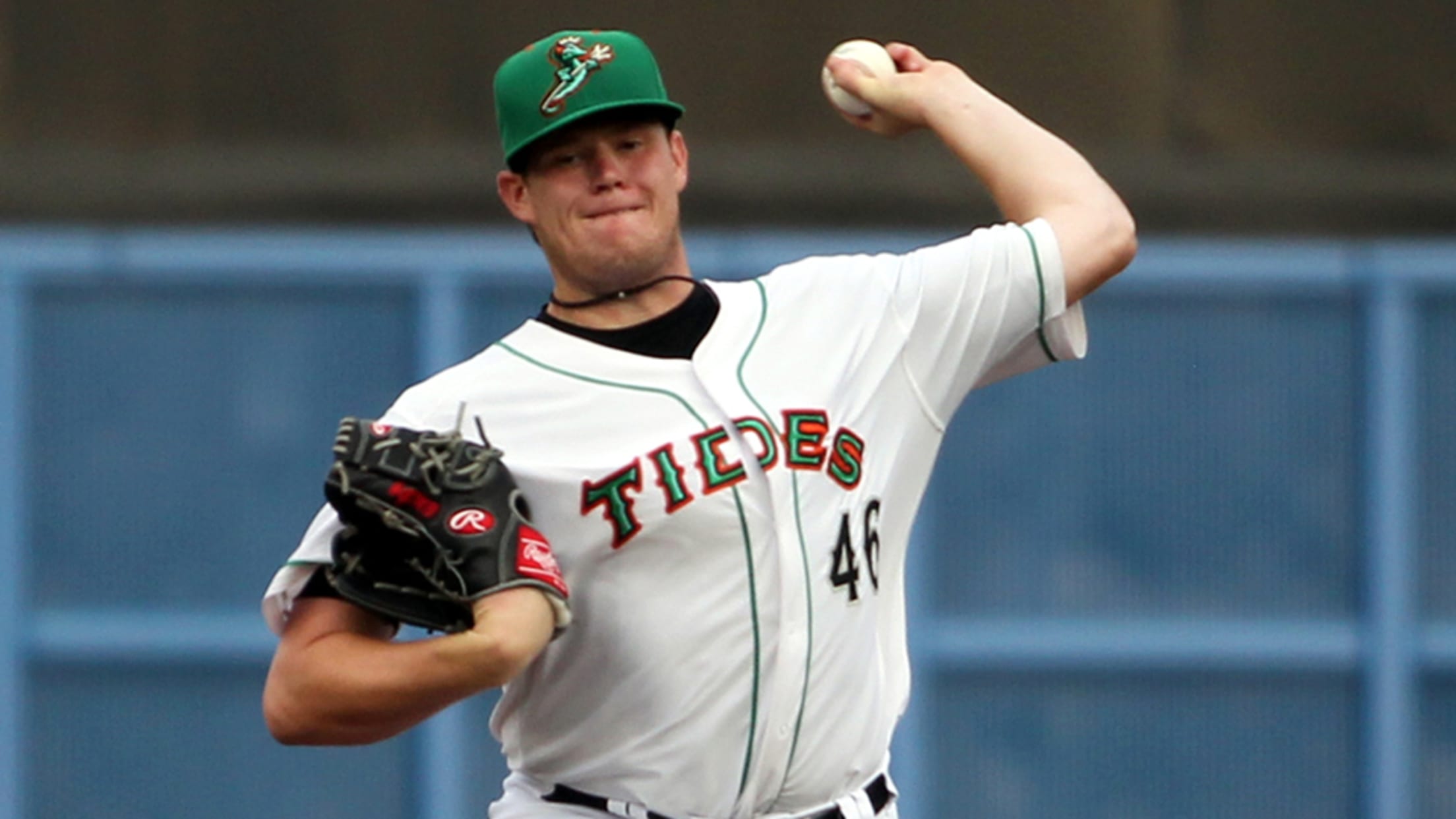 Josh Rogers picked up his first win in more than a month in his debut in the Orioles system. (Scott Sears/Norfolk Tides)
Josh Rogers rode a rocky start to the summer and landed in a new organization. On Saturday night, the tides turned.Making his debut in the Orioles organization, Rogers gave up three hits and three walks over seven scoreless innings as Triple-A Norfolk beat Toledo, 5-1, at Harbor Park. He recorded
Josh Rogers rode a rocky start to the summer and landed in a new organization. On Saturday night, the tides turned.
Making his debut in the Orioles organization, Rogers gave up three hits and three walks over seven scoreless innings as Triple-A Norfolk beat Toledo, 5-1, at Harbor Park. He recorded a pair of strikeouts.
Gameday box score
Rogers was one of three hurlers the Yankees sent to Baltimore for All-Star closer Zach Britton on Tuesday. After making his Triple-A debut with Scranton/Wilkes-Barre to start the 2018 campaign, he stayed within the International League along with newly minted Orioles No. 14 prospectCody Carroll. Sixth-ranked Dillon Tate was assigned to Double-A Bowie following the trade.
As he sat in the RailRiders dugout Tuesday evening, Rogers scrolled through Twitter, killing time during a rain delay. He was slated to pitch the following day against Charlotte, but tweets began to surface about Tate being included in a package for Britton. Not long after, he saw his own name floated before the Yankees made it official.
"I actually wanted to be traded," he said. "The Yankees are all I've ever known, but I couldn't be happier with the opportunity I've got with the Orioles. I talked with the manager [Ron Johnson] when I got here and he said, 'We traded for you guys.' We have have an expectation to help with the big league club and pitch there, and that's all I could ever want. Not to say the Yankees didn't, but with their list of guys, it's so competitive, so it's exciting to have that feeling right away with the front office."
Rogers' last came 10 days ago, also against the Mud Hens, giving him some familiarity entering Saturday's outing. The Tides' newest starter worked around a single by Dixon Machado in the first, setting down his next 10 batters. In particular, he rode a consistent changeup, a pitch that he said created at least six outs. He combined it with an in-tune fastball and slider, which made the difference after he compiled a 5.85 ERA through June and July.
"The biggest thing for me was throwing those first-pitch strikes and winning those 1-1 counts," he said. "I was able to keep guys off-balance. [In those rough starts], I just wasn't as sharp and had the fastball elevated right over the plate a lot. With a guy like me, who's not going to overpower you, I have to have that consistency around the zone and throw strikes so I don't fall behind guys. But nothing was broken."
His run came to a halt as he walked Grayson Greiner and Jason Krizan with two outs in the fourth. Rogers (7-8) gave up his second hit when Pete Kozma grounded a single to center field with two outs in the fifth, but he got Mikie Mahtook to strike out and end the inning. The 2015 11th-round Draft pick found himself in a two-out jam in the sixth after Tigers No. 6 prospectChristin Stewart lined a single to left and Krizan walked. But the left-hander finished his night with four straight outs.
Rogers said he hopes to live up to his new team's plan for his progress before the season winds down and work his way up to Baltimore. Ideally, though, not before a meeting with his former squad, where he could potentially duel top Yankees prospectJustus Sheffield . The Tides and Scranton/Wilkes-Barre begin a series on Aug. 7 in Norfolk.
"Sheffield actually called me today and he realized our starts line up," Rogers said. "I was pumped up. It'll be fun, and I know all those guys on there are anxious and excited to face me."
Pedro Álvarez led Norfolk at the plate, going 3-for-4 with a homer, two RBIs and two runs scored. He lined an RBI double to center in the first, scoring Orioles No. 8 prospect Cedric Mullins, and smacked a leadoff shot in the fourth. Luis Sardiñas gave the Tides a 5-0 lead in the eighth with a two-run homer.
Nathan Brown is a contributor to MiLB.com. Follow him on Twitter @NathanBrownNYC.